I'm the Bride, But I Threw a Bridal Shower for My Friends
"I wanted to thank them for all they've done to walk me through life and prepare me for marriage."
---
Sarah Alderman, owner and photographer at AGP Collective, knew she didn't want to have a typical bridal shower — so she invented her own. Her "reverse bridal shower" was a tarot-themed party she threw for her closest friends and family to, as she says, "thank them for all they've done to walk me through life and prepare me for marriage." Here, Sarah shares — in her own words — how her decision informed her throwing one of the coolest damn bridal showers (for her friends!) that we have ever seen. Detail photos below by Alderman herself, and also Kelly Giarrocco, who took the photos she appears in.
Do you have a modern, unique, or just plain emotional wedding planning story of your own? We want to hear it!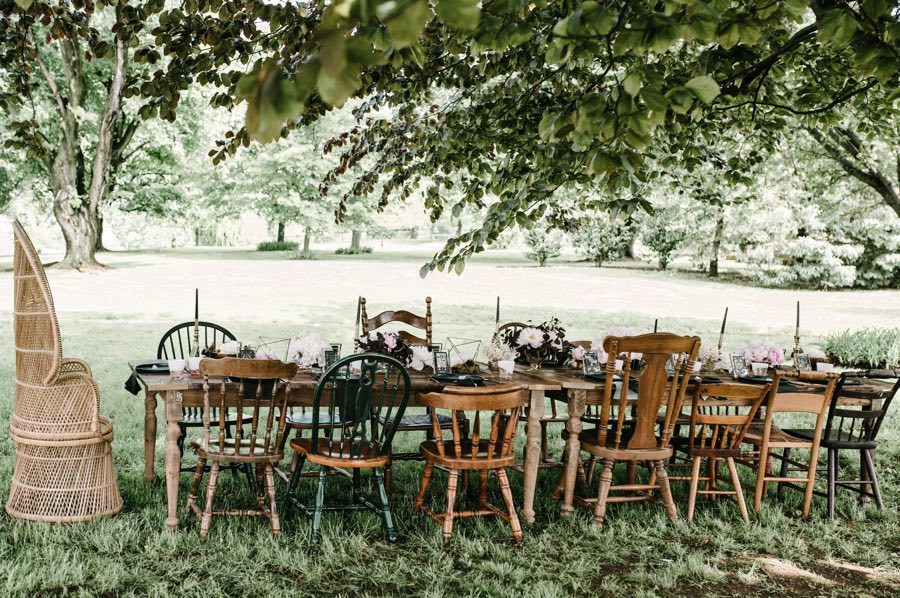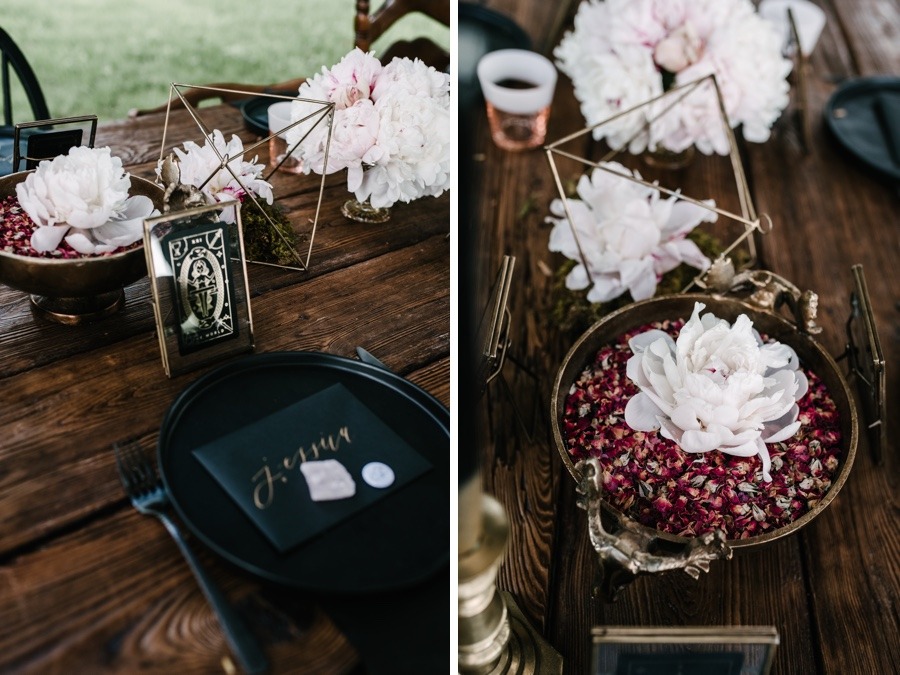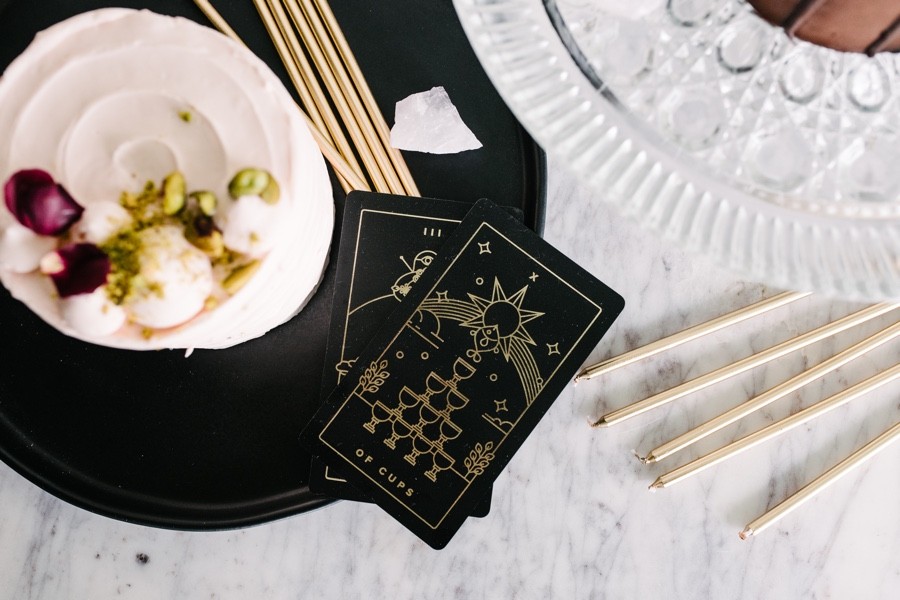 I decided to throw a bridal shower for my friends because: "I've been a part of so many weddings, and now that most of my friends are in their 30s, they could surely say the same. There is such an honor in being chosen as a bridesmaid, but there can be unintended pain if you leave people out. And even then, there's sometimes a hardship in taking on bridesmaids duties because of family or job obligations, money stresses or other concerns. I wanted to honor my friends in some way that didn't burden them beyond coming to our home that day."
How we brought the tarot theme to life: "It was a black and gold tarot theme. I purchased a special tarot deck from Labyrinthos which was black and gold and had a very modern, minimal look. Pulling from the deck, I thought carefully about which card best represented each guest to me. I held the card and reflected on our relationship, and then wrote them a letter explaining the meaning as it related to us. Then I framed their card in a brass-rimmed floating frame from Anthropologie, for them to keep. We also had custom cookies made by Nutmeg Cake Design with the Ten of Cups card printed on some, "X"s and cups on others. And for my "unofficial maids of honor" I had a cookie for each that said 'MOH on the low" and "co-MOH estas?"
How we made the day special: "We threw the event under our copper beech tree, in our front yard at home. We had a mimosa bar, my husband catered our brunch, and our daughters served everyone. We also had a birthday cake for my friend, Alexa, whose birthday was that weekend. I also sent guests home with some of our peonies from the floral tablescape, which was created by Jessica at Society Blooms. The brass rentals for the table were from QA Designs, the black ceramic dinner plates were from World Market, and the tables and chairs came from Holmespun."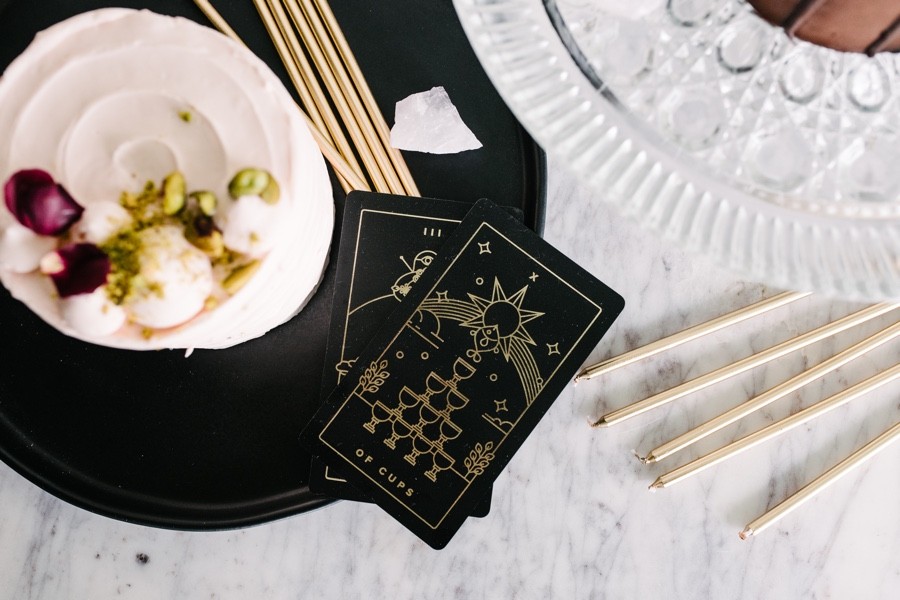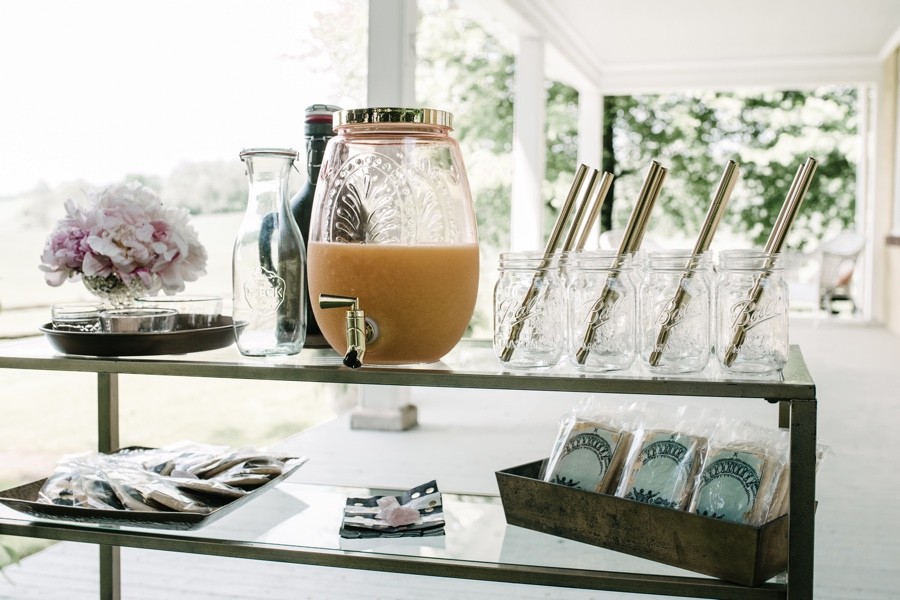 I chose a Tarot theme because: "The Ten of Cups card is significant in my relationship to my husband. I got my first Tarot deck in New Hope in my early twenties and for the longest time, my Ten of Cups card was missing. This was funny because I'd had sort of terrible luck in my relationships, and the Ten of Cups is often known as the marriage card, so I always joked that I wasn't playing with a full deck. When Sean and I first started falling in love, he came to help me move out of my apartment and he found the long-lost Ten of Cups card. I immediately got a wry smile on my face, and eventually told him what it meant.
He wrote a song about it, and then I forgot about it until a few years ago, when we moved into our current home, a little cottage we rent on a farm in the Doe Run area. He mentioned that we were basically living inside the Ten of Cups card, which shows a couple embracing and looking out on a beautiful valley, watching their two children dance (we have twins), a modest cottage in the distance. And yeah… that just about sums up our life now!"
The best part of the day was: "Just looking down the table and seeing all the women I love, who have been there for me through my pregnancy and held me up as a single mom, watched my daughters grow, and offered listening ears and unconditional love to us. Many of them also supporting my business as past brides and clients, which carried us to the secure and comfortable place we're in now. I honestly would not be where I am today without my friends."
Sarah and her husband, Sean Bramley, both based in Chester County, wed on October 13, 2018 at Foxfire Mountain House in the Catskills. To read more about her wedding, check out our story here.
This story has been edited for clarity and length.
Get more great content from Philadelphia Wedding:
FACEBOOK | INSTAGRAM | NEWSLETTER | PINTEREST
Getting married? Start and end your wedding planning journey with Philadelphia Weddings' guide to the best wedding vendors in the city.
---
---