19 Stylish Places for Wedding Tuxes and Suits in the Philadelphia Area
These shops will have you looking totally debonair on your wedding day.
---
When it comes to wedding suiting, these days there are endless options for sartorial elegance. And even if you're not big on suiting, this is the time to really do it up. There are options for everyone, from the classic black tux to custom patterned suiting to stunning pink menswear. For your convenience, we've created a list of killer local suiting spots, and divided it into two categories: custom and rentals — though, some of the custom places also provide rentals, and rental places also provide some customization options, where noted. Read on and then go get suited up — Philly style.
Custom wedding wear
1818 Chestnut Street, Rittenhouse.
Boyds, which has gone through some renovations and implemented new innovations this past year, is still an incredible place for men's suiting. (This store has been passed down between four generations and has set the Philadelphia standard in menswear since 1938.) They offer is extended hours upon appointment, for that one groomsmen who's always running late, they'll create made-to-fit suits for your bridal party and monogram them: the perfect gift to your groomsmen, and their latest addition is the new Atelier Munro offering, which includes custom suits at more accessible price point.
1839 Chestnut Street, Rittenhouse.
Commonwealth Proper's founders like to think of their menswear style as "refined roughrider." Their wedding kits — although expertly built as a traditional tailor would — flaunt rebellious details (like their signature tattoo lining) that really bring the suit into the contemporary age. Before your wedding day, head over to Commonwealth Proper, and they'll shut the place down for your wedding party. As you and your groomsmen get fitted, propose a toast with CMMP's own whiskey, and relax knowing that when the big day comes, someone from CMMP can be there to make sure you look your best.
709 Walnut Street, Old City.
Launched by Eagles' player Malcolm Jenkins and Jay Amin, Damari Saville's fully custom groomsmen suits are ideal for stylish men-about-town. When you purchase there, you also gain access to their private lounge for pre-wedding festivities and photoshoots. Their BoConcept Lounge is a converted wine cellar with a hip rustic but modern vibe that acts as the perfect backdrop for photos with your groomsmen. Suits start at $699
1900 Market Street, Rittenhouse.
Moda Matters is launching their first ready-to-wear collection. Their clothes are 100% made in Italy, and they pride themselves on creating unique garments and sourcing specific fabrics and patterns that may not be found elsewhere. Customers can chat with a Moda Matters employee over an espresso or glass of wine, and they will guide you through design details and ways to compliment your features. While they don't offer rentals, they'll walk you through every step of designing your custom suit.
160 North Gulph Road, King of Prussia.
King of Prussia's Charles Tyrwhitt has plenty of options for both staying classic and pushing the boundaries when it comes to wedding wear. They encourage you to stay true to your style in your formal wear, whether that means keeping it stylish and traditional, experimenting with colors, skipping the tie to wearing chinos and blazer, or even donning trainers.
1650 Market Street, Rittenhouse.
Balani wants to help you customize your wedding day. Grooms can look through their catalog of hundreds of fabrics and styles to find their perfect match, and can then incorporate their personal style into custom details like embroidery and custom jacket lining. If you have a specific look in mind, it's as simple as bringing a photo to a consultation and Balani will make it happen. They also offer discounts to wedding parties of over five people.
1510 Sansom Street, Rittenhouse.
With 40 years of expertise, Distante knows that personal flair makes all the difference. Though they don't offer rentals, a range of other services from custom tailoring and wedding party outfitting are offered. Customers can choose from Distante's in-store collection of premium suits, sport coats, and accessories, or you can speak to a designer who will create a one-of-a-kind custom suit that will surely bring a uniqueness to your big day.
1519 Walnut St, Rittenhouse.
Bonobos' philosophy is to make shopping easier, especially when it comes to wedding wear. All you have to do is schedule an appointment at one of their brick and mortar locations for a style consultation. One of Bonobos' Guides will walk you through the entire Bonobos line and help you achieve the look you're aiming for on your wedding day. They'll help you place your order and it'll ship right to you door. (Shipping is free, even if you need to send it back.)
1701 Spruce Street, Rittenhouse.
Henry A. Davidsen Master Tailors specialize in helping you build your image. Their image consultants will help you curate the exact look that you're envisioning for your wedding day. Henry A. Davidsen has every aspect of your image covered through their partner affiliations with vendors partners ranging from hair stylists, personal trainers, photographers and jewelers. Beyond your wedding day, they will help you curate your honeymoon wardrobe as well.
4314 Woodland Avenue, Drexel Hill; 1063 Township Line Road, Phoenixville.
Sagets in Phoenixville offers rental and custom options, as well as a personal dresser on the day of your wedding, who will spend two hours with you and your wedding party, assisting you in everything from when to button and unbutton your jacket. They will help you stay on schedule and work closely with your photographer to stage your photos to perfection. Plus, Sagets suits Philly royalty: they provided a custom suit for Jason Kelce, center for the Eagles', as well as his brother Travis Kelce, from the Kansas City Chiefs, for Jason's wedding last April.
100 North 18th Street, Logan.
There's a reason Morroni has acquired clients like Vince Papale and Bob Kelly. Morroni is a full service custom clothing shop and strives to provide perfection for each client. You can be fitted in their office, or they'll come to your home at your convenience. Choose from two thousand fabrics after your fifty to sixty measurements are taken to customize your wedding day look from embroidered shirt cuffs to patterns on the inside of suit jackets. Morroni is LGBT friendly and has an impressive portfolio of suits made for both men and women. Notably, they've made over three hundred suits with a masculine cut for their LGBTQ female clients.
1606 Chestnut Street, Rittenhouse.
Indochino has several stores around the country and one right here in Philly. You can also browse online beforehand. When you're ready to say "I do" to Indochino, you'll need your groomsmen to book individuals appointments, not a group appointment.
Rental Wedding Wear
241 Easton Road, Warrington.
With over 100 different suit and tuxedo styles from designer names like Ralph Lauren and Michael Kors, Darianna's tuxedo consultants are ready to bring your ideas and color schemes to life. And if you don't yet have a vision for wedding day, check out their real bride guide for inspiration. Offering the standard industry discount of a complimentary rental for the groom with wedding parties of six or more, Darianna Bridal and Tuxedo can also accommodate that groomsman who lives out state. Just let them know and they will arrange a fitting anywhere in the country for free.
904 Cottman Avenue, Fox Chase.
Gallelli has been running for over 35 years, and offers extensive in-store inventory of everything you'll need for your day from shirts and ties, to sashes, vests and shoes. Gallelli also offers customers the option of sending in measurements if they're unable to come into the store. To sweeten the deal, Gallelli can provide tailors on the day of wedding for any last-minute alterations, so the last thing you'll need to worry about on your wedding day is your suit.
145 West State Street, Doylestown.
Now in it's 37th year of operation, Ventresca boasts the largest inventory of formal wear in the Delaware Valley. Needless to say, there's something for every man there. All Ventresca Ltd.'s custom clothing is made in the USA with fabrics from Italian and British mills. Spend more than $180 a piece for five or more rentals, owner Frank Ventresca will give you $40 off each tuxedo. Ventresca also offers a wedding or group suit package that includes custom alterations of coats, pants, shirt, tie and a pocket square for purchase for $499.00. Ventresca Ltd. also has the largest selection of rental and retail formal wear and clothing in the Delaware Valley, all in-stock on the premises. In a hurry to get your grooms fitted? Not a problem, Ventrsca doesn't charge extra for rush orders. They also promise to meet or beat all competitors coupons.
https://www.instagram.com/p/BuRkVsqHTfW/
3907 Skippack Pike, Skippack.
This store is supplied by Tuxedo by Sarno, a larger operation that supplies tuxedos to a whole range of boutiques on the East Coast. After getting measured, your numbers are saved on a database, meaning you can pick up the outfit at any of Tuxedo by Sarno's affiliate locations (about 30 locations from Massachusetts to Virginia). And what if it's not quite the right fit? No problem. A new suit or tuxedo can ship to arrive on the next day.
708 Sumneytown Pike, Lansdale.
At Country Bride and Gent in Lansdale, you can schedule an appointment with a menswear consultant in addition to a final fitting before your wedding to ensure you get the perfect fit. They have an inventory of over 1,000 suits and tuxes sure to have your exact fit, and they offer last-minute exchanges. Their inventory includes Calvin Klein, Perry Ellis and Chaps Ralph Lauren.
110-114 Fayette Street, Conshohocken.
Flocco's
has been a family-run business in Conshohocken since 1926. They offer rentals and sales for tuxedos and have brand names like Michael Kors. If you're running behind on the whole suit process, no need to worry.
Flocco's
will take care of the rest and rush order what you need. They also offer deals including if you rent five tuxedos, the sixth is free and half price for the ring bearer.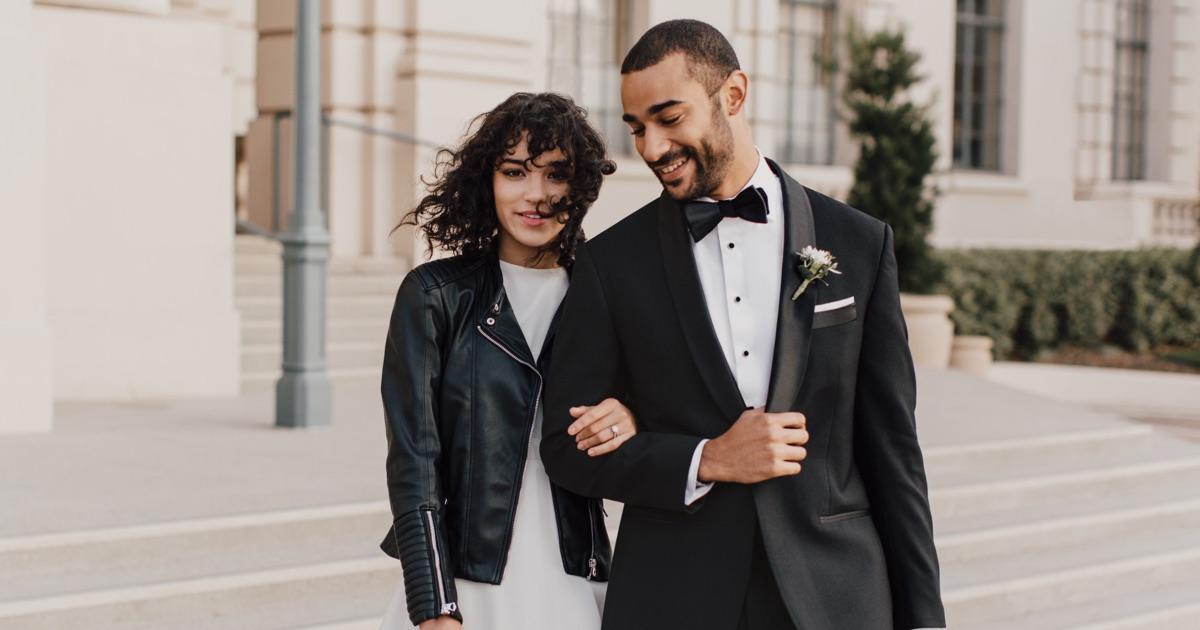 190 North Gulph Road, King of Prussia.
The Black Tux at KOP offers a unique "home try on" service where customers can build a suit online and the Black Tux will send it for you to try for 48 hours for free. If you have six or more groomsmen, each with a minimum value of $175, the groom will be credited with up to $200 towards checkout. You can rent your entire wedding day look from The Black Tux down to cufflinks, shoes, and socks. Your order will arrive 14 days before your wedding and if for any reason you need last minute alterations, you can have your suit altered and they'll refund the cost of the alterations.
Get more great content from Philadelphia Wedding:
FACEBOOK | INSTAGRAM | NEWSLETTER | PINTEREST
Getting married? Start and end your wedding planning journey with Philadelphia Weddings' guide to the best wedding vendors in the city.
---
---
---