News
Joe Cicala Makes His Comeback With a New Restaurant at the Divine Lorraine
Cicala at the Divine Lorraine will be a refined Southern Italian restaurant inside the new reincarnation of one of Philly's grandest buildings.
---
The Divine Lorraine Hotel, a citywide beacon of luxury that fell into disrepair after decades of neglect, reclaimed a measure of its history last year when it reopened after a major rebuild. And now Joe and Angela Cicala will add to its new history with their new restaurant, Cicala at the Divine Lorraine.
The Cicalas have had a tough few months following their complicated, convoluted separation from Le Virtù and Brigantessa owners Francis Cratil Cretarola and Cathy Lee. A geographically based non-compete clause in Joe's operating agreement at Brigantessa made it difficult for them to work in Philly, so the couple kept to throwing underground pasta parties out of their South Philly rowhome. But when developer Eric Blumenfeld and his legion of builders presented the Cicala's with a golden opportunity for a comeback — a place where they could stamp their name onto the signage — they went all-in.
"It'll still be my food," Joe says of his new restaurant, "rustic and Southern Italian, but in a more elegant setting with refined service." So, just like in his previous kitchens, the pasta will be made by hand and the salumi cured in-house — old-world style cooking — just served on fancy Italian china, over white tablecloths, at blue velvet curved banquets, under crystal chandeliers.
It's an open floor plan, too, meaning a blank canvas for designer Margi Leiss of L Studio who plans to keep some of the raw/industrial elements of the space (original brick walls, hardwood floors and industrial beams) and combine them with more lavish touches: gold accents, a black-and-white tile floor with a brass inlay of the Cicala name, and drapery to emphasize the restaurant's tall ceilings. Tableside service will happen whenever the Cicalas feel like flexing in the dining room. Desserts, of course, will be all Angela.
The kitchen will be semi-open with a chef's table basically inside it, and outside, they're building out a "European-style" courtyard with its own bar.
Peep the renderings below:
---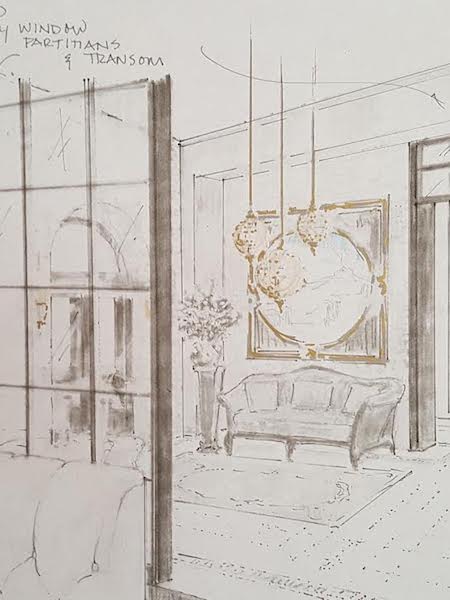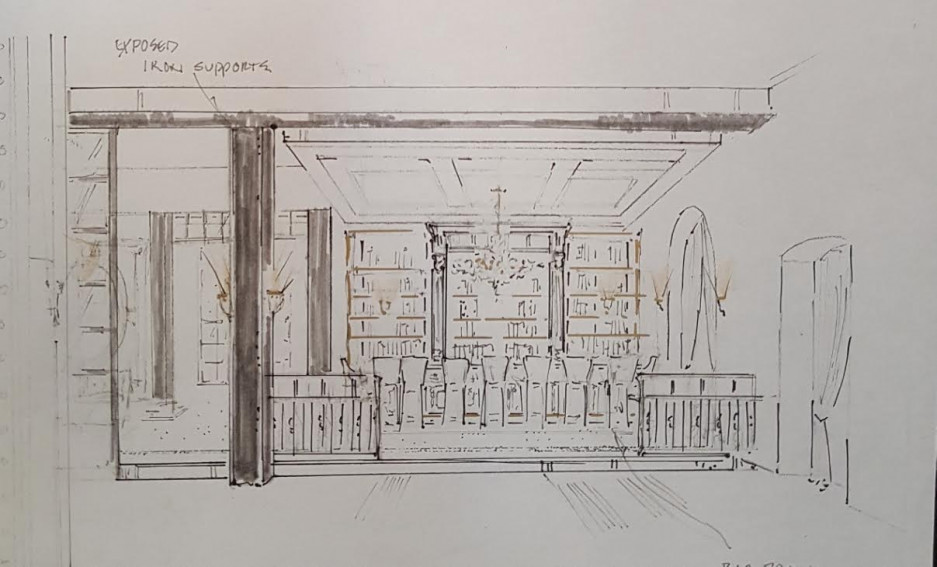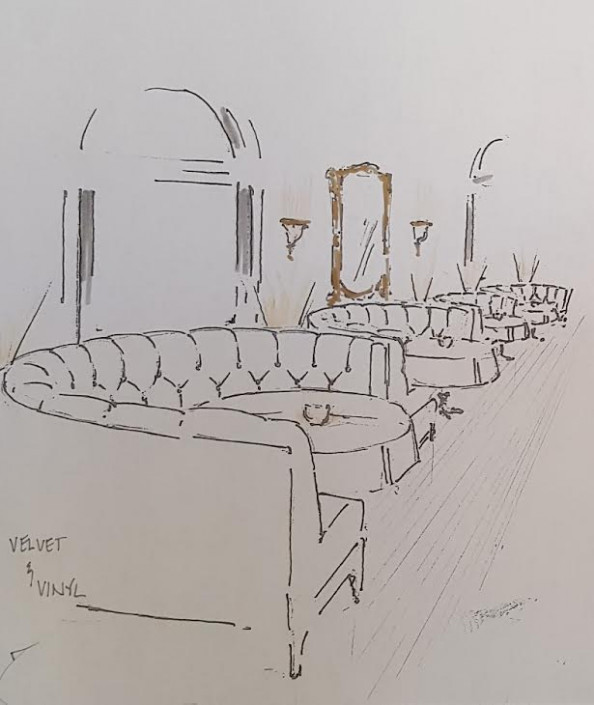 ---
The restaurant is slated for a fall opening, and the Divine Lorraine still has a few more tenants up its sleeve. But between Cicala's return, Osteria under new chef-ownership, Peter Woolsey opening a French café just a few blocks south, and the Met returning to life, it looks as though North Broad might actually become the citywide attraction it aspires to be.
---