Splendiferous Renovation: Abandoned Row Home Becomes Artist's Eco-Friendly Paradise
---
With fraught conversation over vacant land and properties in the news almost every day, it's gratifying to see the occasional example of what can be done when one individual decides to fight for a dilapidated building and turn it around.
Case in point: This creatively reinvented, highly livable two-bedroom home on a side street was just an abandoned corner rowhouse when a local photographer Jacob Hellman, a collagist and scholar of abandoned buildings, fell in love with it. He liked the location, in particular: One block from Fairmount Park, in a neighborhood some would call Strawberry Mansion but a realtor would call Brewerytown, the house is tucked away on a quiet street, across from an empty field, in an eerie but oddly soothing post-industrial landscape. He also liked the fact that it had a south-facing sidewall that would afford the opportunity down the line for passive solar heating modification.
Once he was able to buy the home, Hellman transformed it from shabby dereliction into one of the neighborhood's most unique private homes.
It wasn't easy, though. As with so many other vacant structures in Philadelphia, it was initially impossible to find the owner of the building.
"I had to do a lot of sleuthing to find the owner because it was owned by an LLC that was basically defunct…In this case, the LLC had been a family business that fell apart. They walked away from 100 houses they owned." But while they hadn't paid property taxes on this house for 15 years, Hellman pointed out, "it wasn't like they were fat cats." It was more a situation of them getting in over their heads, and losing too much money. Ultimately, Hellman found one of the sons in Orlando, Fla., and was able to broker a deal for the decrepit building.
All in all, the renovations took about five years. Some of the changes, Hellman says, are fairly standard with Philly row homes, including opening up the clunky spaces: "I opened it up, I took out the walls in the middle room so there's only a front and back bedroom. The ground floor is just one open space."
But he's also done more "quirky" things, as he puts it. "I spent a lot of time looking at design blogs," he says. Poor guy.
"I had friends who made the concrete counter and sink. I got maple hardwood flooring from the gym at the old Lincoln High School. I put in a concealed tank toilet, even though it's a lot more work installing it." He adds, "I started this process thinking I would enjoy construction, but I didn't really."
As for the energy efficiency, he was able to make that vision come to fruition.
"Though it set me back about a year, I hired masons to cut window openings, and then went to some length to track down a supplier of windows that do not block solar heat gain because the one-size-fits-all federal EnergyStar standard for windows requires that they block solar heat gain, based on the assumption that your main energy costs are for cooling rather than heating."
One of the most unexpected results of that project? "I have a ton of respect now for masons. Hell of a job."
The results of those six windows on the side wall are clear: low utility costs–and views of the Center City skyline.
Other standout sustainable decisions:
– House is super-insulated (R50+ roof). Super-reflective white roof reduces heat buildup.
– Wood stove in living area.
– High-efficiency gas furnace (95%) and central air (14.5 SEER).
– LED lighting.
– On-demand tankless water heater
Hellman says there's still plenty of cosmetic work to be done on the home, but the big, bad work is done. Now he'll get to spend some time gardening in the huge south-facing lot adjacent to his home, and make the most of a building that, without his intervention, would have been demolished or simply crumbled on its own.
Below, Laura Kicey's gallery of the house as it is today. Hellman is pictured in the last photo.
---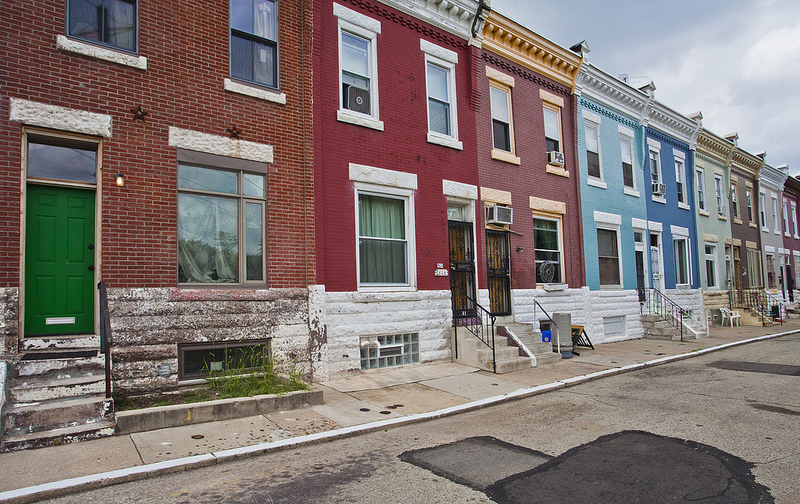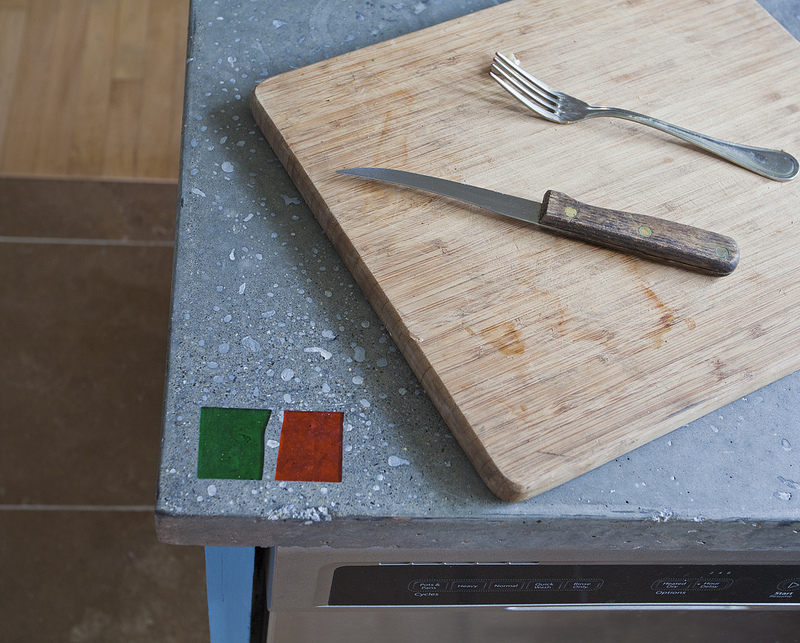 ---
Photos by Laura Kicey.
---