News
After a Decade Together, He Proposed to His High-School Sweetheart at ONE North Broad
The couple had been dating since they were 16.
---
Some of the best love stories begin with longtime friendships, ones that change and grow with each couple. Such is the case with this duo, who have known each other since they were children and began dating as teenagers. Ten years after making it official — and another decade after they first met as kiddos — they got engaged during a surprise proposal at ONE North Broad. Sweetwater Portraits was on hand to capture the special moment, which you can see below. And if you're looking for more proposal inspiration, check out some of our recent favorites here.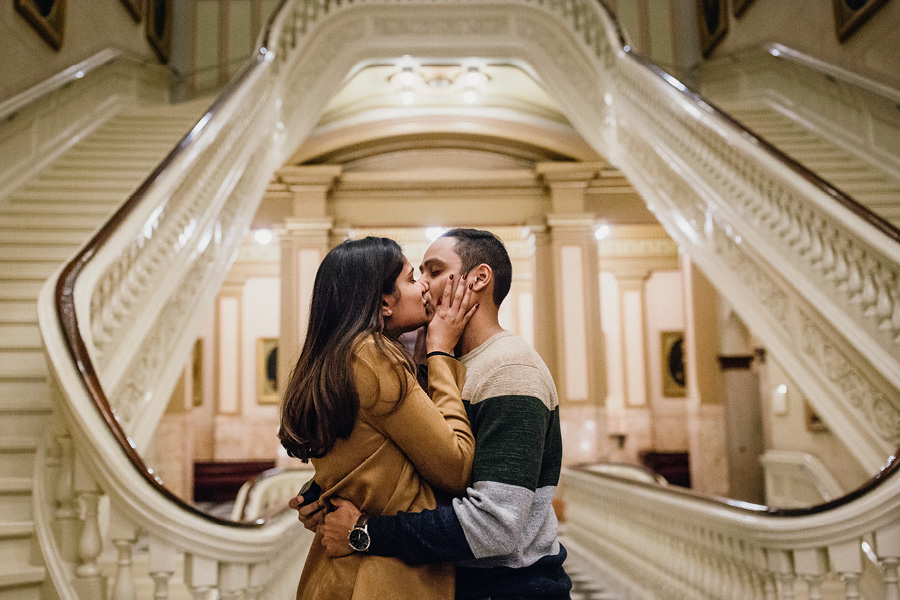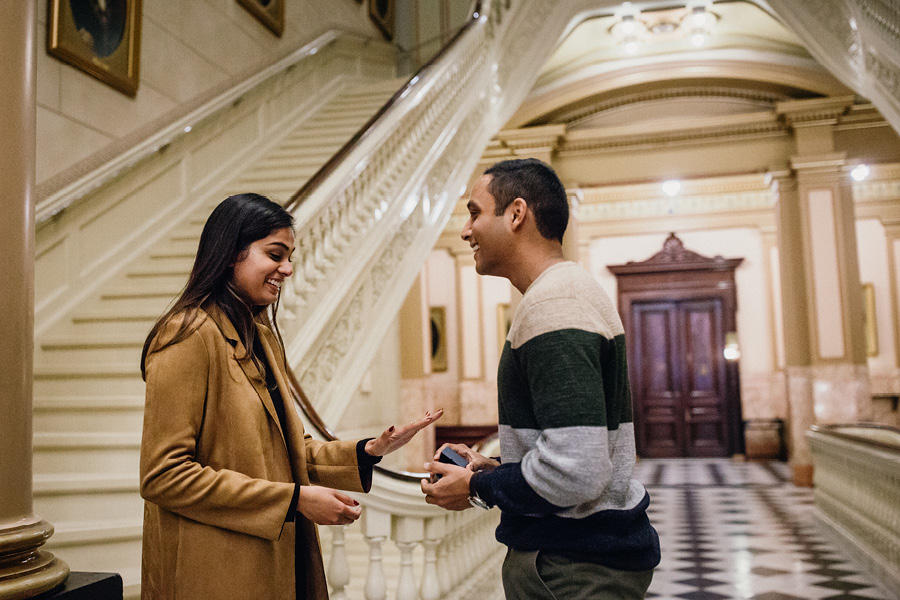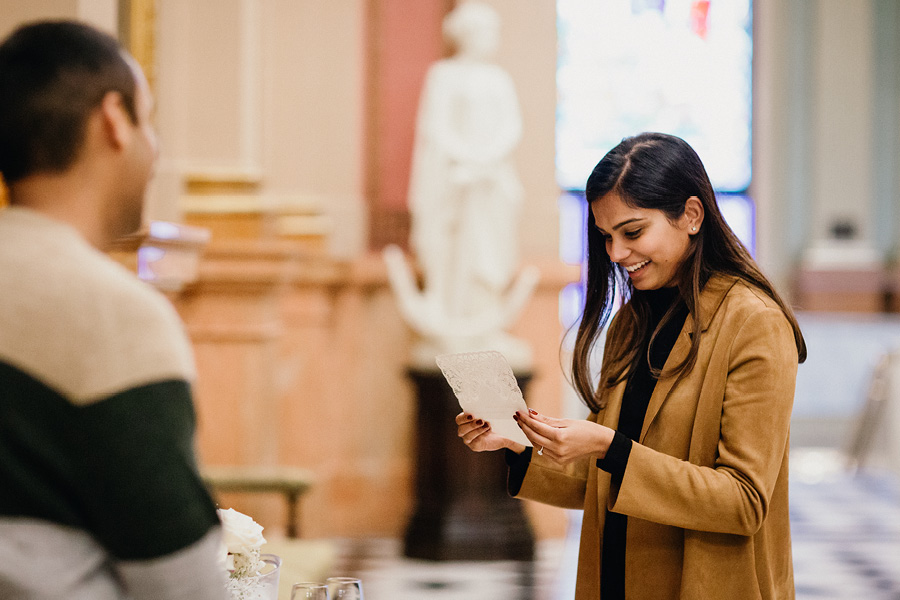 The couple: Shruti Kumar and Nandu Mohan, both 26, of Washington Square
How they got together: Nandu and Shruti have known each other since they were six years old. They're both from Sharon, Massachusetts, and went to the same elementary school. It wasn't until middle school that their friendship grew stronger; they rode the school bus together every day. By the time eighth grade came around, they had a special seat on the bus. The year ended with a school trip to Philadelphia. It was significant to them — this would be one of their last times hanging out in a school setting. (Shruti was going to private school for high school.) The last day of that trip, they went on a Delaware River cruise. That night, they told each other how they felt and promised that when they were older, they would make it official. Their feelings never diminished in high school. They got together when they were 16 and got engaged 10 years later. Friendship is the foundation of their relationship.
The proposal: Nandu knew he wanted to propose in Philly because it's such a special place to them. They had promised each other they would end up here — and they both landed full-time jobs in the city they love. (Nandu is a resident physician in his first year of internal medicine at Einstein Medical Center, and Shruti is a senior analyst in the financial-services sector.) So Nandu knew it was time to take the next step. On Sunday, September 27th, Nandu told Shruti that his hospital was hosting a socially distant rooftop happy hour to thank the residents for all their hard work during the pandemic. He told Shruti to dress "business casual." This would be the first time Shruti would meet all of Nandu's co-workers and chief residents.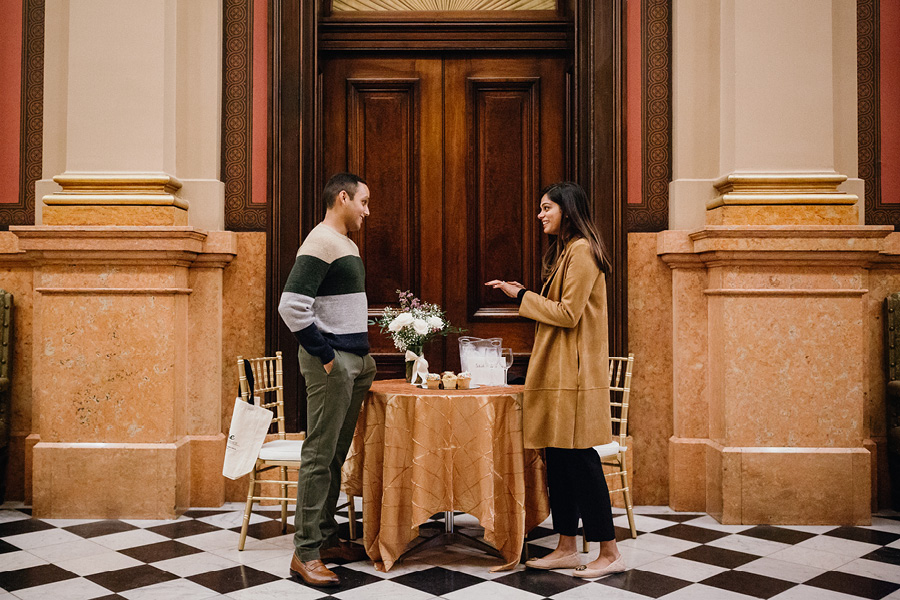 When they got in the Uber, Nandu asked Shruti if it would be okay with her if they stopped on the way to pick up his friend who was at ONE North Broad, finishing up a wedding. Shruti was confused because she had never heard of the place and had never been there. When they walked inside, a woman approached them and asked what they were doing. Nandu explained the situation. The woman asked if they wanted a free tour of the place while they waited for Nandu's friend. Once they walked up the grand staircase, Nandu asked Shruti to look at all the beautiful portraits. Then he got down on one knee and popped the question, saying, "It has been 10 amazing years with you. We have gone through so much to get to where we are today. I want to spend the rest of my life making you as happy as you make me. I love you with all my heart. Will you marry me?"
Shruti's reaction: She was in shock. Shruti had been waiting for this moment for a long time, and she couldn't believe it was finally here. (The bride-to-be later asked Nandu to repeat his speech at dinner.) As soon as Nandu opened the ring box, she cried and said yes with no hesitation.
How the groom-to-be pulled it off: Needless to say, there was no residency event, and Shruti never met Nandu's co-workers. The team at ONE North Broad was in on the plan. Nandu arranged for photographer Julie Melton of Sweetwater Portraits to be on hand. The photographer popped out from a corner and captured all of the great moments. Nandu knew Shruti always wanted to have a private engagement with no one watching, except a photographer to capture everything.
The post-proposal moment: A table was set up nearby with champagne, flowers and cupcakes to celebrate. The photographer gave the couple about 10 minutes to process everything and enjoy the moment before she came back to take their photos. They snapped images inside the building as well as outside near City Hall. Then the couple walked over to Rittenhouse Square to Facetime their families and close friends. They went to The Love, Shruti's favorite restaurant in the city, for dinner. The restaurant sectioned off a private space for them, and they enjoyed their meal with some champagne. The next day, Nandu drove Shruti to NYC to celebrate with her twin sister.
The wedding plans: They've set the date for August 27th, 2021. They aren't sure of the venue yet, but it will be in the New England area.
Get more great content from Philadelphia Wedding:
FACEBOOK | INSTAGRAM | NEWSLETTER | PINTEREST
Getting married? Start and end your wedding planning journey with Philadelphia Weddings' guide to the best wedding vendors in the city.
---
---