News
A Winter on Broad Street Proposal Filled With Tons of Glittering Holiday Lights
The bride-to-be joked about a diamond light fixture. Then the groom pulled out the ring.
---
As proposal month rolls on, local couples are taking advantage of all the holiday splendor throughout the city. (Remember this Miracle on South 13th Street proposal? We thought so.) This Lancaster County couple got engaged amid all the glittering lights of the Winter on Broad Street spectacular at Wells Fargo Center — and the sparkling diamond display was the perfect place to pop the question. Check out all the seasonal fun (and celebratory moments) of this Winter on Broad Street proposal below.
The couple: Jasmynne Rennix, 23, and Carl Wenzel, 26, of Ephrata Township
How they got together: The couple met at the end of April of 2017 at a Penn State Ski Club tailgate on main campus. It was Blue & White weekend; Jasmynne was no longer a student at PSU (she completed her first semester of freshman year there) but was visiting her best friend, who was a student, for the occasion. Carl was finishing up his senior year (and graduated in May 2017 with his communications degree). They hung out that night, exchanged information, and kept in touch. They met up in the beginning of June, when they had their first date at Marsh Creek in Downingtown. The duo officially started dating in August 2017, then were together for three years and a few months before getting engaged.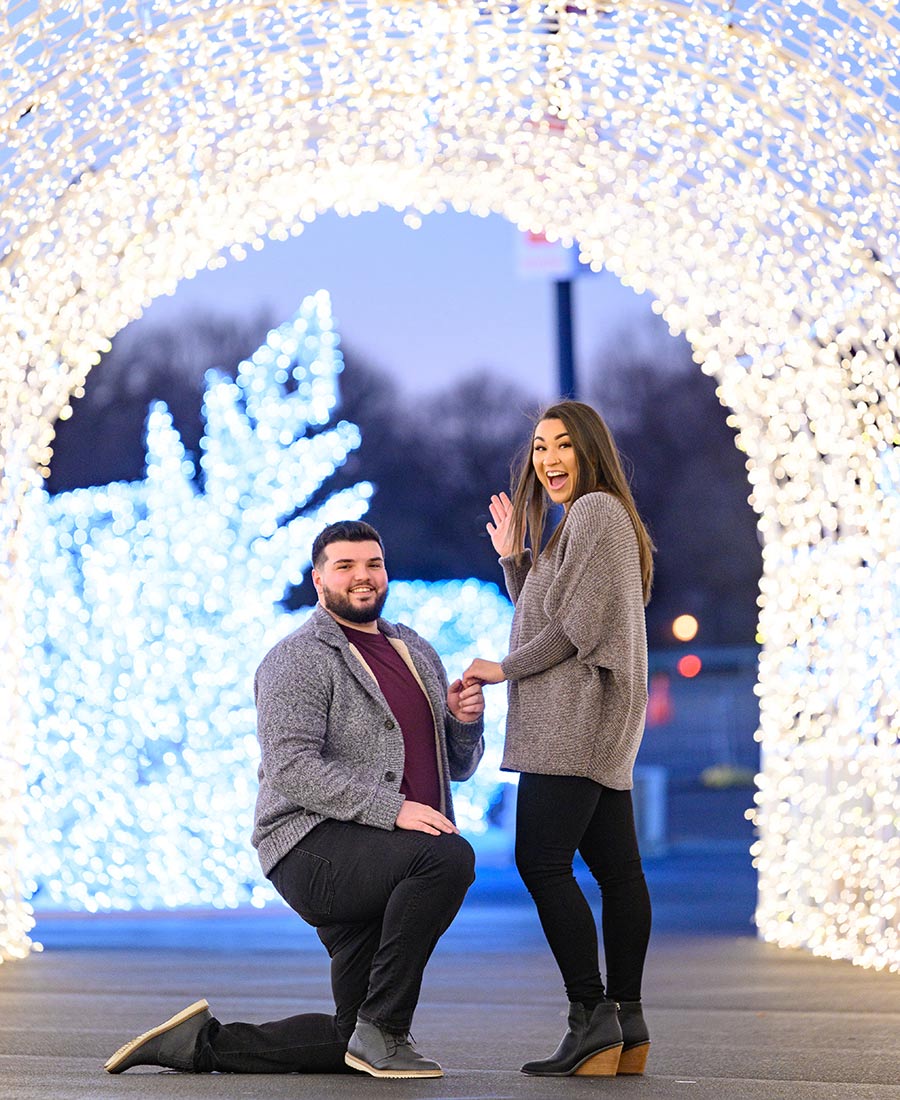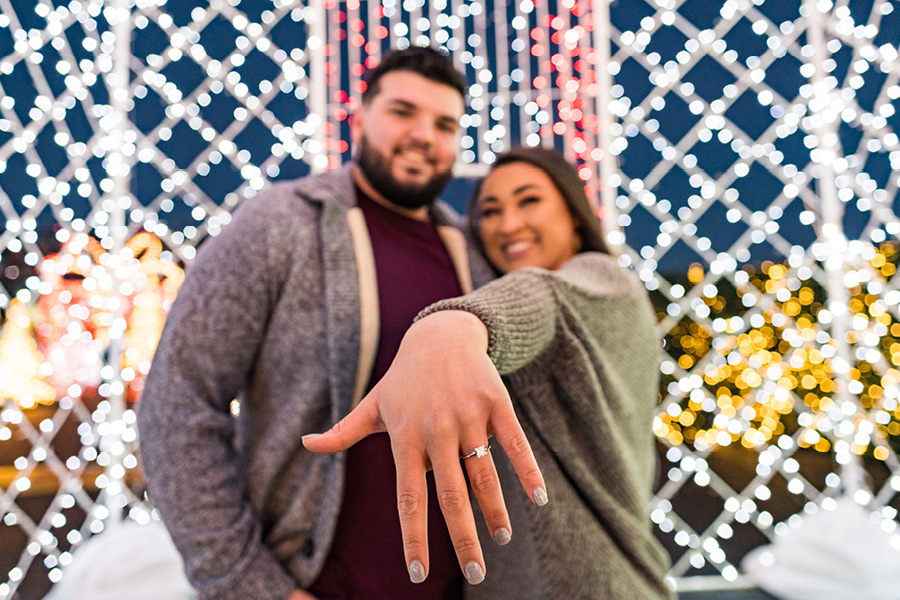 The proposal: Carl had been letting things "slip," so Jasmynne was anticipating a proposal in the middle or at the end of December. The two had planned on having a double date with their close friends Dominic and his fiancé Maegan for about a month. On November 28th, 2020, the small group went to the Wells Fargo Center for the Winter on Broad Street light show. Jasmynne and Carl arrived first, and then Dominic and Maegan came. The latter couple had been holding onto the ring. The group went inside to get a snack and use the bathroom. In the bathroom, Dominic gave the ring to Carl. After they got their food, they all went outside and ate. Then they decided to walk through the light show.
While headed back toward the entrance, Jasmynne saw the diamond light fixtures and joked to Carl, "We should take a picture in front of the diamond, because that's the only diamond I'm getting today." They walked through the light show and took a few pictures throughout. After photos under the dome of lights, Carl looked at Jasmynne and said, "I'm really sorry, but my stomach is killing me! I'll be right back."
So Jasmynne stayed and talked to Dominic and Maegan. They kept walking through the light show and got close to the diamond fixtures again. Dominic said he saw Carl and told Jasmynne to go over to him. Carl handed Jasmynne a Santa gift bag and said, "I got you an early gift." Jasmynne opened the bag and saw an ornament that read, "Will you marry me?" Carl dropped down to his knee and asked Jasmynne to be his wife. Jasmynne started crying and said, "Is this real? Is this real?" She gave Carl her hand, and he said, "Is this the right hand?" They both laughed. The crowd started cheering and clapping.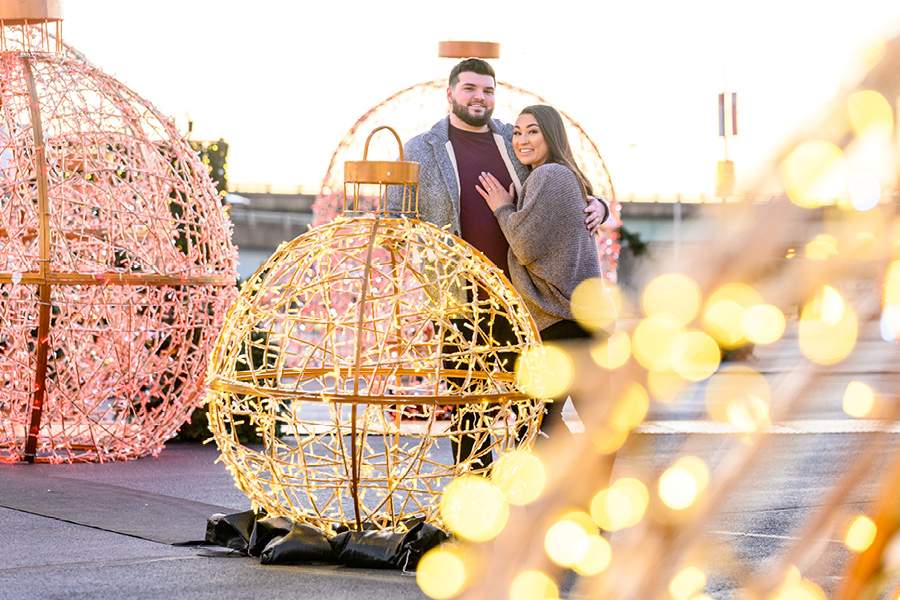 Jasmynne's reaction: I was completely shocked and surprised! I was blown away by how calm and collected he was the whole day, how well he had thought everything out, and that he had planned the evening and day after the engagement. I loved the ornament and was amazed at how smoothly he pulled it all off.
Carl's reaction: I was very happy that I surprised her. I'm not very good at keeping secrets. For example, Jasmynne already knows all her Christmas gifts. All I wanted to accomplish was surprising her. I knew what her answer was going to be, so I wasn't too worried about that!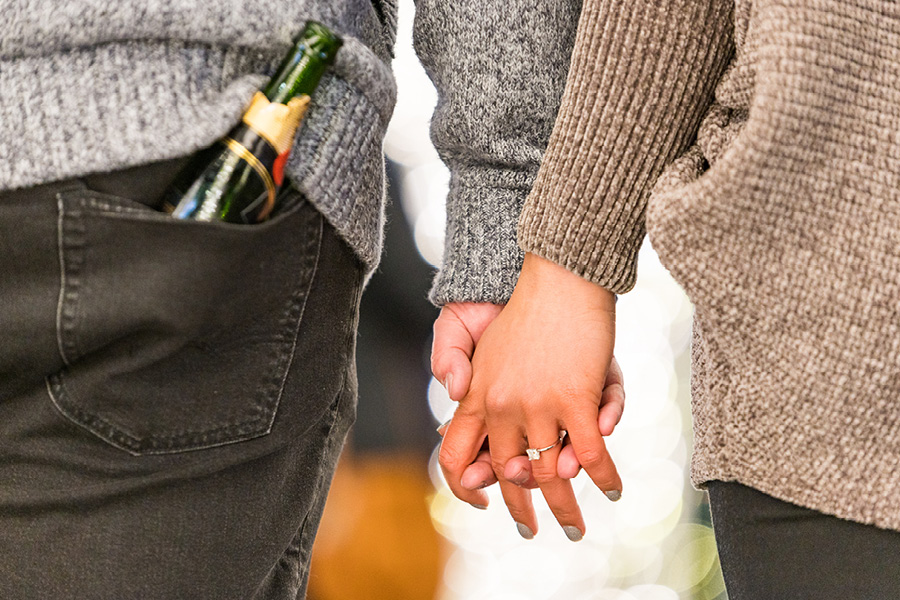 The post-proposal moment: The couple walked back to the car, where Carl had a suit, a pair of Jasmynne's heels, and a beautiful sleek black dress for their dinner reservations. They had dinner at Fleming's, stayed at the Radnor Hotel, and then had lunch at Maggiano's the next day with their parents.
The engagement shoot and wedding: The Wells Fargo Center gifted them a professional engagement shoot at Winter on Broad. They haven't chosen a date or venue yet but hope to be able to plan something for the late fall, winter or early spring, aiming for 2022 or 2023.
This interview has been edited for clarity and length.
Get more great content from Philadelphia Wedding:
FACEBOOK | INSTAGRAM | NEWSLETTER | PINTEREST
Getting married? Start and end your wedding planning journey with Philadelphia Weddings' guide to the best wedding vendors in the city.
---
---