News
This Morris Arboretum Proposal Began With a Stylish Photo Shoot
The suave groom-to-be got the whole family involved.
---
We might be in the midst of the pandemic, but sweet love stories keep rolling in to bring a smile to our faces and remind us of the beauty of all things wedding. Such is the case with this stylish Morris Arboretum proposal. The groom-to-be, co-founder of menswear brand Xavi Row Bespoke, staged a photo shoot with his beloved before surprising her by dropping to one knee in front of their family and close friends. Photographer Ricardo Mundell of Xquisite Media Ent captured it all on cam.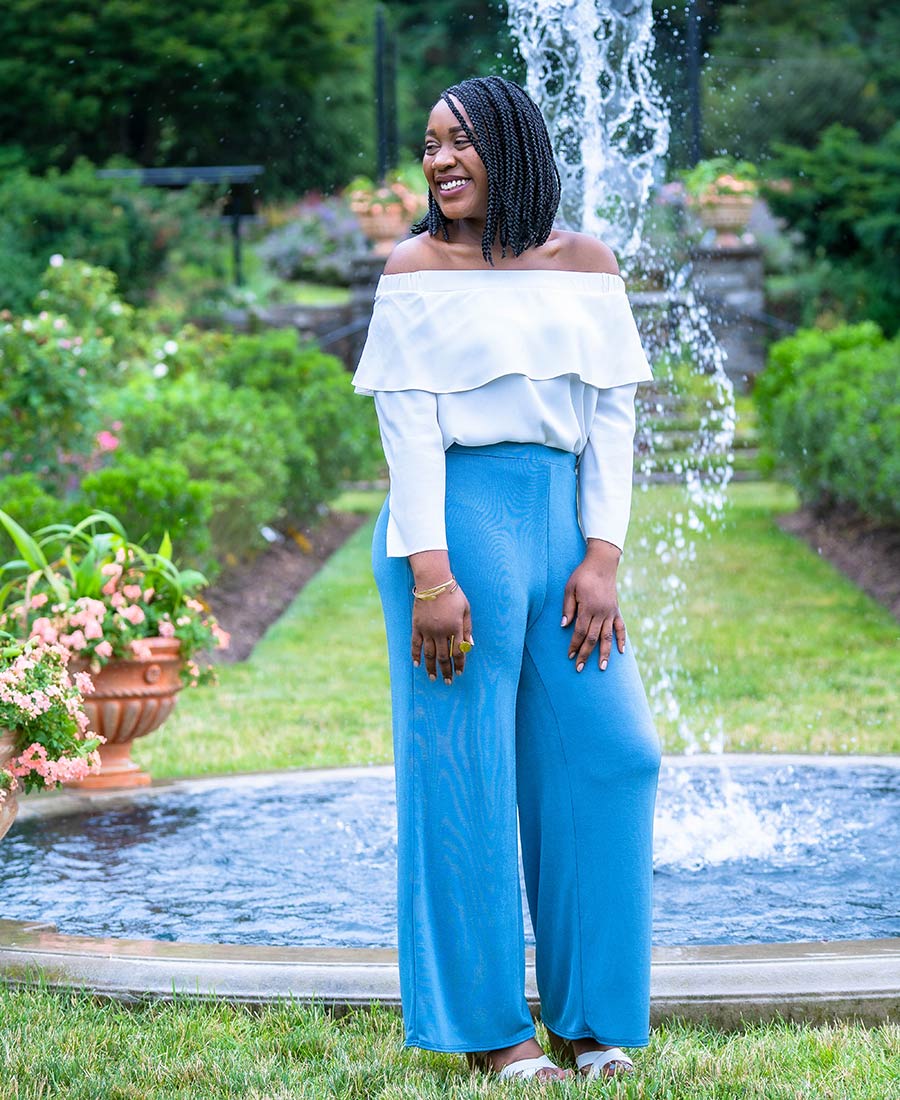 Germantown couple Yolanda Patterson, 28, and Leroy West, 27, met through mutual friends. They began to hang out frequently, enjoying each other's company, and then began dating. Almost five years later, West, the co-founder of Xavi Row Bespoke — a luxury menswear label based out of Philly — decided June 2020 was the time to pop the question. As might be expected from such a stylish gentleman, he staged a photo shoot with Yolanda, a licensed practical nurse, using it as a decoy for the real purpose of the day.
The location? The Rose Garden at the Morris Arboretum. "I chose this place because of its beautiful outside scenery," he says. "I knew Yolanda would love to be near flowers and with nature." He spent the week beforehand nervously arranging the details — deciding how he would ask, arranging a photographer, and planning an after-party and for their families to secretly be on-site, too. "I wanted it to be a complete surprise," he says. "With everything going on, this was not at the top of Yolanda's mind. I also wanted to bring some joy and happiness in this time of confusion."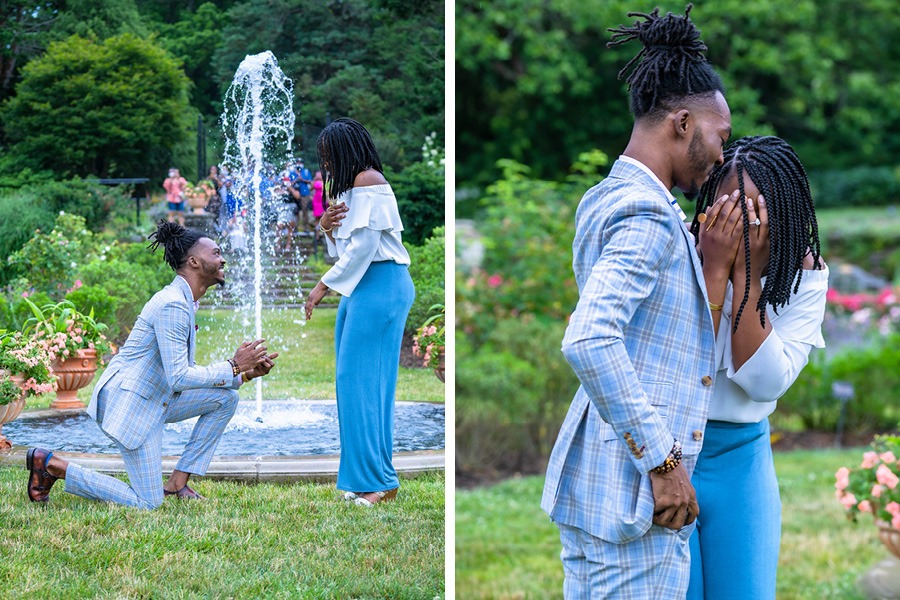 The day began with the couple choosing their outfits — Leroy in his custom suit, and Yolanda in blue pants and an off-the-shoulder top. "That was my first outfit option because I wanted to bring out the blue in Leroy's suit," she says. "I went through at least five more outfits because, I mean, it is a photo shoot. After a mini-meltdown, Leroy reminded me he liked the first outfit best, so I went with what my man likes."
When they arrived at the Rose Garden, Yolanda says she felt at peace. Leroy, meanwhile, was having his own mini-meltdown, quite literally. "I kept my poker face, but I was dressed in a full suit, in 90-degree weather, with her ring in my pocket, lol. I was nervous and sweating the whole time in the park." The couple snapped images at various spots throughout the destination before heading to the fountain in the middle of the garden for the last photo location — and big moment. Leroy arranged to have their family appear behind them, giving them a great view of it all.
And Yolanda was blissfully oblivious. "He distracted me with the photo shoot so well that when he got down on one knee, I was taken aback. I was speechless. I was so into the moment that I didn't realize our family and friends where there until he turned me around to see them. I was shaking from all of the excitement that I could barely show the ring off." It didn't end there: After family photos in the park, Leroy finished the day with a small engagement party later in the afternoon.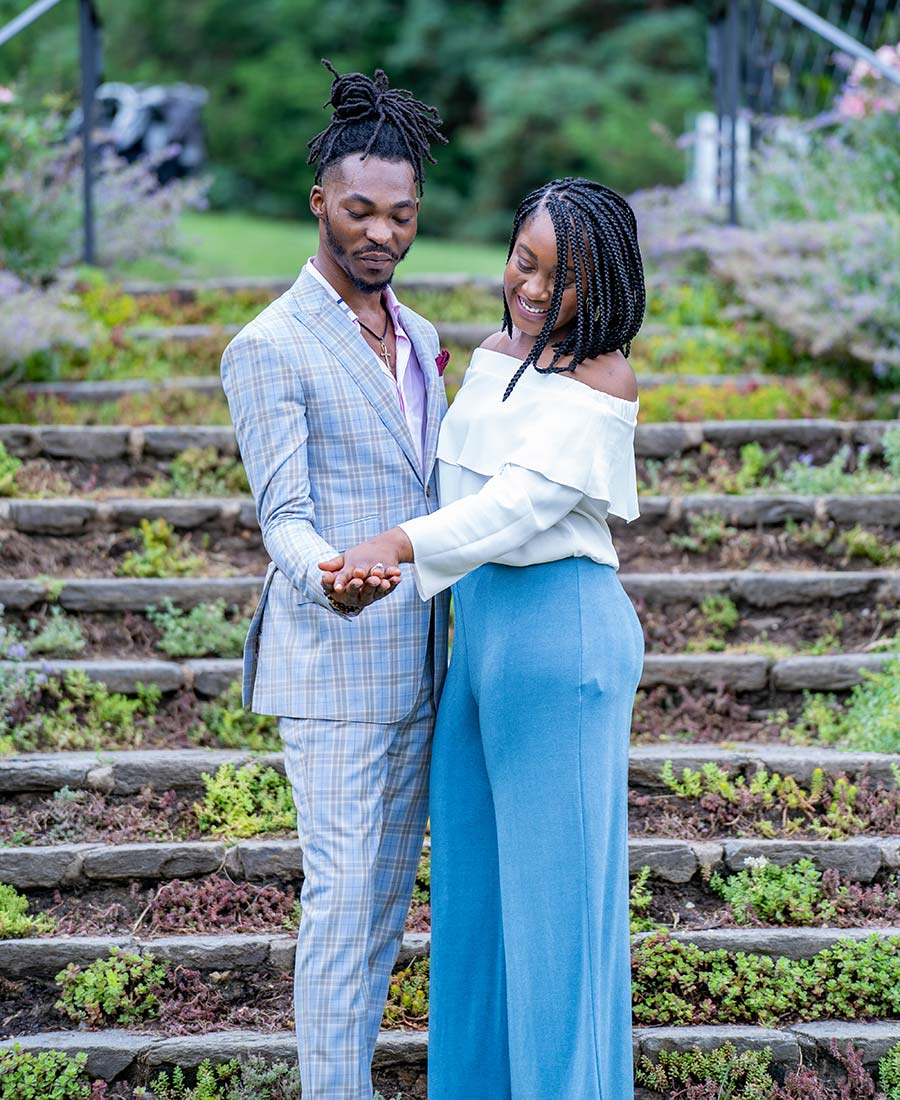 Do they have a date set yet? Tentatively, September 2021. But right now, they're savoring the newness of it all. Says Yolanda: "I felt the love all day."
Get more great content from Philadelphia Wedding:
FACEBOOK | INSTAGRAM | NEWSLETTER | PINTEREST
Getting married? Start and end your wedding planning journey with Philadelphia Weddings' guide to the best wedding vendors in the city.
---
---