News
Amid Trump Arrest Drama, a Look Back At My Favorite Philly Mag Donald Trump Stories
From the wild Wildwood rally to the 13-year-old Trump enthusiast from Old City.
---
Check phillymag.com each morning for the latest edition of Philly Today. And if you have a news tip for our hardworking Philly Mag reporters, please send it here.
Amid Trump Arrest Drama, a Look Back At Our, Er, Favorite Philly Mag Donald Trump Stories
We are Philadelphia magazine. Philly Mag. A magazine about Philadelphia. So the stories we write tend to be specifically about Philadelphia and the surrounding area. But every so often Donald Trump has given us a reason to write about him. And what memorable stories they have been. So amid all this Trump arrest drama, we thought we'd take a look back at some of our favorite Philly-related Trump stories.
The pièce de résistance would have to be "Fact-Checking All of the Mysteries Surrounding Donald Trump and Penn" by the late Jonathan Valania. In this 2019 investigative feature, Valania delved deep into Trump's claims about his time at the University of Pennsylvania. And it's fair to say that Valania found that Trump's history at Penn was, like much of what Trump has said, iffy on the facts. But then, if there's one thing we've learned about Trump supporters, it's that they don't really care when their dear leader lies, makes misstatements, or omits key facts. Shrug.
In 2020, I had the chance to catch up with a controversial character by the name of Ed McGinty. He lived in Philadelphia for most of his life, graduating from Cardinal Dougherty. And he hates Donald Trump. The thing is, McGinty chose to retire to The Villages in Florida, a community that's pretty much ground zero for the kind of ultra-conservative nonsense that you probably associate with Florida. So what was McGinty doing in 2020? Driving around The Villages in a golf cart emblazoned with messages like "TRUMP PATHOLOGICAL LIAR" and "Trump is Putin's bitch." For the full story, read "Philly Expat Becomes One-Man Anti-Trump Army In Super-Conservative Florida Retirement Community."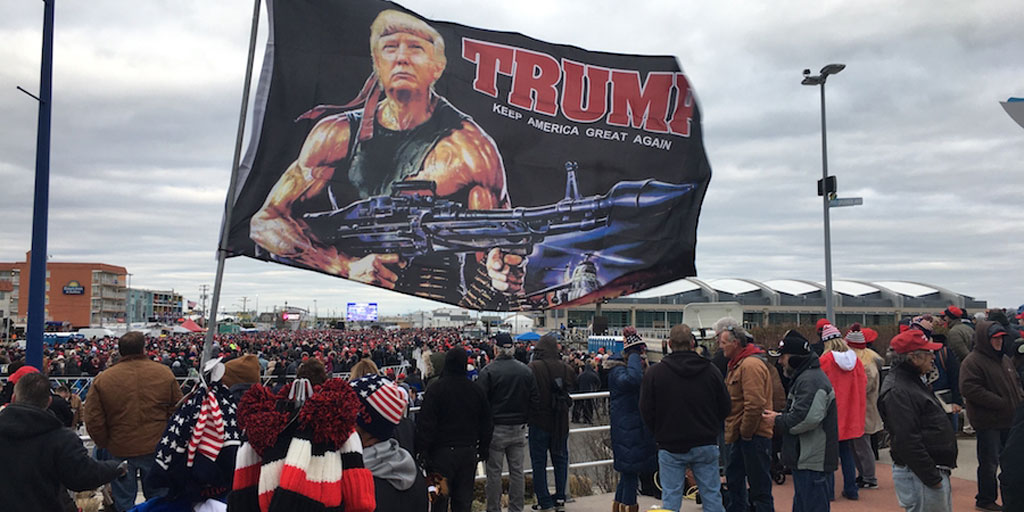 "I Went to Wildwood for the Donald Trump Rally and Lived to Tell the Tale" is a pretty self-explanatory headline for my story about a cold and rainy Tuesday in which tens of thousands of Trump acolytes (and me) descended upon the Jersey Shore town. I described the experience as being like "the Mummers Parade, a rock concert, and a taste of good-ol'-boy Alabama fun all rolled into one."
Former Philly Mag reporter Claire Sasko memorably documented Trump's 2018 visit to town in "The Best and Worst Moments from Trump's Philly Visit." This was also during full-fledged Gritty mania, so there were plenty of Gritty signs on display at the various protests surrounding that visit.
Also in 2018, I looked into Trump-loving 13-year-old Cole McCafferty of Old City, who wound up being part of a Newsweek feature entitled "Trump's Mini-Mes." McCafferty and his parents sued the already embattled publication for libel and defamation over that story, which gives you the context you need for my headline: "This Trump-Loving Kid From Philly Just Made Things Worse for Newsweek." By way of update, the case made its way through the courts, eventually winding up in the dismissal pile, a decision upheld on appeal. And if my math is correct, Lil' Cole will be able to vote in next year's presidential election.
Oh, and we just have time for one more, so I'd have to pick the piece we did as Trump and his minions were challenging the 2020 election results in Pennsylvania. The headline for that story tells you all you need to know: "Trump Lawyer to Pennsylvania Judge: Nope, I've Got No Evidence of Voter Fraud." You can't make this stuff up. No, really.
That's all about Trump for now. Let me know what happens with the whole Trump arrest thing. I'm fatigued.
Political Movements
Rebecca Rhynhart may have a cute TV commercial featuring the endorsement of two former Philadelphia mayors. And, yes, she just picked up the endorsement of the Inquirer. But fellow mayoral candidate Cherelle Parker has been quietly gathering the support of local Democratic officials. And that could make all the difference at the polls. Endorsements don't get people out to the polls. The local Democratic machine does. For more on all of the Philadelphia mayoral candidates, check out our voter's guide here.
Pennsylvania has closed primaries, meaning Democrats can only vote for Democrats, Republicans for Republicans. And if you're registered Independent, you can't even vote in the primary. But could that soon change?
By the Numbers
8: The new count of confirmed tornadoes in the region on Saturday, up from 5 this time yesterday.
3: Weeks it took for the Mercyhurst University men's ice hockey team to kick the son of Flyers GM Danny Briere off the team after the entitled little shit was seen pushing a woman's unoccupied wheelchair down a flight of stairs. Hell, I'd kick him out of the school. But I'm sure this is being chalked up to a "bad choice."
14: Areas of the city covered by the street-sweeping program, which just restarted.
$8 million: Amount spent on the Ben Franklin Bridge's nifty new LED lights.
$214 million: Total cost of the various upgrades underway on said bridge.
100: Percentage of Philadelphians wondering why the truly ugly-ass Walt Whitman Bridge isn't getting all that love.
And from the Another-Slow-Start Sports Desk …
The Phillies, fresh from getting their heinies royally whipped by the Texas Rangers, headed for NYC to play the Yankees in a three-game series, with the first last night. Is it just me, or does Trea Turner look like that smart-aleck kid in your third-grade class, too? The Yanks scored twice in the first off Taijuan Walker, and in the third, Gleyber Torres ripped a homer off him.
But in the top of the fourth, Alec Bohm doubled, and Edmundo Sosa singled him home: 3-1. In the fifth, with no outs, it was Brandon Marsh's turn to double. Two outs followed before J.T. Realmuto singled. But Marsh goofed up his base-running and was out at third. Damn. His hair was already soaked, too. Pitching change for the Phils after a single; Yunior Marte came in, and Anthony Rizzo promptly hit a two-run homer. Marte then walked the next two batters. Gadzeeks. Franchy Cordero doubled, and just like that, it was 7-1. A strikeout … and a Jose Trevino single: 8-1. Reader, I won't lie: I went and checked out The Voice while I waited for the NCAA championship game.* Ah, Philly.
I dare the Phillies to go 0-162

— Ryan (@rsully0) April 4, 2023
Final: 8-1.
Game 3 of the World Series was fun tho

— Jawn Gonzalez (@JohnGonzalez) April 4, 2023
The Phils and Yanks will go at it again tonight at 7:05. Goody. At least we still have Thursday's home opener to live for, where the team debuts its new PhanaVision screen, which is 77 percent bigger than its old PhanaVision screen, because this is America and bigger is better, goddamn.
It's the Sixers vs. the Celtics tonight at 8 p.m. in Boston, in what everybody dearly hopes isn't a preview of a playoff scenario. And the Union face off against Atlas FC tonight in Chester, also at 8 p.m., in that CONCACAF thing.
The Flyers also play.
*The wrong team won.
All Philly Today Sports Desk coverage is provided by Sandy Hingston.
---
---