Architect, Developer Agree Things Are Looking Up Around Here
The city's built environment reflects its more cosmopolitan attitude, say Cecil Baker and Jerry Sweeney.
---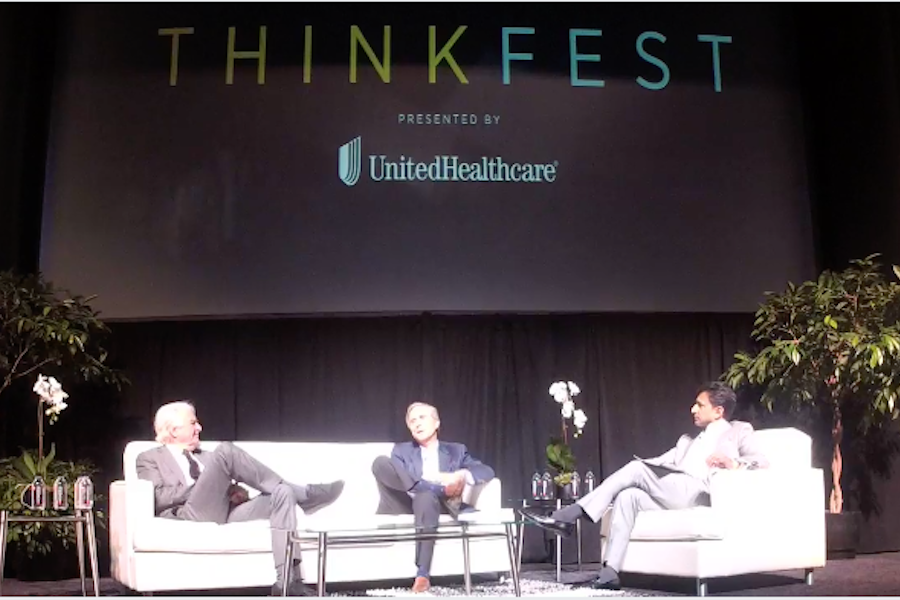 Today's Philadelphia is a dramatically different city from the Philadelphia of 30, 20, 10, or even five years ago. It has an actual skyline now, for starters. For another, there's a sense of energy and excitement about the place, and a feeling among some that the city's best days lie ahead.
This Philadelphia draws its newfound sense of itself to a large extent from the dramatic changes in its built environment over the last decade or so. Two of the people most responsible for those dramatic changes got together on the ThinkFest stage last Thursday to give their assessment of how we got here and where we might be headed.
One of them, Brandywine Realty Trust CEO Jerry Sweeney, pushes forward the projects that have reshaped the city. The other, architect Cecil Baker, has designed several of them.
Sweeney is bullish on the city. "The reputation of Philadelphia around the country is growing exponentially," he says. This makes it easier for his firm to persuade investors and would-be tenants to put their money and their offices in developments like Schuylkill Yards, work on which officially started the day before ThinkFest.
And those investors and companies find it easier to come here because a new wave of residents have found this place to their liking. Young adult Millennials and aging Baby Boomers have helped drive the development boom, and Sweeney wants nothing more than to keep the momentum they've generated going.
Some of Baker's recent work appeals to those aging Boomers while also drawing the younger crowd into the conversation about the future shape of the city. And he points out that the city has a long tradition of distinguished and innovative architects that he and his contemporaries build on.
Changes in policy also encourage the city to grow in new and different ways. Baker cites changes in the zoning code as encouraging denser and greener buildings, for instance.
Yet both acknowledge that for all that things have changed for the better in the city, there's still work to be done. For instance, Sweeney points out that about 45 percent of city residents commute outside it to work. In other cities of our size, that figure is closer to 10 to 15 percent. Developers can help shift that ratio, but policy changes will do more, he says.
Yet if the region's business and civic leaders can remain focused on improving both the physical and business environments, Sweeney at least is confident that the city can become the world leader he believes it's meant to be.
You can watch the entire discussion, moderated by Jay Shah of Hersha Hospitality Trust, below.
---
---