16 Top-Notch Philadelphia Restaurant Wedding Venues
We're getting hungrier by the minute.
It's no secret that the key to a great wedding reception is great friends, great music, and, in our humble opinion, great food. That's why we've compiled a list of some of the best restaurant wedding venues around Philadelphia. Whether you want a small, intimate affair or a big, blowout party, there's plenty of surprising, fun, and charming options throughout the city. Check out our favorites below! 
Read on to see 16 of our favorite Philly restaurants that host weddings, then head to our wedding vendor directory to explore even more awesome local wedding vendors to help you plan your Big Day.
Amada
217 Chestnut Street, Old City
Jose Garces' restaurant on Chestnut Street gives delicious Spanish tapas a sexy, modern feel, and the warm décor paired with contemporary Spanish food makes it an ideal spot for a celebration. Between the two dining rooms, up to 150 guests can fit in the space. Pricing varies, but usually hovers around $150 per guest.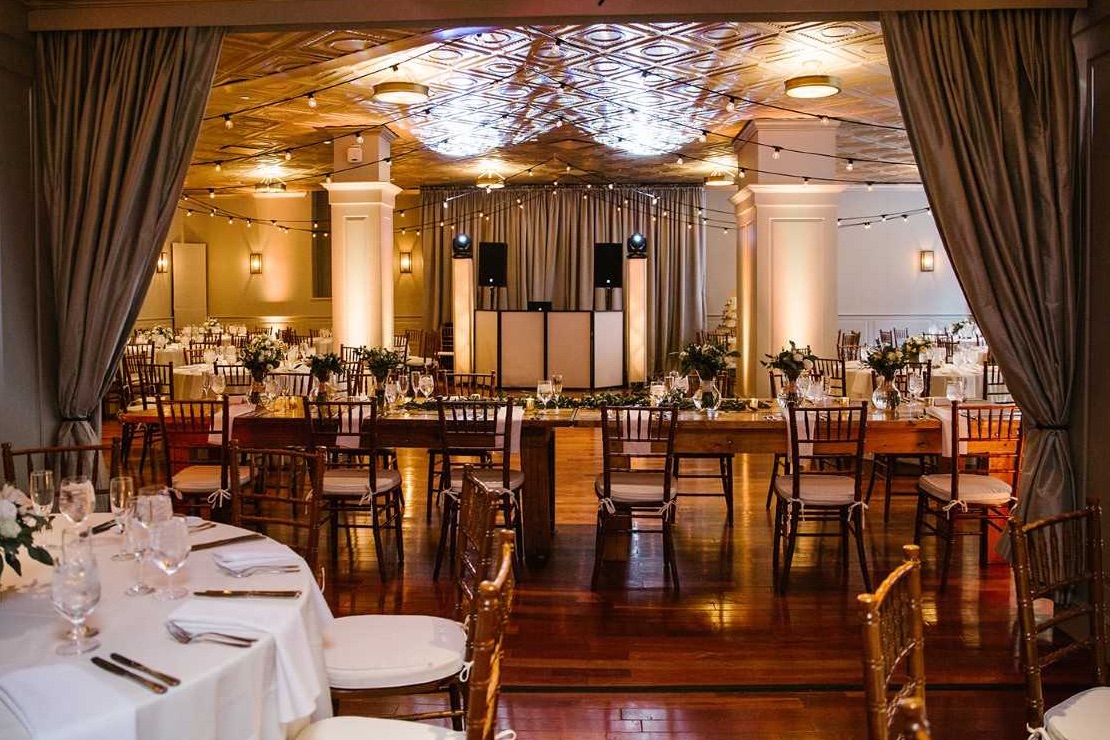 The Olde Bar
125 Walnut Street, Society Hill
Located in the Old Original Bookbinder's, classic location The Olde Bar puts a modern twist on the standard oyster bar. Along with updated versions of traditional bar food and a long list of spirits and cocktails, this storied Philadelphia saloon is sure to keep your guests happy. The bar can typically seat up to 180 people, but different configurations can allow for more people to squeeze in. Prices usually hover around $170 per person, and a dessert bar is included in the standard wedding package. There are discounts available for Friday and Sunday weddings as well as weddings held in January through March.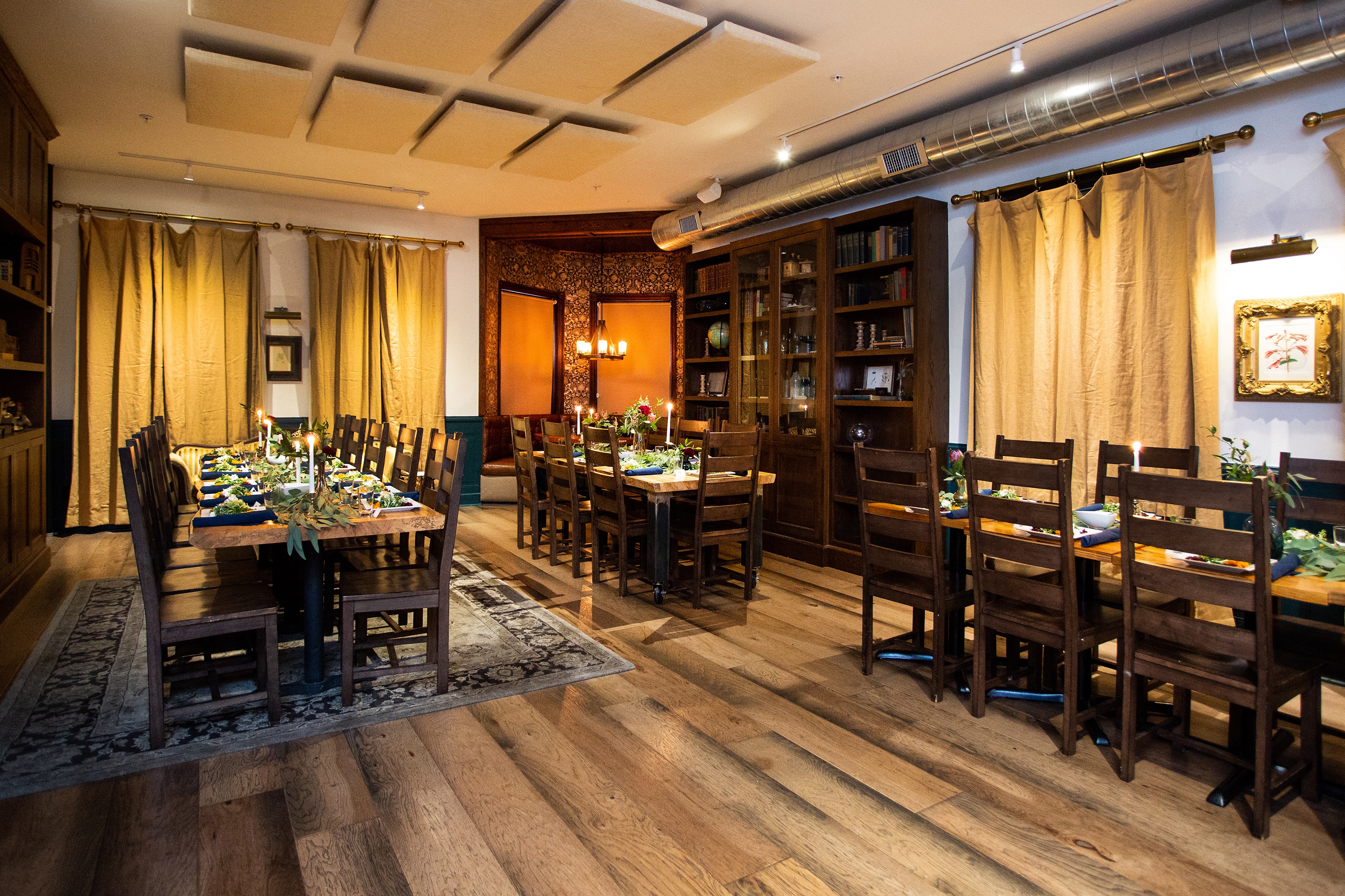 Front Street Cafe
1253 North Front Street, Fishtown
This New American restaurant only recently started hosting wedding receptions in Spring 2018, but they're looking forward to expanding this part of their business. Front Street Cafe has a laid-back, natural feel and is perfect for the rustic-leaning, outdoorsy couple. With a choice between dining inside or outside on their gorgeous patio, there's lots of options. Guests can dine on locally-sourced health food while they celebrate with you. A full-buyout of the restaurant can fit up to 200 guests, with pricing ranging from $60 to $125 per guest.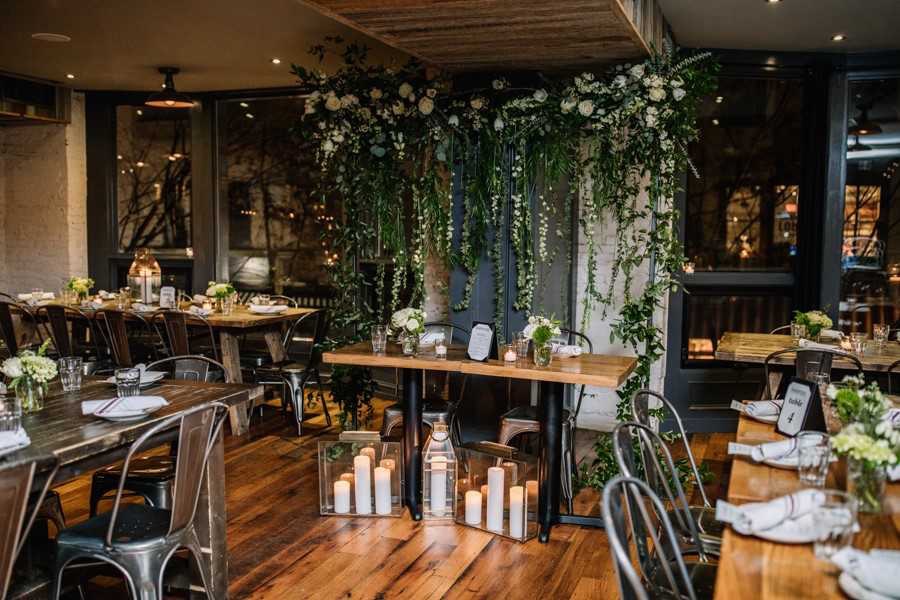 Barbuzzo Upstairs
110 South 13th Street, Midtown Village
Barbuzzo Upstairs is the second-floor private dining area offered at the traditional Mediterranean restaurant. Your guests will enjoy farm-fresh ingredients from between $85 and $165 per person. The upstairs can accommodate up to 60 people for a seated affair and 100 guests for a standing reception, so it's perfect for a more intimate affair.
Double Knot
120 South 13th Street, Midtown Village
Part of the Schulson Collective, Double Knot is a hip two-floor venue (including its coffee shop and bar upstairs, and secret izakaya restaurant in the basement) that can be rented for various sizes of receptions. With enough room for 30 to 120 guests and fresh sushi rolled to order, custom cocktails, and custom wedding cakes, there's lots of cool add-ons, too. Pricing varies.
Estia
1405 Locust Street, Midtown Village
This upscale Greek restaurant in Center City has room for up to 180 guests, but smaller groups are also encouraged to book their reception here. Their wedding packages range in price from $45 to $110 per guest. They also offer a deal for no cake delivery fee for couples that decide to order their cake from Tiffany's Bakery on Market Street.
Square 1682
121 South 17th Street, Rittenhouse
Your guests will enjoy modern American cuisine while sipping on cocktails at modern, trendy Square 1682 inside the Hotel Palomar. This space is perfect for a small to mid-size reception, with the Burnham Ballroom fitting up to 100 guests. The average price per person is $130.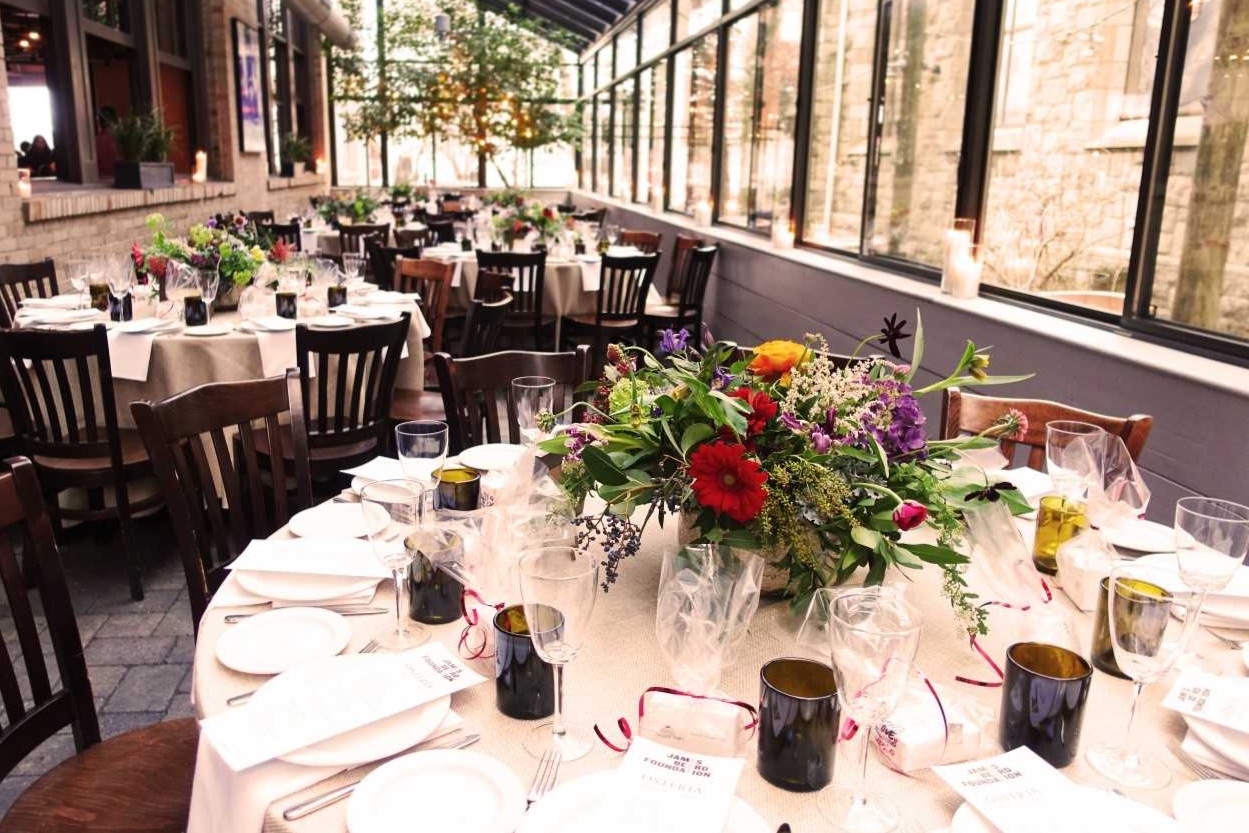 Osteria
640 N Broad Street, Fairmount
Your guest will enjoy family-style, seasonal Italian meals and thin crust pizza at this award-winning restaurant. Osteria's patio would be best for a reception of up to 75 guests, and the Wine Room can seat up to 45 people.  In addition to these offerings, Osteria offers custom-made cakes, wine pairings, and more. Pricing varies.
Martha
2113 East York Street, Kensington
Martha is the perfect choice for an open, outdoorsy wedding. This Kensington spot serves up healthy, locally focused food and beverages in a "unique and natural city environment," according to co-owner Jon Medlinsky. Martha can seat up to 80 people inside and 200 if the outside area is used. Pricing ranges from $18 to $40 per person. If you're looking for vegan and vegetarian options as well, Martha is a deliciously appropriate place to book your reception.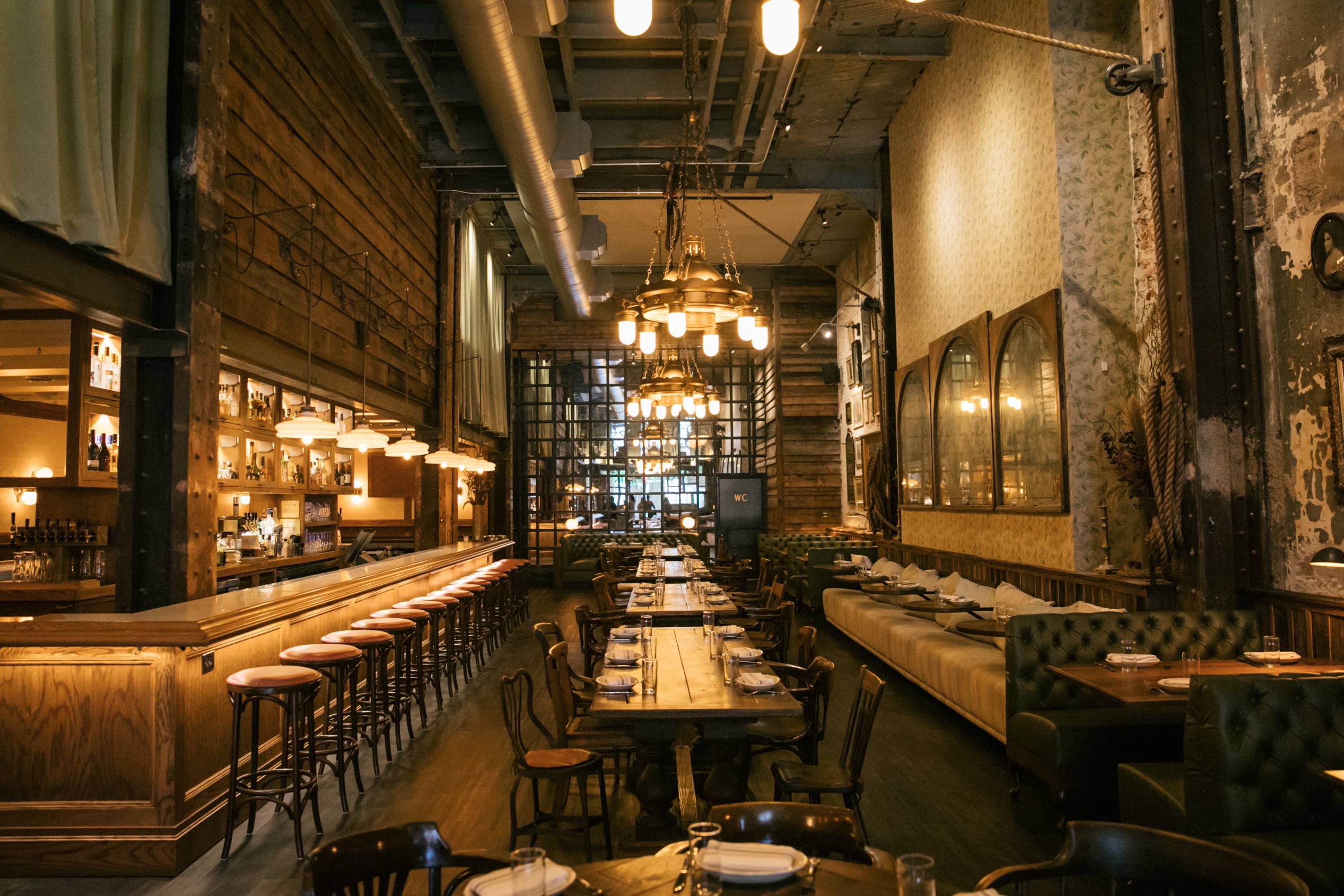 Harp & Crown
1525 Sansom Street, Rittenhouse
Your guests will enjoy fun twists on new American food in this dark and dreamy Schulson Collective spot. This bi-level space is perfect for a medium to large affair with enough room for 140 seated guests or a 200-person standing reception. Looking for a smaller space? Check out Elbow Lane, Harp & Crown's speakeasy lounge with two private bowling lanes and enough room for a 30 person seated reception. Harp & Crown's corporate pastry chef can create a custom-made wedding cake or design a full dessert display. You can also sign on for a beverage pairing or craft custom cocktails. Pricing varies.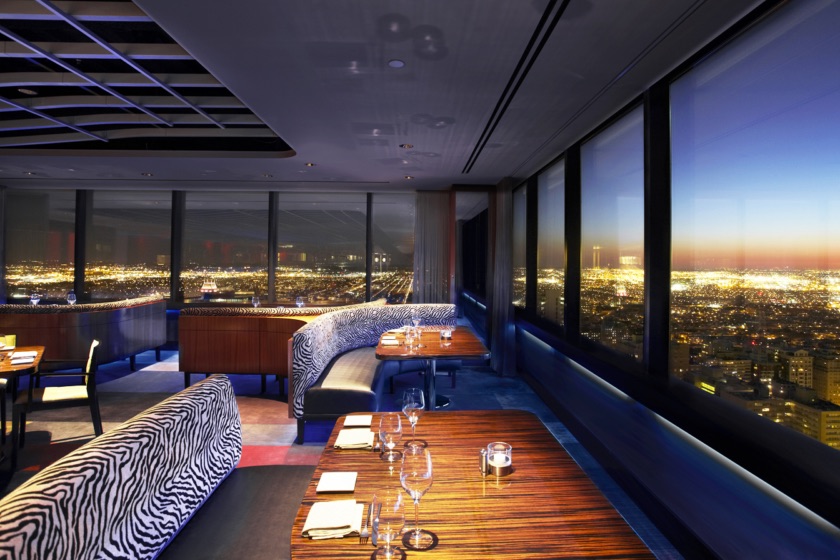 R2L
50 S 16th Street, 37th floor, Rittenhouse
R2L is located on the 37th floor of a high-rise and features New American food with an art-deco feel. A buyout of the restaurant can fit up to 350 guests, making R2L a great space for a larger reception. Prices range from $160 to $220 per guest. Couples will also have the opportunity to sit down and create a customized package for their reception including photography.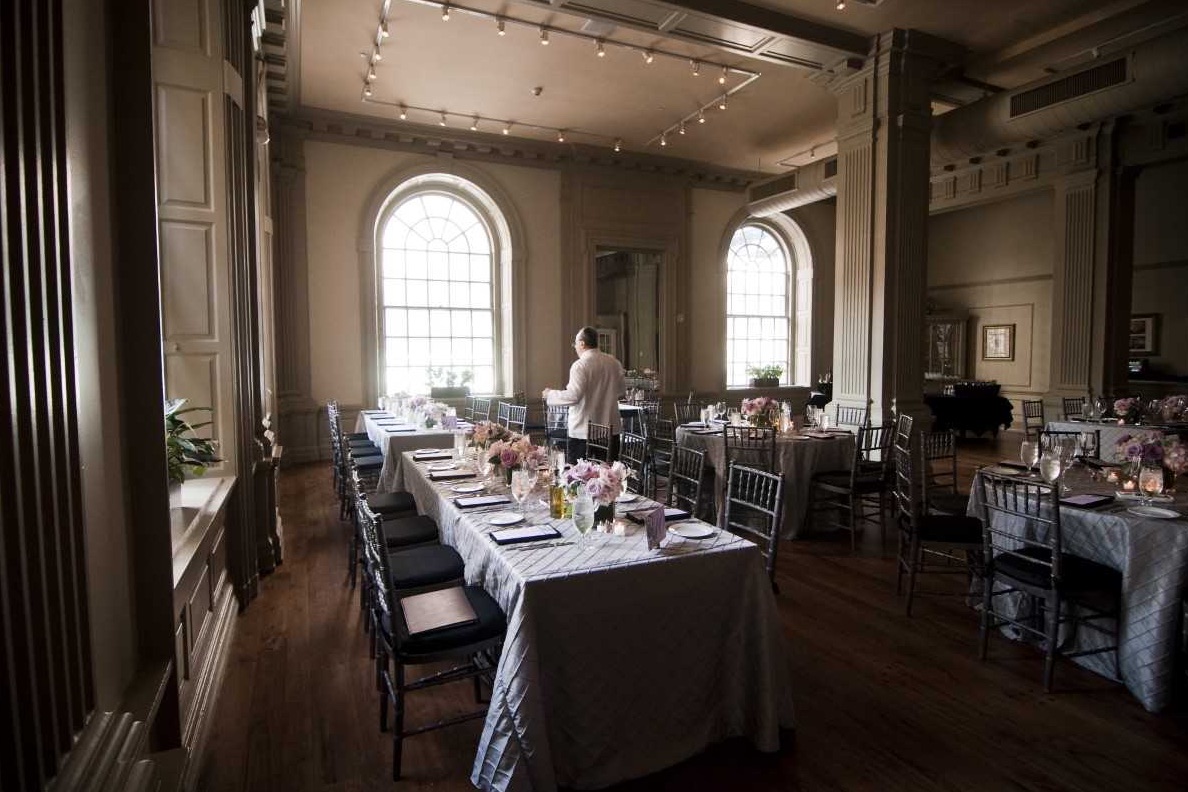 Davio's Philadelphia
111 South 17th Street, Rittenhouse
The Philadelphia location of classic spot Davio's is located in what used to be a bank. The restaurant is typically used as a space for smaller weddings with 80 guests or fewer, but can fit up to 200 people. Pricing usually ranges from $125 to $150 per guest including beverage, food, tax, and gratuity. Davio's is also a great space to hold a rehearsal dinner. Their menu features everything from steak to seafood with plenty of options for all your guests.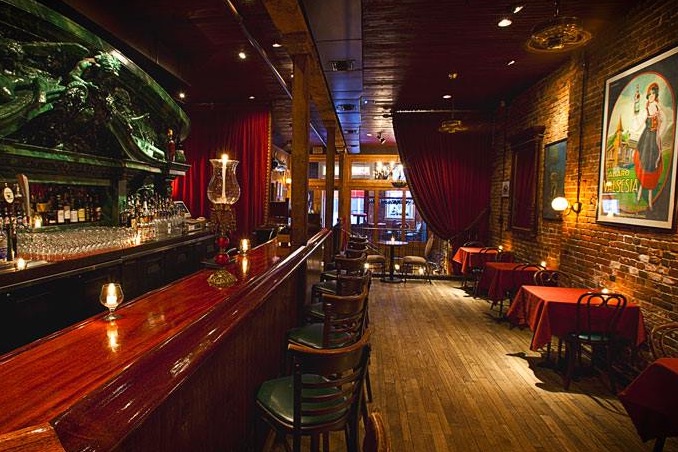 Bistro Romano
120 Lombard Street, Society Hill
Bistro Romano is perfect for a smaller reception with seating for up to 80 guests. They also have over 100 rehearsal dinners per year and are known for smaller, intimate affairs. Pricing starts at $50 per person and goes up depending on which package is chosen. Your guests will enjoy hearty Italian dishes in this rustic restaurant, and can even take a look in their wine cellar. Bistro Romano also offers the happy couple a gift card to eat again at the restaurant, perhaps on their first anniversary.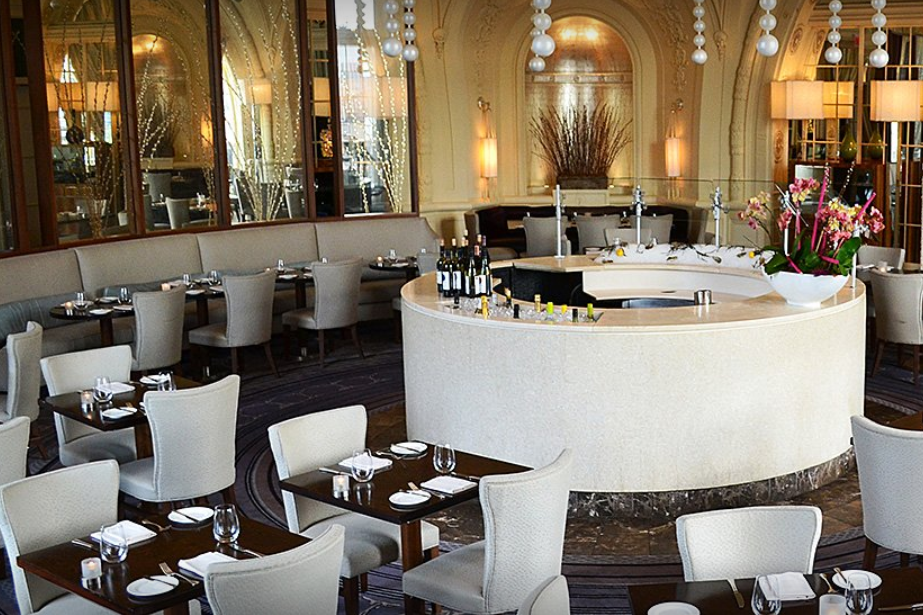 XIX
200 South Broad Street, Midtown Village
XIX is located on the top-floor of the historic Bellevue hotel. The space allows for a 70-person seated dinner with dance floor, while reception style seating allows for up to 100 guests. Pricing starts around $199 per person with customizable packages for specific accommodations. Their wedding packages include complimentary staging for band or DJ and special room rates for guests. Their focus is Luxe American food, but Kosher and Indian catering options are also available.
Sampan
124 South 13th Street, Midtown Village
The Schulson Collective's Sampan is perfect for a smaller wedding that doesn't slack on a cool, modern feel. Sampan has enough room for 120 guests seated and 150 for a standing reception. With pan-Asian offerings and handcrafted cocktails, your guests are sure to be happy with your reception. If you're looking for a smaller reception with a similar vibe, check out Graffiti Bar, Sampan's smaller bar located behind the restaurant. You still get the same custom cocktails, but with a more intimate atmosphere. Pricing varies.
La Peg
140 North Christopher Columbus Boulevard, Old City
This American brasserie serves up everything from breakfast to burgers to beers in a lofty, new-age setting. A wide selection of brews are served in this converted pump house on Columbus Boulevard, and your wedding guests will be treated to their expansive patio. La Peg can seat anywhere from 150-200 people and pricing usually hovers around $50 to $60 per person.
In need of more great Philly-area resources for your wedding day? Browse more of our Local Bride Guides here. 
All photographs courtesy of the restaurants.
Get more great content from Philadelphia Wedding: 
FACEBOOK | INSTAGRAM | NEWSLETTER | PINTERE
---