News
We Exchanged Vows at Home Then Rented Out Vernick Wine for a Private Dinner for Two
The guest list shrunk from 250 to zero due to COVID-19.
---
Since March of last year, weddings throughout Philly have been upended by the COVID-19 pandemic as countless couples have had to rethink their journeys to "I do." While there have been, and continue to be, many challenges, there have also been tender moments and joyous celebrations (no matter how small) along the way, many of which you can read about in our Coronavirus Wedding Diaries. A particularly intimate one comes by way of this duo: After postponing their Big Day twice, they exchanged vows at home and had a dinner for two at Vernick Wine — they were, quite literally, the only guests in the house. The newlyweds share their story below.
This story is part of Philadelphia Wedding's ongoing Real Talk series, in which real Philly couples share their unique approaches to wedding planning and marriage. If you have a unique story or experience worth sharing, we'd love to hear about it.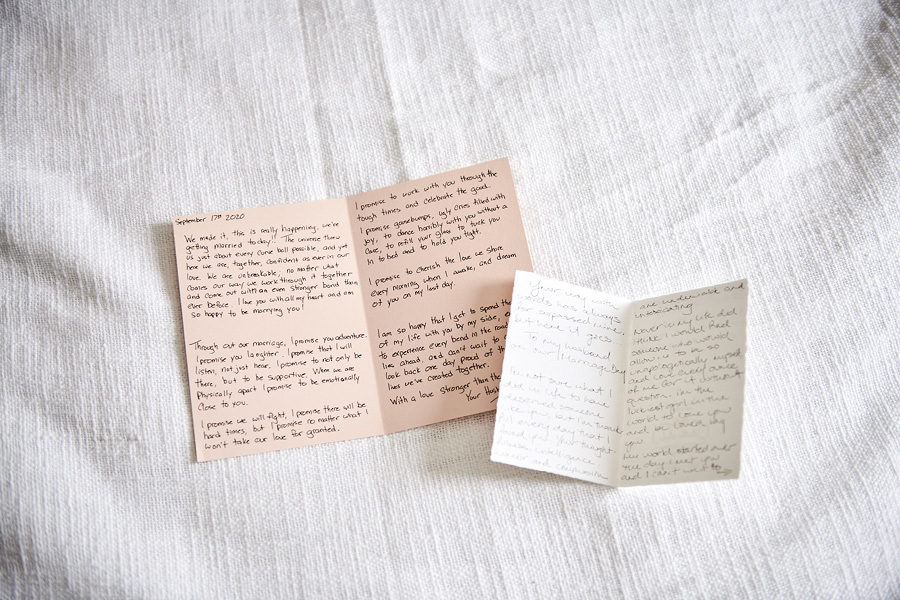 The couple: Aubrey Feeley, director of project management, and Trevor Moran, photographer, of East Kensington
The original wedding plan: A 250-person soiree at Bellevue Hall in Wilmington on June 6th, 2020
Their postponement approach: The couple initially rescheduled for September 19th. The first time was more difficult because it was early in the pandemic, and everyone was trying to figure out how to handle the ever-changing situation. "Half of our vendors treated the postponement as a cancellation, which was unfortunate, but the other were incredibly understanding and worked with us to find options," shares the duo. They ended up postponing that date for the second time in August — they thought it would be too difficult to whittle their list of attendees, and hope to hold a big soiree at some point later this year or in early 2022.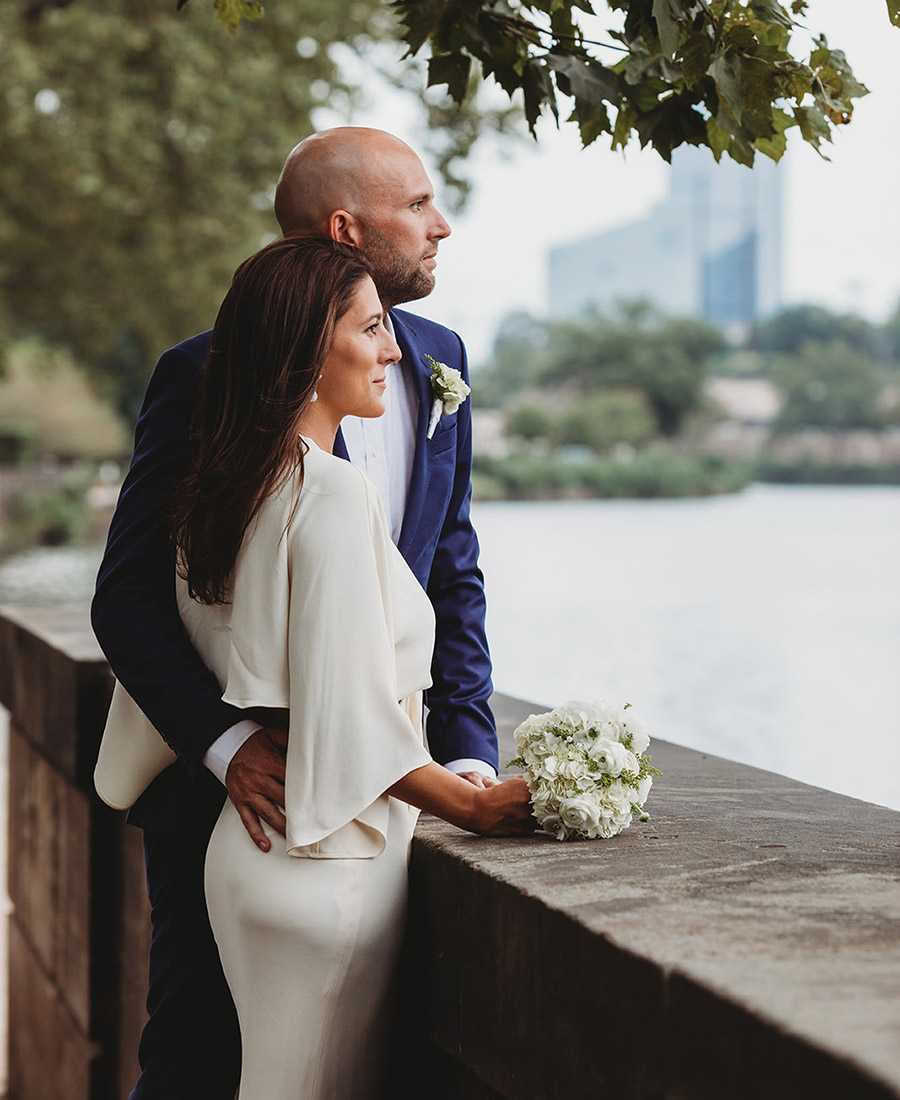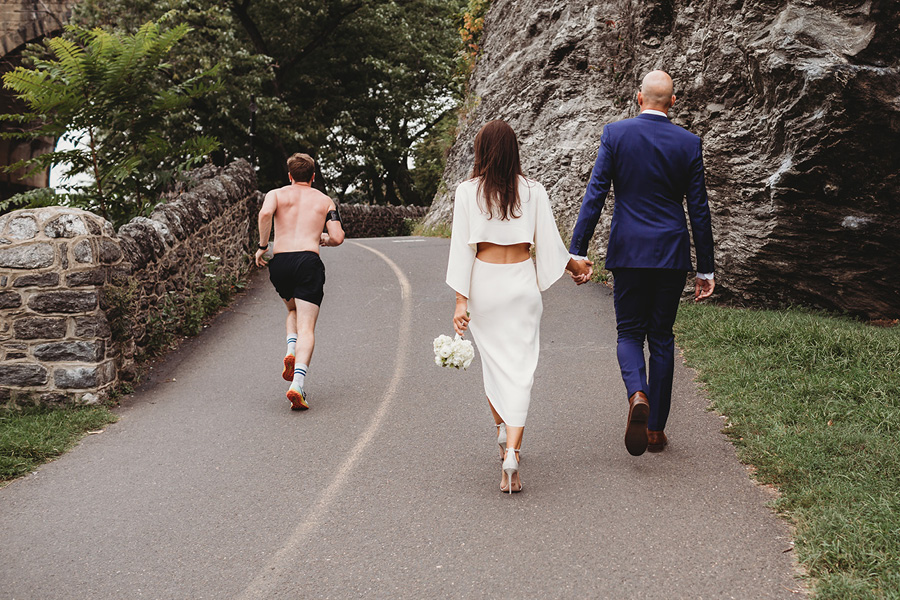 How the elopement came to be: Trevor and Aubrey may have put the big bash on hold, but they still were knocking around ways to say "I do." Friends Beka and Jesse Rendell came to the rescue when Beka suggested Vernick's wine shop. That gave Trevor and Aubrey the idea to simply have an intimate dinner: "Rather than having our immediate families come, why don't we make it incredibly special and do it just the two of us?" says Aubrey. The bride-to-be contacted the restaurant to see if it was something they could safely pull off (Philadelphia had temporarily loosened indoor dining guidelines). It was completely organic, notes Trevor. "We came to them with our situation and what we were thinking. There was no set menu or protocol." The couple collaborated with owner and chef Greg Vernick on the tasting menu and wine pairings. The pair got a self-uniting license and set the new date for September 17th.
The day of: Trevor photographed some of their private morning at home — Aubrey getting ready, cracking jokes together, sitting on their bed, having a quick cry. Unlike on a typical wedding day, the couple was together through it all. "I was totally seeing her before our wedding," he says. "There was no big reveal. It took the edge off: We were able to be together. It really felt like a shared experience the entire way through and more like a bonding moment. It played into the idea that what we were doing was for the two of us and not everybody else," he says. They quietly exchanged cards and vows. Their mothers signed their marriage license.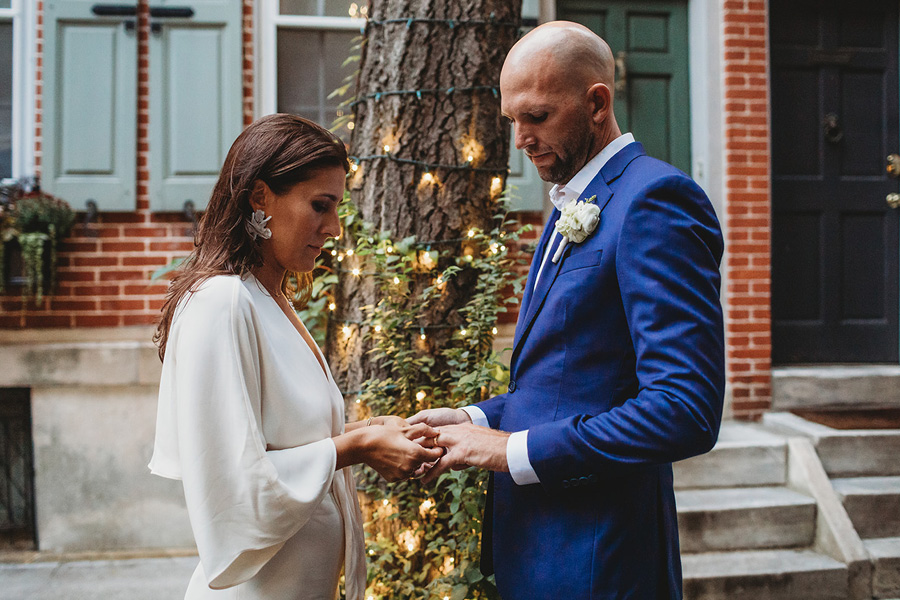 They later checked in to the Four Seasons Philadelphia to have a celebratory toast and prep for "first-look" photos, captured by Carrie Kizuka. The couple never actually had an engagement shoot, so the post-elopement images were even more special to them. They wandered through some of their favorite streets and neighborhoods, and exchanged vows again for photos. One of their last stops was on Addison Street. The couple may have had blisters on their feet by that point, but the day had been everything they wanted: "When we were sitting there under the lights, I was relieved and happy," says Trevor. "It wasn't the day we planned on paper, but it was coming together."
A special surprise: Throughout the day, their friends sent gifts. The couple hadn't told many people they were eloping, so finding out that some knew and made such an effort to add to the day was particularly moving.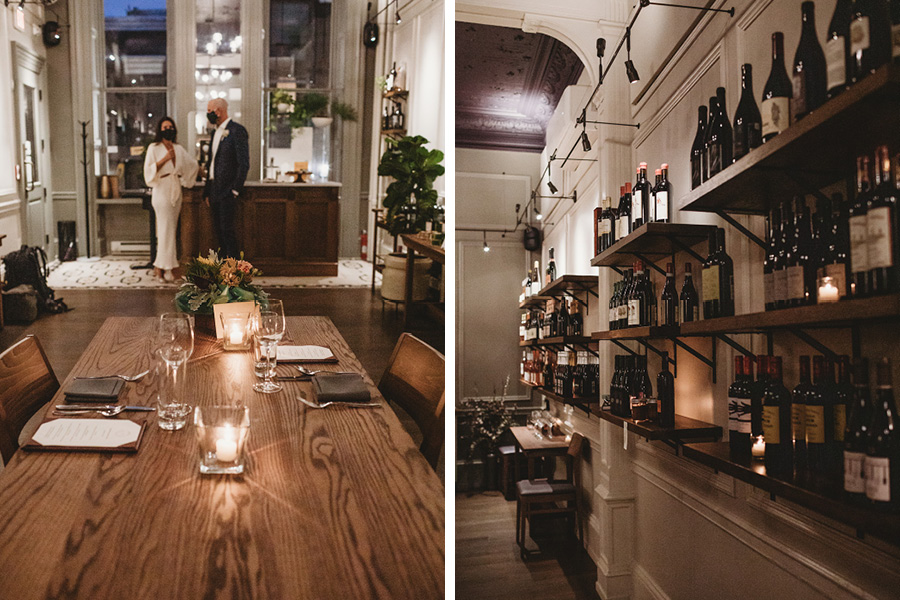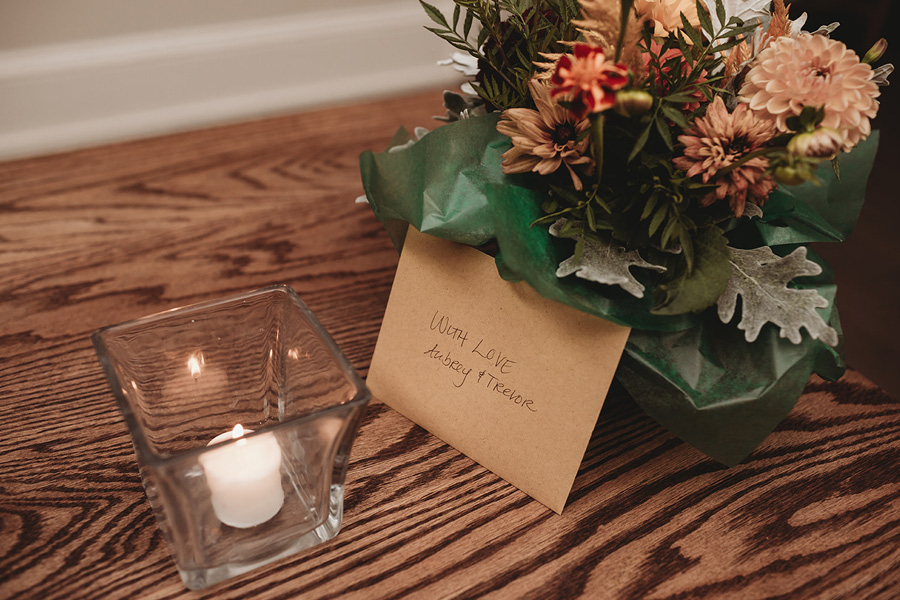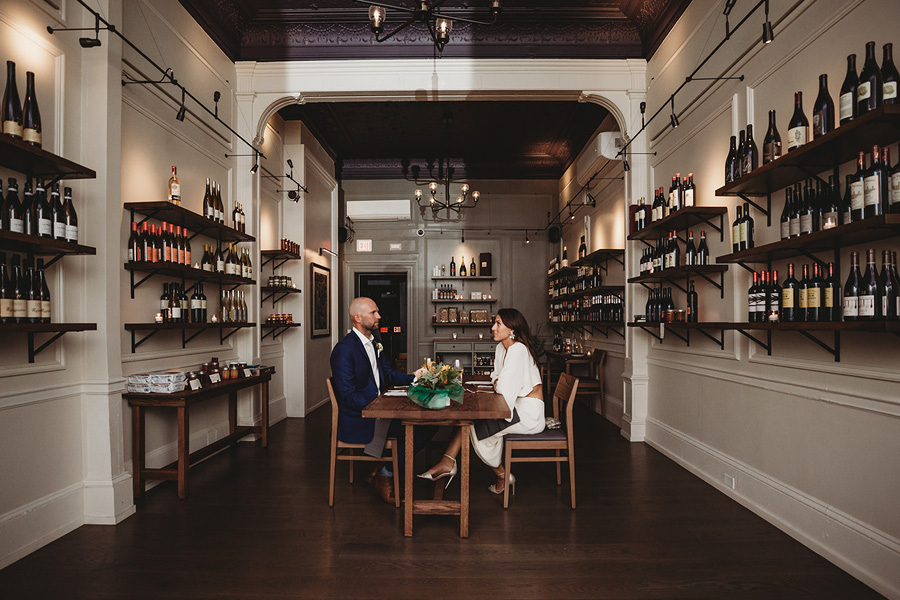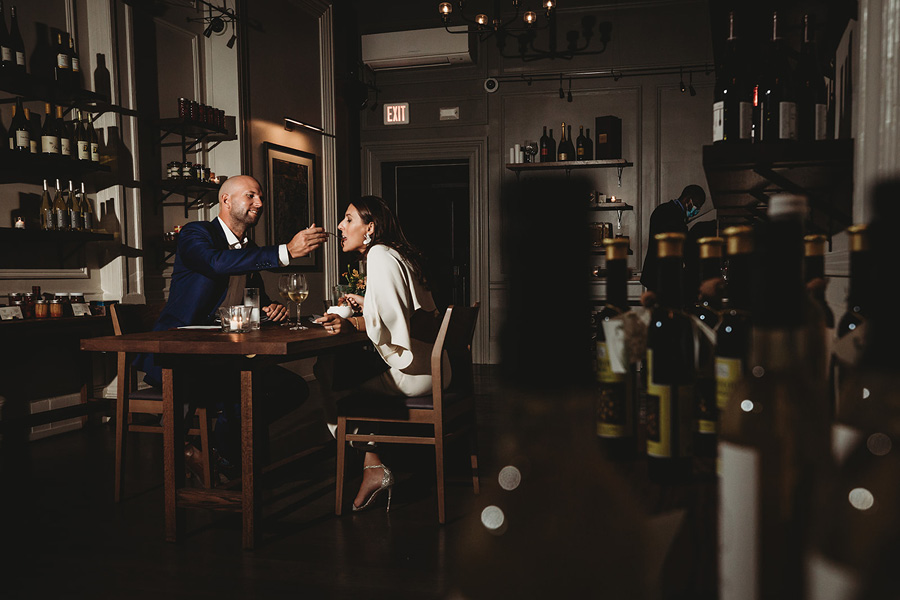 The dinner details: It was the couple's first time having a true restaurant experience since March. It was also their first private dining experience, where it was just the two of them. They were in a separate area from the main eatery, and only interacted with a small number of people — the chef, who signed their menu, a manager and a server who wore masks and face shields. The duo says they felt safe, comfortable and taken care of.
Their favorite dishes: Aubrey is split between the "melt-in-your-mouth" tuna crudo and the black sea bass. Trevor particularly recalls the graffiti eggplant with pistachio butter. "We do some adventurous dining, but I remember thinking: I don't know what that will taste like. I am excited to try it. It was something I thoroughly enjoyed." They didn't want the meal to end — but when they got to the rib-eye, they were full. "We were doing the opposite of what people do on their wedding day: We were going clean plate," says Trevor. "I didn't want to over-eat and ruin the night."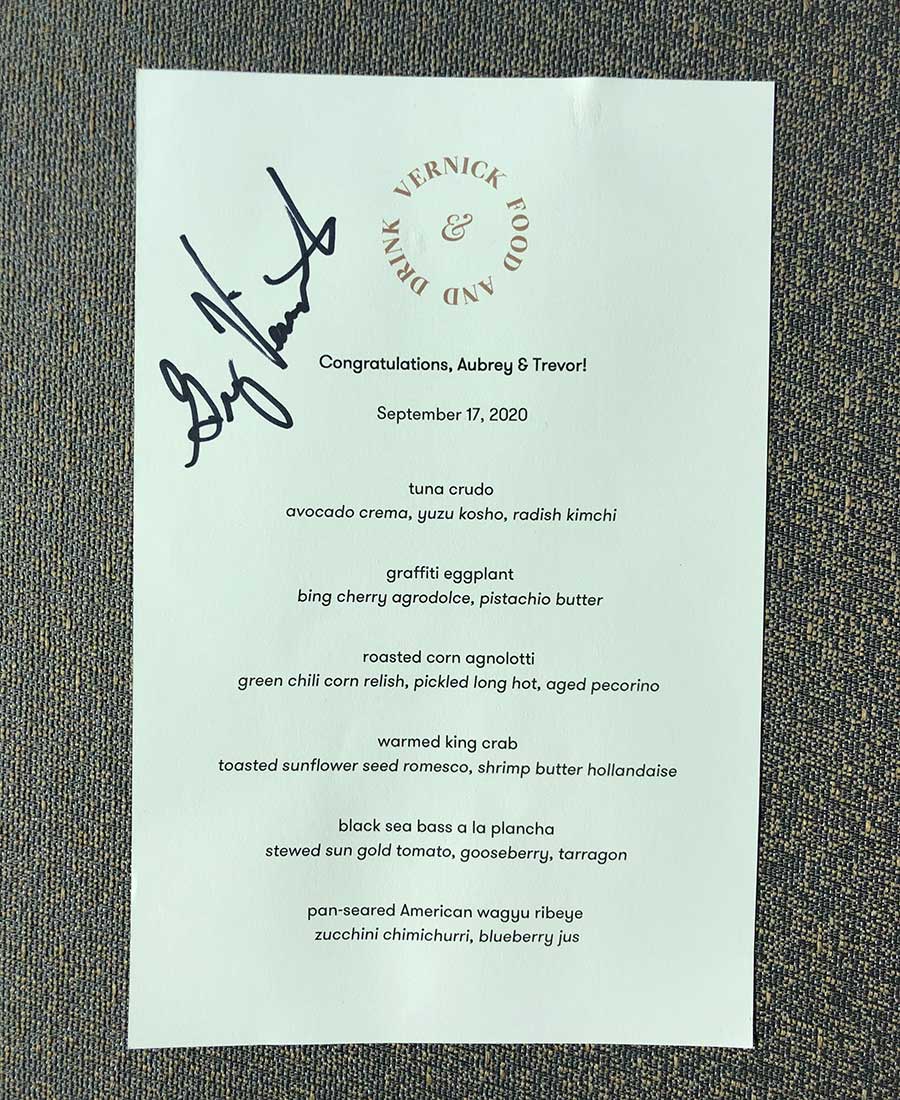 What the couple did afterward: The couple spent the evening at the hotel and enjoyed the spa the next morning. They shared their first-look preview photos with family and friends. They wanted to keep it as in-the-moment and personal to them as possible. Says Aubrey: "It was a dream being able to really spend the day we got married with just each other."
This interview has been edited for clarity and length.
THE DETAILS
Photographers: Groom (at-home); Carrie Kizuka (first look) | Venue & Cuisine: Vernick Wine | Florals: Whole Foods Market (the bride made the bouquet and boutonniere) | Bride's Gown: Shona Joy | Hair: Samantha Dubin | Makeup: Bride | Groom's Attire: Custom-made by L&K Bespoke Tailor while visiting Hong Kong | Overnight Stay: Four Seasons Philadelphia
Get more great content from Philadelphia Wedding:
FACEBOOK | INSTAGRAM | NEWSLETTER | PINTEREST
Getting married? Start and end your wedding planning journey with Philadelphia Weddings' guide to the best wedding vendors in the city.
---
---