News
These Philly Fitness Pros Snapped Engagement Photos at Their Fave Outdoor Workout Spots
The bride-to-be explores the city when she goes running.
---
All you need to set the scene for engagement photos is a proposal, some love, and a backdrop perfect for the couple. Philly, with its streets, murals, buildings and more, always lends a scenic setting, whether you want something woodsy, city-centric, or filled with art. This fitness-loving duo used their workout expertise to scope out cool outdoor Philly spots, from Race Street Pier to the murals of Old City. Here, Katie shares their story, with engagement photos by Carlyvous Photography to show off their style.
The couple: Katie Barrett, 30, and Gwinyai Murahwa, 32, Fairmount
How they met: We're both certified personal trainers. (I'm a fitness director, and Gwi is the head personal trainer at Leverage Fitness.) At the time, I was working at Fit Academy. Osayi Osunde, the owner, is a mutual friend and asked both of us to help him out with a boot camp he was running at Be Well Philly Fest in June 2016. Gwi was already well known in the local fitness scene, and I was just getting started — a.k.a., I knew who he was, but he had no idea about me. We had so much fun teaching that day and decided to get some friends together to meet later that night at Morgan's Pier. I really won Gwi over with my sweet dance moves, to be honest. We kept in touch and ran into each other every now and then, since we lived in the same neighborhood. We started hanging out more, and he asked me to be his girlfriend a few months later. We dated for a little more than three and a half years.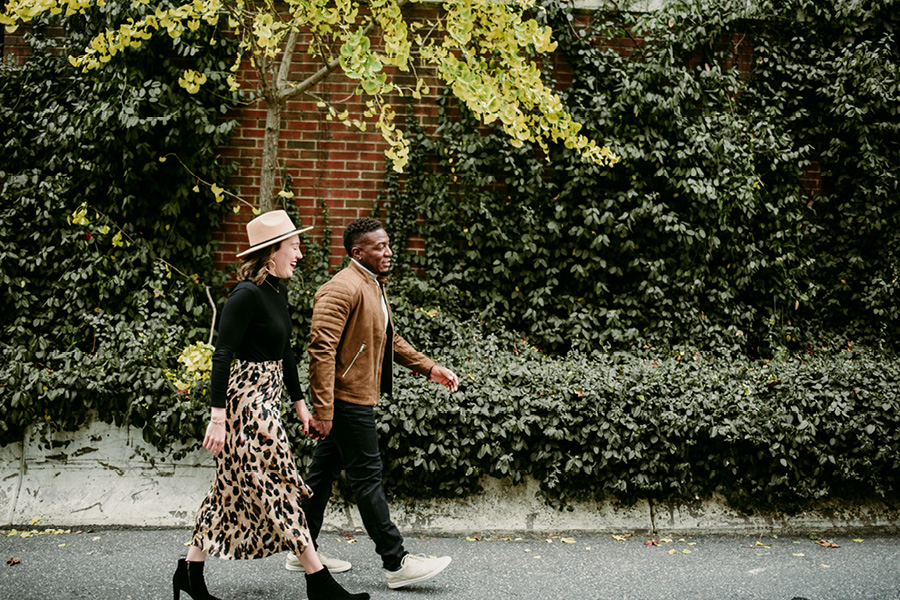 The South Jersey proposal: My birthday is in July, and I usually go to Sea Isle for the weekend to celebrate with my family. This year was the big 3-0, but we're also in the middle of a pandemic. All I wanted to do was wake up, workout, and spend the day on the beach. Not too much to ask, right? We decided to celebrate with my family on July 4th. Whenever Gwi and I spend the weekend at the Shore, we host a Saturday-morning workout in my parents' garage — we call it the Garage Fit Club. As we were finishing, my sister walked in with four of my best friends to surprise me. I didn't think things could get any better. We went to the beach and spent the day in the sun. I didn't want to leave, but they convinced me to head home for food and drinks. When we got back, everyone showered and changed; I was fine staying sandy. But they begged me to get ready. My mom made her ice-cream cake; everyone started singing and chanting, "Speech!" Gwi did the honors: He started saying how he was looking forward to spending the next 30, 60, 90 years together. He got down on one knee and popped the question. We popped champagne and celebrated all night!
The engagement-shoot locations: We've both done fitness photo shoots at Race Street Pier, and I knew the scenery and views would be amazing. I explore Philly a lot when I go running and knew Elfreth's Alley would be another great location with neat backgrounds. After we hit those two spots, we walked through Old City and spotted Amberella's famous artwork at The Groomsman Suit and Hitched's showroom. I always love seeing her installments throughout the city. I knew we had to take a few photos. We absolutely love how they turned out.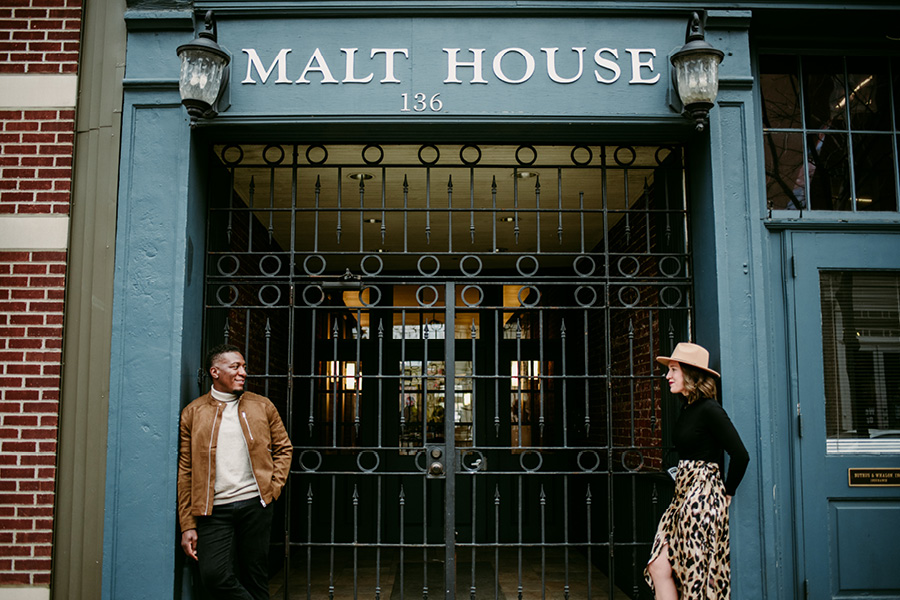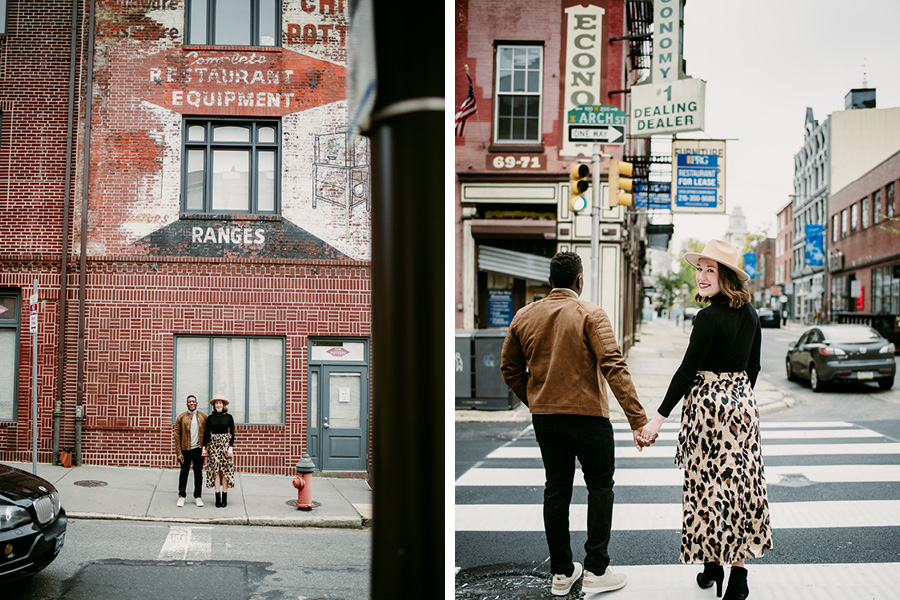 The attire: We knew we wanted to do neutral fall colors but didn't know what, exactly, we were looking for. We also weren't sure if we were going to do two different outfits. I had already ordered a dress, so one day on my lunch break, I met Gwi in the city to find something to wear. He found a jacket and turtleneck, and they matched perfectly. The day before the shoot, I also borrowed a skirt from my sister in case we decided to do a wardrobe change. We tried the outfits on that evening and loved the looks so much, we decided to go with them.
A fun surprise: Our photographer, Carly, kept it light and funny the entire time. We felt so comfortable and at ease. When we were walking through Old City, Carly spotted a store that sold garlands, and she went in; she said she couldn't find them anywhere near her house. Gwi and I waited outside while she went in and snagged some decor. Afterward, we walked back to our cars with garlands under our arms.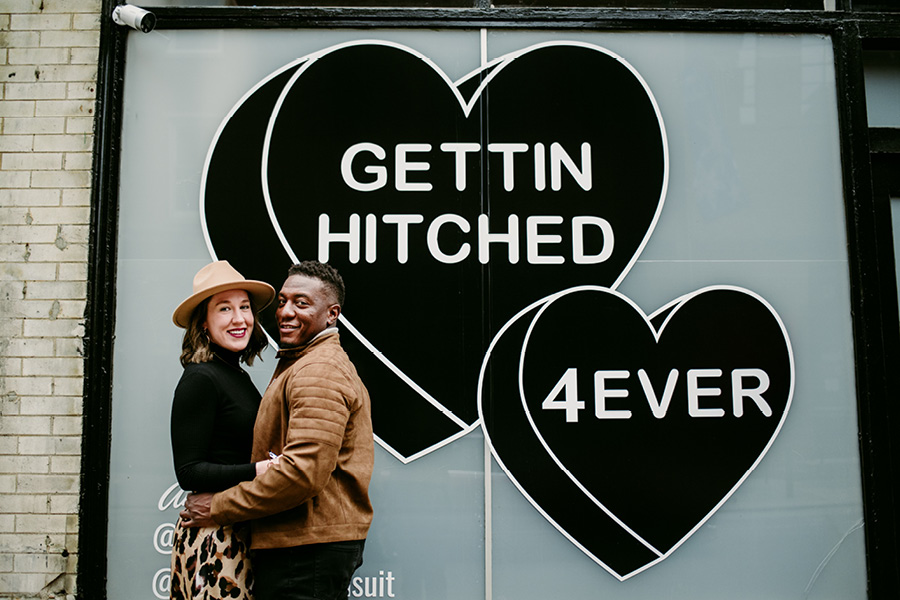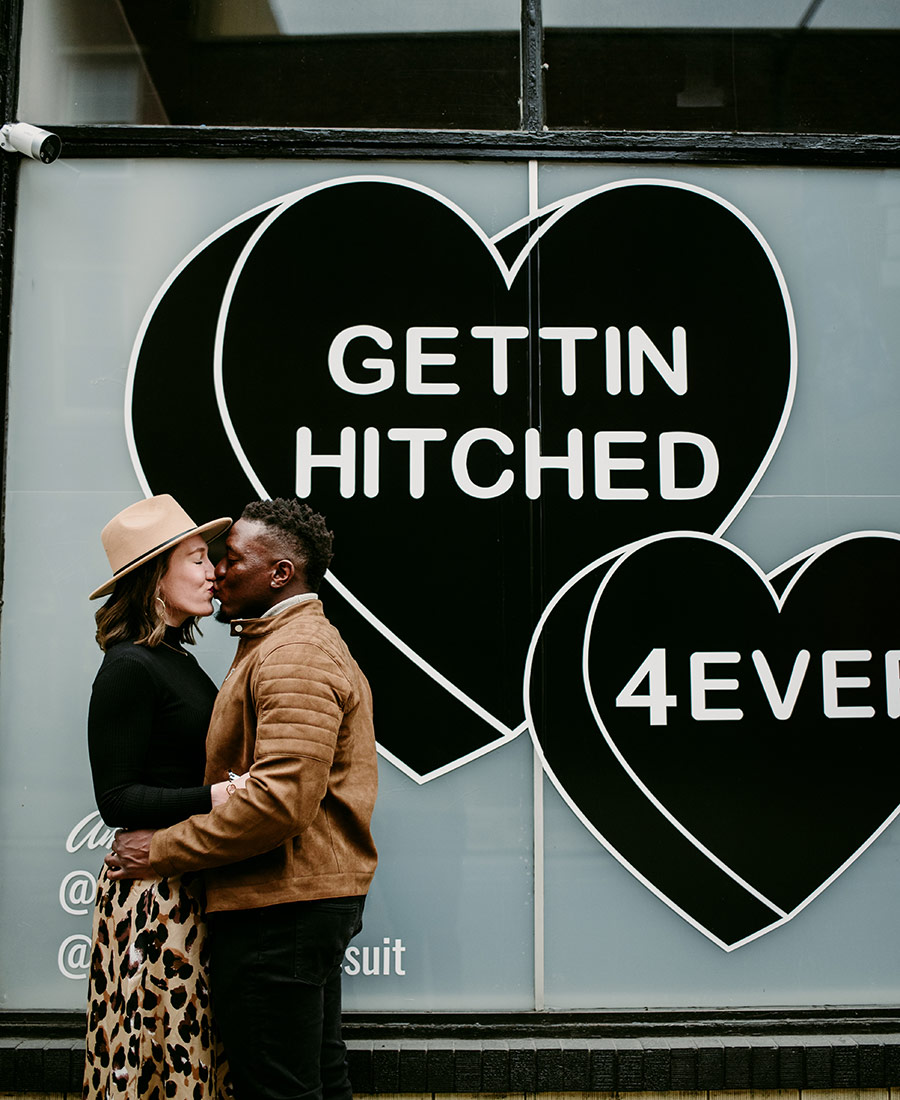 The Big Day plans: We are getting married on October 29th at the Yacht Club of Stone Harbor. We are looking forward to hopefully having Gwi's family visit again from Zimbabwe. We can't believe it's less than a year away!
This interview has been edited for clarity and length.
Get more great content from Philadelphia Wedding:
FACEBOOK | INSTAGRAM | NEWSLETTER | PINTEREST
Getting married? Start and end your wedding planning journey with Philadelphia Weddings' guide to the best wedding vendors in the city.
---
---