This Long-Distance Couple's Engagement Shoot Is an Ode to Philly
They won a complimentary e-sesh from their photographer, too.
---
For this long-distance duo, Philly is where their heart is. It's where they fell in love, and the site of their reunions between his Navy deployments. It's where they happily return to when they're not traveling together, and the place the groom-to-be chose to pop the question. So the city's iconic destinations naturally played a role in their glamorous engagement shoot, captured by J&J Studios — just wait till you read how they met.
The couple: West Philly residents Patience Osuagwu and Anwar Ivey, both age 30.
How they met: Anwar first saw me at the age of 14, but was too shy to approach me, so I never saw him. He thought I was the prettiest girl in the world, so he added me on Myspace through a mutual friend and started to talk to me there. But we never met in person. A few years went by, and he came across my profile on Facebook: We re-connected with little messages. More time passed. Anwar was attending Temple University, and I was attending West Chester University. In spring 2009, my girls and I decided to attend one of WCU's college parties. Little did I know Anwar and his guys also decided to drive up to WCU to attend this party. We were all on the dance floor when I saw him. I was thinking, "I know this guy." I approached him, and we just began to laugh. Then we danced all night. Since that day we have been inseparable.
A year from the day we met, Anwar enlisted in the U.S. Navy. It was devastating to know in order for us to continue this relationship it would have to be through long distance. Even though [many] couples do not make it through long distance, I am truly proud to say that our love for each other pushed us through.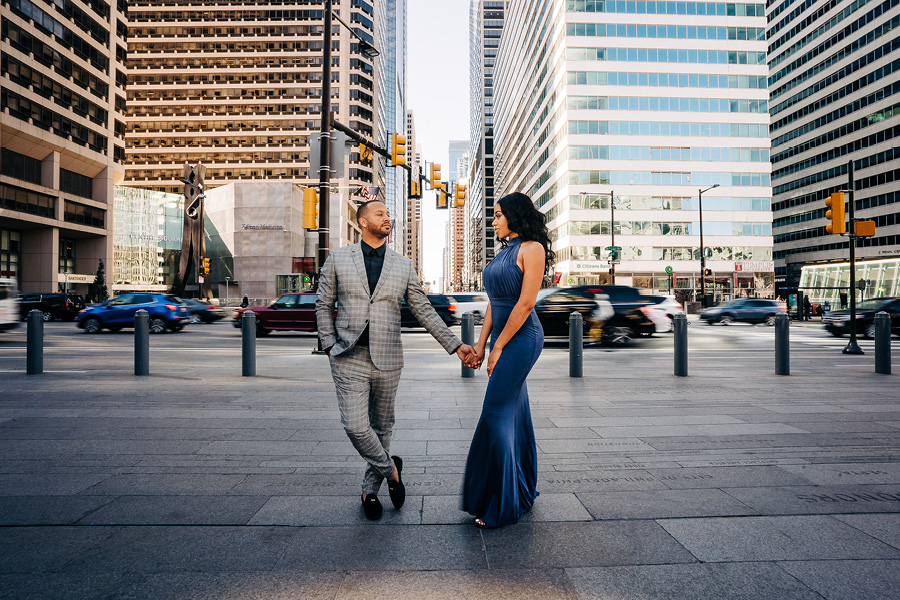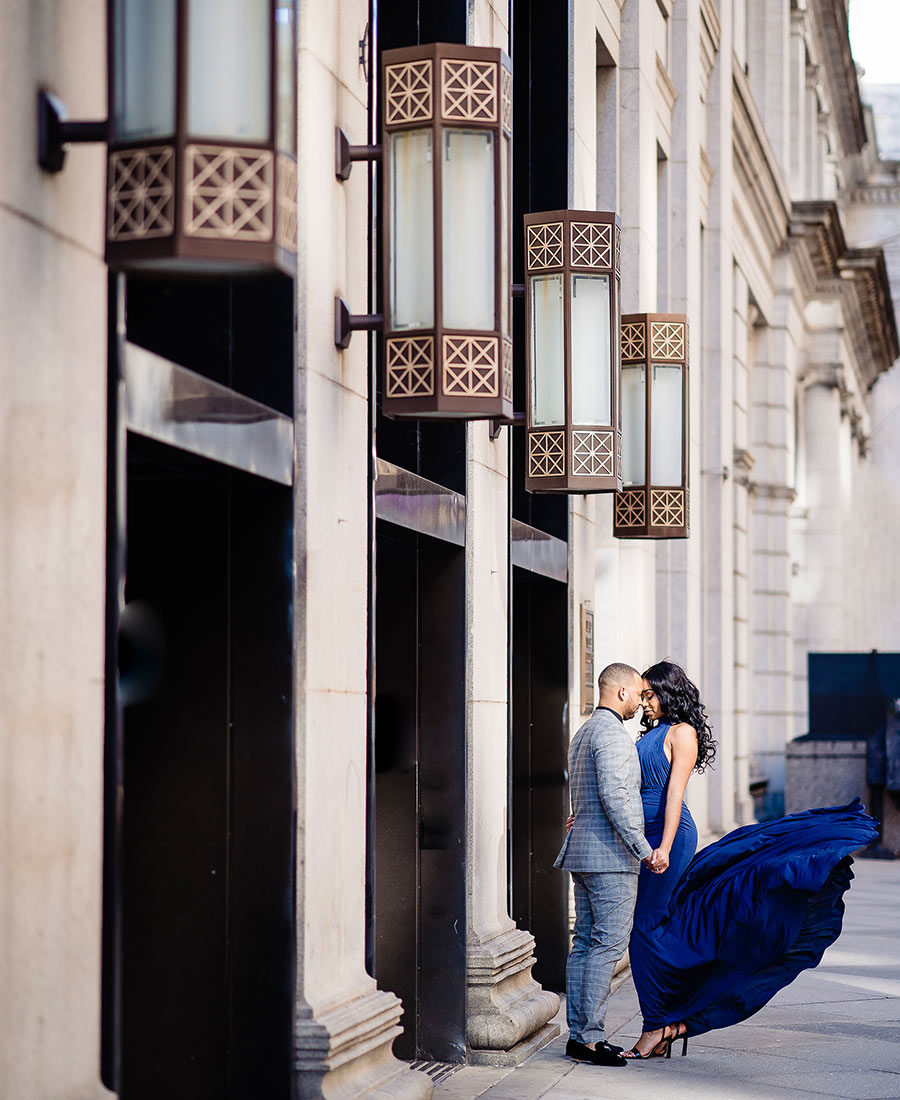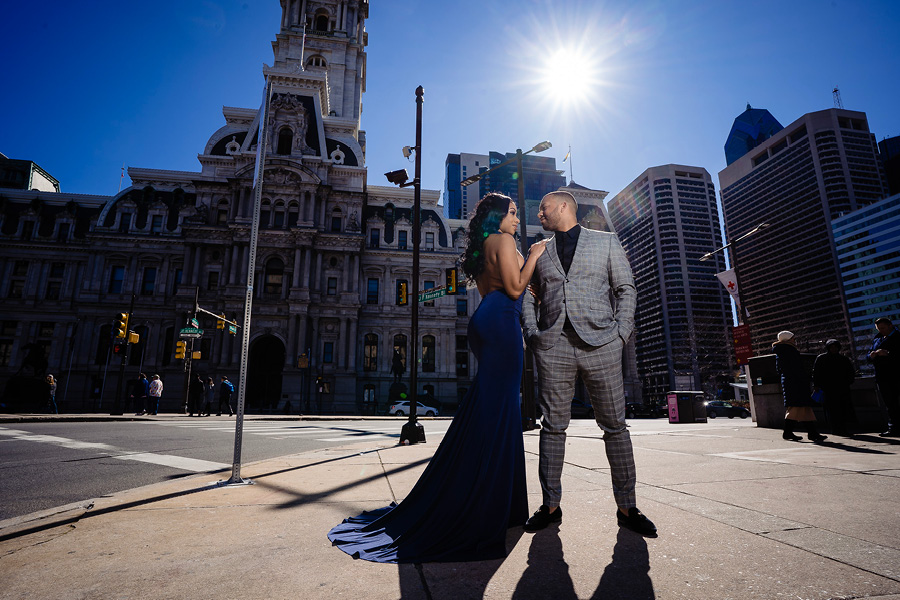 The long-distance love story: I knew Anwar was the one when he went on his first deployment overseas: the feeling one gets knowing your partner will be gone for months, knowing you will be alone, and just counting down the days. But there is also the excitement you feel thinking about his return. I love this man so much no other man existed: I just wanted HIM, back in my arms again. He knew I was the one when we first met at the college party. It was fate that after all the time we found each other on the same dance floor. Anwar: She has been riding by my side through all these years and deployments. I always used to tell my mom, "I am going to marry her!" And in a few months I will be.
The proposal: Anwar would drive down from Connecticut (where he is stationed) to Philadelphia every weekend to see me. August 17th, 2019, was just a normal Saturday. He decided to book a hotel downtown and make reservations at one of our favorite spots. Dinner was amazing; we talked mostly about our future together. Afterward, we went back to the hotel to relax and plan our late-night outing. Anwar suggested stopping by his best friend's girlfriend's birthday party, so we headed over. We went up the elevator, the doors opened … and I started to hear John Legend's "All of Me" playing in the background. I saw so many flashes from cell phones and the photographer. I looked at Anwar, and then he said, "All of this is for you." I was speechless and crying so hard! My sister then handed me a bouquet of flowers. I walked a few more steps and saw a "Marry Me" sign and candles shaped into a huge heart. Then Anwar got down on one knee. I said yes before he could even get the words out. I finally turned to see everyone. Anwar was able to gather all of our family and friends so they could witness our engagement. Apparently, they had all been planning this for weeks behind my back. We celebrated on the rooftop along the Philly skyline and popped bottles of champagne. I am still in awe.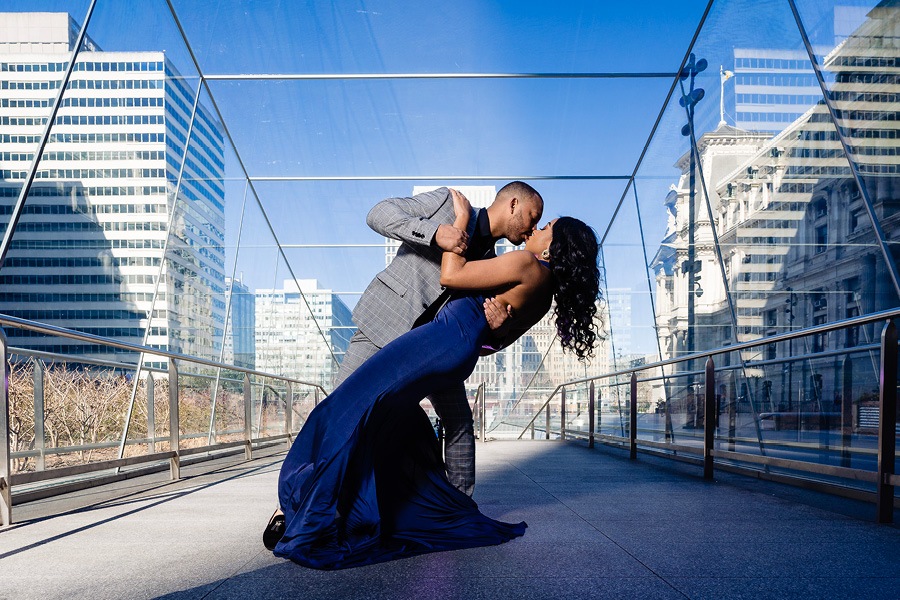 The engagement shoot: In January, my fiancé and I attended a wedding showcase at the Courtyard by Marriott Hotel City Avenue. J&J Studios was one of the many vendors. When we walked up to the booth, we were in awe of the photos. Anwar noticed a picture hanging up on the wall of a destination he had once visited: It was a picture of a couple in front of the Belém Tower in Lisbon, Portugal. Anwar had the opportunity to visit the exact tower while away on deployment last year. J&J Studios was also offering a giveaway for a complimentary engagement photo shoot session. We decided to enter, and a few days later we received an email saying we won.
We are both from Philadelphia, and we love the beauty of our city. We wanted to shoot our engagement photos in the heart of Center City. As a Philadelphian, it is a must to have a Broad Street shot right in front of the iconic City Hall. Of course since we are celebrating our love, it was only right to shoot in front of the LOVE statue.
The future travel plans: We love to travel together. Our favorite trip so far was in December. My fiancé took me to Dubai to celebrate my 30th birthday. Dubai is breathtaking! We had an amazing bae-cation, and we can't wait until our next trip. We plan to spend our honeymoon in gorgeous Santorini.
The wedding: We plan on having our wedding in summer 2021.The exact date is lucky number 7/11/21. We are currently venue shopping.
This interview has been edited for clarity and length.
Get more great content from Philadelphia Wedding:
FACEBOOK | INSTAGRAM | NEWSLETTER | PINTEREST
Getting married? Start and end your wedding planning journey with Philadelphia Weddings' guide to the best wedding vendors in the city.
---
---