News
Real Talk: We Chose Diamond Engagement Bands Because Rings Have No Gender
The couple took their engagement photos at Wissahickon Valley Park in Northwest Philly.
---
What's in a ring? Quite a bit, but you knew that already. Engagement bands and wedding rings symbolize your lasting commitment to your partner, and vice versa. It's also a piece of jewelry that you'll wear pretty much all the time from here on out. So choosing which style is best for you and your beloved is a big decision, whether you want lots of glam and diamonds or a simple and sleek look. (Click here for a list of Philly's finest jewelers.) And we love what this couple has to say about their choice of "women's" rings: "Honestly, rings don't have gender!" Their matching diamond bands bring a bit of sparkle to their woodsy, fall-inspired sunrise engagement shoot at Wissahickon Valley Park in Northwest Philly, photographed by J&J Studios. Check out their romantic photos below.
The couple: Center City residents Joseph Hinojosa and Francesco Laterza.
How they met: Joseph and I met in medical school. He grew up in Texas, and I grew up in New Jersey. It took us both to move to the Caribbean to cross paths. We met on the second day after my arrival and initially started out as friends. Our relationship quickly grew stronger as we spent every waking hour together (mostly studying). We learned more about each other very quickly (spending 12 to 16 hours a day with someone will do that), and after a few short months together, it felt like we'd known each other our entire lives. We dated almost six years before getting engaged, but we were living together after two years of dating. In our minds, we knew we were going to end up together, and we weren't in any rush. We wanted to settle a bit and have a more concrete idea of our futures since we were moving around so much between medical school and residency.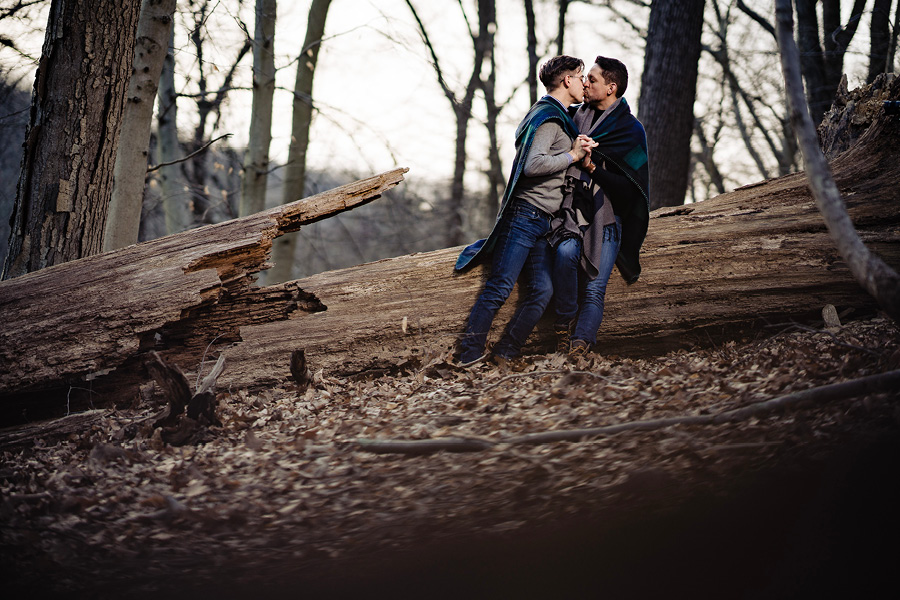 The proposal plot: We never truly discussed who would propose to whom, but I knew Joe wanted to be proposed to. He mentioned multiple times how the Brooklyn Bridge was one of his favorites. When we unexpectedly moved to Philadelphia in 2018, I took advantage of our proximity to NYC to include the Brooklyn Bridge. Backing up a bit, our first joint apartment was in Miami. The building had a restaurant called Sugarcane, which also had opened a location in Dumbo overlooking the Brooklyn Bridge. I purchased tickets to see a Broadway play for his birthday in December so we would have an excuse to visit. A college friend of mine connected me with her boss, Lloyd, also a freelance photographer: We shared locations so I would know where he was and he could follow our progression over the bridge. I booked us a hotel at the entrance of the bridge on the Manhattan side.
The big moment: I told Joe I had a plan for us to walk the bridge to Sugarcane for dinner. I asked Joe to bring his camera (he loves photography) so he could take a picture of the skyline. Lloyd was waiting at the spot where I planned to have Joe turn around to take the picture. When Joe turned back around, I was down on one knee with his ring. Despite having the rings already, I still caught him by surprise. To this day we both have no idea what I said, but we know he said yes! Lloyd captured the moment, and Joe was quite confused as to why some stranger was taking pictures of us. When we arrived at Sugarcane, Joe thought I made a reservation for just the two of us, but our friends were waiting to celebrate.
The rings: We wanted matching engagement bands that had diamonds throughout the majority of the ring. When perusing the different styles, we did not like most of the "men's" bands since most had one to three diamonds in them and were a lot bulkier in style. Our engagement rings were ultimately selected from the "women's" side. But, honestly, rings don't have gender! An inanimate object (or color for that matter) is not male or female; it's simply a thing. Just because we purchased rings that were gendered as female doesn't make us women. We found the rings denoted as "female" more aligned with our shared taste, and we shouldn't be limited to a specific group of rings we find unattractive simply because they are labeled as "male." We utilize this philosophy beyond engagement rings; for example, "women's" shampoo just smells nicer than "men's," so why limit ourselves? We purchased our rings from Zales. We weren't planning on buying a ring that day (we were going to visit Jewelers' Row in Philadelphia) but walked by a Zales store and went in on a whim. We both saw our rings in the display case. Once we tried them on, we knew they were perfect for us. Our ring base is white gold with two rows of diamonds encircling the majority of our fingers. There is a small break in the diamonds at the base of the rings.
RELATED: Real Talk: We Traded a Big Wedding for a 15-Day Adventure Elopement on Vancouver Island
The engagement photo-shoot location: We knew that we wanted to do a fall-esque and outdoorsy-inspired engagement shoot to coincide with our wedding theme and season. We chose Wissahickon Valley Park because there were a ton of beautiful nature spots to take pictures, and we both enjoy hiking. J&J Studios reached out to us via Instagram, and we are so glad the team did.
The sunrise setting: We did our shoot at sunrise. Joe wanted to have sunlight in the background of our pictures because he loves how the colors of the sunrise appear in the pictures and the shadows formed with the sunlight. Plus, less people are typically around early in the morning, so we'd have more space to ourselves!
Their favorite location: It would probably be on the riverbed. Our photographer was able to get beautiful pictures of us standing on a bed of rocks in the water with the sun peeking between the forest behind us. We both find ourselves moving toward this specific landscape, whether it be for our vacations, hikes, or where we want to live. It was a perfect backdrop.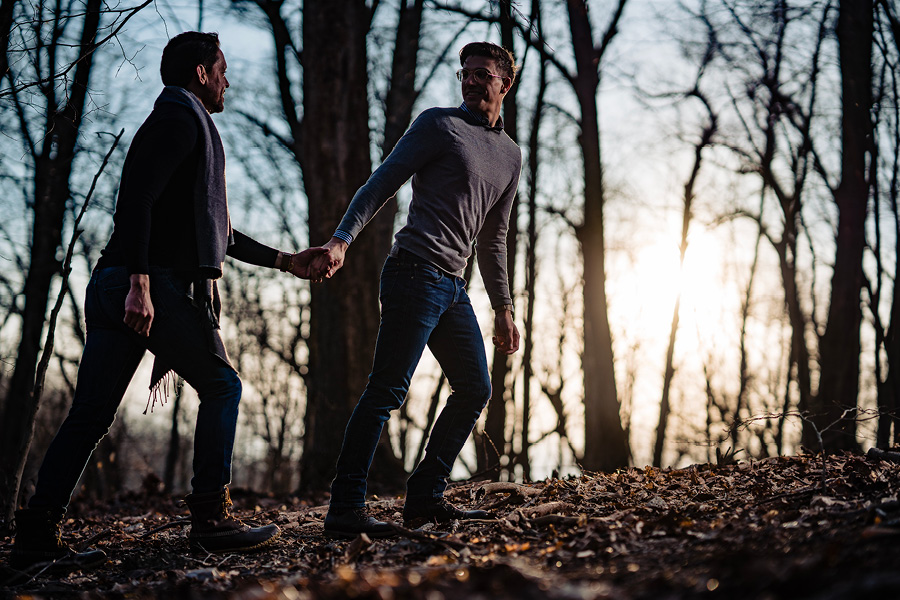 The adventurous Big Day: Our date is set for September 2021. We wanted a fall wedding since it's our favorite season. We initially started out with a large wedding in Italy, then ultimately settled on an intimate gathering in Yosemite National Park. I discovered this woman-owned photography company, Adventure Instead, who specializes in elopements in natural surroundings. Since we both love the outdoors, we knew this would be perfect for us. Our location is on Glacier Point, with Half Dome in the background. We are going for a clean, bohemian-themed wedding with beige, cream and gray colors.
This story has been edited for clarity and length. Want to see your big moment on this blog? Learn how to submit your engagement or wedding photos to our editors here.
Get more great content from Philadelphia Wedding:
FACEBOOK | INSTAGRAM | NEWSLETTER | PINTEREST
Getting married? Start and end your wedding planning journey with Philadelphia Weddings' guide to the best wedding vendors in the city.
---
---