News
This Couple Wore Indian Attire and Casual Fall Looks for Their Barnes Foundation Engagement Photo Shoot
The bride wanted to pay homage to her culture through their wardrobe.
---
When it came time to choosing the location for their engagement photo shoot, this DC couple with a Philly past knew a few things were important. They wanted something different, local and that spoke to their personal taste and history together. The Barnes Foundation was that place. Their ensuing session, which included both traditional Indian attire and casual fall looks, and was captured by Sheronda Seawright Photography, beautifully showcases all of that. And while their wedding has been postponed a year due to the pandemic, they have the memories of this time together to remind them of their Big Day to come.
The couple: DC residents Pooja Sampathi, 29, and Van Strother, 32.
How they met: We met at our alma mater, Temple University. We both have a passion for graphic design and creativity (a common thread in our relationship). We worked as designers on campus. (I got Van the job.) We often bounced ideas off each other and talked about typography. We remained good friends for years. After I graduated, my girlfriends and I reunited in Philly for Cinco de Mayo festivities. We ran into Van and his friends. After a very fun day spent in NoLibs, we decided to get brunch the next morning, just the two of us. Afterward, I headed back to Baltimore; he was living in Philly. Little did we know that day of drinking and dancing was the first day of our forever. We dated for five fun years after that.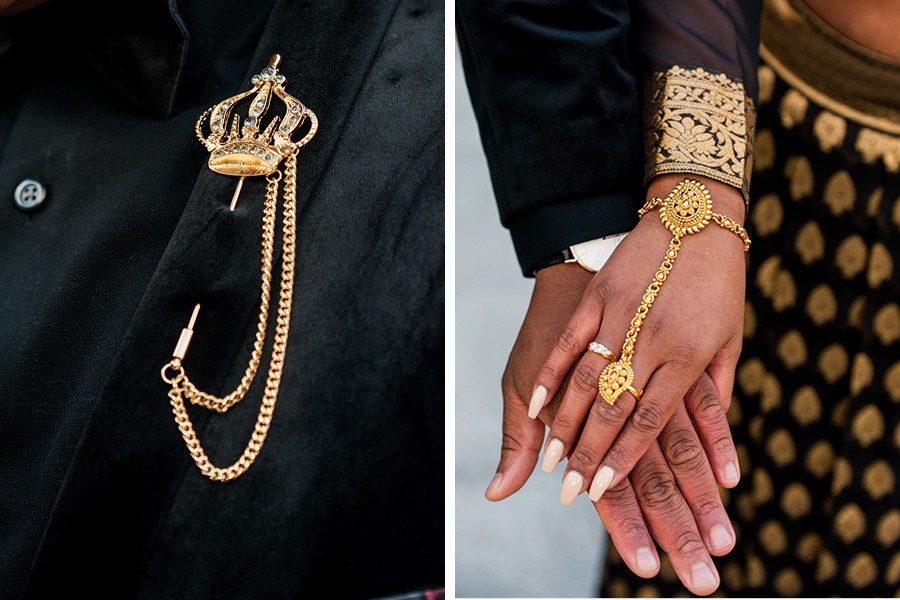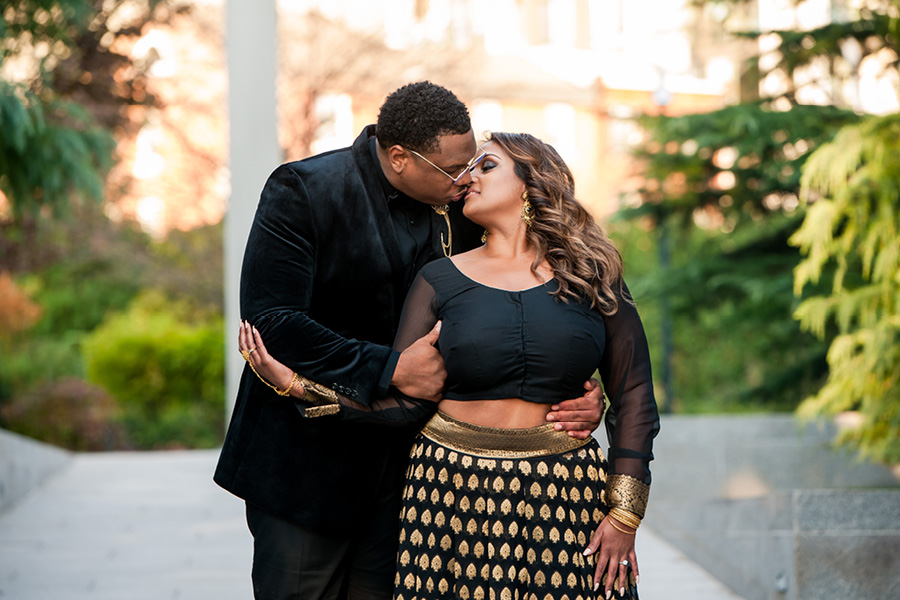 The artistic proposal (Van): I'm a photographer, and in the duration of our relationship, I had been taking a collection of photos and portraits of Poo. By the time I knew I was ready to get married, I had already had the proposal figured out. It was only about execution. I rented out James Oliver Gallery in Philly, and had my favorite photos I had taken of Poo printed on canvases and hung up. Now, the execution part is what matters most: I promoted my proposal as my first photography exhibit. So, for weeks I was promoting "my event," while Pooja was promoting (unbeknownst to her) our own engagement. I filled the gallery with family members and friends, and made sure she was the last to arrive.
The bride's proposal perspective: After walking up what felt like 10 flights of stairs in four-inch heels, I turned the corner when I got to the top floor and saw a room filled with family and friends, and an open pathway down the middle that led me to Van. When I met him my heart was racing. He grabbed me closer and whispered in my ear a few sweet things, then he popped the question. I, of course, said YES!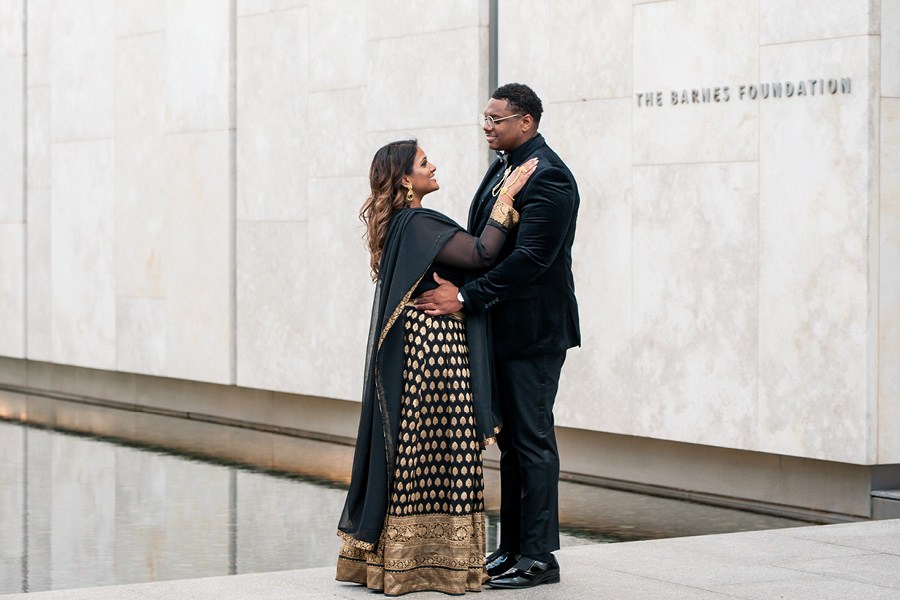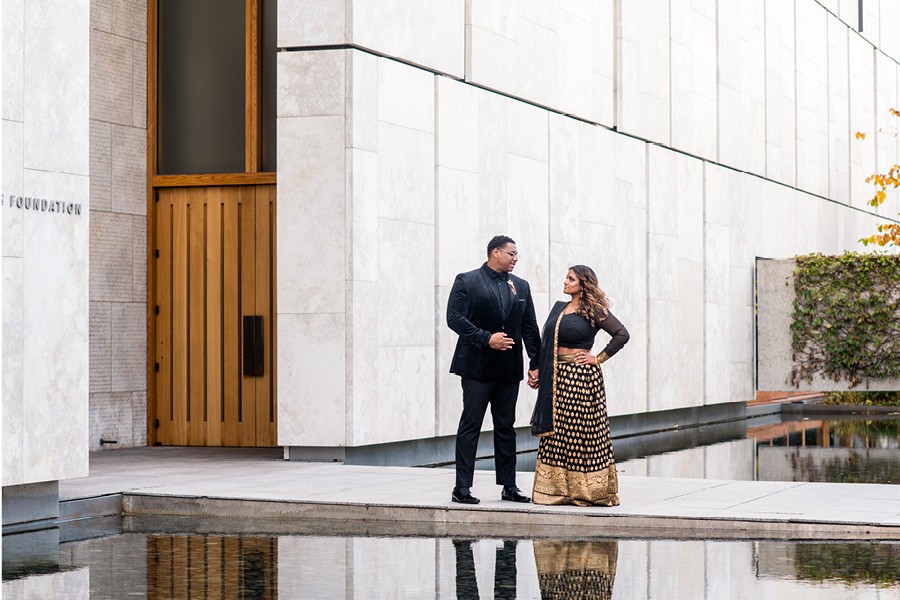 The engagement photo-shoot location: We chose the Barnes Foundation because we wanted something different. While attending a friend's wedding in the beautiful, scenic Lake Como, Italy, we took advantage of the opportunity and had an engagement photo shoot. But we also wanted something local and always appreciated the hidden gems Philadelphia has to offer. The Barnes Foundation's exterior is sophisticated and modern, which embodies our style as a couple. It's funny, when we first started dating, we would attend the Made in America music festival, and while our memory is slightly blurry, we're almost certain that we pre-gamed near the museum. So we found it fitting and full circle to our story.
The reason behind the wardrobe: Since we're having one wedding (as opposed to a second, traditional Indian wedding as well), it was important to me that we weave in Indian elements throughout — our attire, design and decor. In sticking with our black, gold and chic theme, we knew we wanted two unique looks for our engagement shoot, one formal and one casual. I always envisioned wearing a traditional Indian outfit. The lehenga I wore was inspired by Pinterest and designed from a sari I purchased on Etsy. Fall is our favorite season, and the beautiful, warm colors made it an easy choice for the outfit of denim and neutrals.
RELATED: A Guide to Philadelphia Weddings During the Coronavirus Outbreak
The impact of COVID on the wedding: Our wedding was supposed to take place in September at Tendenza but has been postponed till 2021. In the beginning when the pandemic hit, it seemed like the world was spinning off its axis. Things were consistently being canceled or postponed to endless unknown dates (my bachelorette party, bridal shower and our wedding attire fittings). Van had just lost his grandfather and aunt due to COVID-19, and planning celebrations just seemed so minuscule in the face of relentless disease. We put our faith in God and let him work it out for us. Our decision to postpone was difficult, but we care about the health and safety of our friends and family, and want to be able to celebrate with them as intended. No one knows how long this will go on, but we felt a year could provide enough time for preparations to be made.
When the Big Day happens: Our wedding theme and colors are unique — to us, and as an Indian bride. I'm not very traditional, but I love my Indian culture. Choosing black and gold as our colors with Indian elements infused throughout was a pretty easy decision. As part of our pre-wedding celebrations, I'll be hosting a mehndi ceremony and envision it to be the exact opposite of our wedding — with lots of vibrant colors, flowers, draped saris and colorful pillows. Van and I designed our own logo (duh!) and plan to include it wherever we can personalize, like our aisle runner and formal invitations. And, finally, one of the many reasons we chose Tendenza is because it offers a variety of Indian items on the cocktail hour and reception menus.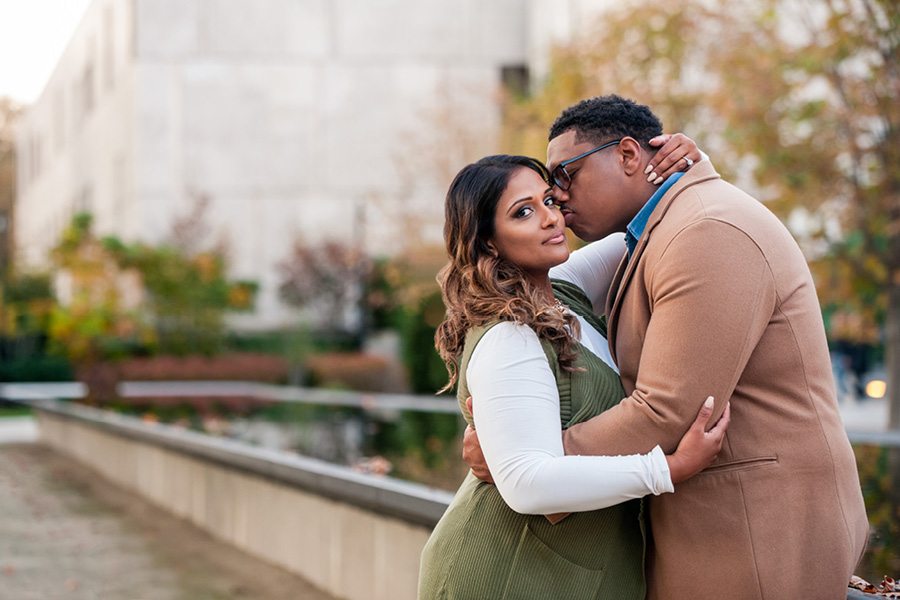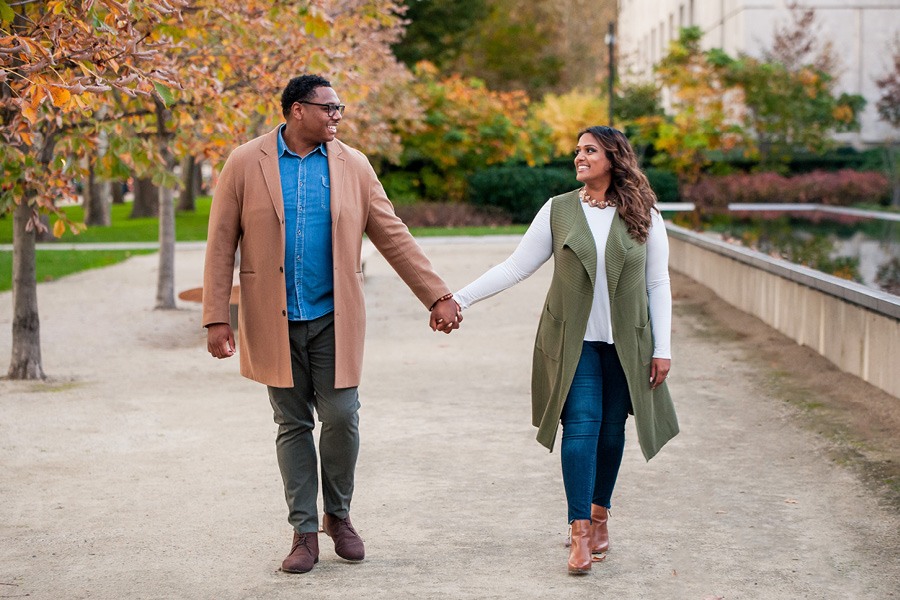 How they're commemorating their original wedding date: Copious amounts of whiskey, and daydreaming of white sand beaches and clear blue waters.
This interview has been edited for clarity and length.
Get more great content from Philadelphia Wedding:
FACEBOOK | INSTAGRAM | NEWSLETTER | PINTEREST
Getting married? Start and end your wedding planning journey with Philadelphia Weddings' guide to the best wedding vendors in the city.
---
---