What It's Like to Have a Virtual Bridal Shower During Coronavirus
The bride-to-be's fiancé wrapped the gifts, helped decorate and snapped all the photos.
---
If the coronavirus outbreak has taught us anything, it is how to use technology to share special moments with those we love, even when they can't be present: Facebook Live is being used for weddings; emergency marriage licenses are being approved via Zoom; and even bridal showers are now taking place in the digital space. Enter bride-to-be Briana Sposato. The 28-year-old founder of In Between Rivers had a virtual bridal shower in Philly on April 18th — thanks to her family, friends and fiancé, Julian Farina, 30, with whom she shares their Spring Garden apartment. "He basically was responsible for throwing the shower," she says with a laugh. "But everyone stepped up. They made me feel special."
The original shower had been planned for the same day at Butera's, her uncle's Long Island restaurant. But as the outbreak worsened, they made the call in early April to go virtual. Briana's mother and bridal party (two maids of honor and three bridesmaids) communicated the new approach to guests and asked them to send gifts to Briana and Julian – he proceeded to wrap each item as it arrived, so his beloved could open them during the celebration.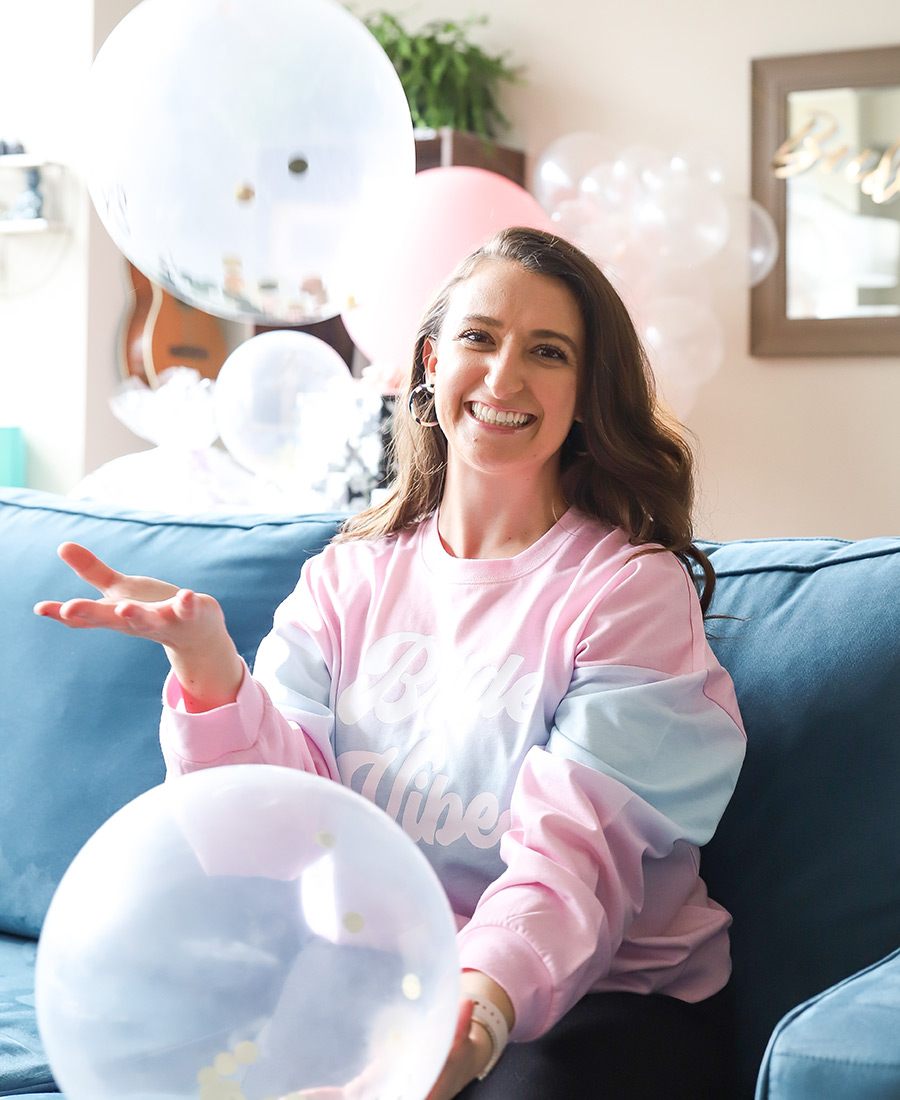 Others got involved too. Brûlée Catering, which the couple is working with for their wedding at the Free Library (now set for July 18th, pushed back from the initial date of June 6th) provided cannoli and Italian pastries from Isgro. Julian's mother and friends sent bouquets. Rosé, Champagne and beer (the latter for Julian) arrived from their pals. Briana's mother had cupcakes and treats from Sweet Box delivered. Even David's Bridal got in on the action. (Briana formerly worked at the company's Conshohocken headquarters.) After getting word from her friends about the predicament, the firm asked to sponsor it — and sent her goodies such as a bride-to-be banner, balloons, photo booth signage, a sweatshirt bearing the words "Bride Vibes" and a veil. "I loved the veil; I wore it for the next two days," she says.
The couple spent the morning cooking breakfast (she's a fan of the most important meal of the day and made bacon-and-egg sandwiches), setting up Zoom to stream through the TV and decorating. It went off largely without a hitch, though Briana admits there were moments that caught her off guard. "I wanted some alone time before the shower to make it cute," she recalls. "I hung the bride-to-be sign on the mirror four times. It was so simple but I couldn't get it up."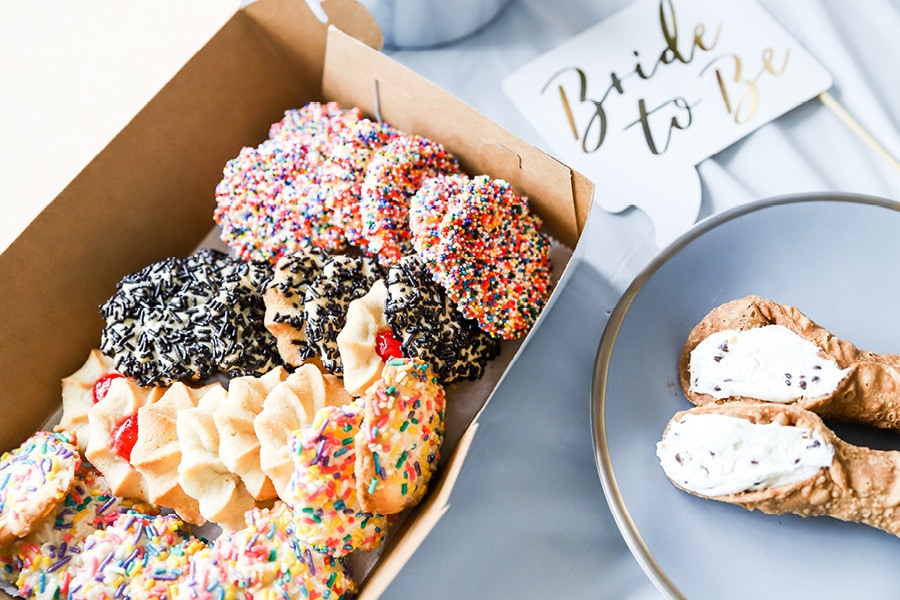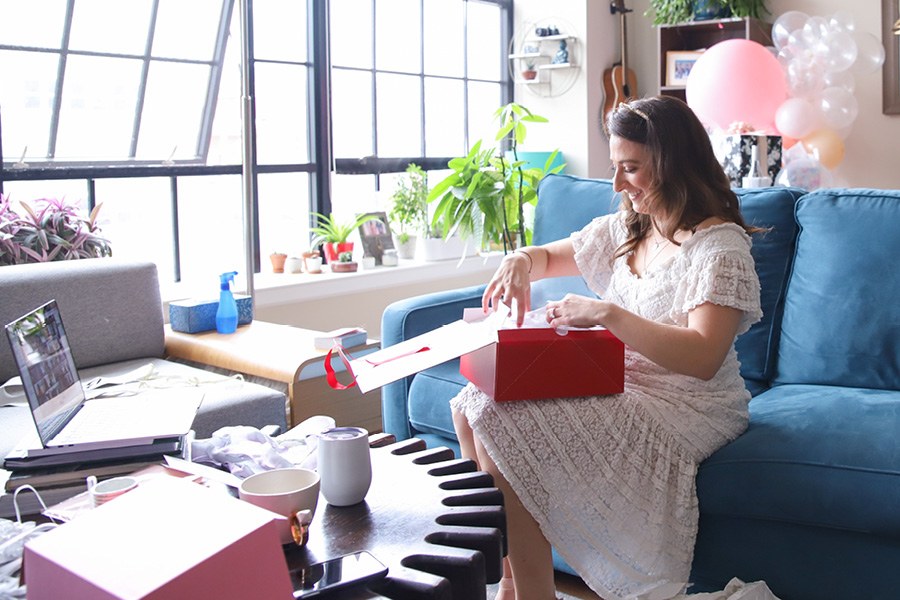 Luckily, the ensuing celebration brightened her spirits, particularly because more than 30 people were able to attend. "The unique opportunity is that people who couldn't make it originally could now join online," she shares. The festivities began with a sparkling toast. Briana introduced her wedding party to the group, and everyone said hello in the chat. Her mother and father were there, as well as Julian's parents. Briana then began opening gifts as Julian brought them over (he also served as the photographer). The group was muted so she could speak about each item — though Briana says it was hard to silence her Long Island mom.
RELATED: A Guide to Philadelphia Weddings During the Coronavirus Outbreak
Among her favorite goodies: a Roomba from her brother and his girlfriend. A moment that touched her the most came when she opened one of the last gifts. It was from her mother, whose accompanying card and sentiments made Briana tear up. "I've been very positive, but in that moment, I got sad," she says. "It's starting to seep through as more things are canceled. The shower was the tipping point that it's all still up in the air."
A few days ago, the couple made the call to postpone their honeymoon for a year. They are also planning to reschedule their bachelor and bachelorette parties. (She was gearing up for a trip to Fire Island.) As for their wedding, Briana says they hope to still have a private ceremony June 6th, likely in The Spring Gardens, where they are members. They are working hand-in-hand with their vendors on the larger celebration, keeping in constant communication with Brûlée, as well as florist Vault + Vine, photographer Brittney Raine, rental company stylWed and Pop Up Polaroid, among others.
It's been difficult, but the warmth from her friends and family is helping them get through it; she advises others who are facing similar situations to lean on everyone around them. "Be honest and ask for help," she says. "Nobody has gone through this before." She also suggests having someone wrap gifts so you can still be surprised. Reach out to local businesses that are still open to see if they can lend a hand. And be sure to document it, even if it's just on your phone — these are memories and moments nothing can take away from you.
Get more great content from Philadelphia Wedding:
FACEBOOK | INSTAGRAM | NEWSLETTER | PINTEREST
Getting married? Start and end your wedding planning journey with Philadelphia Weddings' guide to the best wedding vendors in the city.
---
---