After 10 Years of Dating, He Proposed on a Philly Rooftop With Giant Marquee Letters
"Our daughter was so excited to see her parents take the next step, she thought the proposal was the wedding."
---
Grand romantic gestures can quickly veer corny, but there's something rather genuine about this rooftop marquee letter proposal in North Philadelphia. That's probably because it involves the couples' closest family members and friends, and is the culmination of an already long and wonderful relationship.
The couple: Anthony J. Kornegay and Brittany J. White of North Philadelphia
How they got together (as told by Brittany): I remember it like it was yesterday. We met in the parking lot of my old apartment in Morrisville, Pennsylvania. My friend called me outside for what I thought was about to be a quick conversation between her and I, so I went outside in my PJs and no jacket. She introduced me to Anthony, and before we started talking he asked me to go inside and grab a jacket. I instantly knew he was going to be my husband, just from his level of care. (I know that totally sounds cheesy.) I would take his hat every time he came to visit me to ensure he would come back, so that hat collection of mines continued to grow each time I would see him. Anthony and I have been together for 10 years.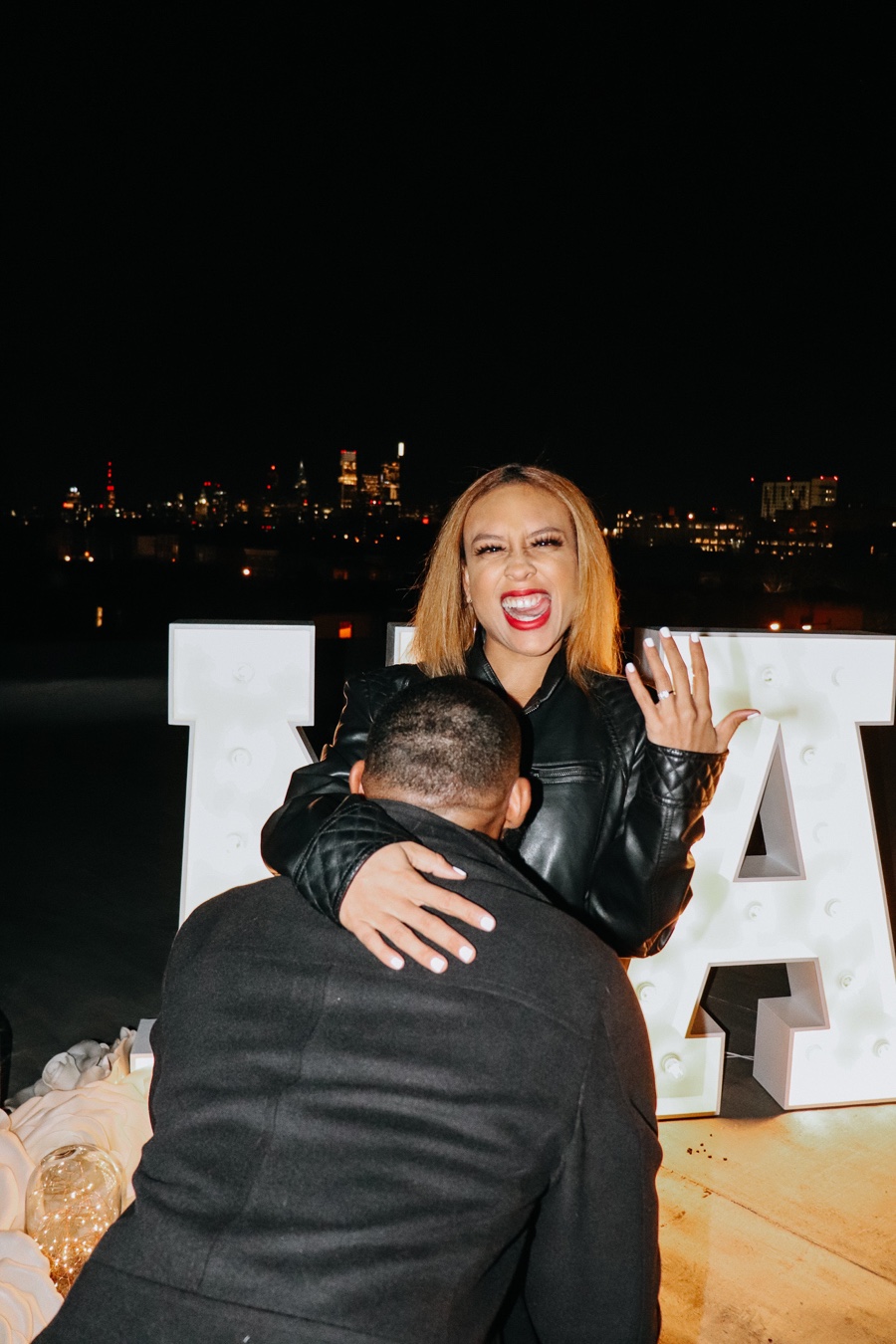 How the proposal went down (as told by Brittany): The proposal totally blindsided me. Anthony and I left the office around 4 p.m. so he could take me out to dinner (so he said). We came home and I proceeded to get dressed, do my makeup, the whole nine because he told me to look nice. After we were dressed and ready to leave, Anthony told me we were going back to the office to take photos prior to going out to dinner. Upon walking into the entrance of the office I was quickly blindfolded by my best friend Marleena. All I could think about were the lashes I just applied—I thought they were ruined. We rode the elevator up to the office and the entire time I was like, Okay we must be having dinner on the roof.
I was un-blindfolded to "Marry Me" in huge letters. I was in complete shock. What really got me was our daughter. She was so excited to see her parents take the next step, she actually thought the proposal was the wedding LOL. The pure joy on her face to see her parents continuing to love and honor one another by becoming united was awesome.
Anthony and I have broken the curse that has plagued many families: the absence of parents from a household, including our own as children growing up. To be able to show our daughter what unity looks like, and to continue to be a reflection of what God is and has done in both of our lives individually and together has been a blessing!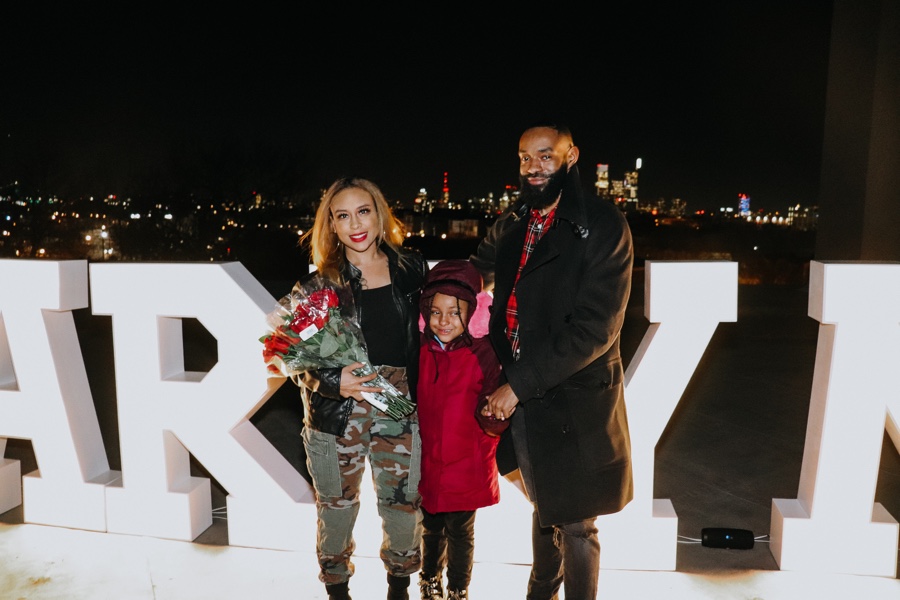 The level of care and love put into the proposal by my three best friends—Anthony, Dana and Marleena—completely took me by surprise. I have no idea how they came up with the idea to spell out "Marry Me" in the marquee letters from Slay Displays, but I'm pretty sure my girls helped Anthony out with the planning portion.
The wedding plans (as told by Brittany): I'm not looking to do a summer wedding, especially with the heat involved. Fall weather would be perfect.
Congrats to the happy couple! We've dropped a fun behind-the-scenes video of the whole proposal below. If you think your proposal was equally epic, we'd love to know about it. Click here to learn how to submit your story.
This story has been edited for clarity and length.
View this post on Instagram
Get more great content from Philadelphia Wedding:
FACEBOOK | INSTAGRAM | NEWSLETTER | PINTEREST
Getting married? Start and end your wedding planning journey with Philadelphia Weddings' guide to the best wedding vendors in the city.
---