PHOTOS: Monique Lhuillier's Dreamy Spring 2015 Bridal Collection Includes Mint and Periwinkle
---
In the past year or so, we have talked a lot about blush gowns, and the major moment they've been having with brides. It's a trend that we haven't just seen on the runways or on the covers of designer lookbooks—we've actually seen it on real brides, right here in Philly. They're walking down the aisle in soft shades of pink, cotton candy, and rose.
It's been pretty cool to see brides playing with the tradition of wearing white on their wedding day, and so it is with great curiosity that we received the pastel gowns that floated down the runways in the Spring 2015 bridal collections at this most recent bridal market—particularly the mint gowns in Monique Lhuillier's collection. (And by curiosity, we also mean squeals and gasps, because—well, you'll see, below.)
The designer explained her inspiration to InStyle.com before her show, and if you ask us, she pretty much hit a home run with what she was trying to do:
"This season, I wanted to do a portrait," the designer told InStyle.com excitedly backstage prior to the show. "I looked up John Singer Sargent's portraits, which inspired me to create beautiful, ethereal, regal gowns. Each gown is more fantasy than the last, as if she just walked out of a painting in a portrait. It's over the top; I didn't hold back."
We think the periwinkle one is absolutely gorg—how stunning for a warm-weather wedding?—but it's the frocks in the lightest shades of pistachio that we're keeping our eye on. If more designers started turning out these shades, we wouldn't hesitate to hop on board.
Each of these gowns is available in white or blush—but would you wear them in their original pastel shade?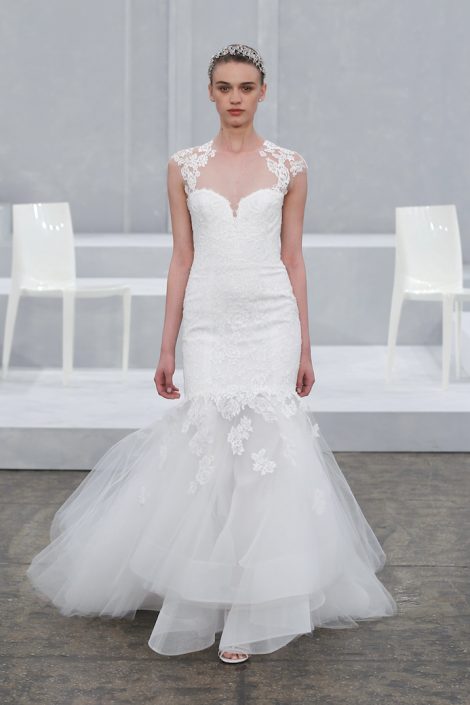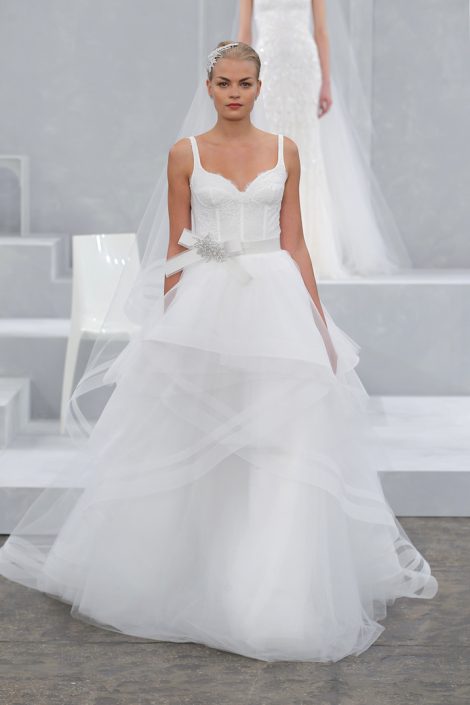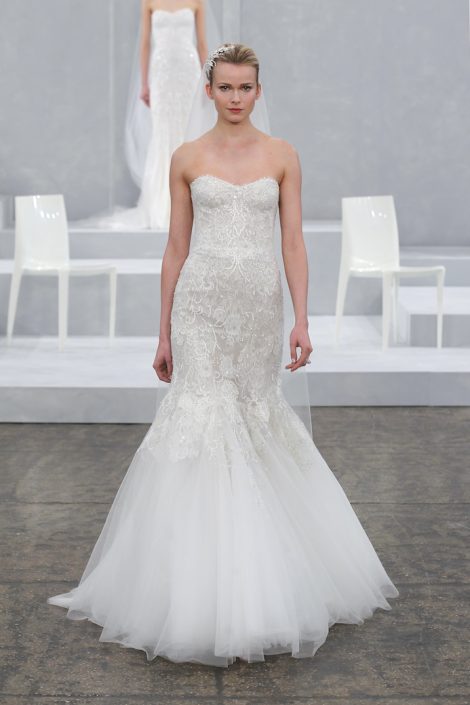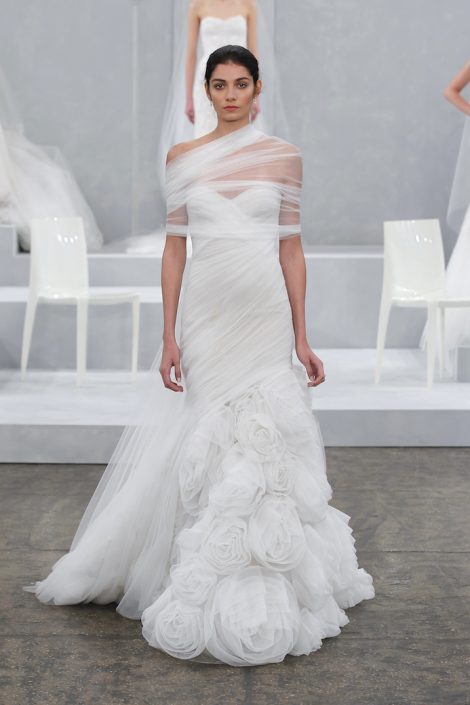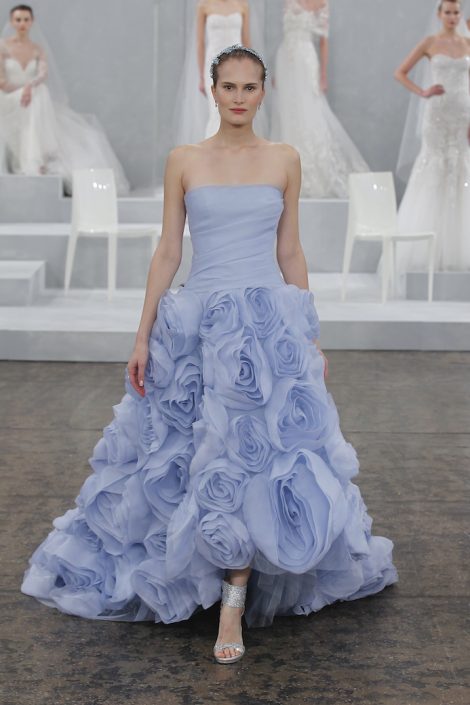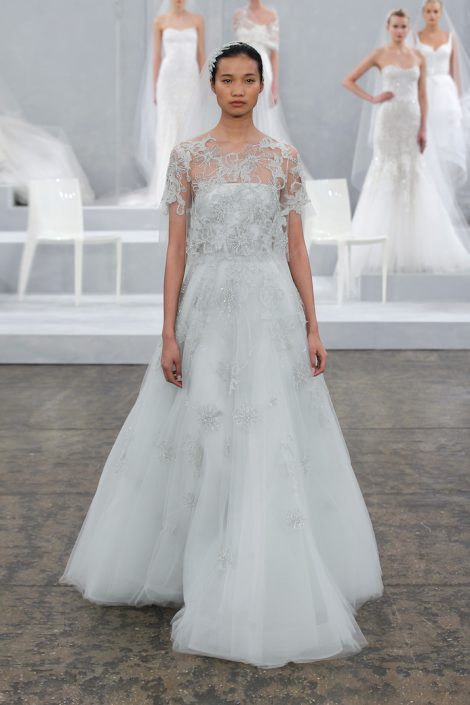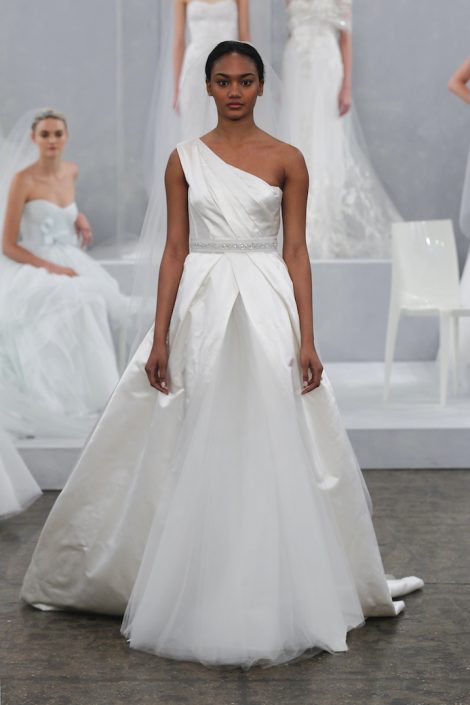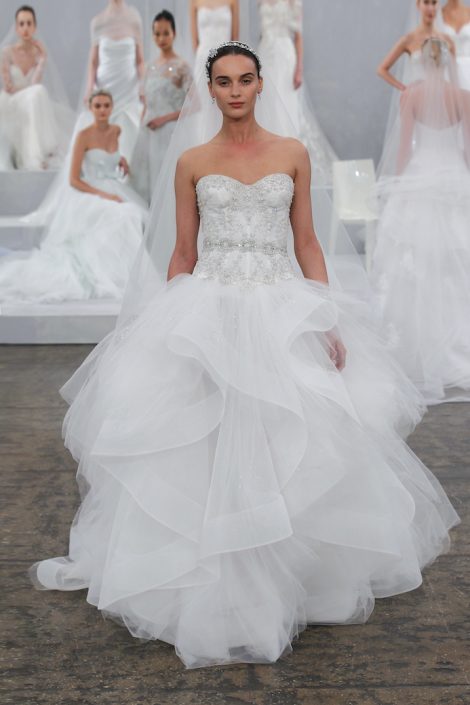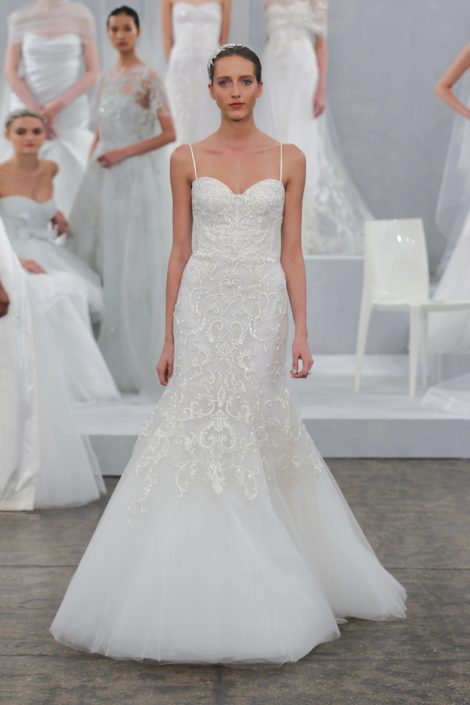 RELATED: Wedding Guests Know to Not Wear White—But What If the Bride's Wearing Pink?
RELATED: Sneak Peek: PW's Spring/Summer 2014 Issue!
RELATED: Vera Wang's Think-Pink Fall 2014 Bridal Collection
RELATED: Photos: 19 Gorgeous Blush Wedding Dresses
RELATED: These Gowns from Elie Saab's Spring 2014 Couture Collection Would Make Amazing Wedding Gowns
Like PW on Facebook | Follow PW on Twitter | Sign up for the PW newsletter
Getting married? Start and end your wedding planning journey with Philadelphia Weddings' guide to the best wedding vendors in the city.
---