News
Philly Today: Hall Is Suing Oates, and We Can't Go For That
Plus: Kelce vs. Kelce, Hard Times vs. Philly, and Aaron Nola vs. everybody else forever
---
Check phillymag.com each morning, Monday through Thursday for the latest edition of Philly Today. And if you have a news tip for our hardworking Philly Mag reporters, please direct it here. You can also use that form to send us reader mail. We love reader mail!
Hall Is Suing Oates, and We Can't Go For That
If you're like me, you like to picture Daryl Hall and John Oates as BFFs, playing shows and making ladies swoon, then hitting the streets as pop's smoothest private investigators. The next morning they roll out of their bunk bed to harmonize while flipping pancakes and blow-drying their hair and waxing their mustache.
"Will you keep it down in there?," asks Harper Lee, banging on the wall.
"Nope!" they say in unison. "We've got too much music in us!"
Alas, this is not the case. Longtime fans will tell you: Hall & Oates have broken up and reunited several times. And despite their awesome combined power — eight platinum records, six number one hits — the two often have often gone years without playing or recording together.
Each has his own life, solo records, solo shows, solo enterprises, etc. Daryl's got Daryl's House. John had Jstache. They've kept busy.
And, I mean, they still like to do things together sometimes. As a pair, they sued their own publisher in 2008. They teamed up again to sue a granola company for selling "Haulin' Oats" back in 2015. And we can't forget those hometown HoagieNation concerts (2017, 2018 and 2021), headlined by Hall & Oates.
But, here. Watch a little bit of this interview Hall did in Bill Maher's sad little basement last year. It's cued up to the bit where Hall refers to Oates as his brother but mainly his business partner, not his creative partner. Then Hall smirks about how several Hall & Oates songs were way more Hall than Oates.
It can be irksome having your name and career tethered to somebody else. "It's very annoying to be a duo," Hall told the LA Times in 2022, while trying to discuss his latest solo record. "Everything you do is juxtaposed against another person. Try doing that sometime. I don't want to use the word 'emasculating,' because that's male, but it takes away your individuality."
Furthermore, however friendly Daryl Hall and John Oates are with each other, the pair are also business partners, which is why it's maybe not so surprising to see this lawsuit filed in Nashville chancery court last week. Yes, Hall is suing Oates. (h/t to Nashville journalist Nate Rau for tweeting about it on Friday.) Here's what that looks like:
The actual meat of the thing, which is classified as a "contract/debt" matter, is under seal and neither party has yet made a statement on the situation, so we just don't know what the suit is all about. We reached out to the lawyer representing Hall, as well as Hall's management. I'll update if either responds.
If it has anything to do with Oates — who told People earlier this year that he'd always imagined Hall & Oates' 1982 monster hit "Maneater" as a reggae jam — going to Jamaica and re-recording it as such, let's just be glad that he didn't call the resulting track "Moneater."
Poster Bait
If you've see all those videos on social media wherein those posters about kidnapped Israeli children are torn down by counter-protesters and wondered when Philly was going to get in on the act, here you go. These posters are really glued on there. Needless to say, the commenters are already trying to identify and dox the alleged offenders.
By the Numbers
8:15 p.m.: That's the precise moment my nieces will come to terms with the fact that Taylor Swift is definitely not going to make an appearance on Monday Night Football's Kelce v. Kelce Bowl in Kansas City tonight. TSwift and The Eras Tour are still in Brazil, where they needed to shuffle their schedule due to an extreme heat wave there which already claimed the life of one young fan. In addition to being a football game, the MNF matchup was supposed to be first time Swift's parents would meet her BF's parents, and maybe they still will. So, aw. But also: Maybe let's all think about how weird it is that we know this about anybody, even if they're famous, because don't we live our own rich, full lives? Don't we have jobs and hobbies and keys?
34: That's the age of the fictional scientist in a recent article in satirical punk site The Hard Times titled, Scientific Breakthrough Undercut by Philadelphia Accent.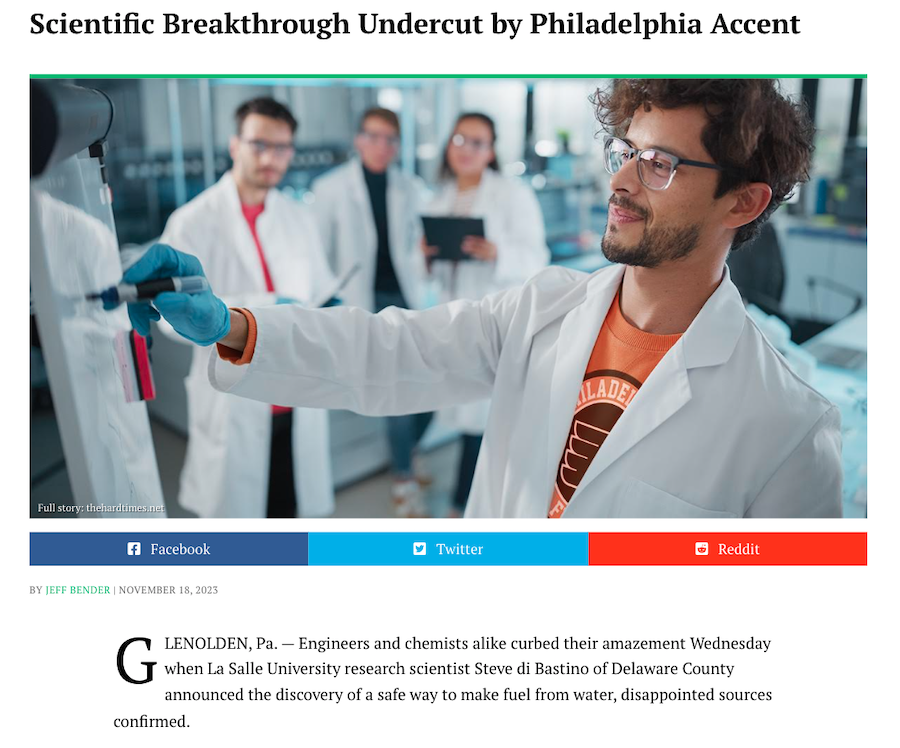 Yes it's satire, but I think I speak for all La Salle alums when I say, "Hey, they mentioned La Salle!"
$35: That's all Philly artist Noelle Egan is charging for her stylish hand-bound and screen-printed 2024 calendars. She only did a small run; the best place to pick one up is at Brickbat Books in Queen Village.
1300 South Broad Street: That's the address of a long-gone fur and tailor shop called Meglio Furs — formerly owned and operated by Salvatore Meglio (~1891-1967). Word went around last week that the gorgeously rustic neon sign that gave the corner character is no longer there. You may recall that back in 2020, somebody new bought the property; a woefully under-clicked petition was launched to save and restore the sign soon after. Hard to believe they straight-up trashed the thing; if you know the whereabouts of the Meglio Furs sign, drop us a line. Meantime, here's a Michael Bixler/Hidden City pic of it coming down.
$24,571,428.57: That's how much Phillies pitcher Aaron Nola will make per year for the next seven years, thanks to his new contract ($172 million), if we pretend it actually works that way — where you just take the big number and divide it. But really, there are signing bonuses and performance bonuses, and you probably have to tip the batboy. Point is: He's on the Phillies forever, and everybody else can strike out and go home angry.
And from the Back-on-Track Sports Desk …
The Sixers traveled to Atlanta's version of the All-Ugly-Court for a match against the Hawks on Friday, in what had been a busy week for them. (Alaa Abdelnaby was particularly scathing about the baby-blue base coat.) It stayed tight all through the first quarter, which wound up 30-24 Sixers, with Joel Embiid leading all scorers with 11 points. There were back-to-back calls for interference with the rim right at the end, one for each team. The Hawks pulled even early in the second, but then both teams went cold. The Hawks recovered first — with a 12-0 run. We stormed back, though, and a De'Anthony Melton three put us up one halfway through the quarter. Embiid came back in; he'd been on the bench, and it was 57-56 us at the half.
Early in the third, De'Andre Hunter was tossed for complaining about a foul call. The Sixers buckled down toward the close of the quarter, with an 11-0 run, and started the fourth leading 94-87. Embiid and Tyrese Maxey, who'd both played the whole third, sat, but no worries: Danuel House Jr. was having a massive game, as was Tobias Harris; both wound up with season highs, of 14 and 29 points, respectively. Anyway, Joel and Tyrese came back in, all was well, and the final was 126-116. Take that, Ugly Court.
Sixers taking in-season tournament seriously, 2-1 after win over Hawks https://t.co/JI15klGqa8 pic.twitter.com/uq1UDrgepL

— Sixers Wire (@SixersWire) November 19, 2023
The James Harden-era Clippers finally won on Friday night, by the way, against the Rockets, 106-100.
The Sixers started hot again on Sunday afternoon in Brooklyn vs. the Nets. Oh, Ben Simmons has back problems again? Melton had a particularly hot hand, hitting a couple of threes in the first few minutes. Nic Batum was back from wherever he goes and was in the starting five. But the first quarter was the Joel and De'Anthony show, as they accounted for all but two points in the Sixers' 23-22 lead at the close of the first quarter. Of course, that meant everyone else was stone-cold. Brooklyn took a lead five minutes into the second quarter, and we were on the seesaw till the Sixers had an 11-0 run near the end. At the half: 61-49 Sixers. The Nets' uniforms, incidentally, were …
https://twitter.com/BrooklynNetsFRA/status/1726365456104149184
Hideous. Joel went to the floor on a collision with a falling Cam Johnson in the mid-third, but he got back up. Didn't matter; the Sixers were well in control, and as the third ended, they had a 13-0 run and their lead was 94-71. The subs got more work in the fourth, with Jaden Springer in particular looking good. A slow, lazy wind-down to a 121-99 win.
post-game popcorn for a job well done!🍿 pic.twitter.com/KhnigybDBr

— Philadelphia 76ers (@sixers) November 19, 2023
Where Are the Eagles?
It's been a while. They're coming off their bye week, and they have their big Monday Night Football matchup against the Chiefs in Kansas City tonight, with an 8:15 start. And oh, woe, because of the weather-related complications to her tour schedule, you-know-who can't be there.
Any College Hoops News?
On Friday, Drexel had no problem handling the Fairfield Stags at home, 65-47; St. Joe's was almost-but-not-quite vs. Texas A&M-Commerce, 57-54; and Villanova stifled the Maryland Terrapins at the Pavilion, 57-40. In Saturday's games, the Temple Owls fell to the Columbia Lions, 78-73; in another squeaker, La Salle just beat out Southern Indiana, 79-78; and Penn took Maryland Eastern Shore to overtime before finally losing, 83-80. On Sunday, Drexel's Dragons defeated the Queen University Royals, 62-52.
How About the College Gridiron?
The Princeton Tigers snarled the Penn Quakers, 31-24; Villanova's Wildcats got the better of Delaware's Blue Hens, 35-7; Ursinus upended Stevenson, 31-13; the UAB Blazers beat the Temple Owls, 34-24; and for those who care, Penn State stomped the Rutgers Scarlet Knights, 27-6. Trivia note: Rutgers hasn't scored a TD at Beaver Stadium since 1994.
The Flyers also played.
Anything on Tonight's Slate?
You mean besides the Eagles vs. the Chiefs on Monday Night Football? Yup. The U.S. men's national team plays Trinidad and Tobago at 7 p.m. in the CONCACAF Nations League. And in college hoops, St. Joe's takes on number 17 Kentucky, also at 7.
All Philly Today sports coverage is provided by Sandy Hingston.
---