News
And the Philly Region's Award-Winning 2023 Commencement Speakers Are…
Plus, trash unions trash Jeff Brown. And Bernie Sanders just endorsed ... yeah.
---
Check phillymag.com each morning for the latest edition of Philly Today. And if you have a news tip for our hardworking Philly Mag reporters, please send it here.
Quinta Brunson and Sheryl Lee Ralph to Speak at Philadelphia-Area Commencements
It's May. That means college students are ready to graduate. And that means area colleges are doing their darnedest to pull in big-name commencement speakers so the students (and their parents) don't feel too bad saddling themselves with massive college debt for years to come.
The University of Pennsylvania has an award-winning twofer with the Tony-winning Idina Menzel and Emmy-winning Abbott Elementary star/creator (and Philly native!) Quinta Brunson. Menzel, whose earworm "Let It Go" came out when today's college seniors were in middle school, is set to deliver the main commencement address. And Brunson will speak to the graduating class of Penn's Graduate School of Education. (If you somehow still haven't seen Abbott Elementary, it's all about teachers and education, so the choice is fitting.)
Brunson's dazzling co-star and fellow Emmy winner, Sheryl Lee Ralph, is doing the honors at the main Rutgers campus in New Brunswick, New Jersey. Now, I know that I'm taking some liberties here with geography, since we don't generally consider Rutgers New Brunswick to be a Philly-area school. But it's just a bit over an hour away. Ralph is Philly through and through. And if anybody will deliver a memorable commencement speech, it's Ralph, based on this evidence.
Slightly less sexy but still highly respectable: Lester Holt bids adieu to those crazy kids of Villanova, who are all wondering why they can't get Quinta Brunson. (Because you're not Ivy League!)
The Philadelphia Business Journal has a more in-depth roundup. But I gave you all the good stuff.
Political Movements
Guess who Bernie Sanders just endorsed! Yeah, yeah. Helen Gym. On to less obvious news …
Jeff Brown has had a bad month or so. It wasn't long ago that the ShopRite mogul was polling as winner of the mayor's race. (Granted, that was a Jeff Brown-funded poll.) But more recently, a poll from the Fraternal Order of Police, obtained by the Inquirer, showed him with just four percent of the vote. And now, two unions representing the people who pick up our trash have decided to break away from their parent union's endorsement of Brown and instead give the nod to Cherelle Parker. Why? Because of Brown's "pick up the damn trash" comment.
Speaking of the Inquirer, I told you recently about the ridiculously complicated candidate matchmaker service offered by local media outlet Billy Penn. Basically, you answer more than 50 questions, and they tell you who's your best match for mayor. And who the hell is going to sit there and answer more than 50 questions? Well, the Inquirer just came through with a far simpler option, which gives you results after seven questions. Of course, what all these online novelties are missing is the je ne sais quoi. The X-factor. That gut feeling.
Local Talent
A big ol' Passyunk Ave. shout-out to Pulitzer-winning South Philly resident James Ijames, whose Broadway show Fat Ham just scored five Tony nominations, including for Best New Play. That's huge. You can read my interview with Ijames here.
The Philly Music Fest just announced its 2023 lineup. The seven-day music festival in October will feature some of our favorite local acts, including Marian Hill, Kurt Vile and Schoolly D. Tickets go on sale this Friday.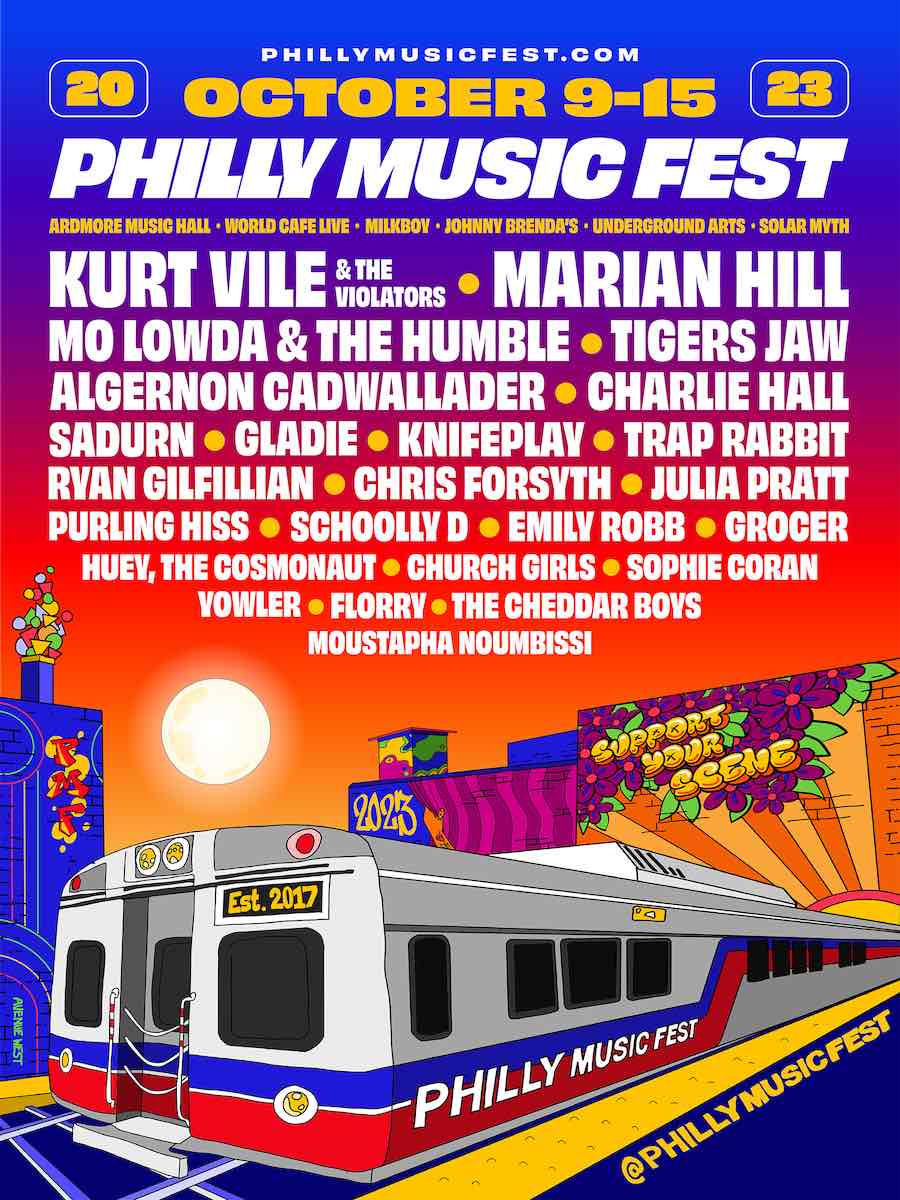 Oh, and back to Quinta Brunson for a second. You've probably heard about the big Hollywood writers' strike. That strike is now officially affecting Abbott Elementary's production.
Some Neigh-gative News
(Sorry). The great white horse of the White Horse Pike in South Jersey is gone, thanks to some pranking teens.
Wanna Buy a Nightclub?
The late Jerry Blavat's Memories of Margate can be yours!
By the Numbers
8: Bathrooms in Jeff Brown's Rittenhouse home. And nine fireplaces!
$9,500: Asking price for one courtside seat at this Friday's Sixers home playoff game. Of course, we all know courtside is where the action's at.
2: Decades it took legislators in the Pennsylvania House to finally pass a bill to add sexual orientation and gender identity as protected classes in employment and housing. Alas, it will almost certainly die in the Republican-controlled Pennsylvania Senate.
And from the Couldn't-Be-Prouder (Well, Maybe) Sports Desk …
First, the good news: At long last love!
your 2022-23 @Kia NBA MVP: @JoelEmbiid 🏆#KiaMVP pic.twitter.com/DNqnd5g9EY

— Philadelphia 76ers (@sixers) May 2, 2023
Game 2 of the playoff series vs. the Celtics is tonight at 8 p.m. We're comin' for youse, Boston.
https://twitter.com/BroadAndMarket/status/1653387316398813184
Now on to the Phils
With Julio Urías pitching for the Dodgers, a triumphantly recuperative Bryce Harper came up in the first with two outs and … struck out. Well, the pressure was off, at least. The Phils' ace so far, Matt Strahm, was starting and gave up a double and a single in the first, and a sac fly scored a run. Oy. He gave up a walk, another double and a single in the second: 3-0. Oy oy. But! In the fourth, Trea Turner smacked his fourth homer of the year, to straight center field: 3-1. And that brought up Harper again. His swings looked good, but he grounded out.
Another double off Strahm in the fourth. I'm telling you, this was the all-time doubles series! And a single … and a pitching change. Hello, Connor Brogdon! Mookie Betts singled: 4-1.
Oh, look! Brogdon gave up a Chris Young double in the fifth!
Seranthony came in for Brogdon in the bottom of the sixth and (thank God) notched three straight outs. Gregory Soto was in for the seventh and gave up a single, a single, a walk, a double and — you guessed it! — another double, and it was 8-1 Dodgers. Seriously, what is the record for doubles in a series? Yunior Marte replaced Seranthony. What happened to our sterling bullpen? At least he got the inning's last out. I'm sorry; I switched to Law & Order reruns. One last check back, and Kody Clemens was pitching. Sheesh. Final score: 13-1. We are never, ever gonna win again. The Phils have one last game vs. L.A., at 4:10 p.m. today.
And Don't Forget the Union!
And in other happy news, the Union played LAFC last night in the CONCACAF Champions League semifinal; to that point, the two teams were dead even. Alejandro Bedoya picked up a yellow card two minutes in for a really dubious foul. LAFC scored in the 12th minute on a header that goalie Andre Blake saved heroically; unfortunately, he had no chance on the rebound shot. And a card on LAFC in the 17th minute. This one was gonna be rough. And another card, on Olivier Mbaizo, at the 40-minute mark. And another, on L.A.'s Jesús Murillo. It was a freaking card fest! "There's not a lot of soccer being played," the announcer noted.
A second card on Mbaizo in the second half earned him a red; we were down a man. Oh hell. And a second L.A. goal at 81 minutes: 2-0. Goddamn. It felt inevitable: That was all she wrote. Except for the third L.A. goal in the closing minute. Well, what the hell even is the CONCACAF Champions League, right?
All Philly Today Sports Desk coverage is provided by Sandy Hingston.
---
---