31 Fun Facts Every Wawa Nerd Should Know
Vital — and some completely meaningless — facts and figures about Philly's favorite convenience store.
---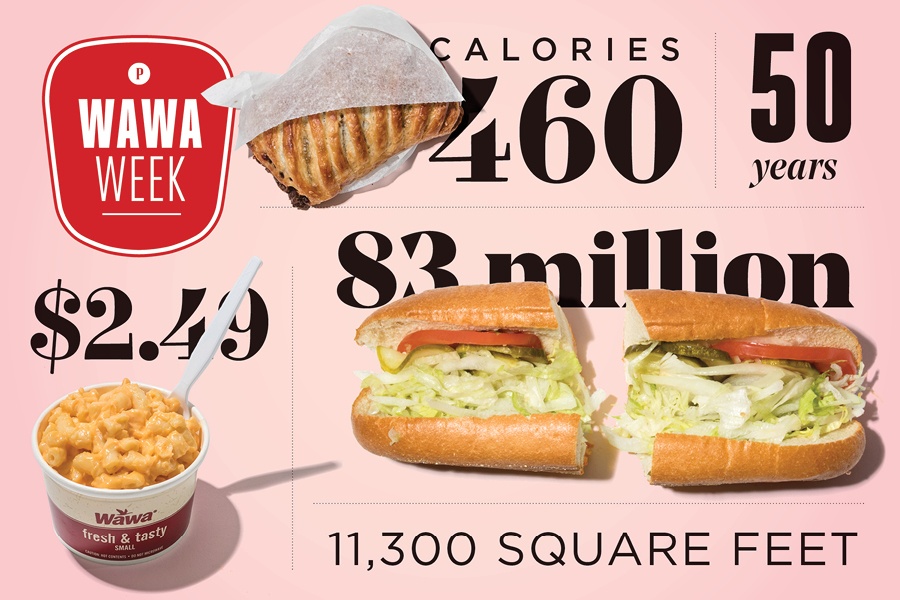 With the universe's largest Wawa opening today in Philly, we have officially declared this Wawa Week in Philadelphia. Go here to follow all of our coverage.
From the amount of sodium (yikes!) in a Wawa Italian hoagie to the year that the chain debuted the Rendelli, we've gathered all of the facts and figures about Wawa that you could possibly need to satisfy your appetite for trivial Wawa details. You're welcome.
834
Number of Wawas in the United States, including the new one that opened today at 6th and Chestnut Streets.
165
Number of Wawas in Florida, where the chain has become a big hit since its first store opened there in Orlando in 2012.
1
Number of Wawas in Pennsylvania selling beer. The lucky customers of the Wawa at 721 Naamans Creek Road in Chadds Ford can pick up their favorite brew with their turkey Shorti.
50
The number of years its been since the first Wawa opened in New Jersey.
83 million
Number of hoagies Wawa sells each year.
7
Tons of free turkey and Italian hoagies that Wawa handed out at Welcome America this year.
1992
Year that Ed Rendell proclaimed the Wawa hoagie the official sandwich of Philadelphia. Shockingly, no contracts were taken out on his life by the owners of Pat's and Geno's.
2003
Year that Wawa debuted a limited-edition sandwich dedicated to Rendell, the Rendelli, which consisted of buffalo chicken and blue cheese in a wrap.
1
Ranking for Wawa in a Market Force survey of sandwich chains in the United States — the first convenience store to ever land in that position. Wawa beat out Jimmy John's, Subway and Panera, though it's worth noting that you cannot eat the bowl at Wawa. So there's that.
13
Number of years that a group of New Jersey friends has been celebrating Thanksgiving with Wawa Gobblers.
460
The number of calories in a Wawa chocolate croissant.
4,520
Milligrams of sodium in an Italian Classic with the normal toppings, about 155% of the daily recommended allowance. (So skip the Herr's Kettle Chips maybe?).
$78,000
Average annual income for a Wawa general manager, according to Glassdoor.
3
Number of years that it took Wawa to switch from 24 hours a day service to a schedule of 5am to 11pm at the controversial Wawa at Broad and Walnut. The change came quickly after two stabbings at that location.
1976
Year first Center City Wawa debuted, at 17th and Arch streets.
5,000
Number of members of the company's "I Love Wawa" MySpace page in 2006.
1,402,861
Number of likes on Wawa Facebook today.
$1 million
Value of a winning scratch-off lottery ticket sold at a Pennsylvania Wawa in June.
1996
Year that Wawa stopped selling Taco Bell burritos after realizing it wasn't a great idea. The company launched the program in 1994.
$1.3 billion
Worth of the Wawa-owning Wood family, according to a 2015 Forbes estimate, about $600 million less than the Wood family's arch-nemesis, the Sheetz family.
4.2 million
Number of YouTube views of the February 2018 SNL skit where Tina Fey showed up to the Revolutionary War with Wawa hoagies, cementing her position in society as our favorite hoagie-mouthed Delco gal.
$2.49
The cost of a small side of Wawa mac 'n' cheese.
$19 billion
Amount in annual revenue that Wawa needs to bring in to catch up to sucky 7-Eleven.
$25 million
Figure Wawa agreed to payout in April to settle a class action lawsuit filed by workers over employee stock ownership.
1980
Year this magazine gave Wawa a Best of Philly award for its coffee.
5
Number of young women from West Chester who visited every Wawa that was in existence in 2011 as a fundraising stunt for the Melanoma International Foundation.
$9.99
Cost of a plush doll of Wawa's truly terrible Wally Wally Goose mascot.
10
Grams of protein in a Wawa roasted veggie burritto bowl.
$299
Buy-it-now price on Ebay for a vintage Wawa worker's uniform from the 1970s.
1980
Year that the New York Times first mentioned Wawa. The story was in reference to a major shoplifting trend in Princeton, where a Wawa store manager told the newspaper that they lost about $3,000 each month due to theft.
$12,500
Donations Wawa's political action committee made to Republican Scott Wagner in the recent Pennsylvania gubernatorial race, leading to some liberals to call for a boycott. The PAC also gave $10,000 to the eventual winner, incumbent Tom Wolf.
---
---