Here's What the World Is Saying About Eagles Fans
In the words of one Twitter user: "Eagles fans might be the worst people on the planet, but at least they're not boring."
---
We did it, Philly. We made it through our very first Super Bowl parade. We endured jokes that we would burn our city to the ground – but we left it standing taller and prouder than ever.
For the record, the parade was one of the biggest events in Philly's history. Officials say they were two arrests and five disorderly conduct citations. Police Commissioner Richard Ross said there were two stabbings during the event – but police aren't sure whether one was related to the parade.
Yes, we did ruin one Jumbotron because Philadelphians really like to climb on things to get better views. Our fans can be rowdy, and some were a tad too drunk and destructive on Thursday. But we made it through. We're back at work on Friday, and we're smiling.
It was inevitable, though, that the world would say we couldn't do it. We are a city of underdogs, after all. So how do people outside Philly feel about Eagles fans now that our parade has put us in the spotlight?
For one thing, here's how London's infamous Daily Mail portrayed the celebration: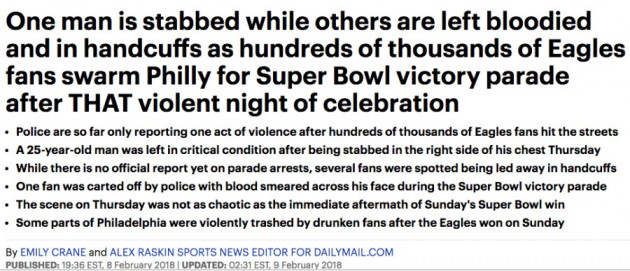 In the words of Jason Kelce: We're from Philly. No one like us. We don't care.
Very scary scene at the Eagles parade yesterday, where two people were stabbed. Philadelphia fans are very dangerous, and are a threat to our great fans. Should not be allowed into stadiums!

— Jerry Jones Trump (@fakejerryj) February 9, 2018
people: eagles fans are the worst fans eagles fans: pic.twitter.com/cYu9v4YXOq

— k a t i e (@REN_forrest_REN) February 9, 2018
Why not?

— Kaleb Corcoran (@k2323) February 6, 2018
@ThomasFox_IV pic.twitter.com/PEJpBp9GHZ

— Angry Amishman (@Angry_Amishman) February 8, 2018
Distroy us next year ?!? pic.twitter.com/HoWTf9912O

— Anthony Javier (@amj0991) February 7, 2018
— Rosie Biggles (@BigglesRosie) February 9, 2018
— Nick O'Brien (@nick_obrienn) February 9, 2018
That Jason Kelce speech is an instant classic. I hate the Eagles but this is one of the most entertaining victory laps in NFL history. Players dressing up like genies. Fans eating horse dookie. Eagles fans might be the worst people on the planet but at least they're not boring

— Beyonce has an uncle named Larry Beyince. Bruh…. (@DragonflyJonez) February 9, 2018
---
---