The Philadelphian's Guide to Pennsylvania Wine
Aficionados of a certain vintage may turn up their noses at the notion of Pennsylvania wine. But the state is emerging as a vineyard hotbed in recent years. Here's everything you need to know about what to drink, where to get it, who's making it, and the region's best wine getaways. — edited by Kristen Schott & Erica Moody
Jump to:
Pennsylvania's Wine Landscape | Meet the Makers | 5 Pennsylvania Wines to Try | Where to Drink Pennsylvania Wine in Philly | In Praise of Vermouth | Wine Weekend Getaways | Wine Tasting Tips | The Pennsylvania Wine Timeline
---
Drink Local: The Case for Pennsylvania Wine
When you think of Pennsylvania, wine likely doesn't come to mind. Farmland, sure. But wine? And good wine, at that? Yet the beverage has been part of our landscape since at least the late 1600s, when William Penn planted what's thought to be the first vineyard in Philadelphia, in Fairmount Park. In the centuries that followed, the state became known for sweet wines and those made with fruits other than grapes. Native grape varieties, some of which are sweeter, prevailed because they're easier to grow here. Prohibition plus a lack of funding contributed to Pennsylvania's stagnated standing on the national and international wine stages. While the state hasn't entirely left that sweet status behind — in fact, many wineries thrive off well-made dessert wines today — there's been a change in our reputation in the past two decades. Keep reading here.
---
Let's get away from the idea of a state grape. Every sub-region of Pennsylvania can find grapes that grow well — or multiple grapes that grow well."
—Virginia Mitchell, grant administrator of the Pennsylvania Winery Association and winemaker at Galer Estate Vineyard & Winery
---
Fine Terroir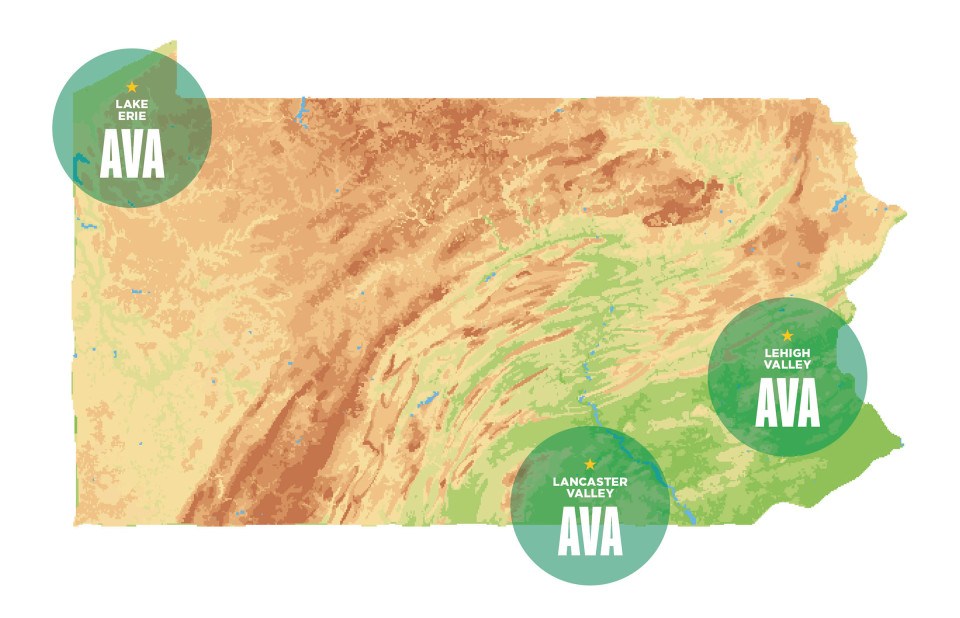 Pennsylvania's vast wine landscape ranges from the southwest corner to the northeast corner and everywhere in between. Within those regions are five American Viticultural Areas, or federally designated wine grape-growing regions. Not every region or winery has an AVA; groups must apply for the designation and prove their land has specific characteristics that differentiate it and, as a result, their wine. Here's a look at three of the most prominent.
Lake Erie AVA: Known as the place for Concord grapes (Welch's!), this AVA shared with Ohio and New York—between 13,000 and 15,000 acres are in PA—is the largest contiguous grape-growing region east of the Rockies. The cold climate lends itself to ice wines (sweet iterations) and hearty whites like riesling and vidal blanc (a hybrid) that can be picked early. Among the wineries: the 50-year-old Robert Mazza Inc. family of brands, including namesake Mazza Vineyards and South Shore Wine Co.
Lancaster Valley AVA: Located in the south-central area of the state and including Chester and Lancaster counties, with a somewhat warmer climate and limestone soil—a good setting for European (vinifera) grapes. Estate-grown Waltz Vineyards is a prime example, with cabernet franc, cabernet sauvignon and merlot.
Lehigh Valley AVA: Established in 2008, this AVA includes segments of six counties: Berks, Schuylkill, Carbon, Monroe, Northampton and Lehigh. The hilly landscape features shale and sandstone soil—with morning fogs—making it ideal for grüner and cabernet franc, among others. Galen Glen Winery, a pioneer of grüner, is located here, as is Stony Run Winery, which Sarah Troxell of GG touts for its albariño.
---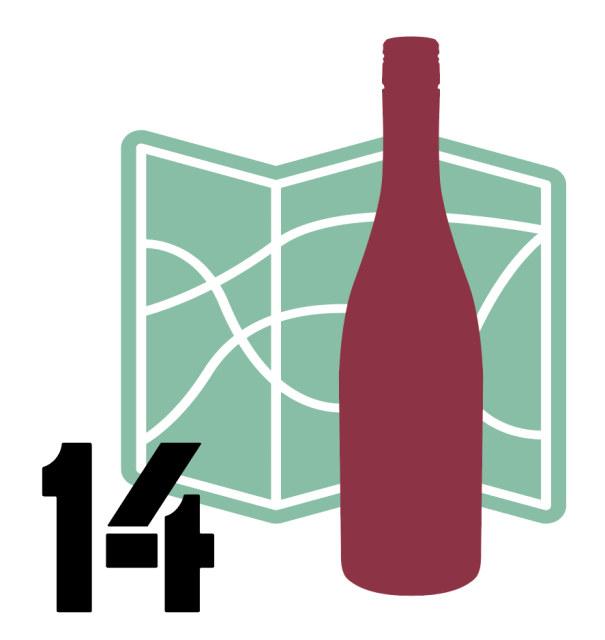 The number of wine trails in the state. These include the Brandywine Valley Trail, where you'll find destinations like Galer Estate Vineyard & Winery in Kennett Square, a boutique winery specializing in fruit-forward chardonnay (oaked, unoaked and a sparkling), dry rosé and cabernet franc.
---
Meet the Makers
New owners and next-generation winemakers and growers are changing the landscape of Pennsylvania wine. Many are educated and trained in the industry, have spent time studying in different areas of the world, and are advancing what their families started. Here are four to have on your radar (from left):
---

---
5 Local Wines to Try When You're Craving a Glass
There's a Pennsylvania wine for every taste. Trade something from out-of-state — or country — for these local picks. Keep reading here.
---
PA's rank in the nation for wine production. We produce about two million gallons per year, or 10 million bottles.
---
Where to Drink Pennsylvania Wine in Philly
These Philadelphia restaurants, bars and bottle shops ensure you don't have to leave the city for a local drink. Keep reading here.
---

Folks who flock to visit the state's wineries annually, generating $476.5 million in tourism revenue
via tours, tastings, memberships, and all those bottles you're buying.
---
5 Wine Weekend Getaways in Pennsylvania
Being the designated driver while your partner gets wine-drunk isn't the most appealing weekend activity. Fortunately, there's a way to solve that familiar dilemma — by booking a weekend wine getaway. Whether they're close to celebrated vineyards or wine destinations all on their own, these hotels across the state will ensure that all in your party can imbibe as much as they want (within reason, of course). Think rest, recreation … and rosé. Keep reading here.
---
---
In Praise of Vermouth
Get in the spirit close to home.
The aromatized and fortified wine that Americans know best as a mix-in for cocktails like a manhattan or martini is getting a Pennsylvania twist from local businesses. Look for Revolutionary vermouth, a collab between Montgomery County's Stone & Key Cellars and Philadelphia Distilling in Fishtown, made with French colombard grapes and unaged brandy. The taste falls somewhere between a classic dry vermouth and a sweet blanc. For something closer to a traditional sweet vermouth, opt for Plenum, a cherry-and-apple-based vermouth made by Ploughman, the cidery arm of Adams County's Three Springs Fruit Farm. Coming in 2023, the team behind Dumpster Juice vermouth, a pandemic project at Bloomsday, will open Fell to Earth, an urban "vermouthery" that will surely become the hottest cool beverage spot in the city. — Maddy Sweitzer-Lammé
---
Wine Tasting Tips From a Philly Expert
The nitty-gritty mechanics behind wine tasting often feel … snooty. But there are reasons for it all. Good King Tavern and Le Caveau co-owner Chloe Grigri, who oversees both establishments' wine programs, shares how to (quite literally) drink wine — and have fun doing it, too. Keep reading here.
---
The Pennsylvania Wine Timeline
It all started with bordeaux.
1683: William Penn plants bordeaux vines (carried over on his ship from England) on what's now Lemon Hill in Fairmount Park. The vinifera grapes struggle to survive in unfamiliar territory but manage to pollinate native vines and produce the first American hybrids, known as "wildings."

1767: Farmer Thomas Livezey discovers grapes growing on his Wissahickon Creek property. He makes wine from them and sends some to Benjamin Franklin in England, who reports back that the beverage is "excellent." High praise from the statesman who once called wine "a constant proof that God loves us and loves to see us happy."
1768: Local wines are exhibited at the American Philosophical Society, which piques the interest of entrepreneurs like John Leacock, who purchases a 28-acre Lower Merion plantation on which to grow wine. However, a little thing called the American Revolution gets in the way, leading Leacock to abandon wine dreams.
1787: Pennsylvania Vine Company, one of the first commercial vineyards in the country, is established by Pierre Legaux in Spring Hill, just outside Philly. Powerful men among its shareholders include Aaron Burr, Johns Hopkins, Alexander Hamilton and Robert Morris. Legaux is the first to get those tricky vinifera grapes to thrive, producing more than 20,000 mature vines.
1807: The German religious group Harmony Society brings commercial winemaking to southwest Pennsylvania. Its stone cellars, which held up to 30,000 gallons of wine, can still be viewed today on a tour of the Harmony Museum, located in (where else?) the borough of Harmony, population 1,104.
1900: By this time, 67 counties in Pennsylvania are producing some 200,000 gallons of wine annually, with Erie County leading the way. New Jersey is slightly ahead of us at 220,000 gallons. California, meanwhile, is producing over 20 million gallons a year.
1920: Pennsylvania's wine industry comes to a halt with Prohibition. The production, distribution and sale of wine is illegal until 1933, when Prohibition ends and Pennsylvania establishes the Pennsylvania Liquor Control Board (PLCB) to oversee state stores. This marks the beginning of our state's controversial liquor laws — some of the strictest in the nation.
1968: The Limited Winery Act is passed, letting wineries make up to 50,000 gallons a year using state-grown fruit; their wine can be sold directly to the public as well as to restaurants, nightclubs, hotels and the PLCB. The following year, Presque Isle Wine Cellars and Penn Shore Vineyards become the state's first two licensed wineries.
2022: Pennsylvania's roughly 300 licensed wineries produce more than two million gallons of wine a year. New and innovative wineries are being opened regularly, and folks are (finally!) starting to appreciate the unique qualities of Pennsylvania wine again. — E.M.
Published as "Vines of the Times" in the October 2022 issue of Philadelphia magazine.