13 Wedding Reception Station Ideas Your Guests Will Love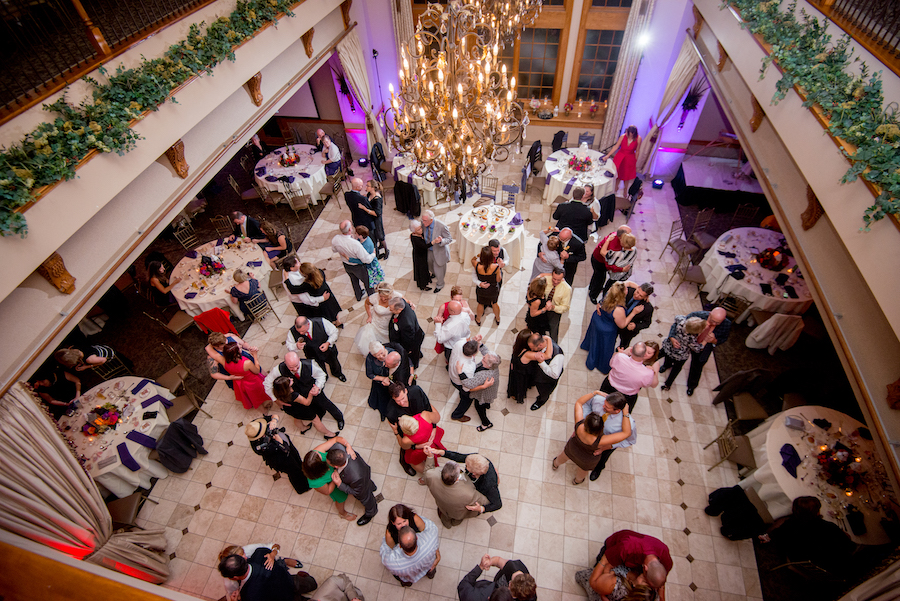 Most weddings serve cake, but not every reception can bring you everything from hometown favorites to regional and international specialties. Make it a night to remember with interactive food stations, the popular wedding trend that gets guests mingling and keeps the party going way after dinner is served. And although the traditional charcuterie spread remains a solid option, these snack tables can feature just about anything a couple would want.
To get the wheels turning, the expert team at Talamore Country Club has dreamed up some inspired reception ideas that will take any wedding above and beyond. The venue's all-inclusive Masterpiece package includes a 90-minute cocktail hour, sit-down dinner, open bar, white-glove service and more — not to mention a plethora of reception station options that'll impress any foodie. Get ten guest-pleasing ideas below from Talamore's wedding pros:
Margarita Bar
Tequila cocktails can get the party started. Stir things up with a choose-your-flavor option: raspberry, mango, peach or classic lime.
Sliders Station
Everyone loves bite-sized cheeseburgers, but your friends will also go wild over miniature crab cakes or minute portions of short rib served in between itty-bitty buns.
Mac & Cheese Station
Start with shells, elbows and lots of creamy sauces. Then let guests top all of that cheesy goodness with add-ons like crispy bacon or popcorn chicken.
Asian Stir Fry Station
Your go-to takeout order — including favorites like wok-fried veggies, pot stickers and egg rolls — can go on the wedding menu with this sizzling station option.
Flatbread Station
Serve up crowd-pleasing pizzas but make it fancy: a wild mushroom, gruyere fondue and truffle pie or a pistachio, rosemary, fontina and prosciutto option, just to name two ideas.
Crab Cake Station
Opt for traditional tartar and cocktail sauces or go with roasted red pepper aioli and corn salsa. No matter which condiments you choose, jumbo lump crab cakes will impress just about any guest.
Taste of Philly Station
Pay tribute to the City of Brotherly Love with a buffet of hometown favorites: crab-seasoned fries, soft pretzels and (what else?) cheesesteaks. Out-of-towners can check off their bucket lists all in one go.
Bellini Bar
You're already planning on toasting with lots of bubbly. Let guests add in peach, raspberry, strawberry, blueberry or mango mixers for more colorful cocktails.
International Coffee Bar
Freshly brewed cappuccinos and espressos will perk people up when it's time to cut the cake. The option to spike your joe with Bailey's, Kahlua or Grand Marnier keeps it interesting.
S'mores Bar
Extra sweet treats won't go unappreciated. Kids (and kids at heart) will love the classic trio of graham crackers, marshmallow and chocolate.
Gelato Bar
Upgrade the classic sundae bar with a variety of creamy Italian flavors. With warm chocolate and caramel sauces plus sliced fresh fruit, it's no average scoop.
Waffle Bar
Why not serve brunch after dinner? Homemade Belgian waffles get topped with Nutella, fresh berries and other dessert-inspired toppings for a late-night sugar rush.
Mini Donut Station
Send guests home with favors they'll actually enjoy: the edible kind. Tucked in a takeaway bag, cinnamon sugar, apple cider or salted caramel donuts end the night on a sweet note.
Host your dream wedding at Talamore Country Club. The all-inclusive, turn-key Masterpiece package combines the best in food, drinks, service and more for a perfect day without the planning.
This is a paid partnership between Talamore Country Club and Philadelphia Magazine's City/Studio
---