If Your Child Breaks a Bone, This Philly Walk-in Clinic Specializing in Fractures Has Got You Covered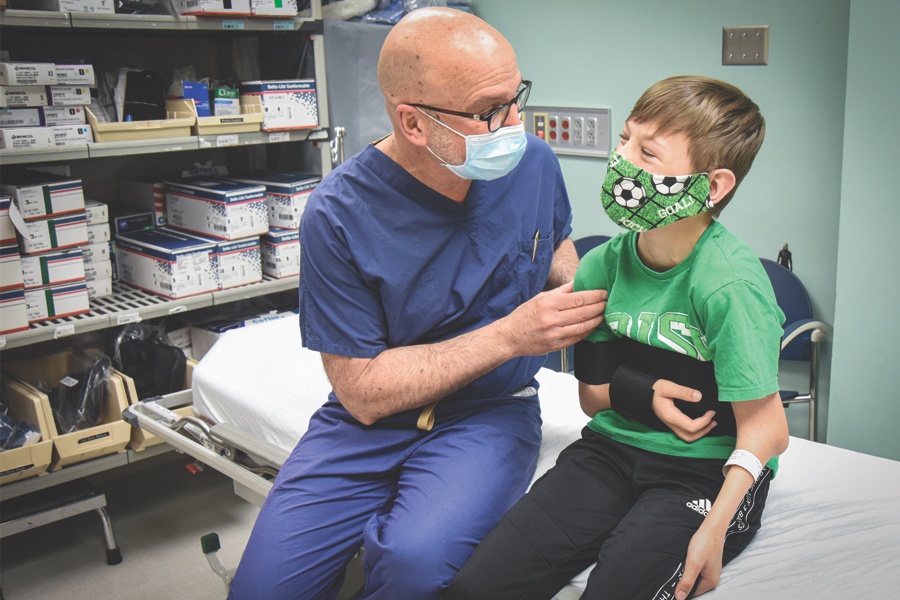 With school out and bicycling, scootering and hoverboarding back in, the inevitable bumps and scrapes will happen this summer. But when an accident takes a turn for the worse, local parents have options beyond the ER. A Philadelphia walk-in clinic that solely specializes in pediatric orthopedics can provide total fracture care—including reduction, surgery, casting and follow-up—no appointments necessary.
Local mother Jennifer Fagan and her son Alex learned about the Philadelphia Shriners Hospital walk-in fracture clinic last month after the 13-year-old lost his balance on a hoverboard and injured his upper arm. Although Jennifer had grown up visiting the emergency room in these types of situations, a phone call with their pediatrician confirmed that a clinic would better serve their needs. They drove to one urgent care center nearby, but an X-ray revealed they would need further expertise. "Immediately, the doctor said, 'Do you know an orthopaedic specialist? Make an appointment because it's broken,'" Jennifer recalls.
Luckily for her and Alex, they already had a long-standing relationship with a pediatric orthopaedic specialist at the Philadelphia Shriners Hospital, and they didn't need an appointment to visit the walk-in clinic. Even better, Alex's longtime doctor, Scott Kozin, M.D., chief of staff, happened to be on duty at the time they arrived.
"Alex has what's called ulnar-mammary syndrome," Jennifer explains. "So most people have two bones in their forearms, but he only has one and therefore only has three fingers on each hand." Although ulnar-mammary syndrome is exceedingly rare, Dr. Kozin has experience with this genetic disorder and has seen Alex since he was 2-years-old.
"It felt good knowing that I was going to go to my usual orthopedic surgeon," Alex says. "I felt excited because I knew he's been treating me well and that it wasn't going to hurt anymore." Due to the location of the break in the upper arm, Dr. Kozin fitted Alex out with a sling to wear for three weeks. A follow-up visit confirmed that Alex's arm would heal just fine and he even got the okay to go swimming.
After her summer scare, Jennifer would recommend that any parent in a similar situation head straight to the Shriners Hospital walk-in fracture clinic. "It was quick, it was very safe and you don't have to be a patient," she says. "You can just go, get X-rays, see a doctor and know that you're getting the best quality care for your child."
The Philadelphia Shriners Hospital walk-in fracture clinic at 3551 North Broad Street offers reliable, convenient care for children and their families. Receive services—no appointment necessary—Monday through Friday from 7:30 a.m. to 3:30 p.m., excluding holidays. Contact staff with any issues or questions at 215-430-4073.
This is a paid partnership between Shriners Hospitals for Children —Philadelphia and Philadelphia Magazine
---