Now You Can Screen for Scoliosis from Your Smartphone
Did you know that each year Scoliosis affects 6 to 9 million people in the United States alone and millions more worldwide? Scoliosis is an abnormal curvature of the spine or backbone that can cause serious medical conditions if left undetected. Pretty scary, right? It's even scarier that it affects 10 percent of adolescents. That's why Shriners Hospitals for Children has stepped up to raise awareness and simplify the screening process with their SpineScreen app.
In the past, schools performed regular Scoliosis screenings on students. However, in recent years these screenings have been cut from the roster of regular checkups offered throughout the school year. This could be extremely detrimental to a growing child since Scoliosis is a progressive condition and most often appears during periods of rapid growth in children between the ages of 10 and 15. Since fewer vaccinations are required for children this age, they visit the doctor less often, and could bypass their yearly Scoliosis checkup. It is essential they are checked every single year.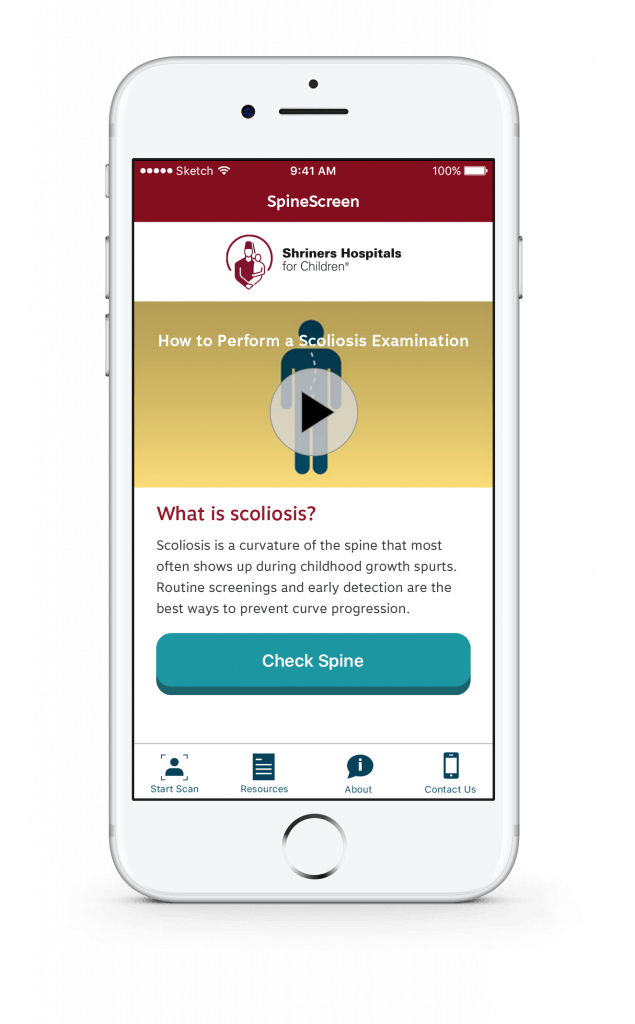 Shriners Hospitals for Children encourages parents to be proactive and add a Scoliosis screening to their children's list of yearly exams. With SpineScreen parents can easily and effectively screen their child for Scoliosis using their smartphone from the comfort of their own home. The app, which is free to download from the App Store or Google Play uses the smartphone's camera to slowly scan the shape and alignment of the child's spine.
If the app detects an abnormality—S of C shaped curve to the spine, one side of the shoulder, hip or rib higher than the other, or an off-center head—it will alert the parent to seek help from a medical professional. If the scan doesn't detect an issue, parents can set a reminder for next year's checkup and rest easy knowing their child's spine is in good health. Aside from the screening capabilities, the app also serves as a source of helpful information with advice about the signs of Scoliosis and treatment options.
Scoliosis treatments are not one-size-fits-all. That's why early detection is extremely important. The earlier the detection, the more options orthopedic specialists have to find the source of ailment and realign the child's spine. Have your child's back and start screening at home.
Detect the early signs of scoliosis by downloading the app. For more information on scoliosis and treatment options click here.
This is a paid partnership between Shriners Hospitals for Children —Philadelphia and Philadelphia Magazine's City/Studio
---