Local Shooting Guard Keeps His College Hopes Alive After Career-Saving Surgery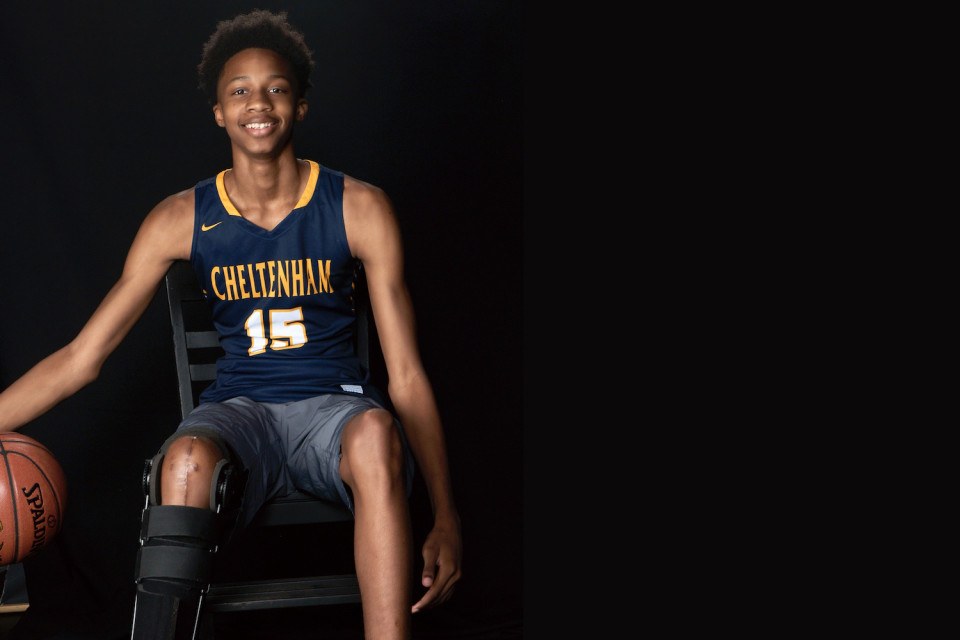 By graduation this year, Montgomery County shooting guard David Pope had led Cheltenham High School's varsity basketball team to a state championship and played his way onto Lackawanna College's squad. But only two years ago, the promising athlete couldn't dunk, run, or even walk after a broken leg sidelined him completely for months.
While making a layup in tenth-grade gym class two years ago, David tangled with another player and landed directly on his knee—hard. The force broke his right tibia and restricted the varsity athlete to a cast unable to practice or play. Even after surgery, continued swelling and pain made it difficult for David to run. With his senior season now on the line, the Pope family turned to a new orthopedic surgeon, Corinna Franklin, M.D. at Shriners Hospitals for Children in Philadelphia, to keep his college ball hopes alive.
"Dr. Franklin went above and beyond," says Monica Pope, David's mother. "She didn't take for granted that David's leg was swelling, so she said, "Let's do this exploratory surgery.'" The procedure revealed that David's fall had not only broken his bone but also damaged the cartilage, preventing proper healing. After learning about several treatment options from Dr. Franklin, the Pope family elected for a procedure in which David would receive donor cartilage, enabling him to back on the court sooner.
Even though the surgery would put him back in cast and physical therapy, "I thought of it as something I had to do," David says. After undergoing the procedure in April 2019, David not only completed his rehab in time for his senior season but also averaged 7.6 points per game during Cheltenham's state playoff run, earning a spot on Lackawanna College's roster. After attending a game, one of David's physical therapists from Shriners Hospitals even promised to come watch him play as a Falcon.
Now with David starting college this fall, the Popes feel grateful that their son is no longer stuck on sidelines. "Shriners Hospital is there to not only guide and help you, but they're also there to be a great resource, especially when you're pressured and when you have a lot of uncertainty about your child's illness or injury," says Monica. "Dr. Franklin was a great doctor because she didn't just do the surgery, but she held our hands through this whole process."
Learn more about the sports injury specialists at Philadelphia Shriners Hospital, the region's premier pediatric orthopedic hospital.
This is a paid partnership between Shriners Hospitals for Children —Philadelphia and Philadelphia Magazine's City/Studio
---