This Local Hospital Is a Philly Mom's "Godsend"
Northeast Philadelphia mom, Christina Leszczynski first discovered a noticeable curve in her daughter Alyssa's spine when she was only 2 years old. Concerned and unsure of what this meant she took her to the local children's hospital, where she was diagnosed with Infantile Scoliosis, a form of the spinal curve disorder that is diagnosed between birth and three years of age.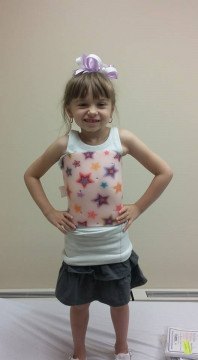 Alyssa had a 50-degree thoracic curve that quickly progressed to a 67-degree curve in less than six months. "I was so scared and upset," says Christina. Alyssa's spine continued to worsen with her curvature increasing to 97-degrees at one point. That's when the family was referred to Shriners Hospitals for Children and placed in the care of Dr. Pahys. Within her first six months at Shriners Hospital, Alyssa was put in a Mehta cast to begin the realignment process. Now 8 years old, Alyssa has been through 10 Mehta casts, 3 summer braces and a Bilateral Magec rod surgery since she first switched to Shriners Hospital just two days short of her third birthday.
"Shriners Hospital has been a godsend," says
Christina. "The casting allowed by daughter's chest cavity to grow properly until she was old enough for surgery and the spinal surgery corrected her curve and improved her lung function. I wish she didn't have to go through all of the medical issues she does but I know she's in the best hands at Shriners Hospital." But it wasn't just the incredible care the family received that impacted their lives—all of Alyssa's treatments and surgeries were covered by Shriners Hospital. "I never received a bill once," Christina says.
The family was able to focus on Alyssa and her recovery without the constant fear of paying off steep medical bills. "The last thing on a parent's mind when their child is
diagnosed with a medical condition is copays, referrals and travel expenses—at Shriners Hospital you don't need to," says Christina. "You can focus on what really matters—ensuring your child gets the care they need and deserve.
Today, Alyssa's doing great—she's currently stable at a 35-degree curve, the smallest she's had in her entire life—and the family spends their time helping out the hospital that has given them so much hope. "We love participating in the annual Christmas in July toy drive and the Walk for Love event every year," says Christina. As for smiley, first-grader Alyssa—she aspires to be a nurse someday so she can help others like the compassionate crew at Philadelphia Shriners Hospital has helped her.
You can detect the early signs of scoliosis by downloading the SpineScreen app. For more information on scoliosis and treatment options click here.
This is a paid partnership between Shriners Hospitals for Children —Philadelphia and Philadelphia Magazine's City/Studio
---