Best Real Philly Deli Sandwich of 2017: Who Makes The Best Italian Hoagies?
Hoagies are a staple in every Philadelphian's diet. We pride ourselves in interpretations of classics and find bliss in bites of unique flavor combinations. Which is why it only makes sense, when Dietz & Watson began their search for the Best Real Philly Deli Sandwich of 2017 there was some heavy competition in the form of Italian hoagies.
Enter: Three contestants that know a thing or two about the authentic ensemble that is a tried and true Philadelphia favorite. These twists on the Italian classic is inspired by quality Dietz & Watson's meats but perfected by the Real Philly Delis that create them.
On-The-Go
Few convenience stores can get sandwiches right. DJ Sunoco's made to order deli sandwiches defy the odds. This stacked Italian hoagie is just as delicious as it is speedy.
Where to find it: DJ Sunoco, 1110 Ridge Pike, Norristown PA
The flavor combo: Dietz & Watson Cooked Salami, Capocollo, Genoa Salami, provolone cheese, lettuce, tomato, onions, virgin olive oil and oregano on a 9" roll. Origin story: Locals know DJ's as the most convenient place to fuel up in Norristown. Besides ready-to-eat deli offerings that are fresh and always available, the stop is also known for made-to-order breakfast and hoagies for days when you have a little extra time on your morning commute.
Traditionalists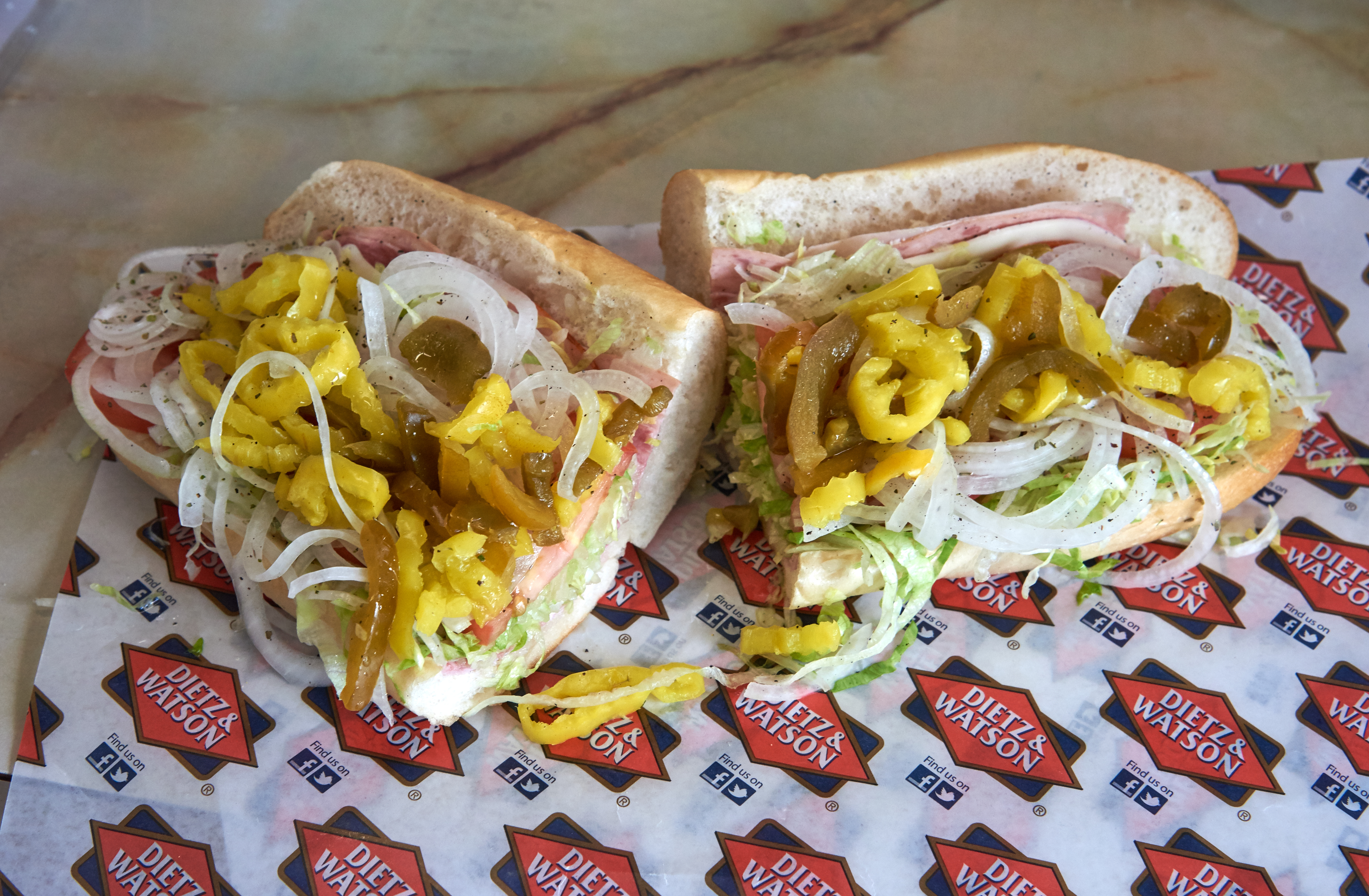 Food from family-owned delis with big personalities somehow always tastes better. This classic hoagie from Somerdale will have you smiling upon first bite.
Where to find it: Somerdale Cold Cuts, 501 N. Warwick Road, Somerdale NJ
The flavor combo: Dietz & Watson peppered ham, provolone, pepperoni, contegino, and gabagool seasoned to perfection.
Origin story: This family market is all about tradition. Their classic hoagie is a second-generation recipe that focuses on bringing high-quality local ingredients all together for one delicious bite of authentico goodness.
Bring the Meat
This authentic local favorite packs a punch of flavor and a hearty portion of meat. This Roman take (passed down in the Lancellotti family) is just one of the dozens of handmade Italian favorites stocked at Roma. Hint: Grab a bag of pasta when you're there.
Where to find it: Roma's Italian Specialties, 4029 Brownsville Road, Trevose PA
The flavor combo: Dietz & Watson Premium Meats, including dried cured capicola, sweet soppressata, and imported prosciutto, topped with roasted red peppers on a semolina roll.
Origin story: This father-son market is all about connecting to your roots. Michael Lancellotti brings classic recipes from Italy back to Trevose so we can all live like the Romans do.
Know whose recipe you're backing? To cast your vote in Dietz & Watson's Best Real Philly Deli Sandwich of 2017, click here.
This is a paid partnership between Dietz & Watson and Philadelphia Magazine's City/Studio
---