Philadelphia-Area Restaurants Perfect for Your Rehearsal Dinner
---
Delivering the latest in style, inspiration, helpful tips and tricks, and everything else you need to know to plan the perfect Philly wedding.
No matter how big or small your wedding party is, a rehearsal dinner is often a key part of the celebrations. It offers the chance for your guests to mix and mingle in a more intimate setting before your big day. Just as important as the menu is the location of the dinner, and in that regard, Philadelphia offers up a robust culinary and event scene for all types of couple. From casual pizza eateries for the fun-loving, no-fuss crowd to elevated Italian cuisine in a sprawling subterranean restaurant, Philly has something for every wedding party (and budget).
1523 Sansom Street, Rittenhouse.
This bi-level restaurant houses a retro lunchette on its ground floor and a prohibition-era supper club underneath, complete with exposed stone walls, winding pastel-colored banquettes, and warm recessed lighting. The menu boasts and impressive selection of Italian favorites perfected by Chef Wesley Field's expertise–think: gnocchi basil pomodoro with ricotta, san marzano tomato, and basil and clams oreganata with red wine, shallot, and breadcrumb. And–of course–cannolis by the famed Termini family. Like its Schulson Collective sibling, Giuseppe & Sons also offers up a variety of private dining options, like the Sinatra Dining Room, which seats 10 guests, or the Louis Prima Combined Dining Rooms, which seats up to 40, with a $3,000 food and beverage minimum. The three-course menu begin at $60 per person, with beverage options starting at $30 per person for two hours. A full buyout option is also available and accommodates 180 seated guests. —Sabrina Qiao
218 Market Street, Old City.
New kid on the block The Collective Table just opened this past May, but they've already hosted a variety of events ranging from cooking classes to pop-up shops. The space includes a kitchen, dining area, lounge area, and two bathrooms. Birch wood floors and crisp white walls house simple yet elegant decor, including a curated selection of plants and terrariums and a boxwood wall. Additional photobooth backgrounds may be rented for a small fee, but the wedding party is free to customize the space as they see fit. Founder and owner of the space, Laura Eaton, also has 15 years of wedding industry experience, making her an indispensable resource for vendor recommendation and general planning inquiries. Rates start at $600 for up to four hours–with a fee of $100 for each extra hour– and include tables, chairs, and linens;dishes, cutlery and wine glasses may also be included for an additional cleaning fee. —Sabrina Qiao
Image courtesy Kensington Quarters
1310 Frankford Avenue, Fishtown.
Host your wedding party in the rustic charm of Kensington Quarters, housed in a former welding shop. You can sit 60 people on the outdoor patio, or relax in their second floor space, which seats up to 54 and has a full bar and demo kitchen where you have the option of holding interactive experiences for guests. Dinner and dessert are served family-style from a farm table and the menu changes seasonally, but you can be sure that it'll include delicious, healthy foods centered around a large roast. The restaurant is committed to using artisanal products, seasonal produce, local dairy, and whole, healthy, GMO-free animals. Costs range from $55 to $75 per person. Full buyout (restaurant capacity is 150) also available. —Helen Armstrong
110 South 13th Street, Midtown Village.
Barbuzzo's modern and airy second floor space seats up to 55 people and has its own restrooms, a private bar, and a chef's kitchen. They'll serve your party from a large menu that draws from popular items at all five of the restaurants in the Barbuzzo family (Barbuzzo, Lolita, Jamonera, Little Nonna's, and Bud & Marilyn's). You can't go wrong with Little Nonna's spaghetti and meatballs or the Mediterranean bronzino, and we're told that the salted caramel budino is a must for dessert. A three-course dinner is $65 per person; add in hors d'oeuvres for an extra $30 and an open bar for anywhere from $35 to $55. They require a food and beverage minimum of $2,500 to $8,000 depending on the date, and event slots last 3 hours with the option of extending for an extra fee. —Helen Armstrong
604 North Broad Street, Fairmount.
In addition to Chef Jeff Michaud award-winning Italian cuisine, Osteria also offers up three private dining spaces: the patio, the wine room, and the kitchen table. The glass-enclosed patio seats 65 guests and evokes to mind a summer garden party with its suspended greenery and dangling globe lights that hang over the marble tables and rattan chairs. The wine room seats 35 and features a view of the 300+ label wine cellar, amplifying the already sophisticated atmosphere. For smaller rehearsal dinners, Osteria also offers the kitchen table, which seats 14 around a wooden dining table placed in the center of a glossy, industrial kitchen. Dining options are all seasonal and served family style, with the dinner menu starting at $65 and featuring a selection of antipasta, pasta, and poultry options. To complement the meal, beverage packages are available and begin at $45. For the ambitious wedding party, restaurant buyout options are also available, with a 130 guest capacity. —Sabrina Qiao
611 South 7th Street, Bella Vista.
Turn your rehearsal dinner into a pizza party at Nomad's 7th Street location, where they'll host 50 to 80 guests in their industrial second floor space or 20-30 in their downstairs area. Enjoy all-you-can-eat pizza (the Truffle Pecorino is a must) while standing under vaulted ceilings with exposed beams, relaxing on the couch, or sitting with friends and family at the community table that runs through the room. Prices range from $35 to $75 per person for dinner; add on an all-you-can-drink option and the range bumps up to $55 to $90 per person. Typical service lasts two hours, but you can add more time for an extra fee, and they'll start you out with hot appetizers and salad before sending out a fleet of pizzas. —Helen Armstrong
306 Market Street, Old City.
Serving cuisine inspired by the Mid-Atlantic region and its local growers, Fork can host groups of up to 45 in their private dining room, which was designed by Marguerite Rodgers Interior Design and features a mural by local artist Kenneth O'Brien. For events, the restaurant offers a private dining menu pulled from their à la carte menu; popular options include house-made pastas and strip steaks. Pricing ranges from $65 to $95 per person, with the option of including a cocktail hour of small bites before being seated. Decor-wise, the dim lighting, candles, flowers, and linens will set an elegant scene for your stylish wedding weekend. Full buyout (restaurant capacity is 80) also available. —Helen Armstrong
4301 Baltimore Avenue, University City.
If your wedding party is comprised of pizza lovers, head over to West Philly to enjoy some of Clarkville's delicious pies. For $20 per person, they'll serve pizza family-style for 2 hours; for $3-$5 more per person, they'll also add in selections from their small plates menu. While you can customize the choices, we recommend the honey pie. Shaved brussels sprouts, bacon, grilled onion, and sriracha honey? Our mouths are already watering. Your party will be hosted on the second floor, with a private bar and a long dining room area, split in half by a table where they'll keep the pies coming. Their non-traditional atmosphere offers a sense of whimsy for a fun-loving crowd. —Helen Armstrong
516 Sansom Street, Center City.
If you're the taco type (who isn't the taco type?), book your dinner at Mission Taqueria. They arrived on the scene last summer, but have wasted no time in becoming a hip, fun staple in Center City. Their private dining room seats 30 and can hold up to 45 standing, and the space feels like a grown-up Urban Outfitters store with neon pink touches, lots of plants, and primary-hued seats and stools. If your party is big enough, you have the option of also taking over the front-of-house bar/picnic table area, or even buying out the restaurant entirely (capacity is 180). Mission offers two options for dining. If you want a sit-down meal, it will run you $35 per person, and everyone gets three tacos served buffet style ( choose from a menu of 11). If you'd rather fill up on chips and guac, quesadillas, and empanadas, go the snack route at $22 per person. Drink-wise, margaritas are your best bet. We recommend the green juice marg, which contains green apple, cucumber, and kale. Seatings typically last 3 hours. —Helen Armstrong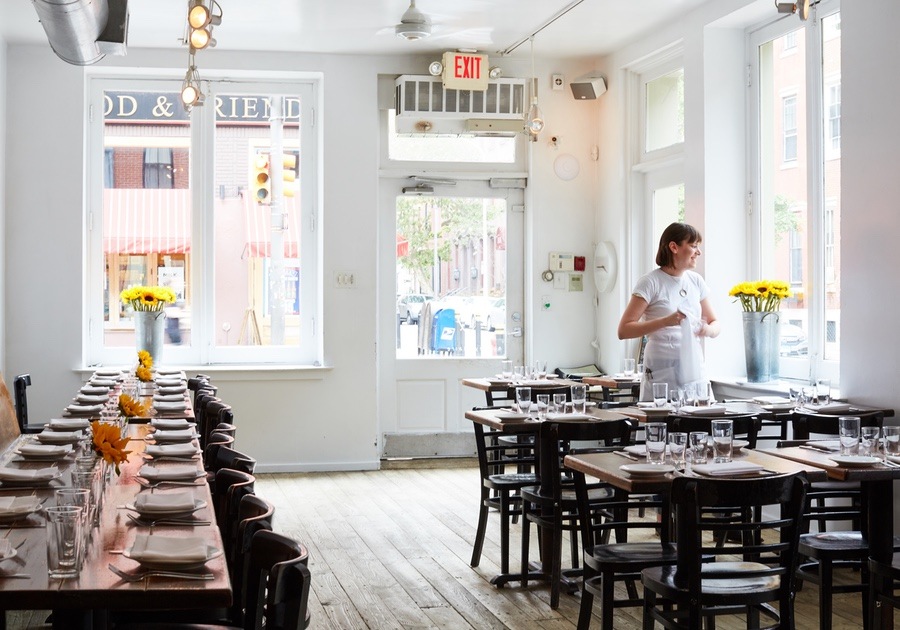 Charley Dove in Rittenhouse. Photograph by Will Figg
276 South 20th Street, Rittenhouse.
This unpretentious restaurant is a neighborhood BYOB favorite, with a capacity of 45 people. Weekend groups dine from a $45 prix-fixe menu that includes a family-style first course of salads and signature flatbreads, individual entrées and a dessert sampler. If you opt for a full buyout, you can decorate the venue to your liking and confer with the restaurant to build a menu that's totally you. Think: mini lamb burgers, grilled eggplant salad, swordfish and vegetable kabobs. Friday and Saturday event buyouts start at $3,500. —Taylor Carson
View this post on Instagram
428 North 13th Street, Northern Liberties.
The cool vibe inside this BYOB factory-turned-cafe — and its sweet-and-savory menu — has made it a crowd-pleaser for years. (Note for Main Liners: A second location opened last summer) For your rehearsal dinner, the venue will transform from a daytime eatery into your own private affair. Setup is your call — the restaurant hosts breakfast, brunch, lunch, cocktails and dinner, plus standing reception events. Added bonus: Dishes are chosen from a catering list that draws on specialties from all the eateries under the 13th Street Kitchens umbrella, including Prohibition Taproom, Kensington Quarters, KQ Burger and Bufad Pizza. From $500 to start, with fees depending on the nature of the party and a capacity of 60. —Taylor Carson
guests.
11 Louella Court, Wayne.
Headed by chef-owners Alex Hardy and Tara Buzan, this cozy BYOB eatery puts a modern spin on French and New American cuisines. The 1,200-square-foot space is only available for full buyouts, but you'll get a lot of bang for your buck: At the Table sets up and stocks the bar with glasses, ice, lemons, limes and mixers and will even provide a bartender for no extra fee. Kick off the evening with passed hors d'oeuvres like chicken satay and mini croque-monsieurs before sitting down to a customizable five-course tasting menu of everything from wild mushroom toast to pistachio cheesecake. Friday and Saturday buyouts start at $3,500; tasting menus start at $85 per person and the capacity is 35. —Taylor Carson
320 Walnut Street, Old City.
Upon first glance, this charming Walnut street store looks like it would be a café, but think of it instead as a blank canvas for your next event. Self-described as a "social start up business," FRIEDA's all-white walls and simple furnishings are purposefully chosen in order to accommodate the rotating themes and functions it hosts, including rehearsal dinners. The industrial elements of the space (think painted steel beams soaring across an 18-foot ceiling coupled with incandescent track lighting and an exposed concrete-wall) are counterbalanced by the expansive row of windows lining the entrance. The 2,000 square foot storefront also is column-free, which makes seating options flexible and customizable. They can accommodate up to 50 guests. enjoying dishes by Chef David Wong. What better way to ease into "I Do?" —Sabrina Qiao
https://www.instagram.com/p/BhCTmVND0Da/
1535 South 11th St, South Philly.
Wow your relatives with this one-of-a-kind restaurant, available for two-and-a-half-hour semi-private events or full buyouts. While prix-fixe menus are available upon request, opt instead for the Kamayan feast: You'll eat sinangag, chicken inisal, lechon kawali, bibingka and more off banana leaves — with no utensils. Full buyouts start at $1,000; partial buyouts start at $50 per person and the capacity is 32. —Taylor Carson
253 South 16th Street, Rittenhouse.
The stone-walled special-events room at this classic Italian BYOB is a favorite of many; it comes outfitted with round tables and a large-screen TV you can connect to via wi-fi. Choose either the two-course prix-fixe menu for appetizers (mozzarella al basilico, classic Caesar salad, arugula salad, soup de jour) and entrées (lobster ravioli, chicken marsala, penne gnocchi, orecchiette), or upgrade to three courses, which adds on a chef's selection of desserts served with coffee and tea. Prix-fixe menus start at $25 per person; room rate varies based on night of the week and setup. Room capacity varies from 50 to 90 guests, while a full buyout accommodates 190. —Taylor Carson
10 South Chester Road, Swarthmore.
Located on Swarthmore's idyllic campus, the Inn at Swarthmore offers a variety of rehearsal dinner options for wedding parties hoping to get out of the city. With nearly 3,500 square-feet of event space available, the Inn may accommodate any size rehearsal party for a three hour event. The largest space, The Gathering Room, includes a neutral color scheme and flexible room layout. It seats up to 150 guests, though it can be sectioned off into two separate spaces accommodating up to 70 guests each, with a rental fee of $250. The Sycamore provides a quainter, mid-sized option, seating up to 30 guests comfortably with a rental fee of $250. For even smaller parties, the Ingleneuk Tea Room accommodates up to 16 guests–with a $250 food and beverage minimum– and comes with a pastoral charm that is emphasized by its sliding white-wood doors, ochre walls, and walnut accents. In the summer, The Courtyard is also available for private receptions of up to 60 guests. Dinner packages include prefixe and buffet menus, starting at $45 per person and $49 per person, respectively. Beverage packages begin at $8 per beverage, with a $75 labor fee for each bartender required. —Sabrina Qiao
90 Spring Garden Street 1st floor, Callowhill.
Formerly a medicine warehouse, Location 215 retains the sleek, industrial design of its predecessor, with a modern twist. The white interior is illuminated by expansive windows and glass accents, a combination that makes the already immense 7,500 square-feet space (split, conveniently, into two separate studios available for rent) seem cavernous, perfect for the bridal party that seeks dinner, drinks, and dancing. The East Studio, the larger of the two, is ideal for a larger rehearsal group and includes the use of the wrap-around bar, commercial espresso machine, and 75-inch television. The West Studio maintains the same sense of industrial chic as its sibling, but provides a smaller, more intimate experience. Two main pricing packages are available: the concierge package includes a seating bundle that accommodates 100 guests and is priced at $5500 for a Saturday rehearsal in the East Studio, and $3500 for a Saturday rehearsal in the West Studio; If you'd rather have more flexibility and are willing to forego support staff, the standard package is priced at $4,000 for a Saturday rehearsal in the East Studio and $3,000 for a Saturday rehearsal in the West Studio. Events run 8 hours long and include the use of a back-of-the-house kitchen and the services of a site manager who can help with vendor coordination and layout customization. —Sabrina Qiao
130 South 18th Street, Rittenhouse.
True to its name, The Love. offers up the romantic-meets-rustic ambience fit for a fairytale rehearsal dinner. Downstairs, wood-beamed ceilings and exposed whitewashed brick walls are lined with yawning windows, the wood blinds pulled down just enough to in a swath of sun. Upstairs, their private loft seats 20 and carries over the wood motif from downstairs with a few more bucolic touches, like the linen curtains, decorative step ladder, and woven chair seats. The space is available for three-hour rentals from Sunday through Thursday, with a prefixe menu that is priced at $85 per person (with a $2,500 minimum) and includes one appetizer and entree to be chosen from a selection of the "best-of-the-season" dishes. With options such as smoked berkshire pork swimming in creamy polenta, and thick parsnip bisque flavored with nutmeg and apple, you might not even have room for the trio of desserts that conclude the meal. If you decide you'd rather keep the magic just for you and your party, restaurant buyouts are also available upon inquiry. —Sabrina Qiao
*Price estimates do not include tax and gratuity.
Get more great content from Philadelphia Wedding:
FACEBOOK | INSTAGRAM | NEWSLETTER | PINTEREST
---