News
We Met Online During COVID. One Year Later, We're Getting Married
The couple took their engagement photos at City Hall and other iconic spots.
---
There's online dating, and then there's online dating amid the pandemic, complete with all the Zoom and FaceTime dates you can imagine until it's safe to meet in person. This local couple made it happen. Virtual sessions were followed by their first in-person date on May 22, 2020 — and their wedding will take place on the same day this year. But first? An engagement photo shoot at iconic spots like Philadelphia City Hall. Photographer Collins Oluka brought their vision — to represent their "swag," Philly, and their love — to life. And here, Cheri shares their story.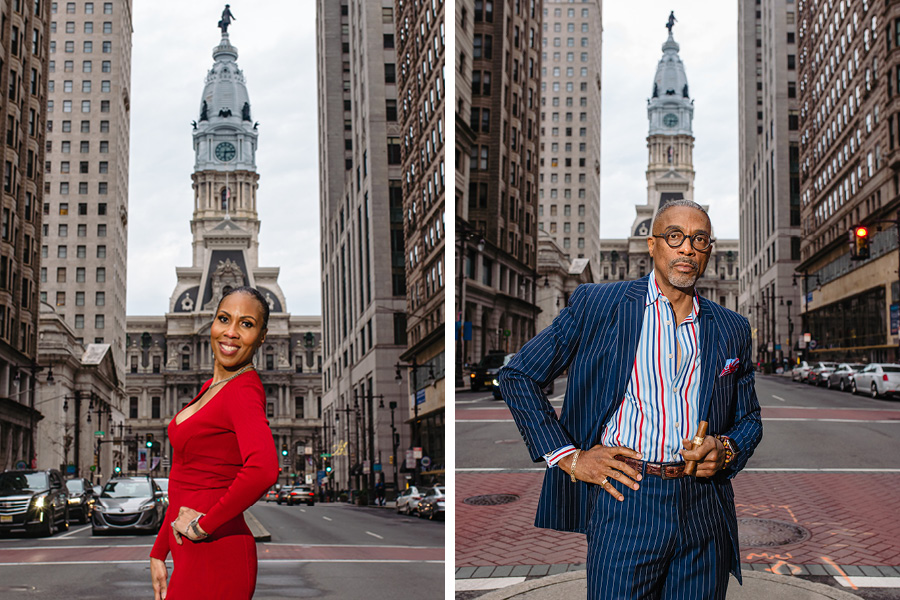 The couple: Cheri Spigner, a 51-year-old sales director at a medical device company who currently resides in Mount Airy (and recently purchased a home in Southwest Philly), and Tracey Syphax, a 58-year-old serial entrepreneur, motivational speaker, and author of From the Block to the Boardroom, who lives in Trenton.
How they met: Our adventure began on Match.com! It was beginner's luck for me. Unlike Tracey, I had never dated online, but the thought of being held hostage during COVID with minimal to no male interaction was not appealing. No more than a week or so went by before I got this handsome guy named Tracey reaching out and "welcoming" me to Philadelphia — and he doesn't even live here! [Editor's note: Cheri's company had recently relocated her from Oakland, California.] We had FaceTime and Zoom dates for almost two months. As soon as the governors of New Jersey and Pennsylvania gave us a glimmer of relaxing restrictions, we planned our first in-person date for May 22, 2020.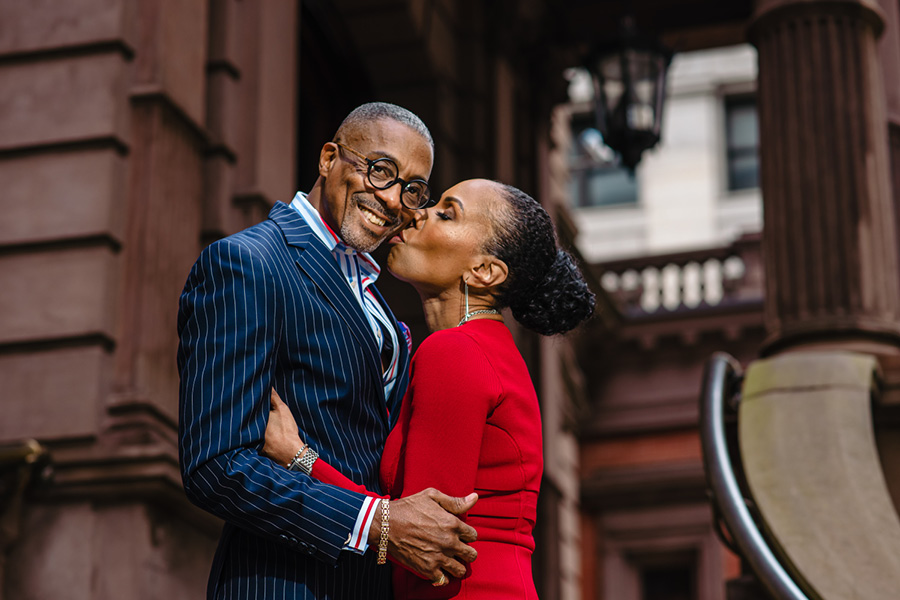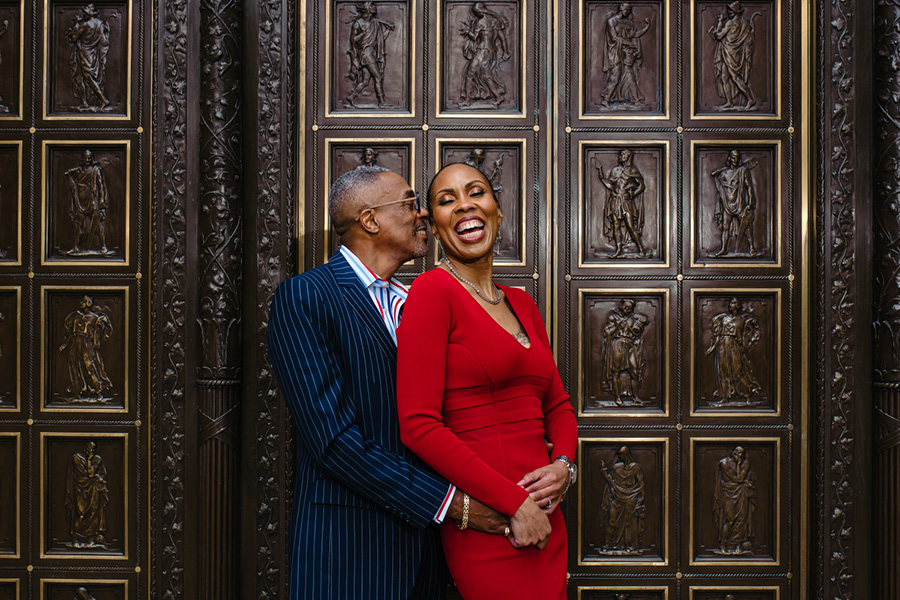 Tracey wanted to dress up and go to a restaurant, but the pandemic was not having it. I planned an epic dinner experience. I called a friend of mine who is a chef to put together a menu and reached out to musicians I knew, and we converted my home into a restaurant with live music. Tracey was blown away. We dated for eight months before getting engaged.
The New Year's Eve proposal: We were still limited in our choice of restaurants and experiences, but I wanted it to be memorable. I made reservations at Rat's Restaurant and planned for us to spend the weekend at the Four Seasons Hotel. At the restaurant, Tracey was a bit nervous and used the phrase we use when we need to have a serious conversation: "Baby, you know I love you, right?" I looked at him with a slow "Yeeessss." He said it again, and I got nervous. I was afraid he was going to say he wasn't ready for this relationship. He came around to my side of the table, got on his knee, and told me how much he loved me and wanted to share his life with me. Then he asked me to be his wife. Of course, I said yes! He had called ahead to the Four Seasons and had balloons delivered with rose petals, champagne and a cake. He did good!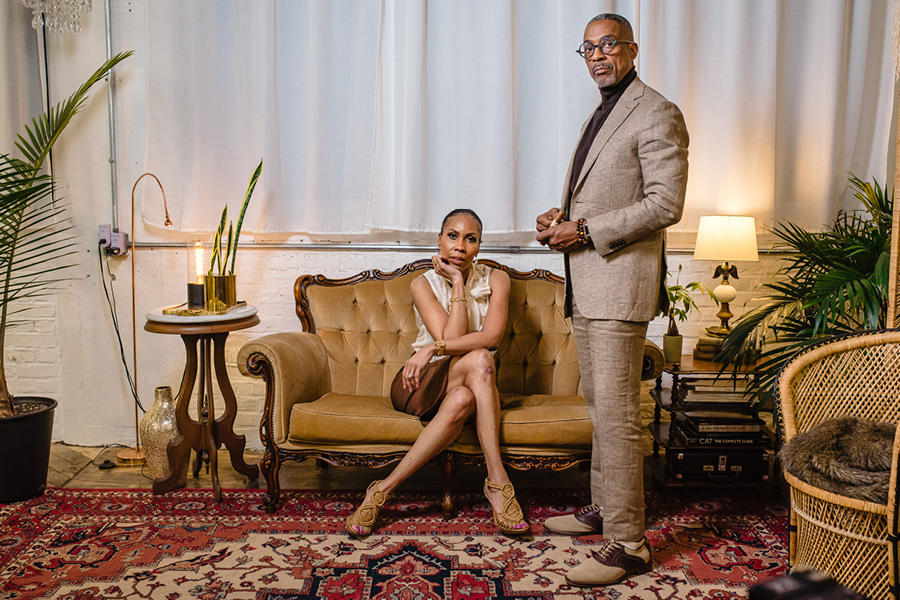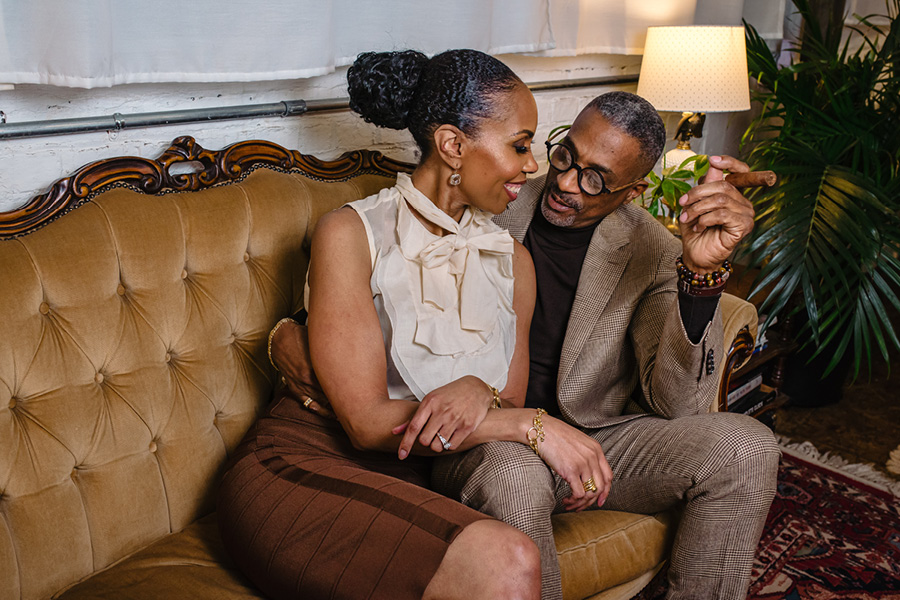 The engagement-shoot locations: I LOVE Philadelphia — the culture, history, people and food. We wanted to stick with tradition, so we chose the famous Broad Street photo in front of City Hall. It took a long time and patience to build City Hall, the same way it took a long time for us to find each other. There were several parallels to the location and our relationship. Although not pictured in the photos, the addition of the Octavius Catto statue had meaning to both of us. It is the first public statue honoring an African American man. My mother was a Black Panther, so civil rights is near and dear to my heart, and with Tracey's activism around equity for underserved communities, it felt right to take our pictures here. We also took indoor photos at Stenton Studio to showcase our creative side.
The attire: Tracey's blue pinstriped suit was symbolic for a few reasons. It was the suit he wore on our first date, and he had posted a picture captioned "from penstripes to pinstripes" signifying his evolution from incarceration to success. That suit is significant to me, so I asked him to wear it. My dress was red — the color symbolizes so many powerful things, but it's most recognized for LOVE. I had to complement Tracey's red, white and blue ensemble with my dress to show our love for each other. Our beige and brown outfits reflect the classic, powerful boss side of us. Our wedding colors are copper, bronze and earth tones, so the brown matched. Our last outfits were bride and groom shirts with black pants. This is us relaxed and showing our fun side while identifying our new titles and roles as bride and groom. Philly is a vibe. It's crazy, sexy, cool, with a bit of an East Coast swag. It's also the city of Brotherly Love and Sisterly Affection. We'd like to think we have a bit of that swag and wanted to represent Philly and our love in the pictures.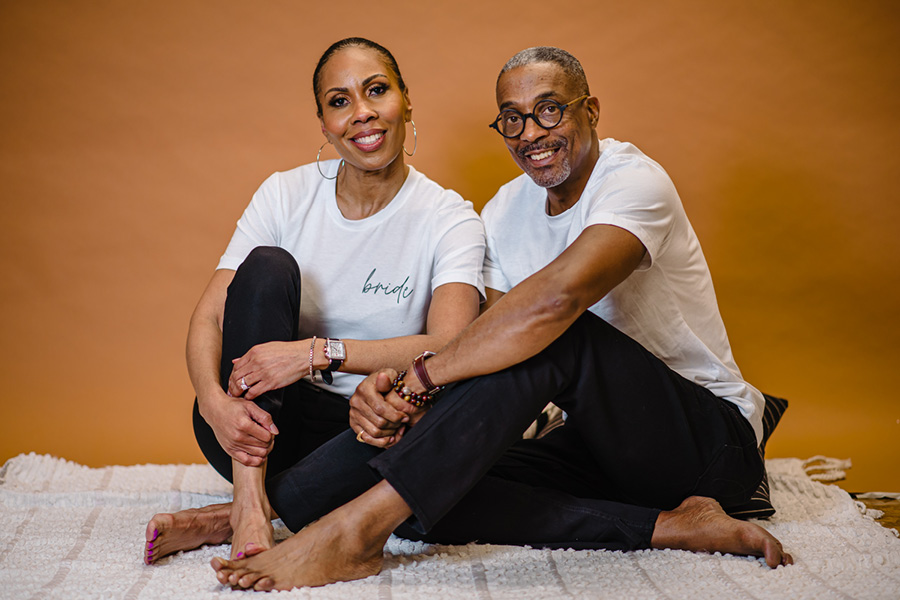 The Big Day plans: Our wedding is May 22nd, which is a year to the day after our first in-person date. It will take place at the National Constitution Center. [Editor's note: Melissa Brooks of Enchanted Allure Events is the couple's planner.] American history is Black history, so we thought it would be appropriate to hold our ceremony at the center — a symbol of integration of American and Black history. The weekend includes a Kentucky Derby-style gospel and jazz brunch at the Akwaaba mansion in West Philly. Akwaaba means "welcome" in Ghana, which is our honeymoon destination. We also wanted to support the small, female Black-owned business. The Kentucky Derby theme has meaning, too. We visited Kentucky on our first road trip, and we stopped by Churchill Downs while we were there. The weekend will showcase our journey and will be a celebration of our love and that of our loved ones.
This interview has been edited for clarity and length.
Get more great content from Philadelphia Wedding:
FACEBOOK | INSTAGRAM | NEWSLETTER | PINTEREST
Getting married? Start and end your wedding planning journey with Philadelphia Weddings' guide to the best wedding vendors in the city.
---
---