News
This ER Doctor's Addison Street Proposal Is Straight Out of a Movie
He hid love letters in the trees.
---
Ah, Philly. We love your picturesque parks, buildings and streets, all of which make beautiful backdrops for popping the question. (Remember this Miracle on South 13th Street proposal, or this ONE North Broad engagement? Enough said.) And ER doctor Umang Jain, who has been working on the front lines of the pandemic, chose to get down on one knee on Addison Street — one of his bride-to-be's favorite places in the city. His sweet rom-com-worthy proposal was captured by Martin Reardon, as you can see below.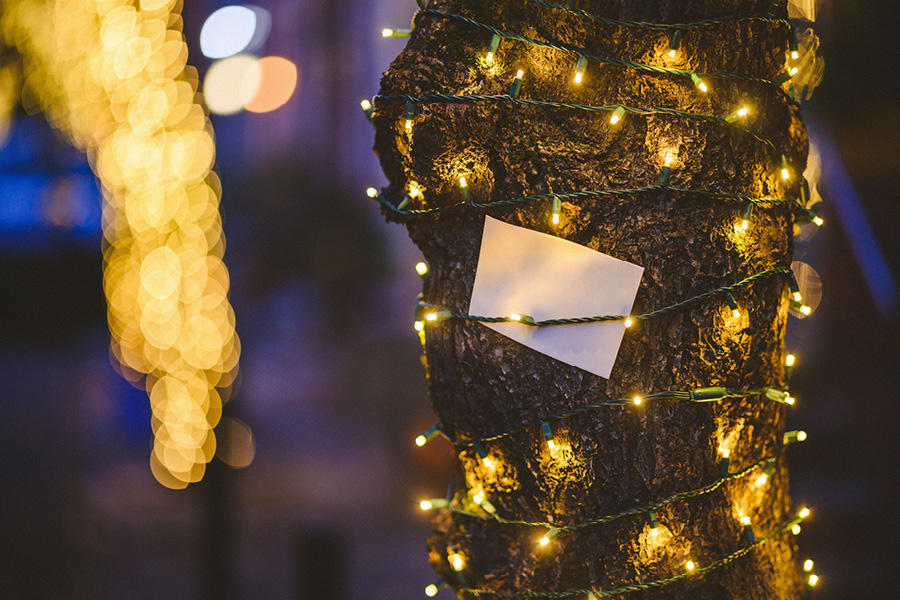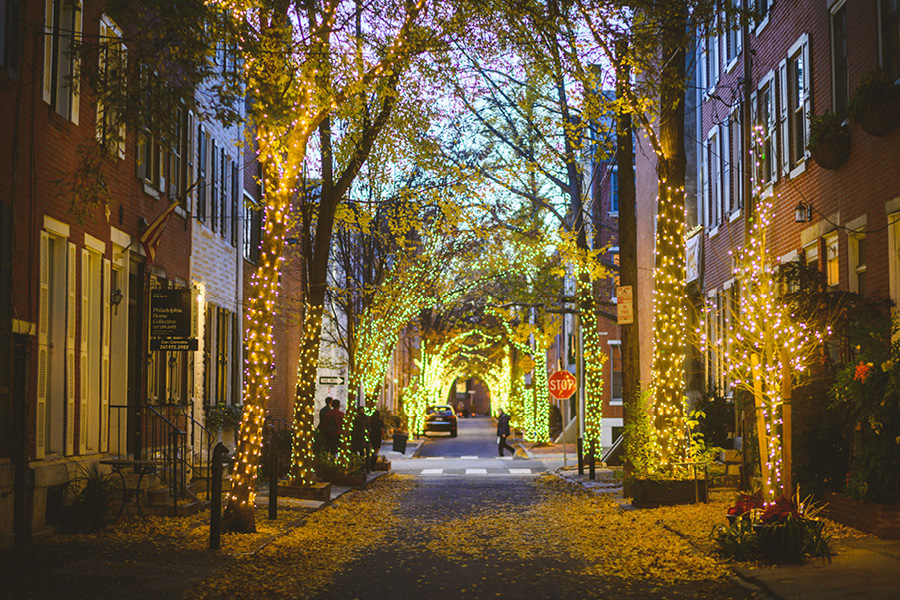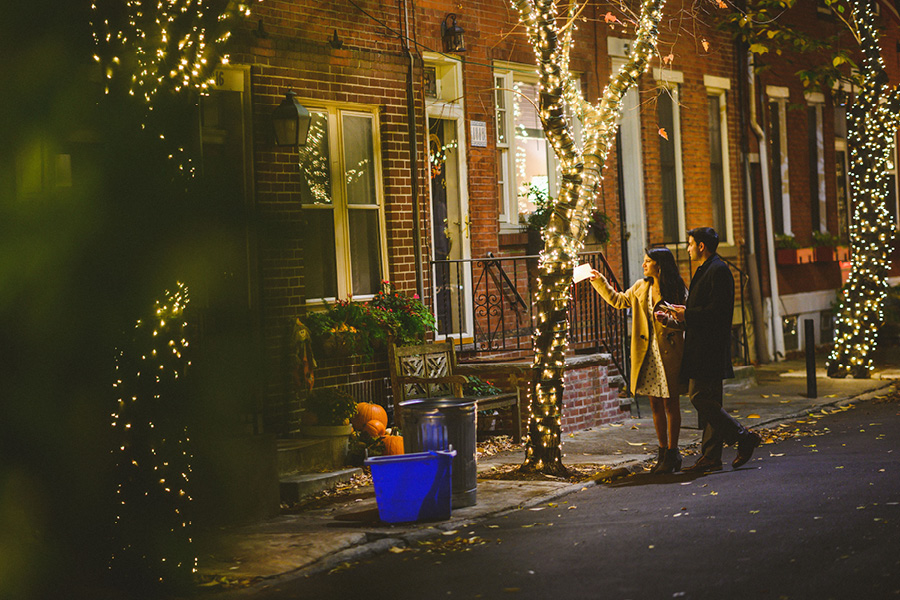 The couple: Mosum Shah, 26, and Umang Jain, 29, of Grad Hospital
How they got together: The two first met in Chicago back in 2016. Mosum had recently started working at the Boston Consulting Group, and Umang was finishing his last year of medical school at Northwestern. (Today, she's an MBA student at Wharton, and he is an emergency medicine resident physician at the hospital of the University of Pennsylvania.) Their first date was at Cafe Ba-Ba-Reeba, a Spanish tapas eatery. They were having so much fun that they were the last people in the place. Four years later, Umang popped the question.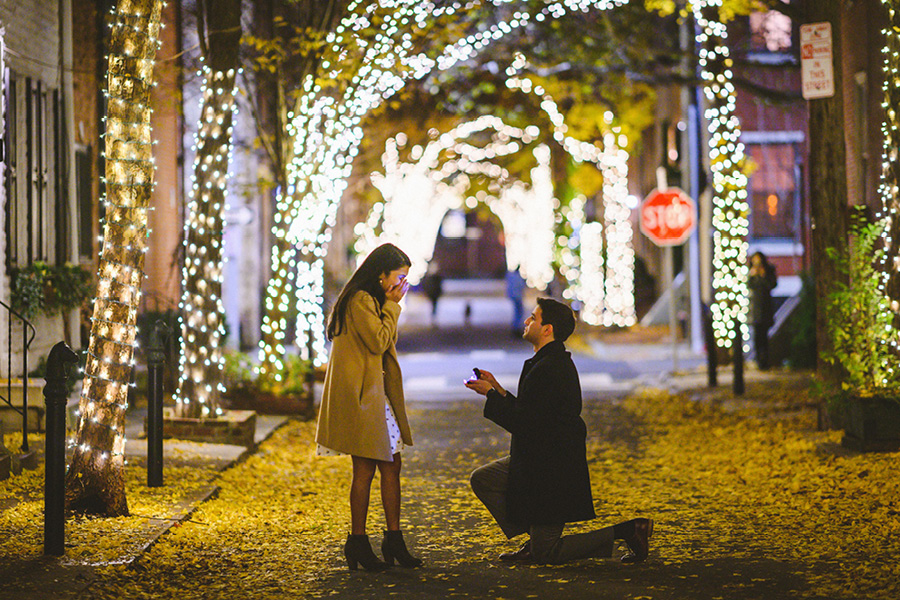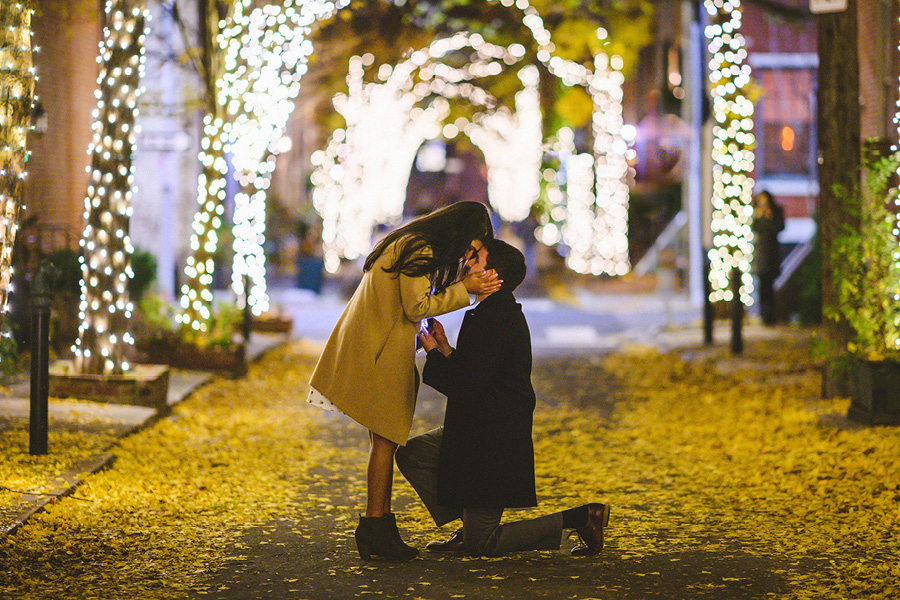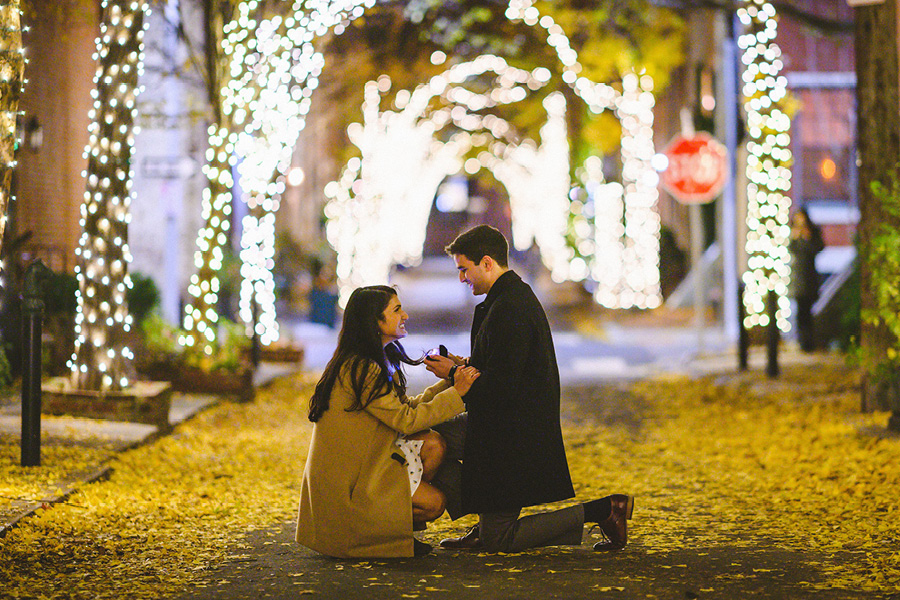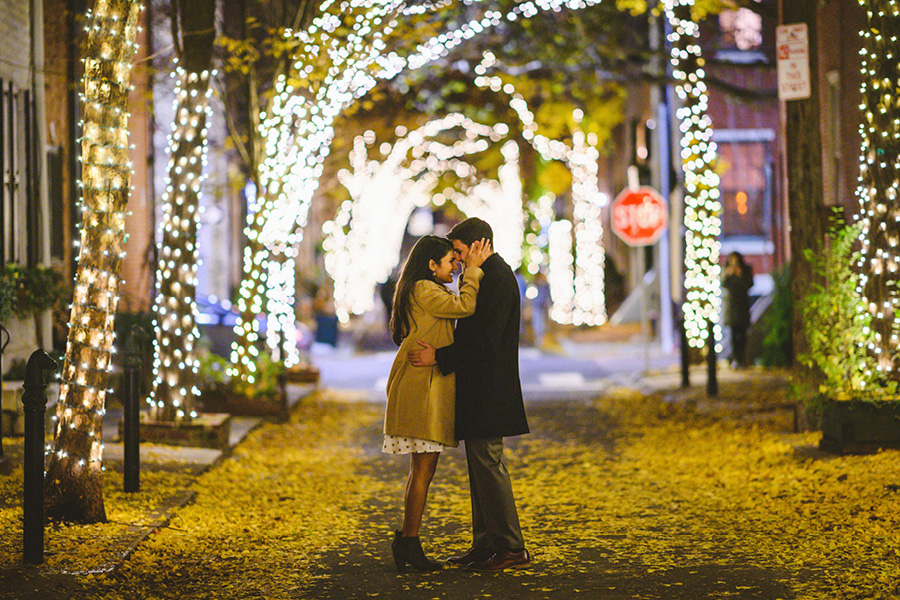 The proposal: Umang asked Mosum if she wanted to dress up and go out to dinner to celebrate Thanksgiving, since they weren't traveling to see family during the pandemic. (Mosum is from Houston, and the couple typically visits her parents around the holiday.) She agreed, then "begrudgingly took off her sweatpants" and changed into non-quarantine attire. The pair decided to walk down Addison Street on their way to dinner. Since moving to Philly four years ago, Mosum has often expressed to Umang that she thinks it's the most beautiful street in the city. So it's not surprising that he used it as the backdrop for his proposal.
Earlier, Umang had placed envelopes under the lights of each tree with photos of the couple; on the back of each image, he'd written words that eventually formed a sentence leading up to the big question. He also arranged for photographer Martin Reardon to secretly snap photos of the special moments. Friends set up hidden cameras: One was livestreaming on Zoom so their families could watch. And one of Mosum's favorite songs, "Woman," by Mumford & Sons, was playing on a small speaker in the background.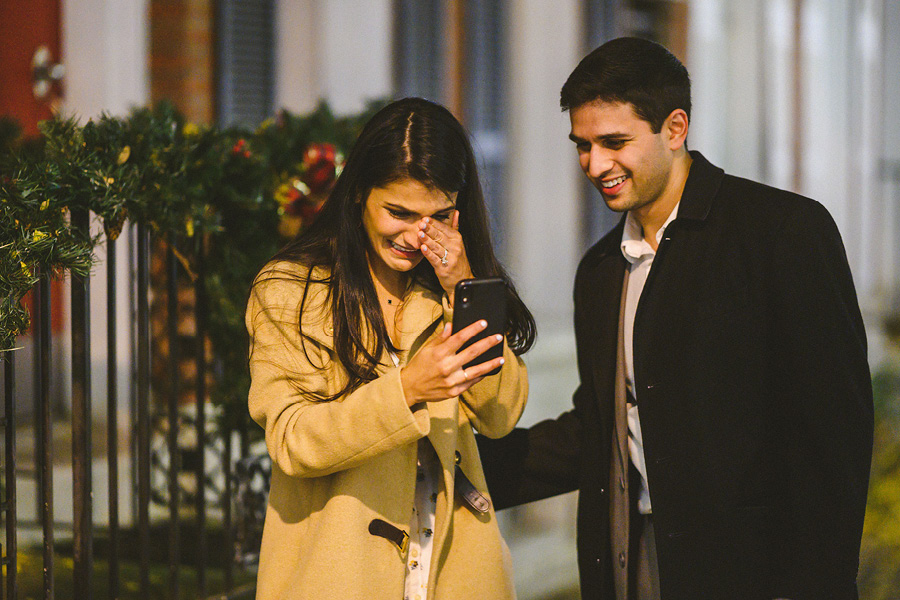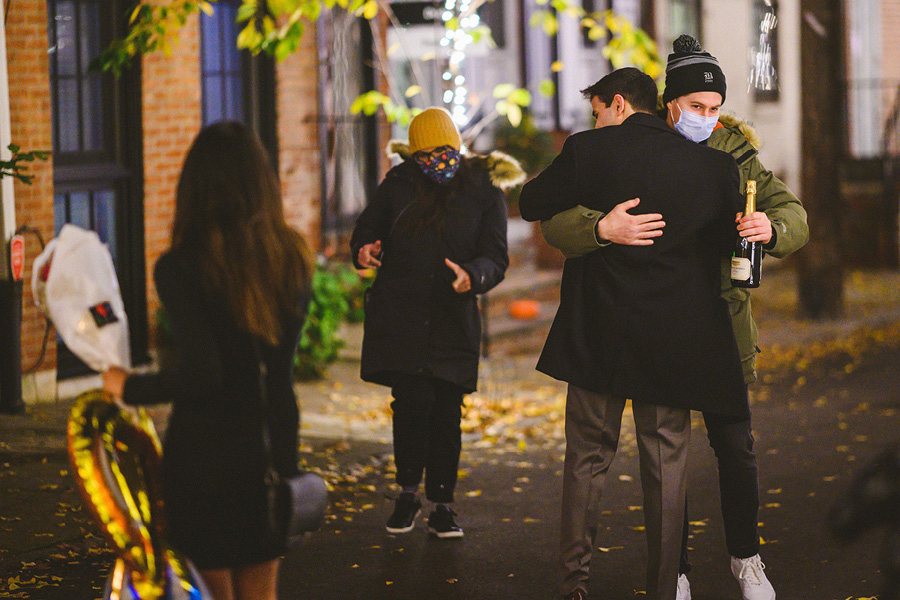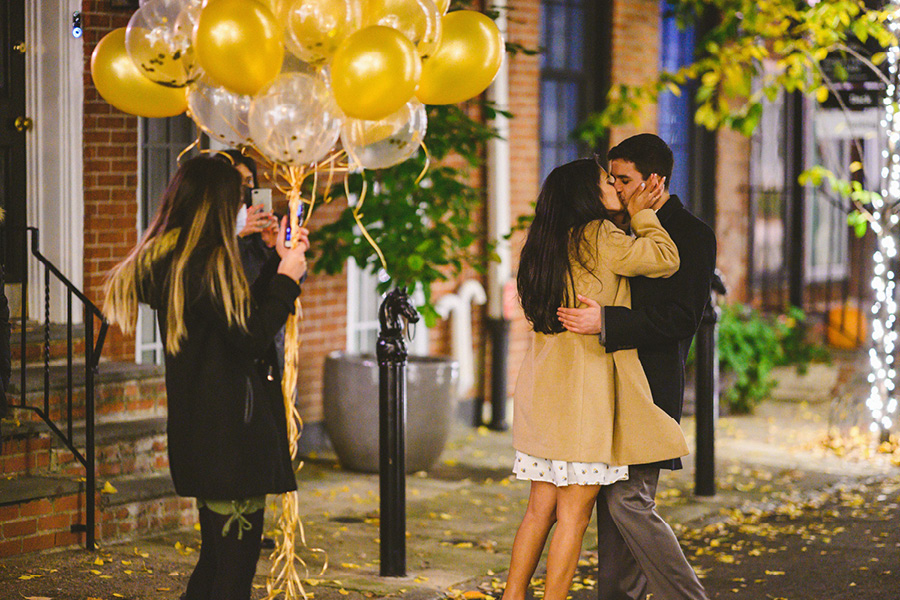 As the couple walked down the street, Umang pointed out the envelopes to Mosum. At the last tree, Umang's message read, "Mosum Shah, I have one question for you … " That's when he got down on one knee and proposed. A small group of the couple's friends and family surprised them afterward.
Umang's reaction: It was moving to watch Mosum react to each photo and note. "She started tearing up immediately, knowing exactly what was about to happen," he says. The street was quiet and intimate, as if it had been planned that way. "When I finally got down on one knee," says Umang, "the yellow leaves on the ground reflected the bright lights back up onto Mosum's face. She looked stunning." He was ecstatic when she said yes and loved being able to surprise Mosum with the news that her parents had seen the whole thing on Zoom.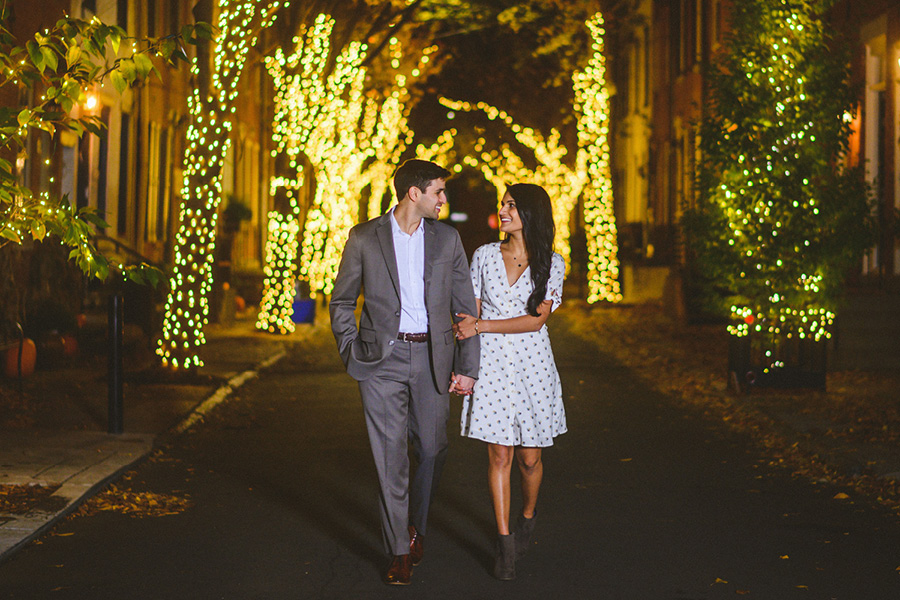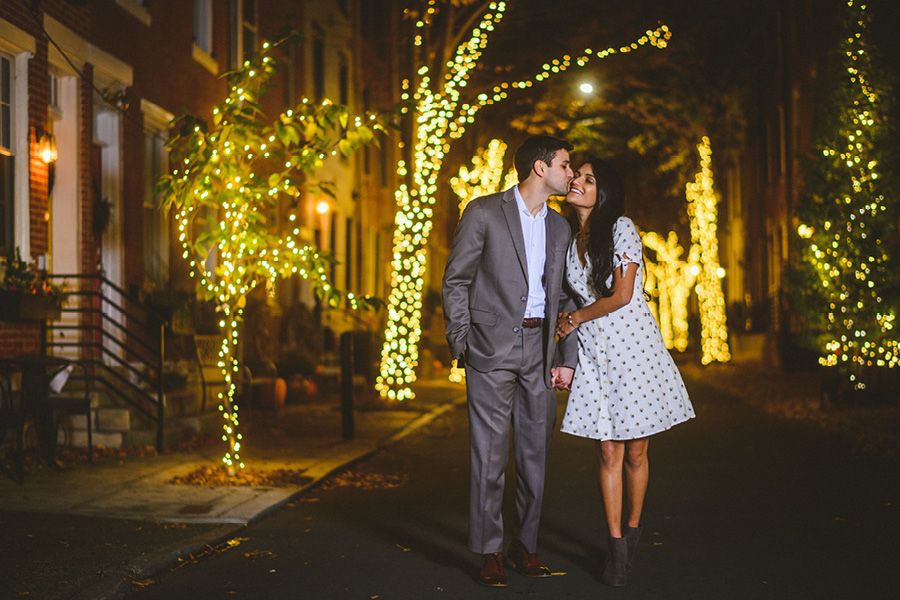 Mosum's reaction: She says she was "hysterically crying happy tears" after opening the first envelope. "You could hear me sobbing halfway down the street," she recalls. "Looking down at Umang on one knee was so emotional. As it was for everyone, 2020 was rough for us." He had been treating COVID-19 patients every day in the emergency department, and she says it was terrifying having to say goodbye to him when he went to work: "I was so grateful we made it through 2020 and couldn't have asked for a better ending."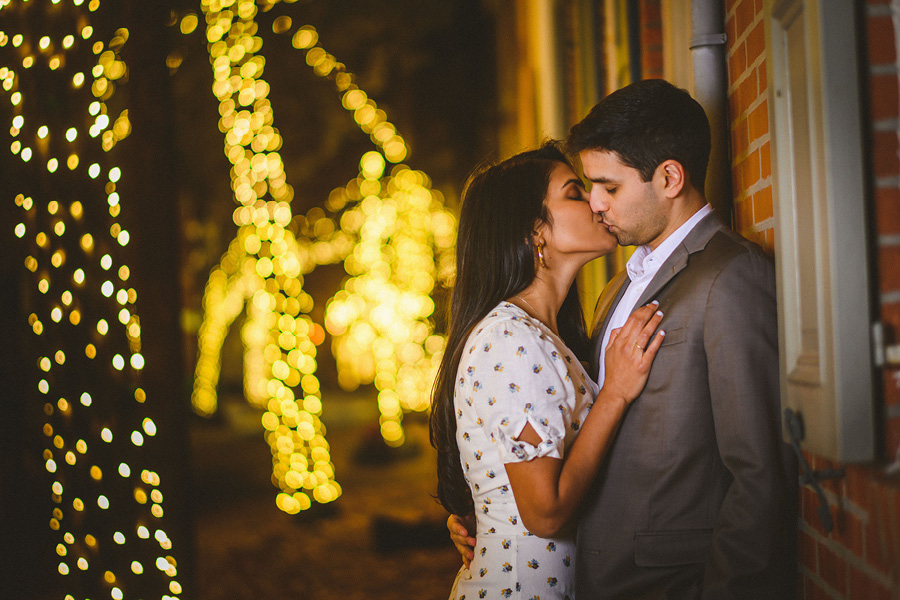 The post-proposal moment: The couple went to dinner at Zahav and sat on the patio, with the heat lamp cranked up. While they were out, their friends decorated their apartment with banners, balloons and candles. Umang also planned a Zoom call with their friends across the country. "It felt like all of our friends were able to be part of it," says Mosum.
The wedding plans: The couple hopes to hold their four-day Indian wedding in 2022 in Houston.
Get more great content from Philadelphia Wedding:
FACEBOOK | INSTAGRAM | NEWSLETTER | PINTEREST
Getting married? Start and end your wedding planning journey with Philadelphia Weddings' guide to the best wedding vendors in the city.
---
---