News
Real Talk: We Traded a Big Wedding for a 15-Day Adventure Elopement on Vancouver Island
A NoLibs couple explains why (and how!) they came to this decision.
---
Northern Liberties couple Keenan Corrigan and Matt Leonard knew they wanted to get married, but they didn't want to have a "wedding," so to speak. The duo, who first began dating in late 2011, felt their priorities should instead be focused on home improvement projects, grad school and making good financial decisions to invest in their future together. They didn't want to stress over their Big Day; they wanted to do it their way — and that entailed hitting the great outdoors for an adventure wedding and honeymoon in British Columbia. They took care of the details (they self-united in a park about a week prior to their trip) then had a spiritual elopement surrounded by nature's wonder on August 22nd, 2019. Here, Keenan shares how they made it all happen.
This story is part of Philadelphia Wedding's on-going Real Talk series, where real Philly couples share their unique approaches to wedding planning and marriage. If you have a unique story or experience worth sharing, we'd love to hear about it.
As Told To: Sarah Zlotnick
During one 14-month period … we went to 11 weddings. We saw how stressed some of our friends were. We wanted a marriage, but a big wedding didn't feel like the best way to invest in our lives.
A lot of our relationship is based around the outdoors. So we decided to go out on an adventure, just the two of us. We wanted to have a special, meaningful day, but without all the pressure of the traditional trappings.
Figuring out where to go … was a compromise. Matt likes more moderate weather; I like the heat. We thought about Portugal, Norway. Matt found an Outside magazine article about Vancouver Island, which has the beach but also mountains and beautiful wilderness. It was everything we wanted.
The whole trip was 15 days. We spent three in Victoria, the capital of British Columbia, getting into vacation mode at a beautiful resort and meeting with vendors. After that, we headed to an Airbnb in a remote area called Jordan River, an hour or so outside the city. We were there for two days for the elopement.
Event planner Marika Beise … really helped me nail down details from Philly. She's based in Victoria and connected me with a florist and gave insight into catering.
I had met our photographer … on a girls' trip in Sedona. We all hit it off and ended up hanging out. He and his girlfriend travel around doing photography. They were on the West Coast, so I asked if they'd be willing to drive up. They stayed with us at the Airbnb.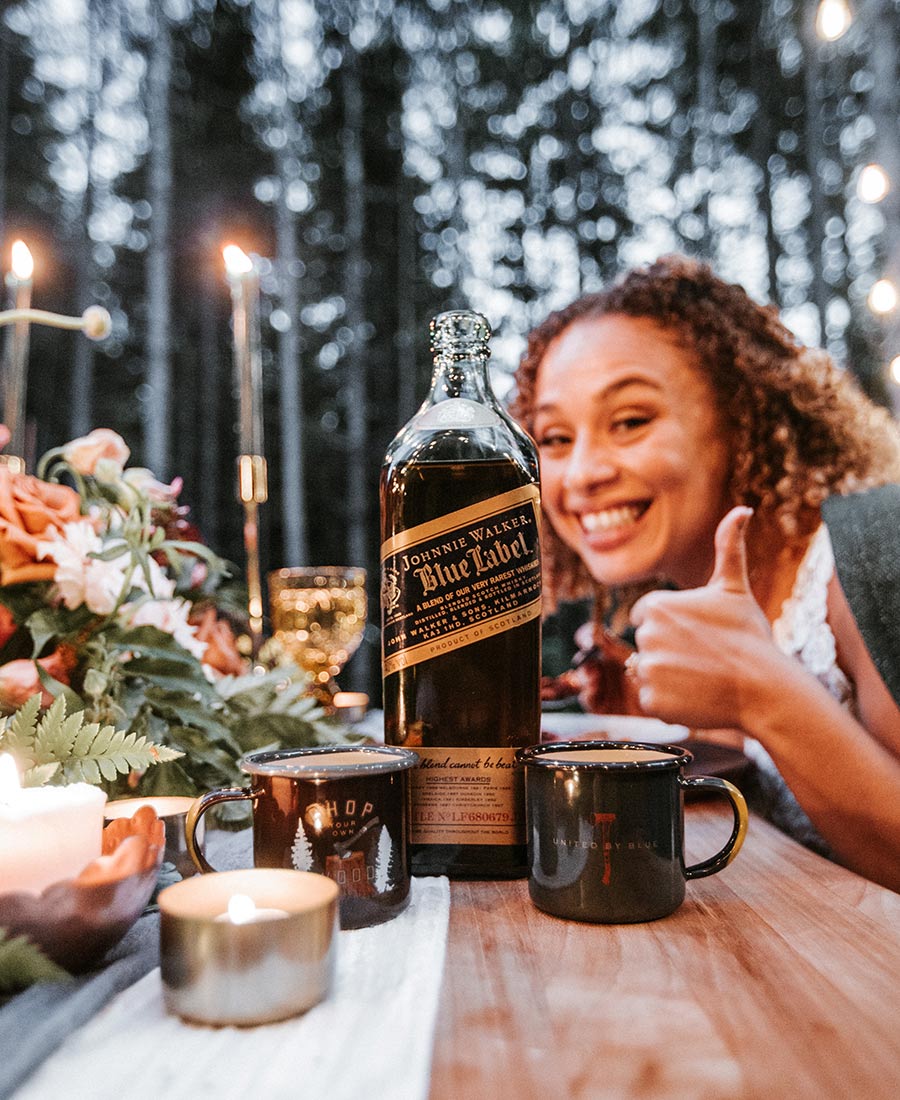 We hadn't intended to get an officiant. We took care of our marriage license before we left, so our ceremony was more of a spiritual ritual. But once we got to Canada, Matt realized an officiant was important to him. Luckily, he was able to find someone willing to hike out into the woods with us.
We drove up an old logging road … to get to Avatar Grove, a forest full of 500-to-1,000-year-old Douglas firs and cedars. We hiked about 20 minutes to a spot under a massive old tree.
I changed into my dress behind another tree. Matt wore his suit to hike.
We never really got engaged … so after our first look, Matt got down on one knee and asked, "Will you marry me … now?" It was really cute. I put on my ring, and we walked together up to the officiant. We later found out we had been holding up the trail, because hikers didn't want to interrupt us getting married.
When we got back to the Airbnb … Marika had set up all of the decorations, and House of Boateng owner Castro Boateng prepared this amazing five-course locally sourced meal for us. I kept everything a surprise for Matt.
I had friends and family write letters for us to read during dinner. It took two hours to get through the notes. We cried the whole time.
The rest of the trip … was our honeymoon. We hiked, went swimming, ate great food, and explored different cities on the island. We did a full adventure day in Tofino on a boat with a captain. He took us to these private hot springs right on the ocean. We spent the rest of the day catching rockfish, which the captain barbecued right on board. It was literally the freshest fish I'd ever had in my life.
THE DETAILS
Photographer: KNM Portraits | Venue: Avatar Grove & Jordan River Cabin | Planning/Design: Marika Beise of Rock Paper Square | Florals: Rook & Rose | Catering: House of Boateng | Bride's Gown: BHLDN | Rings: Custom and Bario Neal | Hair & Makeup: Bride (pre-wedding makeup lesson by JKo Beauty) | Groom's Attire: Indochino & Bonobos
Get more great content from Philadelphia Wedding:
FACEBOOK | INSTAGRAM | NEWSLETTER | PINTEREST
Getting married? Start and end your wedding planning journey with Philadelphia Weddings' guide to the best wedding vendors in the city.
---