News
A Philly Singer Pays Tribute to the Virtual Weddings of the Coronavirus
And he eloped in Rittenhouse Square amid the pandemic.
---
If there is one good, decent thing to come out of 2020, it is the rise of live-streaming weddings as a result of the coronavirus. It has given countless couples here in Philly and around the world the opportunity to share their unions with friends and family, despite being unable to hold a large group event — or, for many months, any gathering at all. Elopements in living rooms, on rooftops and even drive-in movie-theater weddings have emerged as ways for duos to honor their spirit and marriage with the people who matter most. And Brewerytown singer/songwriter Alexi Paraschos decided to pay tribute to that by creating a compilation video of virtual weddings to pair with his recently released song, "Mine," off his upcoming Love Odyssey album. Some 30-plus duos (including three here in Philly) from four continents, six different countries and 15 states shared their stories with him (which you can see in the video below).
The video was conceived to spread a positive message and to share the power of love — particularly at a moment when we need to see it most. Virtual weddings seemed like the way to do it. Alexi scouted his featured duos online — as expected. "It was a lot of Instagram scrolling, hashtag searching for #COVIDwedding or #Zoomwedding, and even looking through the most recent posts for #wedding," says Alexi. "I knew there would be something that would visually convey our time."
He was, perhaps, the perfect artist to put this piece together. After all, he was in the midst of prepping for his own July 11th wedding to Chelsea Holmes, an academic adviser for student athletes at Drexel University, when the pandemic hit. (The song was inspired by his relationship with Chelsea and the nicknames two people use for one another when they are in love.) Their original celebration — a ceremony at the Greek Orthodox Church of St. George in Media and a brunch reception at The Warwick Hotel in Rittenhouse Square — has been put on hold till September (at least).
But the couple didn't let it stop them from saying their own "I do's." They got hitched on July 26th in Rittenhouse Square. Their elopement came together quickly — because it was time. "We had our license for the [original] July date, and we'd been so focused on that," says Chelsea. "When that couldn't happen, your heart is still set on that. We didn't want to wait any longer." They arranged a small ceremony with a handful of friends and colleagues (Chelsea's graduate assistant served as witness, and one of Alexi's friends came down from New York). The bride coordinated with Evelyn Denizard of Love & Laughter Weddings to officiate. They found what Chelsea calls a "cute little spot," and said their vows.
"The cool and nerve-wracking thing was the crowd that gathered," says Alexi. "I was getting more nervous as people were gathering and stopping to see what's going on. Chelsea's back was to them, so she really got to be in the moment. Then there was applause." Chelsea says she felt all of the emotions that a bride should feel on her wedding day.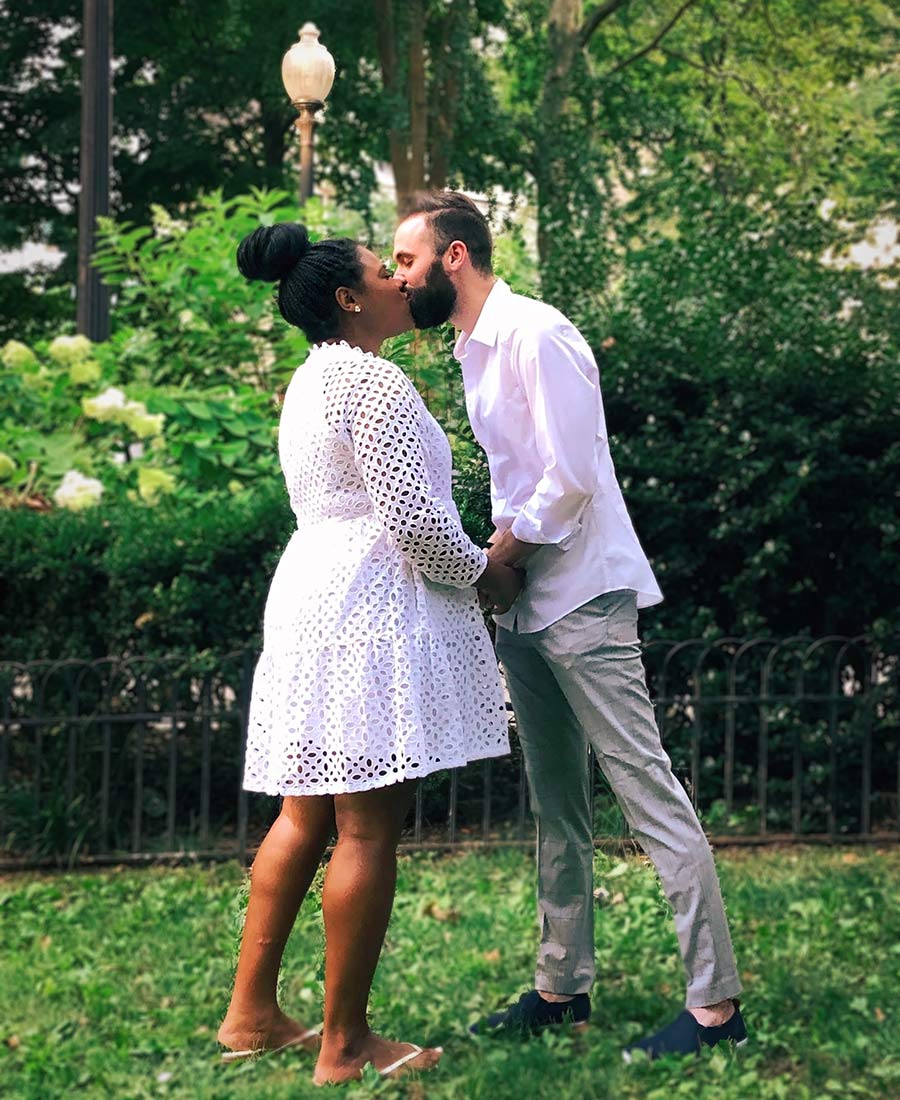 It's something that rings throughout the video, too; Chelsea says the first time she saw it, she wanted to watch every couple's wedding afterward. "It is super-romantic, but also as a bride who's been impacted, it was inspirational," she says. "It's a reminder that the best part about getting married is being with the person you're committed to and having loved ones share in that."
Among the couples you'll see in the video are Kerry-Anne Perkins and Michael Gordon, whose first look went viral amid the Philadelphia Black Lives Matter protests. You'll also see Manayunk duo Grace Anne Piana and Eric Silow, whose original date was May 9th at the Renaissance Downtown Philadelphia Hotel. "When the pandemic hit, we had no idea what that would mean for our wedding," says Grace. "In April we decided to pull the plug and reschedule for September, but knew we still wanted to get married somehow. We saw several people doing Zoom weddings and thought, 'Worst-case scenario, we'll do it that way.'" They were wed May 10th in Eric's father's backyard in Dresher; the groom's brother served as officiant. Six people were physically on hand, while the rest of the family live-streamed from Guam, Maryland, California, New York, Wisconsin and Pennsylvania. "We used the clips from the recording to come up with the most beautiful wedding video, which my friend Andrea Tinkoff edited."
Then there is Anamika Saha and Austin Katona. They live in the Bronx now for residency but met and fell in love in Philly, and recently graduated from Drexel University College of Medicine. They were wed at his parents' house in Exton on May 11th. (Their original two-day celebration was planned for April 24th and 25th in NYC.) They obtained a self-uniting license through Chester County, and exchanged vows and rings, and enjoyed cake over Zoom, with immediate family virtually present, from as far as London and Dhaka, Bangladesh. (On April 24th, they also held a massive Zoom reception with a live DJ set with dancing and champagne toasts.) "What can we say? It's not how anyone expects to spend one of the biggest events of their lives, but with all this uncertainty, we found a way to celebrate our love!" says Anamika. "Between our Zoom reception and our virtual marriage ceremony with our families, we did what we could to share that love with the people closest to us. During the Zoom reception in particular, at the height of the pandemic, it helped us, for a short time, forget about everything going on in the world, have fun, and feel together, despite being states and countries apart."
Otherwise, Alexi filmed and edited his "performance" of the song in their home office; the background feels akin to many spaces that have made appearances on Zoom calls. He also appears in a suit jacket but with casual shorts on the bottom and dances with his cat in a quirky nod to our time. But on a more serious note, small donations were made to Feeding America on behalf of each featured couple, which will amount to about 1,000 meals for the food insecure in our country.
And, for Alexi and Chelsea, "Mine" has taken on even more meaning in light of the pandemic, the quarantine and their wedding prep. "[The song] fits really well with all of the Zoom weddings going on, and I think people resonate with it. At least for Chelsea and me, it has brought us more together. There was some pressure, being locked in a [space] together for four months before the wedding. It was a test of what our relationship would be. But it has been great. … And I am grateful to call her 'mine' and she can call me 'hers.'"
Get more great content from Philadelphia Wedding:
FACEBOOK | INSTAGRAM | NEWSLETTER | PINTEREST
Getting married? Start and end your wedding planning journey with Philadelphia Weddings' guide to the best wedding vendors in the city.
---
---