Coronavirus Wedding Diaries: Yes, Things Go Wrong When You're Planning on the Fly, But It's Still Great
Zoom snafus? Misbehaving pups? This Philly couple took it in stride.
---
Ask Jasmine Zheng, a 33-year-old physician at Penn Medicine, and Benjamin Siegel-Wallace, a 34-year-old health care tech pro, how they faced postponing their big Fairmount Park Horticulture Center wedding (twice!), obtaining their emergency self-uniting license and ultimately eloping, and they'll tell you that they "wholeheartedly embraced what is good and real, and did not dwell on the disappointments." Their intimate ceremony, held on the rooftop of their Grad Hospital home on May 16th, is a prime example. Despite a few snafus, they were able to marry, honoring a significant day for their family — and even rescheduling the big bash for the same date in 2021. And they were able to do so with a Zoom audience from around the world (including China, where Jasmine was born) to share in their union. Here, their story.
This story is part of Philadelphia Wedding's on-going Real Talk series, where real Philly couples share their unique approaches to wedding planning and marriage. If you have a unique story or experience worth sharing, we'd love to hear about it.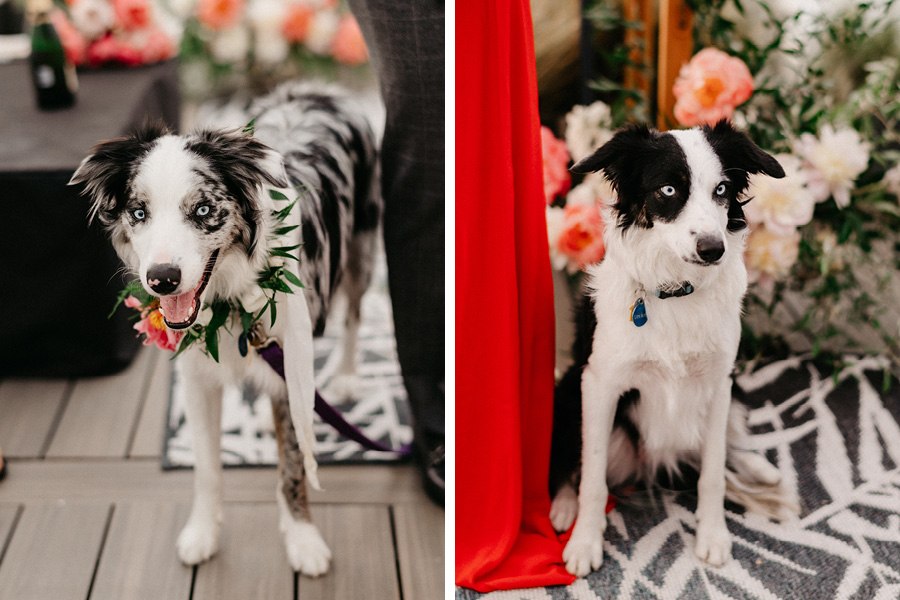 Ben: May 16th is a special day for us. My mom, Ellen Siegel, and father, Rich Wallace (who passed away on September 24th, 2019), were married May 19th, 1979. My younger brother, Micah, and his wife, Rachel, were married May 18th, 2014. And Rachel's parents were married on May 17th, in the 1980s. Jasmine and I wanted to preserve the streak and marry on May 16th, and keep it within a year of my father's death.
We planned every detail of our wedding at the Hort, but then COVID hit. Jasmine had just gotten back from her bachelorette party in Nashville, and Ben was about to go on his in Park City, Utah, on March 18th. Up until March 16th, we were still on, but then canceled as things started to shift. It took us only another (long) week to postpone the wedding, and we worked with our vendors to identify July 25th as a date that worked for everyone. We sent all our guests a cheeky email, then sat tight for another month as things started to get worse. We realized that with state and federal regulations and the general anxiety we were all feeling that there was no way we'd be able to have the kind of wedding we had envisioned, even in July. So in late April, we went back to all of our vendors once again.
Miraculously, all of our vendors were available on May 16th, 2021. How fun to have a proper, giant celebration with all of our friends and family on our one-year anniversary? It seemed too good to be true, and meant we could inscribe onto our wedding bands: "5.16.20 … and 21." We wrote to all our guests (we expect around 150) again, and told them we'd move the in-person to 2021 but also do the Zoom wedding ceremony on May 16th.
Ben: It wasn't a very easy process. First, we had to jump through hoops (application, Zoom call, mailing certified checks, etc.) at City Hall to get an emergency self-uniting license. We were approved, as Jasmine is a physician. Of course, they spelled my name wrong, and we had to physically go to City Hall to pick up a revised copy two days before our wedding. Jasmine's parents and Micah live in Michigan so weren't going to be able to attend, given it was a misdemeanor for residents to leave Michigan at that time.
RELATED: A Guide to Philadelphia Weddings During the Coronavirus Outbreak
We set things up on our roof deck, with a breathtaking view of the Philadelphia skyline. Our florist, We Are Wildflowers, brought a chuppah (covered with the tallis that Ben's parents were married under in 1979). We had gone back and forth with Jess Cummings (the owner) around a whimsical garden motif, full of Jasmine's favorite flowers, peonies, for our formal wedding. When we decided last minute to do a private ceremony at home, Jess worked with us to scope the same motif. To mitigate risk, Jess came solo (usually she has a colleague help) around 2 p.m. the day of the wedding and spent the next four hours stringing together the hanging arrangements and bouquets. She wore a mask and gloves. We all made sure to wear masks as well. It was tough, having to cover up all our smiles that day, especially when we saw the final artwork that Jess had put together. Another unexpected plus: Our house smelled like peonies for days after.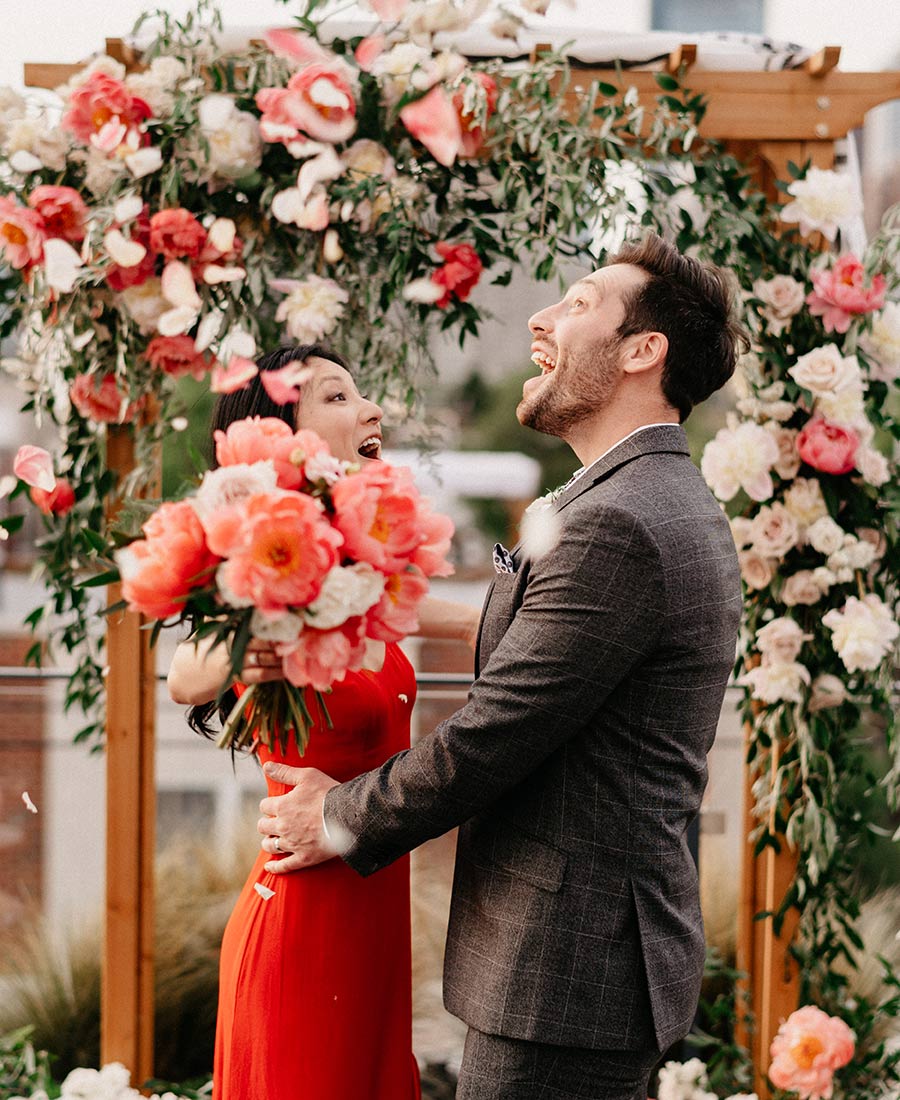 We had never gotten engagement photos. So we asked our photographer, Pat Robinson, if he was willing to take some socially distant photographs of us at our ceremony and if he would meet us at the Hort beforehand to snap some "engagement" photos. When we were finished at the Hort, Jess was finishing up on our roof. She was able to leave and Pat was able to get alone time to set up. Since he was still there during the wedding, he had to do some gymnastics to keep 6 feet away (and wore a mask the whole day), but he was such a pro.
Ben: Micah monitored a Zoom stream from Michigan, and 150 of our friends and family joined in. Guests watched from China, Australia, Spain and multiple other countries; in many cases, guests were logging on in the middle of the night, local time. We were joined in person by my mom and my youngest brother, Sam, and our two border collie puppies, Leeloo and Skye, who ended up walking Jasmine down the aisle — not before one of them peed and pooped on the outdoor carpet right where the chuppah was going to be.
There were other snafus, too. Zoom permitted only 100 participants, and Sam couldn't log in to emcee; we ended the original transmission and restarted it. (Who hasn't done this on Zoom all the time, right?) At one point there were too many people who'd joined. Don't even get us started on not having access to a tailor and trying to wear a new suit and dress. (Jasmine's red Reformation dress arrived the day before.) I think we looked just fine, all things considered, but I can't even tell you how many safety pins and double-sided fabric tape went into this.
Then — and you can't make this up — Jasmine got an urgent phone call from an emergency room resident five minutes into the ceremony, and answered it! She talked for several minutes before hesitantly mentioning that, um, she was about to walk down the aisle. The puppies ripped each other's corsages off, contentedly chewing on them throughout our first dance, but I think that made it even more endearing. And, when we kissed and stomped on a glass, applause exploded from all of the nearby rooftops. Unbeknownst to us, neighbors had all been watching!
Ben: My mom baked us the same style cake as we'd picked out from The Frosted Fox Cake Shop. We ordered dinner from Vernick at Home, and ate as a family following the ceremony. My brother and his wife, and Jasmine's parents joined from Michigan on a private Zoom. We ended the day with a bubble bath and a glass of champagne.
Ben: I will always remember seeing Jasmine in her red dress for the first time. Red is the traditional color for Chinese brides and it totally took me by surprise. She looked like a dream. We wrote our own vows and they were so personal and meaningful, it was beautiful.
Jasmine: I will always remember the feeling I had when I saw Ben standing there, full of love and gratefulness. We got married on the same rooftop where we had one of our first romantic dates while sharing Chick's pizza, and the same rooftop where Ben had proposed, last fall.
That night a couple from our block we'd never met knocked on our door and dropped off a bottle of champagne. Turns out, it was their one-year wedding anniversary. Who says you can't make friends in quarantine?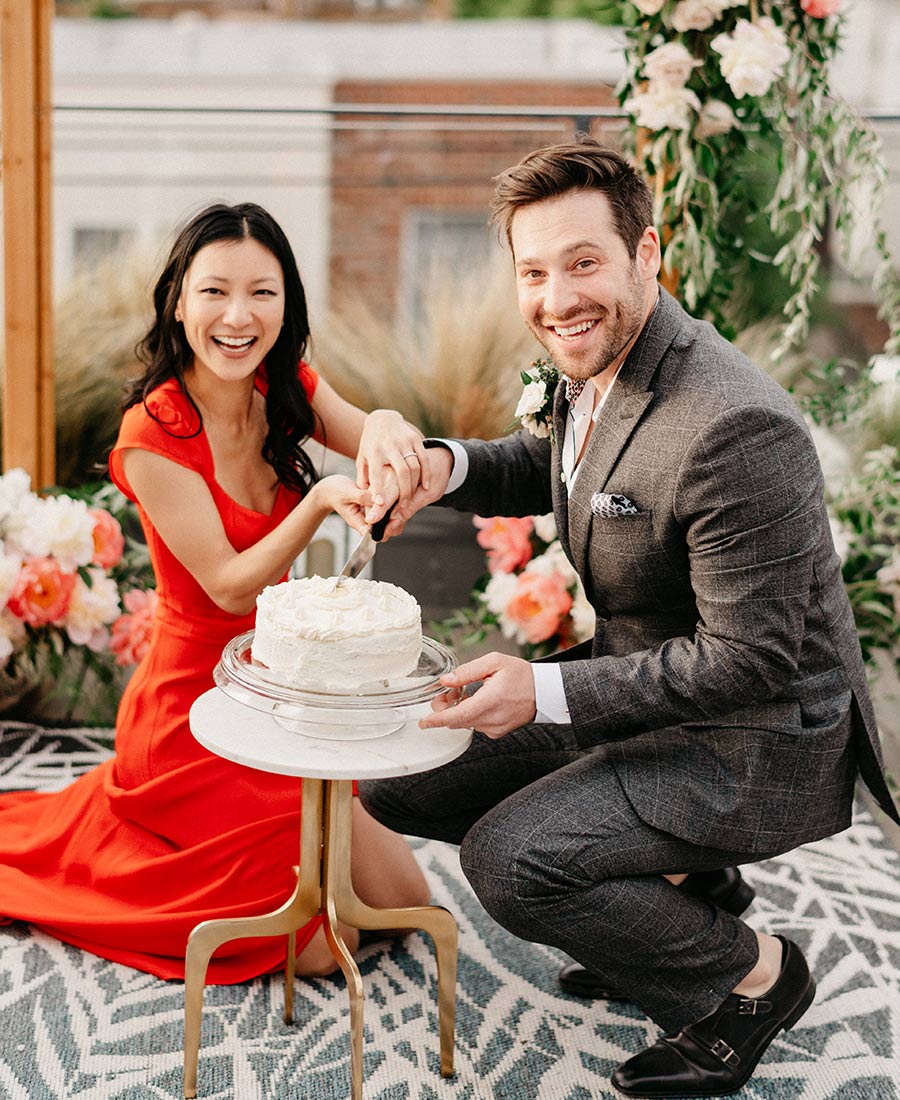 Given how things are progressing, we may be one of the first big weddings (in 2021) where people feel comfortable letting loose like they did before the pandemic (fingers crossed). Since we'll already technically be married and there won't be the typical pressure or anxiety, throwing a huge bash after everyone's been cooped up in quarantine should be pretty special. We'll renew our vows (something we've decided we'll do every anniversary) and some of our friends and family from overseas may actually be able to come. Plus, Jasmine is looking forward to wearing the Berta wedding dress she had originally bought for the wedding. (Ben still has not seen it, and now she has to keep it a secret, in a taped box, for a whole year.)
If you're dealing with a date switch due to COVID, keep it light and have a sense of humor about it. We ended up having to make so many decisions on the fly. After a while you just realize you have to go with the flow. Weddings offer people an escape from the drudgery and give everyone a chance to revel in joy and happiness. Remember that and make your relationship and love be the focus. Our wedding was so unique, it allowed us to connect with our friends and family on an even deeper level. We wouldn't trade it for anything.
This interview has been edited for clarity and length.
Get more great content from Philadelphia Wedding:
FACEBOOK | INSTAGRAM | NEWSLETTER | PINTEREST
Getting married? Start and end your wedding planning journey with Philadelphia Weddings' guide to the best wedding vendors in the city.
---
---