This Philly Musician Knew Just The Place to Propose: Under the TLA Marquee
The headliner? Their engagement.
---
What do you do when a) you met the love of your life talking about music, b) you're in a Philly band, and c) your first date was at the TLA? Propose on their concert marquee, of course! This musician planned the ideal creative engagement for his fiancé-to-be: popping the question in front of the South Street venue paid tribute to both their first official date, and their love of tunes — and they had help from the whole team at the TLA to pull it off, with deftly timed photography by John Michael of John Michael, I Am Photography. Read all about it in the couple's own words below.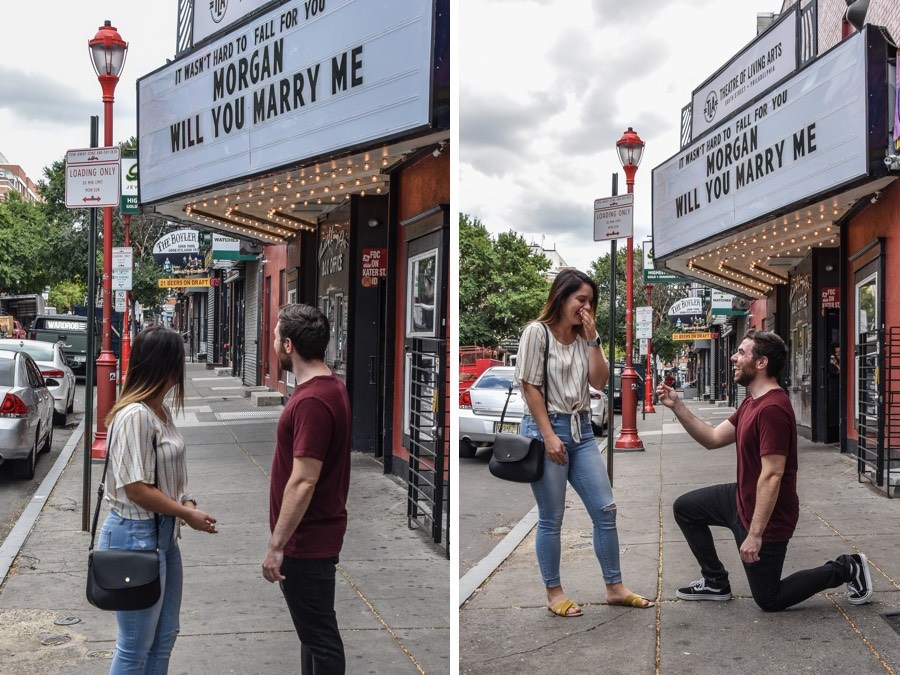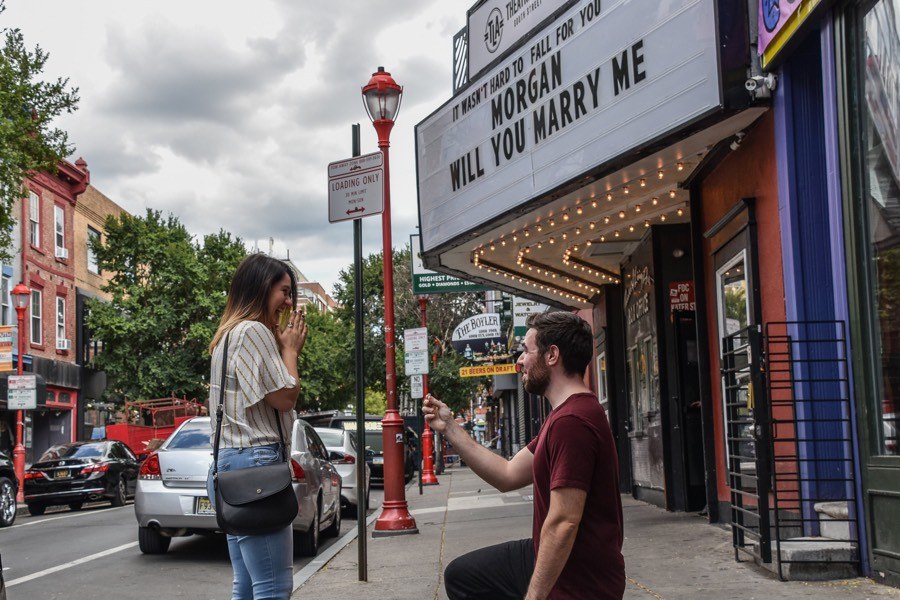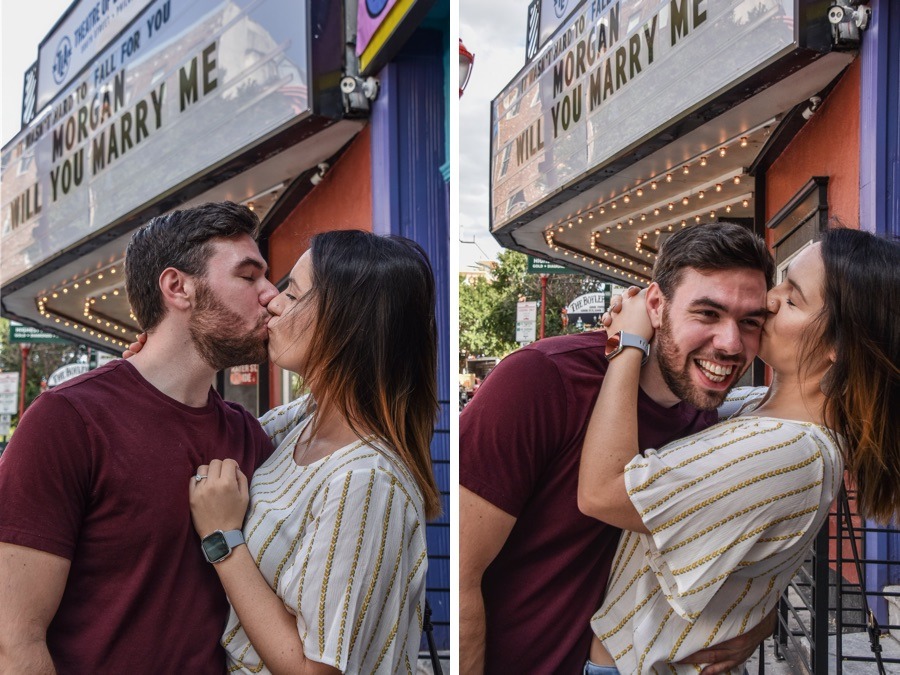 The Couple: Sean Fisher, 28, and Morgan Sartori, 27.
How They Met (in Sean's words): We met at a mutual friend's birthday dinner at Azie on Main in Villanova. I was working at Rosemont College at the time, and Morgan was on a surgery clinical rotation in Upper Darby. Morgan started talking to me. Someone else at the dinner was asking me about my "screamo music." I guess Morgan was intrigued and asked me what kind of music I listen to. We ended up talking about music for a good while. I thought Morgan was incredibly interesting, smart, and beautiful. Morgan said her first impression was also that I was interesting. Someone I was there with mentioned that I was in a band, so Morgan asked me about that as well. I always felt like it was hard to relate to other people's taste in music, but ours matched up together perfectly. Anyway, she ended up texting that mutual friend later that she had listened to my band, The American Standard, on Spotify and liked it. That definitely caught my attention!
Their First Date (in Sean's words): Two months went by after the dinner and Morgan texted me out of the blue in February of 2017. For our first real date, she asked me if I wanted to go to the TLA to see a show. I never heard of any of the bands on the bill, but I sure as hell acted like I did. I said yes to the show immediately. This was in late February, and the show wasn't until March 10th, so we made a plan to hang out by where she was living at the time in Brigantine. Technically our first date was us hanging out in Brigantine, and walking around Smithville, talking and getting to know each other. Finally we met up at the TLA. Since the first time she texted me in late February, there hasn't been a day that's gone by when we have not talked. We dated for about two and a half years before we got engaged.
The Proposal Story (in Sean's words): Considering it was our first real date, I thought the TLA would be the perfect spot to propose. We are both huge music nerds; we have been to a ton of shows together, many of them in Philly. I had a ton of help pulling it off. I have to give a ton of credit to Genevieve Onorato, who works with LiveNation. When I contacted the TLA through their website about wanting to do some sort of proposal there, she was the one who emailed me back and helped me out immensely. I pretty much had my heart set on using the marquee at the TLA, so Genevieve helped me figure out a day when there would be no shows going on. John Michael Szczepaniak-Gillece (JM) is one of my best friends, and just an all-around incredible person. We met in college at Rosemont and have been friends ever since. I knew that he would capture the moment perfectly.
Making it a surprise was a task in and of itself. The proposal was going to be on a Tuesday, and we live in Harrisburg now, so I had to make sure I picked a day that she wasn't scheduled to work at the hospital, and a day that I could take off from work. But then I had to explain why we were going to Philly for the day. I came up with an elaborate story that a friend of mine was coming home from California and couldn't be in the area long, and that we were all getting together in the city. I told her that we were meeting at Tattooed Mom. I thought a lot about this; I knew where I was parking the car a month in advance.
We walked from 3rd street to South, and then up towards the TLA, so we walked right under the marquee so Morgan wouldn't see the side that had her name on it. Immediately after the proposal, Genevieve ran out of the TLA with flowers that she had gotten for Morgan, which was very sweet. Unbeknownst to me, there were also several TLA employees strategically placed around South Street near the venue waiting for the big moment so that they could be in on the fun, too.
How They Celebrated After: Afterwards, we went to the place where we first met at that friend's dinner, Azie on Main in Villanova. She figured out where we were going as we got closer, but what she didn't know was that I had both of our families and some of our friends waiting inside to have dinner with us. It was the perfect ending to an amazing day.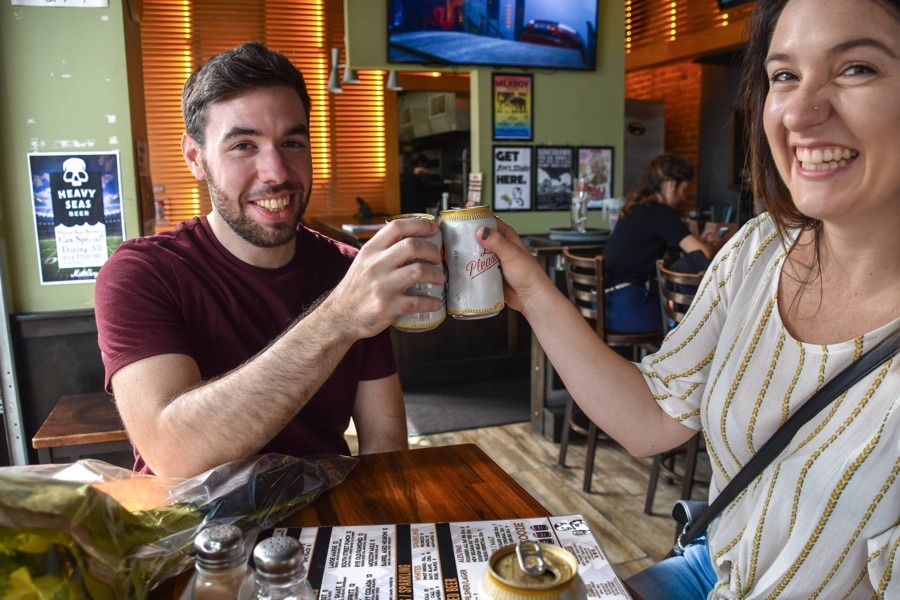 The couple is working on planning the wedding, tentatively fall of 2020, possibly later. They currently live in Harrisburg, where Sean is an admissions counselor and Morgan is a Physician Assistant. Congrats to the happy couple, and good luck planning!
This story has been edited for clarity and length.
Get more great content from Philadelphia Wedding:
FACEBOOK | INSTAGRAM | NEWSLETTER | PINTEREST
Getting married? Start and end your wedding planning journey with Philadelphia Weddings' guide to the best wedding vendors in the city.
---
---