The Lengths This Guy Went For His Surprise Rodin Museum Proposal Are Pretty Damn Impressive
Featuring a fake event with its own QR code, family and friends from different states, and a very creative use of umbrellas.
---
Though the winter holidays are a prime time for engagements, the warm spring weather makes for some absolutely magical ones, too. Case in point: this impossibly adorable umbrella-filled proposal at the Rodin Museum. We're swooning — and happy so share the story and sweet photos by Lilly Dupuis below so you can, too.
The Couple: Andrew Duong, 27, and Aurelie Denis, 24, of Phoenixville, PA
How How They Got Together (as told by Andrew): We met in high school in 2009. I was a senior and my fiancée was a sophomore at the time. I noticed her while she was taking a makeup exam in my homeroom and asked a mutual friend for an introduction. We were together for 8 years prior to getting engaged. We just celebrated 9 years together this past November!
The Proposal Story (as told by Andrew): I told Aurelie that we were going to a private event at the Rodin Museum. To make her believe we were attending an event, I created an invitation with a QR code that was "to be scanned upon arrival" and told my friend to text me the details about the event. I changed my friends name in my phone to the name of my "contact" for the event and made sure she saw the texts about the event pop up on my phone. She was very suspicious about the event so I had to go to great lengths to make it seem legitimate.
I knew that Aurelie always pictured herself being proposed to surrounded by her family, who live in Ohio, and closest friends, who live in Pittsburgh, New York, and New Jersey, so I reached out to everyone to invite them to town for the proposal. Next, I reached out to a local photographer, Lilly Dupuis, to have her catch our special moment. On the day of the proposal, our family, friends, and photograph arrived at the Rodin Museum 15-30 mins before our arrival. When Aurelie and I got there, our family and friends were hiding around the side of the museum and our photographer was walking around the gardens pretending to take pictures. I asked the photographer, who Aurelie just thought was a bystander, to take a picture of Aurelie and me by the water feature in front of the museum.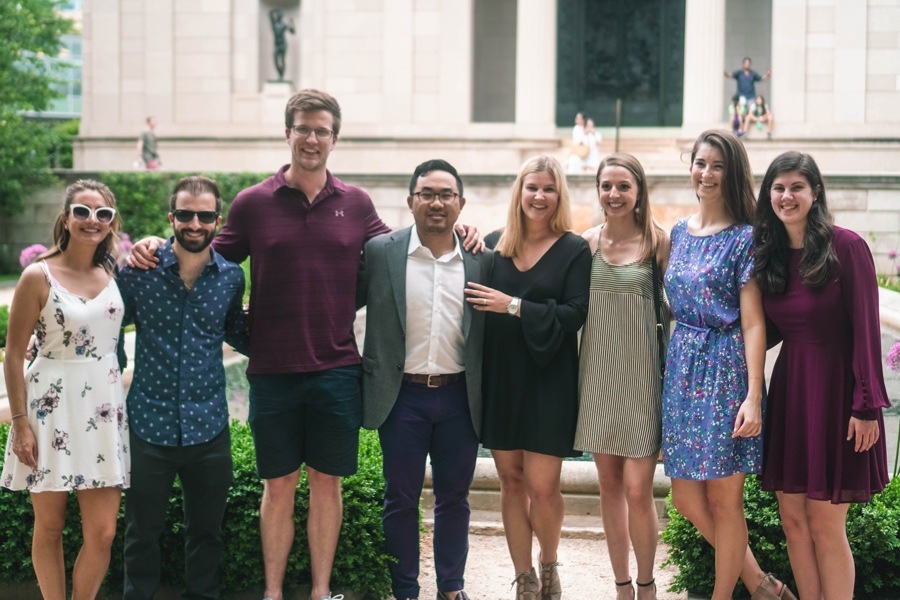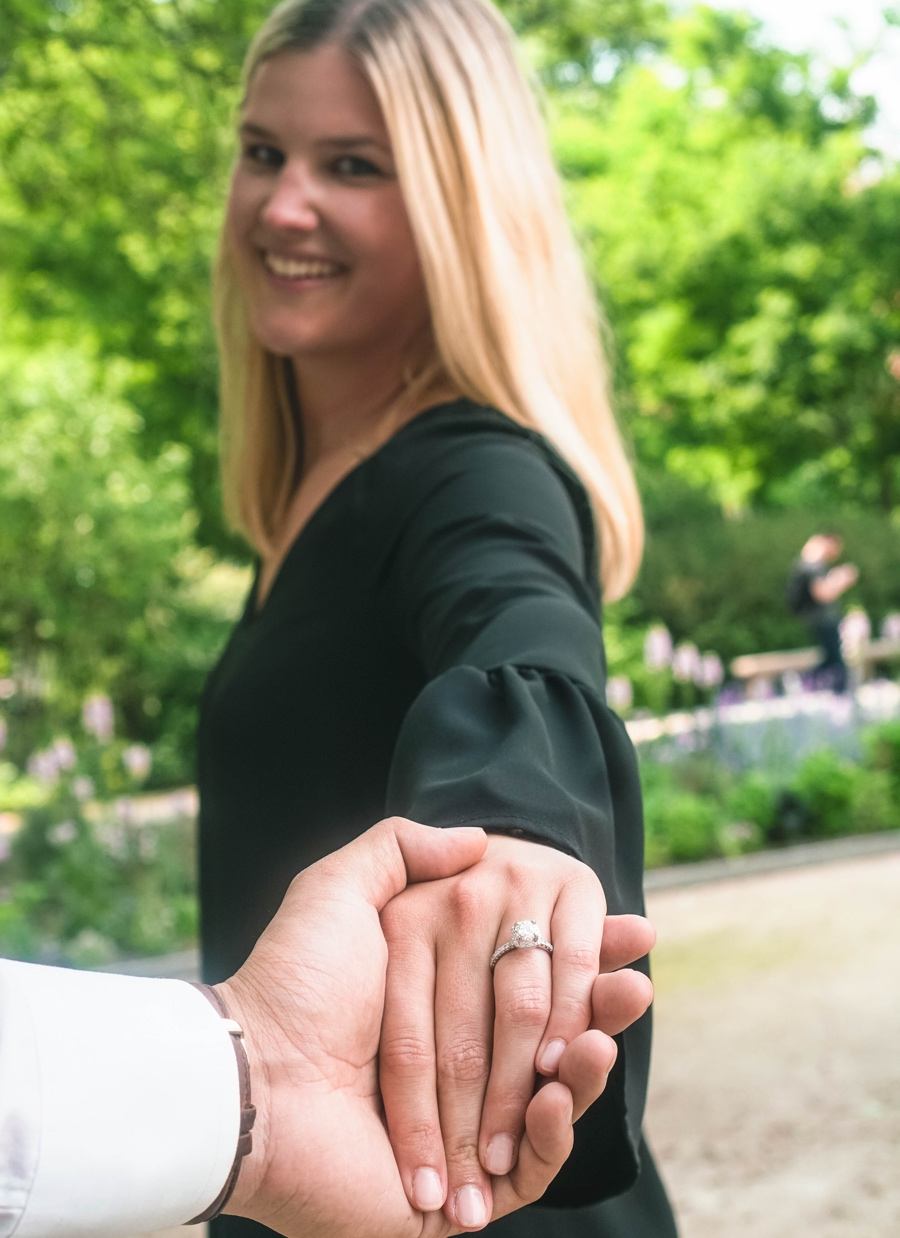 As we posed for the picture with our backs to the museum, our friends and family appeared and lined up behind us with balloons and umbrellas spelling out "Marry me?" Once everyone was in position, our photograph gave me a thumbs up signal. Then, I asked her out loud if she could make sure she got everyone lined up behind us in the picture as well. At that point, Aurelie turned, saw all of our friends and family from all over the region lined up, and I went down on one knee to propose. Surprised and filled with emotion, she said "Yes!" From there, we all went to Mission Taqueria to celebrate over some food and drinks.
Congrats to Aurelie and Andrew, who are happily enjoying being engaged — and potentially planning their nuptials for sometime in 2020.
For more fun proposal content, go here.
Get more great content from Philadelphia Wedding:
FACEBOOK | INSTAGRAM | NEWSLETTER | PINTEREST
Getting married? Start and end your wedding planning journey with Philadelphia Weddings' guide to the best wedding vendors in the city.
---
---