This Guy Has Carson Wentz to Thank for His Romantic Helicopter Proposal
Fred flew Stephanie over the sites of many of their dates before popping the question.
---
In case you haven't heard, it's Proposal Month here at Philadelphia Wedding! All December long, we'll be celebrating how Philly pops the question with everything from helpful guides to real deal, only-in-Philly proposal stories. (You can check out all of our coverage here.) Today we're sharing the sweet helicopter proposal story of Fred and Stephanie from Northeast Philly.
The Couple: Frederick Caldwell, 26, and Stephanie Weicker, 25, of Northeast Philadelphia
How They Got Together: We met as seniors in high school in 2010. Fred attended Father Judge High School for boys and I attended the sister school, St. Hubert Catholic High School for girls. We had mutual friends, but when we met we definitely were not interested in each other. After some Facebook messages and text messages, we started hanging out, which led to Fred asking me to be his girlfriend after giving me the new-at-the-time Taylor Swift "Enchanted" album. We were together for 8 years before he proposed in November.
The Proposal Story: In October, Fred surprised me with the booking info for a sunset helicopter tour for our 8th anniversary. He said he remembered me telling him how fun it looked on Instagram when Carson Wentz took his wife for a ride. He said he also made reservations at a nice Italian restaurant I've been wanting to try and so I should dress accordingly. I had a feeling it might be the time he would ask, but he gave me quite a few reasons why it would be happening later in December.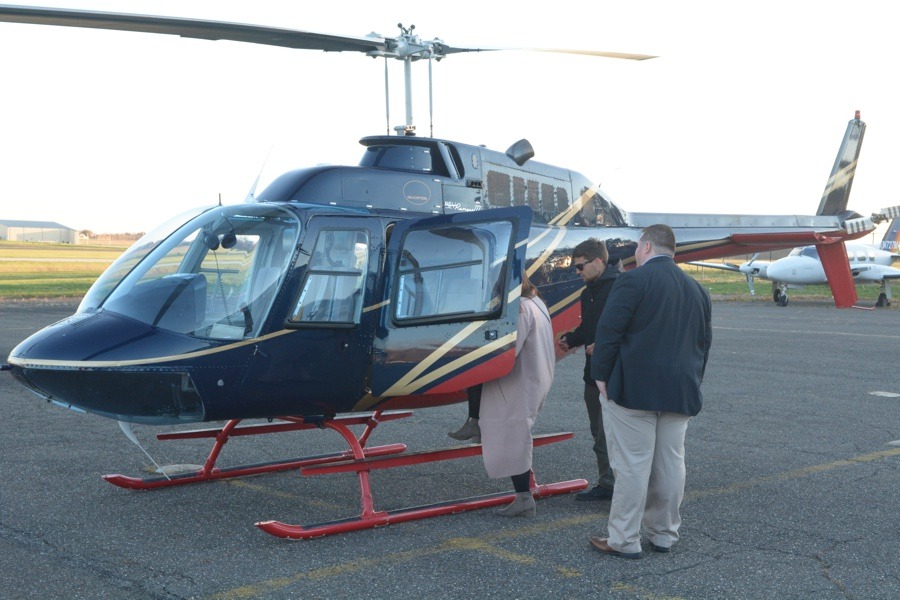 We arrived at the jet center at Northeast Philadelphia Airport, where we were greeted by employees who asked for our permission to be in photos they were taking to update their website. We agreed and someone dressed in an employee uniform began taking photos of us as we boarded the helicopter with our pilot. As we flew south toward Center City, we flew over our childhood homes, the schools we attended, and many of the places where we went on dates over the years. We could see the Delaware River, and then we circled the skyline of Center City just as the sunset turned the sky a beautiful mixture of pink and orange. We flew over the art museum and Boathouse Row and up the Schuylkill, with views of the fall foliage of Fairmount park and beyond.
We headed in for a landing and the photographer asked for one last photo opportunity with the helicopter. He took so many photos that I turned to Fred to ask if he thought it was weird.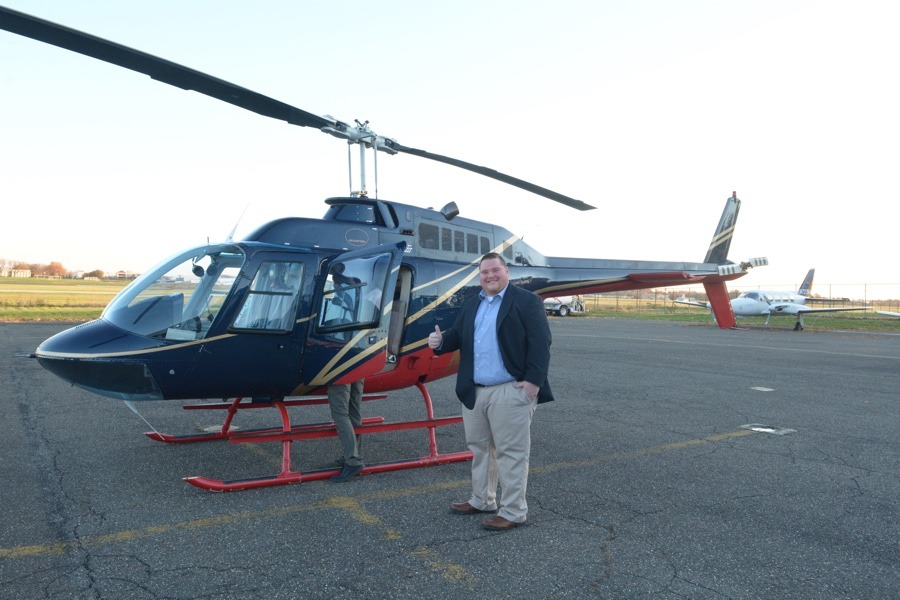 I then saw dozens of family and friends walk out from behind the helicopter with signs, balloons, and confetti. I looked back to Fred, who began to say, "I guess by now you know why we are here. I'm kind of speechless, but will you marry me?" as he got down on one knee.
I said yes! We went inside to celebrate with champagne toasts and snacks that were ring-themed. The photographer had been hired by Fred to capture it all. We then went to a local bar where Fred had set up a special so we could all continue celebrating for the night.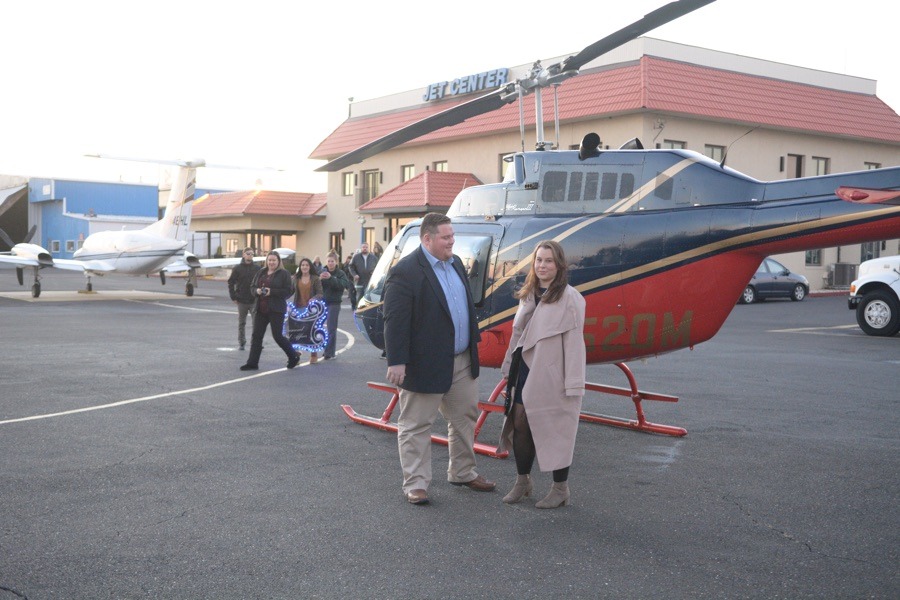 Fred had the ring custom-made by Emily at Emily Chelsea Jewelry in Fishtown. He used an heirloom stone and had it reset in a style that matched what I had pinned on Pinterest. The stone was from my grandmother, who gave it to me before she passed away when I was just 3 years old. (My mother kept it all these years for this occasion.)
I was the youngest granddaughter of the 14 children and many, many grandchildren she had. I had the least amount of time to spend with her, and so now it is so special to be able to have a piece of her with me at all times in my ring. Unbeknownst to Fred, Emily's gallery happens to be an 8-minute walk from the home where my grandmother raised her 14 children in Philadelphia. This was just one of the many signs throughout the experience that told us our family members who were not physically present where also there with us in spirit. The entire experience was more than I could have dreamed of!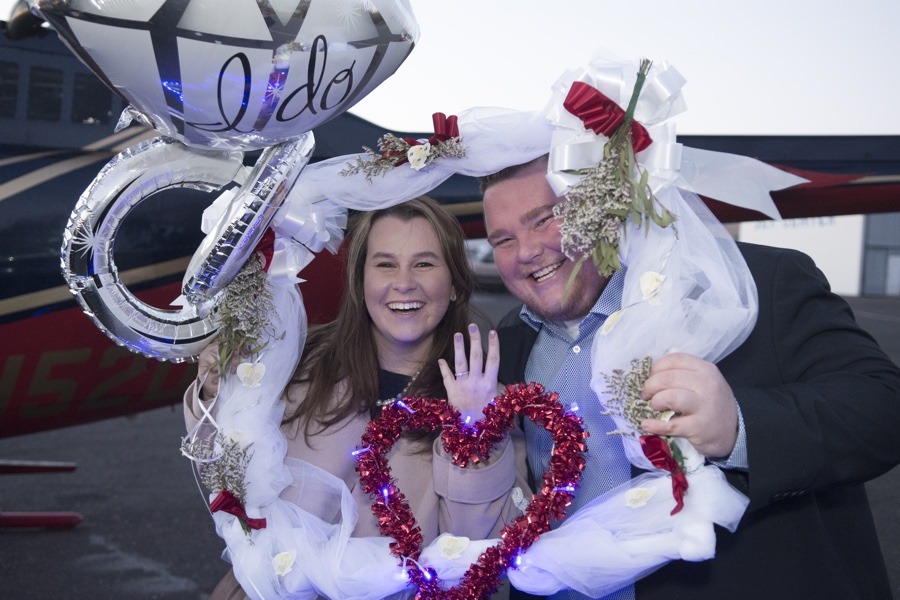 Congrats to Fred and Stephanie, who are planning a Winter 2020 wedding ceremony at St.Augustine church in Old City and a reception at the Arts Ballroom in Center City.
For more Proposal Month content, go here.
Get more great content from Philadelphia Wedding:
FACEBOOK | INSTAGRAM | NEWSLETTER | PINTEREST
Getting married? Start and end your wedding planning journey with Philadelphia Weddings' guide to the best wedding vendors in the city.
---