News
PPA Screwup Means Canceled Parking Tickets and Refunds
And more may be on the way. Plus, Diner en Blanc knockoff has customers fuming.
---
Check phillymag.com each morning for the latest edition of Philly Today. And if you have a news tip for our hardworking Philly Mag reporters (or just want to send us some reader mail), please do so here.
PPA Screwup Means Canceled Philadelphia Parking Tickets and Refunds
Sometimes you can beat the Philadelphia Parking Authority, a.k.a. the PPA. This is the lesson I learned this week after receiving a bogus parking ticket in South Philadelphia. And it turns out I'm not the only one who was ticketed errantly.
On Tuesday night, just before 7 p.m., I parked on Broad Street near the intersection with Mifflin in South Philly. The PPA sign on the street indicated two-hour paid parking until 8 p.m. So I went to the kiosk and attempted to pay.
But when I did, the kiosk displayed a message stating that no payment was required because paid parking ended at 6 p.m., contradicting the sign.
I tried two more times but received the same message. So I took a photo of the display, just in case: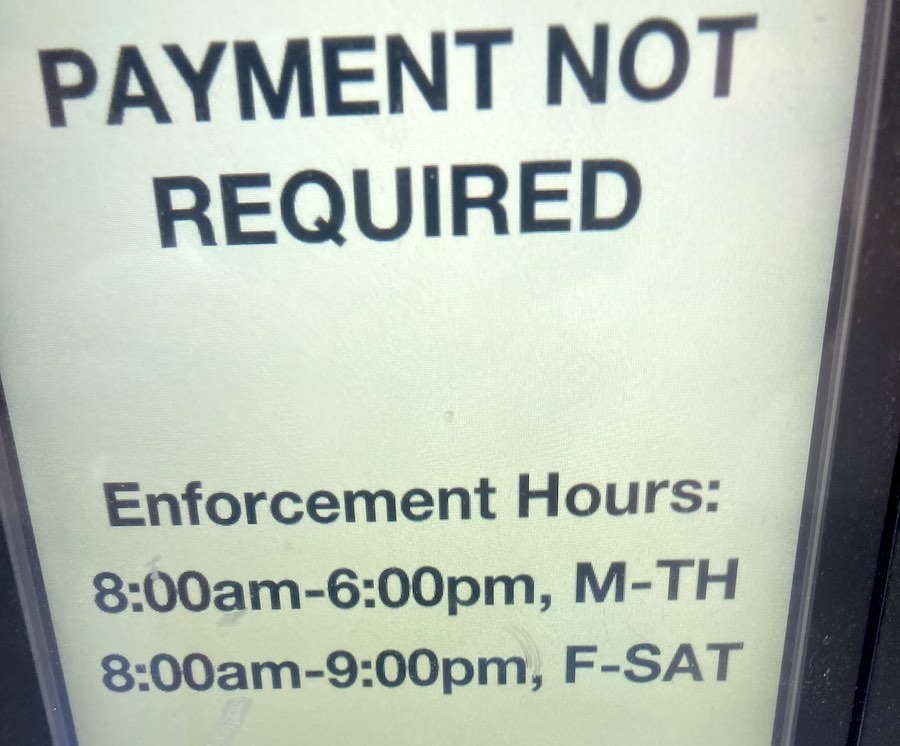 Naturally, I managed to leave out the current time displayed on the kiosk, which would have proved what time I was there. And when I returned to my car later in the evening, sure enough, I found a PPA parking ticket under my windshield wiper. According to the parking ticket, which a PPA agent issued just a few minutes after I walked away from the kiosk (don't you hate when that happens? It's almost as if they're lying in wait … ), I owed the PPA $26 for parking at an expired meter.
I attempted to dispute the parking ticket on Wednesday using the PPA's website but ran into all sorts of technical problems. Then I wondered if perhaps the kiosk-display problem was just a one-time glitch. So I sent my friend over to Broad Street on Wednesday night after 6 p.m. to try himself. Here's the video he shot:
That's what we call pretty definitive proof that this is the PPA's fault. And the PPA actually agreed once I showed them the video.
According to PPA spokesperson Marty O'Rourke, the PPA recently updated the parking regulations in parts of South Philly, changing some pay-until-6 p.m. zones to pay-until-8 p.m. They put up new signs but, at least on this particular block of Broad Street, didn't program the kiosks correctly to reflect the new signage. O'Rourke says the PPA errantly issued 28 tickets (mine included) on this block as a result. He promises PPA will cancel these 28 tickets and refund anybody who has already paid bogus tickets.
But what about other blocks in South Philly? I find it a little hard to believe that a loudmouth like me just so happened to park on the one block in South Philly where there's a problem on the one occasion I had to visit South Philly in the past month. That would be quite the coincidence. O'Rourke promises that PPA will inspect all kiosks in any areas where the parking regulations recently changed to make sure they're properly updated and that the agency will take the necessary actions.
Don't trust the PPA on this one? If the PPA gave you a bogus ticket and you want to fight it, you can do so here. Assuming you can get the dispute system to work.
More Ticket Turmoil …
What the heck is going on with Upper Darby's parking enforcement? First, it was the parking meters accepting pennies for quarters, giving motorists a 96 percent discount on parking. Then we learned about a parking ticket debacle that's led to a class-action lawsuit against the township. And now comes word via CBS3 that the Delco DA's office is investigating the parking enforcement office, though it's unclear exactly what that investigation is all about. We'll keep our eyes on this one.
And Still More Ticket Turmoil …
What happened to the Grand White Dinner Party? That's what people who bought tickets to the Dîner en Blanc knockoff want to know. The Grand White Dinner Party was originally supposed to happen in Philly (and other cities) in 2020. But, well, COVID. Then 2021. But, well, still COVID. Another postponement until 2022. And yet another postponement until May 27, 2023. But still no party! Ticket-buyers are angry (one woman told 6 ABC she's out $695), and the Pennsylvania Attorney General's Office is encouraging disgruntled customers to file complaints.
Early Dismissal
Because many of our school buildings are in disrepair and lack air-conditioning, thousands of Philadelphia schoolchildren will get out two hours early today thanks to the excessive heat. Cue all the old-timers saying, When I was a kid …
What Are You Doing This Weekend?
The Roots Picnic? Philly Beer Week? The Philadelphia Orchestra's Pride concert? Those and 100 other ideas await you here.
Where Are You Eating and Drinking This Weekend?
Seems like an excellent weekend to go in search of Philly's best Aperol spritzes. And maybe learn more about Filipino food. Or maybe, just maybe, you can score a table to try one of Philadelphia's finest tasting menus. Me? I think I'm going to throw some kielbasa from Czerw's on the grill. Hey, I had vegan chili and All Bran bran buds yesterday, so I think I'm okay.
By the Numbers
$33,000: Average cost of a wedding in Pennsylvania in 2022, per new data from The Knot. That's up 8.7 percent since 2019.
2: Philadelphia bars that just landed on Esquire's Best Bars in America list. I guess I need to get out more, since I haven't been to either — yet.
$1,195,000: What this bi-level Rittenhouse Square condo with a great view will cost you. Oh: Don't forget about the $1,389 monthly condo fee. That alone is nearly double my mortgage out here in West Philly.
24: Years since a huge area on Market Street between 8th and 9th streets was excavated for DisneyQuest, a project that never actually happened. And now, that area is sinking. Again.
0.24 inches: Rain in Philadelphia during May, making it our driest May on record. And there's barely any rain in the forecast for the next week.
And from the Mired-in-Despair Sports Desk …
You want to hear about yesterday's Phillies game? Are you sure you want to hear about yesterday's Phillies game? Sucker. Oh, there was another promising start:
A Trea Turner single, Bryce Harper walk, double steal and an E-2 have the Phillies on the scoreboard in the first inning.

Nick Castellanos' sac fly makes it 2-0.

— Todd Zolecki (@ToddZolecki) June 1, 2023
The Mets got one back in the third off starter Taijuan Walker, but yet one more Mark Canha homer in the fourth made it 3-2 Mets.
CANHA HAVE ANOTHER?!? pic.twitter.com/OMz4p09Gxb

— New York Mets (@Mets) June 1, 2023
In the sixth, reliever Matt Strahm gave up another run on a sacrifice fly for a 4-2 final. Once again, the Phils outhit their opponent and lost.
Mets sweep the Philthies‼️
Mets 4 – Philthies 2#ProudDadMonth to all Great Grandfathers,
Grandfathers, Dads, and soon to be Dads.#LGM pic.twitter.com/70cQlCET8S

— EDDIEMETS (@METSshow) June 1, 2023
We should boycott this team, we really should.
For you gluttons for punishment, here's your Friday weekend roundup: The Not-So-Fightin's start a three-game away trip to Washington to face the Nationals, playing tonight at 7:05, Saturday at 4:05, and Sunday at 1:35.
In more hopeful news, the Union play C.F. Montreal at home in Chester on Saturday at 7:30.
All Philly Today Sports Desk coverage is provided by Sandy Hingston.
---
---