News
Ransomware Attack Shuts Down All Stephen Starr Gift Card Sales
The outage has lasted more than a week. Plus, SEPTA's Key card is confirmed to be one colossal failure. And... wearable gin?
---
Check phillymag.com each morning for the latest edition of Philly Today. And if you have a news tip for our hardworking Philly Mag reporters, please send it here.
Ransomware Attack Shuts Down All Stephen Starr Gift Card Sales
Want to buy a gift card to Parc? Buddakan? El Vez? Perhaps Le Coucou in New York City? You can't. These are all Stephen Starr restaurants, and a major ransomware attack has suspended gift card sales at all of them for more than a week.
The problem started back on April 12th when Atlanta-based NCR Corporation became the victim of a ransomware attack. NCR is a technology company providing all sorts of products and services to all sorts of companies all over the country. From point-of-sale terminals to ATMs to barcode scanners, NCR does a bit of it all.
I'll spare you all the technical jargon that Stephen Starr's vice-president of IT Jason Miller imparted to me on Wednesday afternoon. But suffice to say, the ransomware attack affected the technology all Stephen Starr restaurants use to sell gift cards in person at the restaurants and also on the company's website.
Miller says the latest update from NCR on the ransomware attack indicates that the services should be restored by Friday. But Miller plans to wait a few days so he can do some testing and such before allowing the restaurants to resume sales. He puts his best estimate at early next week for a full recovery.
Randi Sirkin, Starr's longtime vice president of creative services, emphasizes that customers can redeem any previously purchased gift cards at this time. And Miller assures us that the balances on those cards remain unaffected.
None of the other major restaurant groups in Philadelphia seem to be impacted by the NCR ransomware attack.
No word on how much ransom the hackers demanded or whether NCR is paying it. Maybe the hackers would accept a four-top at Parc this Saturday night.
Goodbye, SEPTA Key
Oh, how I wish our editor-in-chief Brian Howard wasn't out-of-the-office today. You see, when SEPTA came out with its SEPTA Key some years back, I hated the thing. Meanwhile, Brian was a big fan. In fact, we wrote dueling reviews of it in the magazine, with me generously giving the technology a D and pie-in-the-sky Brian awarding it a B+. Hopefully Brian sees this just-in headline from the Inquirer: "After $236 Million, SEPTA Plans to Dump the Key Card and Seek a System that Works with Smartphones." Womp. Womp.
Philly Proud Boys Leader Pulls a Bill Clinton
Philly Proud Boys leader Zach Rehl is on trial in Washington D.C. surrounding the events of January 6th, a day when he was most certainly involved in the insurrection at the Capitol. But as for what precisely he did that day, Rehl appears a bit foggy on the details.
On Tuesday, prosecutors showed a video that they allege clearly shows Rehl using pepper spray against law enforcement officials. (It's probably worth noting here that Rehl is the son and grandson of Philly cops.) But Rehl said he couldn't "recall" using pepper spray, I guess because using pepper spray on members of law enforcement during a riot in the nation's capital is just an everyday occurrence.
From NBC News:
An assistant U.S. attorney asked Rehl on cross-examination Tuesday whether he pepper-sprayed officers.

"Not that I recall," Rehl said.

When prosecutors displayed images that appeared to show him pepper-spraying officers, Rehl at first said he wasn't sure whether it was him and then suggested that if it was him, perhaps he was holding a recording device.

A prosecutor asked him whether recording devices have liquid streams coming out of them, and Rehl claimed he didn't see any stream in the video.
The trial continues today.
Political Movements
Wondering what to expect when you go to the polls on May 16th? The City Commissioners have released the ballot design for the 2023 municipal primary.
Here's the mayoral portion:
A bunch of people will be showing up at the polls saying, "Who the heck is Delscia Gray?"
And then there's the thoroughly overwhelming portion for City Council-at-Large: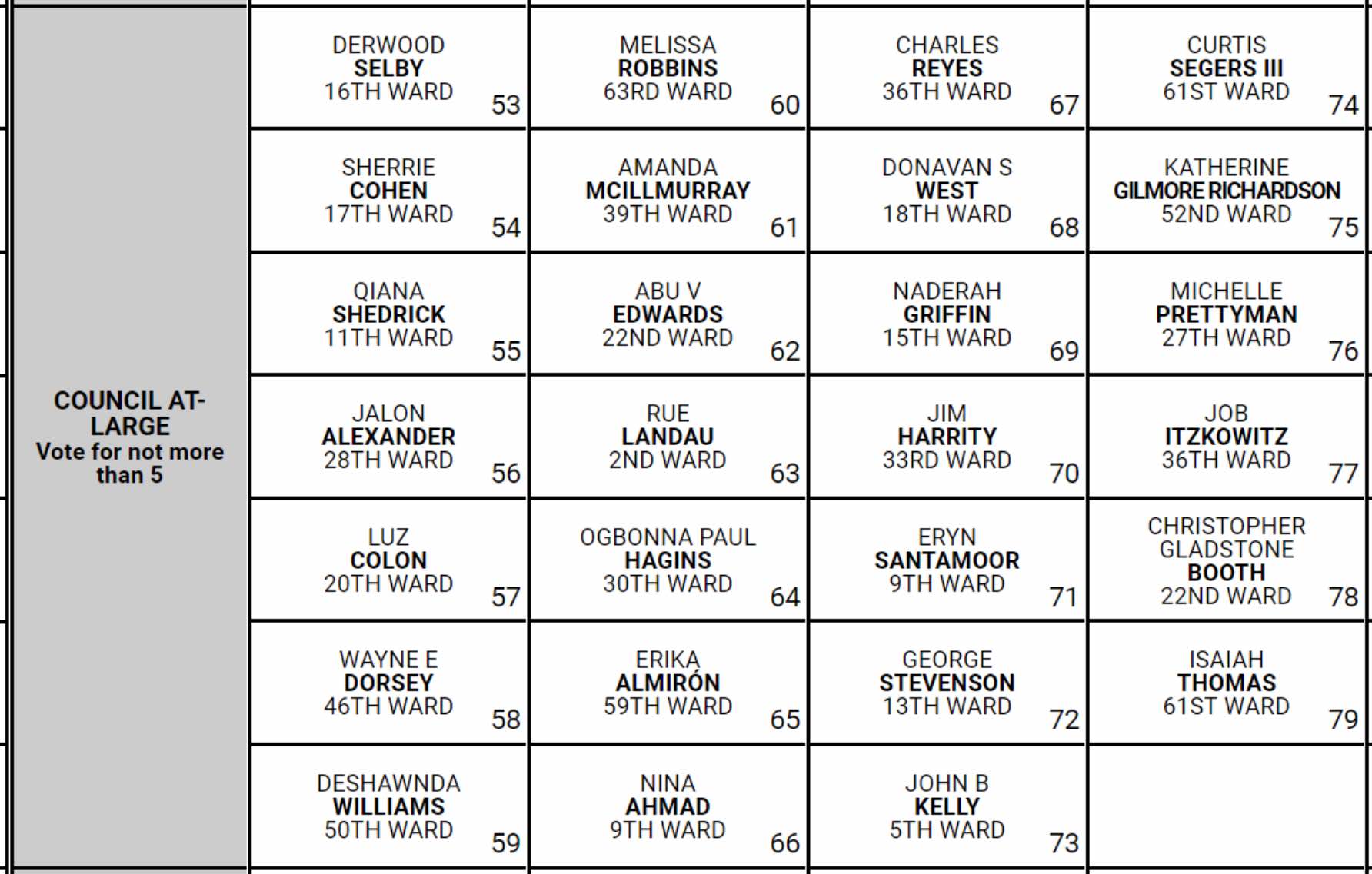 Knowing how ballot positioning and design can have an impact on the outcome of an election (the general idea being that you don't want to be lost in the middle of a bunch of names, meaning Derwood Selby may not win, but he'll probably get a lot more votes than if he had been in, say, Rue Landau's position) I bet there are certain candidates none too happy with the formatting seen here. Keep in mind that you're asked to pick up to five names and that the total number of winners in the Council-at-Large race is seven, with two seats held for minority parties.
To download the sample ballot for your council district, go here and scroll to the bottom of the page.
Sounds Like Hell
This weekend, bona fide masochists embark on a 100-mile run through the swampy, buggy Pine Barrens.
I Don't Recall Asking for Wearable Gin, But…
A Philly company went ahead and made it anyway. Thanks, I guess?
Atlantic City Gets Its First Recreational Marijuana Dispensary
It's 4/20, and if you're looking to celebrate the annual cannabis holiday, look no further than Atlantic City. MPX NJ, Atlantic City's first recreational marijuana dispensary, opens to the general public on Thursday morning at 11 a.m. As 6ABC reports, not everybody is happy about this development.
By the Numbers: The Music Edition
$2,563: Lowest price for a pair of obstructed view tickets on StubHub to Taylor Swift's massively sold out May 12th show at the Linc. That's $983 per ticket plus another $596 in total (ugh) service fees.
24: Double bass players who will perform this weekend as part of a musical Earth Day celebration at Awbury Arboretum. I'm pretty sure the previous record set by the number of double bass players in the same place together was something like 1.
30: Years that WXPN's XPoNential Festival has been around. Has it really been that long? The lineup for the 30th has just been announced, and tickets go on sale this Friday.
0: Singers other than Frank Sinatra whose music you could play at Philadelphia's long-forgotten Sinatra-obsessed Latimer Cafe, which had Sinatra and nothing else on its five (yes five) jukeboxes. (To the kids out there: It used to be that jukeboxes could only hold a certain number of songs because they were all on records.)
7: Honorees who will get plaques along Philadelphia's Walk of Fame today, presented by the Philadelphia Music Alliance. The recipients include WDAS DJ Patty Jackson and actor/singer Leslie Odom Jr.
And from the We-Can-Do-This! Sports Desk …
In case you somehow managed to forget their date with destiny, the Sixers play Game 3 of their playoff series against the Nets tonight in Brooklyn (7:30 start!) and could pretty. much seal the first round with a win, since they took the first two games here at home. And, wonder of wonders, as of press time, everybody on the team was healthy and good to go. Not that that really matters …
Never forget the Sixers beat the KD/Kyrie/#10 Nets with this lineup pic.twitter.com/R7c5JbpnXR

— Sixerdaily (@Sixerdaily) April 19, 2023
Any chance we'll see Ben Simmons?
Nah, not really, though he might make it onto the bench. Reports say he's making "really good improvement" in rehab on his aching back. Thinking of ya, Ben!
As for the Phils, they finished off their series with the White Sox yesterday afternoon. Starting pitcher Taijuan Walker made it into the seventh inning — second time in a row for a Phils starter! — after giving up two runs in the first, and, also for the second time in a row, the bullpen was flawless. Woo-hoo! On-fire-lately Brandon Marsh homered. Bryson Stott had two hits to start another streak. Trea Turner hit his first homer as a Phil, batted in two runs, and was just a triple shy of the cycle in his five at-bats during the 5-2 win. (He stole a base, too.) Naturally, high jinks ensued.
you can't contain the daycare shenanigans, @treavturner. we're sorry pic.twitter.com/hMandYcl5o

— Philadelphia Phillies (@Phillies) April 19, 2023
The Fightin's start a four-game series with the last-place-in-the-NL Rockies tonight at 6:40.
And didn't you always want to read a lengthy tweet thread on the amazing backstory to Eagles OL Jordan Mailata? Sure you did!
1/ How did a rugby player from Australia with no football experience become one of the best offensive tackles in the NFL? This is the incredible story of @jordan_mailata

A THREAD pic.twitter.com/xPUNk8nEEv

— Philadelphia Eagles (@Eagles) April 19, 2023
All Philly Today Sports Desk coverage is provided by Sandy Hingston.
---
---