New Eagle Chris Long Trolls Whining Teammate With Tough-Love Tweet
The defensive end changed his Twitter avatar to respond to Fletcher Cox's issue with his delayed Delta flight.
---
Newly minted Eagles defensive end Chris Long has yet to play a snap in midnight green, but the Super Bowl champion is already endearing himself to both fans and teammates alike with his winning personality.
The ex-New England Patriot (and Hall of Famer Howie's son) has an active social media presence and isn't afraid to speak his mind on any topic, which we learned first-hand when Long tweeted a profane rant directed at supporters of Confederate monuments shortly after signing with the Birds.
Long was up to his old tricks this past weekend when defensive tackle Fletcher Cox took to Twitter on Sunday to voice his displeasure with Delta Airlines after his flight (presumably to Philadelphia for the team's final week of voluntary practice) was delayed several times.
Unable to resist, Long changed his Twitter name and avatar to mimic Delta and poke fun at the Eagles' $100 million man.
---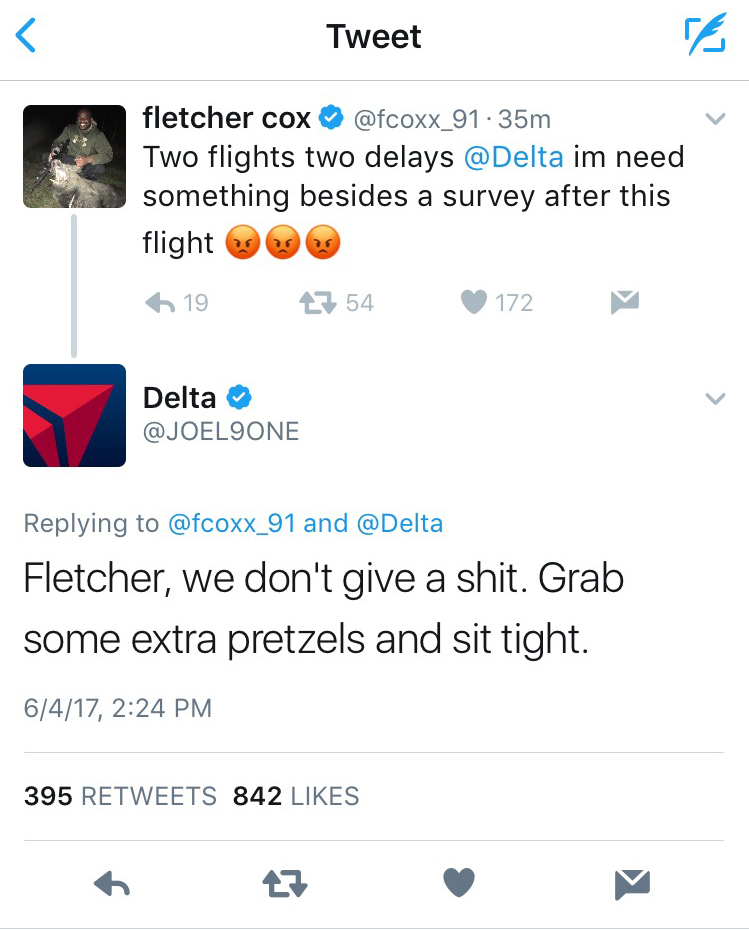 While a few foolish fans fell for Long's joke, he had a couple of teammates in stitches with his response to Fletch:
---
Fearing that his little prank may land him on Delta's no-fly list, Long switched his Twitter back and professed his love for the airline to avoid any confusion.
As for Cox, the official Delta Twitter account said they would review his reservation "to discuss compensation options." Maybe Fletch should've used some of that cash he received from his six-year, $103 million extension to spring for a private jet?
Follow @jtrinacria on Twitter.
---
---