News
Inside Cicala, the Divine Lorraine Hotel's New Southern Italian Restaurant
Two years after they left Le Virtu, Joe and Angela Cicala are about to open their dream restaurant.
---
On November 15, Angela and Joe Cicala will open Cicala, their new restaurant at the Divine Lorraine Hotel. After their split from Le Virtu and Brigantessa two years ago, the Cicalas are ready to introduce Philly to their food, their way.
It's built to last — the huge kitchen has space to grow and experiment, and the dining room is shot through with touches of their family history, and of their love of Italy. The couple worked closely with Margi Leiss of L Studio to carve out a space that would reflect the history of the building. Joe says that when they first entered the space it was completely barren — basically a washed out warehouse. Now, it's sort of like stepping back in time.
Back to a time when chandeliers and vintage portraits hanging above velvet banquettes was all the rage. When carts would roll through the dining room presenting cured meats and filleting whole fish table-side. When restaurants had waiting areas (Cicala's features a shrine to Diego Maradona). But here, it's very personal: Much of the vintage furniture comes from the Joe and Angela's grandparents, and the portraits are all of their family. The sconces by the bar come from Angela's grandparent's home. Guests can reserve the chef's table in the kitchen for a chance to see how their meal comes together, which is about as personal as it gets.
"If you went to someone's house for nice Sunday dinner, it would be like this," Angela says. "It's comfortable and beautiful, but it's not pretentious.
In the two years since the Cicalas last ran a restaurant, they've traveled extensively in Italy with their tour company Antico, connecting with artisans to access ingredient Joe says he's struggled to source in the past. The menu will feature the Cicalas signature rustic Italian cooking with house-made cured meats (a la Salumificio Cicala), fresh pastas, seafood, and a slight focus on the Arabic influence felt in Sicily and on the coastal edges of southern Italy.
Angela is, of course, in charge of the dessert program, and will bring a more personal touch to the menu. The clementine in the logo for Cicala is a reference to Clementina Cicala, Joe's great-grandmother. Angela has designed a dessert in homage to her (see above), a candied citrus and pistachio spumoni orb, frozen and served to look like a perfect clementine perched on top of a round of orange almond cake.
Cicala is located in the historic Divine Lorraine Hotel at 699 North Broad Street. It will be open Monday through Saturday, 5 p.m. to 11 p.m., Sunday 11 a.m. to 4 p.m. for brunch, and for dinner 5 p.m. to 10 p.m. Reservations will go online November 15th. For a sneak peek of the space, food and menu, scroll down.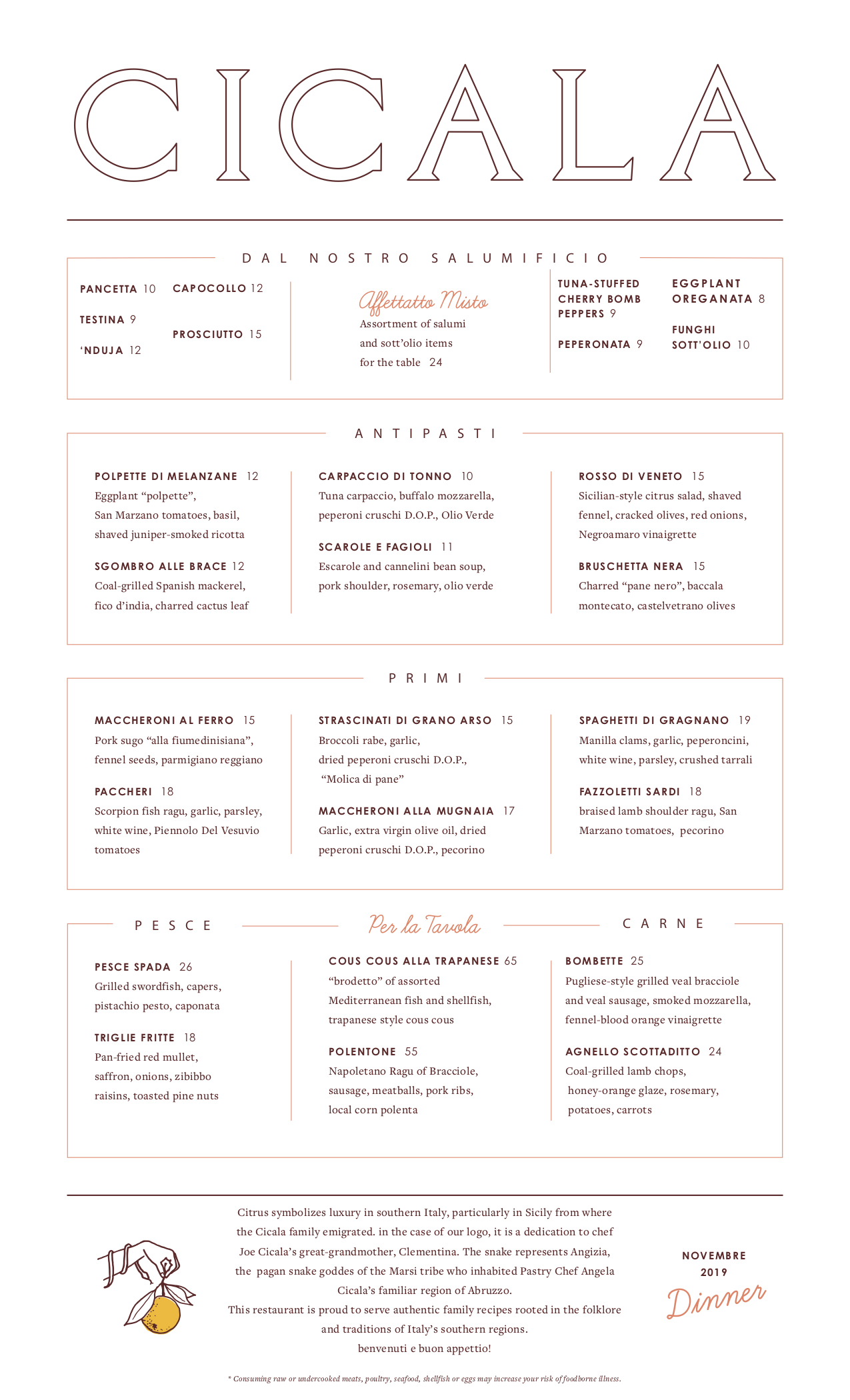 ---