Dae Bak Is the Korean Restaurant Chinatown Needs Right Now
Chinatown Square's upper-deck Korean restaurant is now open.
---
Chinatown Square opened on Race Street with an ambitious collection of food vendors, some of which gave city diners easier access to things like Cambodian grilled meats and Japanese curries — food items which, so often before, necessitated some serious menu digging. But David Taing and Kenny Poon's Chinatown Square brought those items to the forefront of our minds and bellies with a food hall so stacked with alternative fast-casual eateries. They even promised a Korean restaurant, Dae Bak, which would open on the second floor overlooking Race Street.
Ever-so-softly, Dae Bak opened last weekend.
It's a good thing that it did, too. Korean food is thin on the ground in Chinatown, what with subpar Sammy Chon's K-Town BBQ now closed and Bonchon only worth a visit for its fried chicken. There's Nine Ting, yes, but that's not exactly true Korean BBQ. Despite having tabletop grills, it's still some pan-Asian mix of Chinese hotpot and BBQ (plus the banchan service — those tiny side plates of Korean pickles, salads, and condiments — lacks in breadth). So, in a neighborhood absolutely teeming with excellent Chinese, Japanese, and Southeast Asian eats, why can't Korean restaurants hang with the cool kids?
After a visit yesterday to Dae Bak's bare dining room — the only color in the room coming from the bubbling crocks fiery red with gochugaru — it's clear what owner David On's intentions are. It's not Korean fusion, it's not Korean BBQ — there aren't grills on the table — it's simply a Korean restaurant helmed by two chefs with 60 years of experience between them, yanked from Fort Lee's destination-worthy Korean restaurant scene in North Jersey.
So, go for the L.A. Galbi — hard-grilled short ribs marinated in a sweet, smokey mix of garlic and soy and plated with loads of caramelized onions. Go for the seafood pancake, too, just to see the size of the thing (nearly two feet in diameter). Soondubu is always a good bet; the silky tofu stew comes with an un-cracked egg on the side (use it for added texture and richness). And be sure to order a bubbling pot of "army stew" for its neat history and spicy broth filled with canned meats, hot dogs, and ramen noodles, which manager Soo Kim says is good for vitality, "Order this, and you can drink all night." Dae Bak's drink list is short and tight: one Korean beer, and a handful of sojus.
But make sure you bring friends, lots of 'em, because Korean food is meant to be shared, and the sheer size of some menu items aren't meant for any less than four people.
---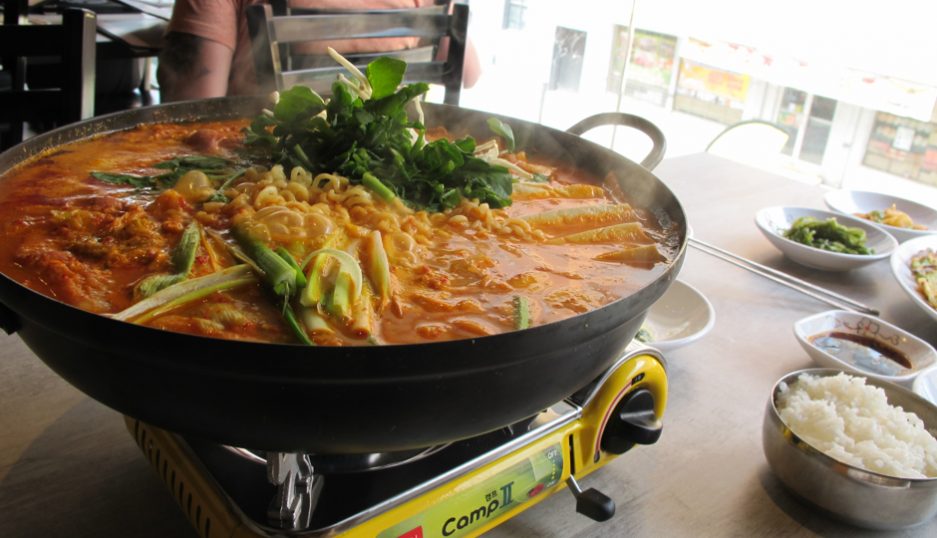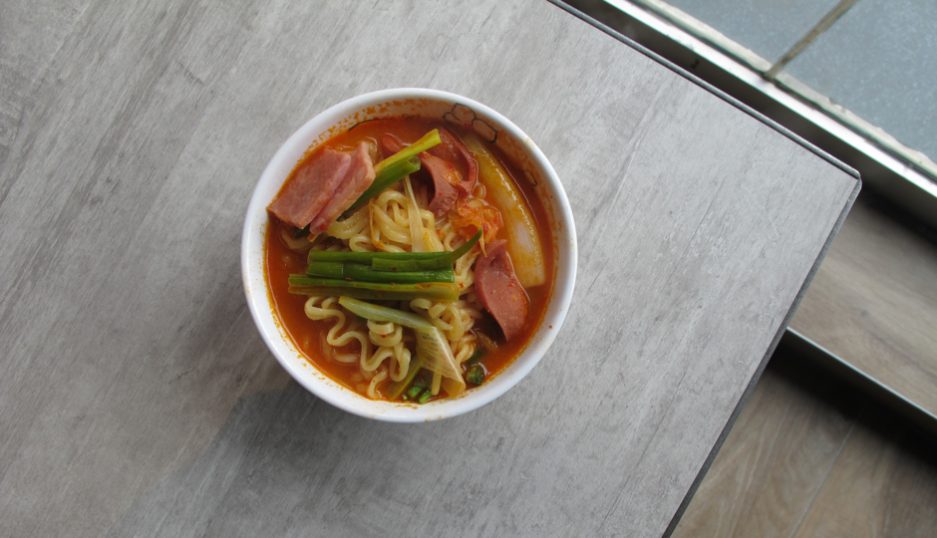 ---
I Ate My Way Through Chinatown Square. Here's Everything You Should Know. [Foobooz]
---