We Tried a Virtual Workout with Jayel Lewis for April's BWP Underground Event
Our first virtual underground was brand new territory — but we're so glad we did it.
---
Hey, friends. Admittedly, this is not the BWP Underground workout we were planning a few months ago. But while times are tough and everything feels scary and kind of confusing, we're focusing on the things we can control — and one of those things is continuing to care for ourselves and those around us.
That's why, here at Be Well Philly, we decided to focus this month's Underground event on sticking together and caring for our health in a fun, therapeutic, and yes, SWEATY, way. To that end, our Be Well Philly Undergrounders came together — virtually!
Thanks to Independence Blue Cross, we indulged in a 40-minute, full body "Sweat Therapy" sesh with none other than Jayel Lewis, Director of Health & Wellness at Fitler Club — all on Zoom, from the comfort of our homes. It was definitely different than our typical Underground, but it was an amazing opportunity to get together, feel a sense of community, and move our bodies.
Check out some screen shots below to see what you missed!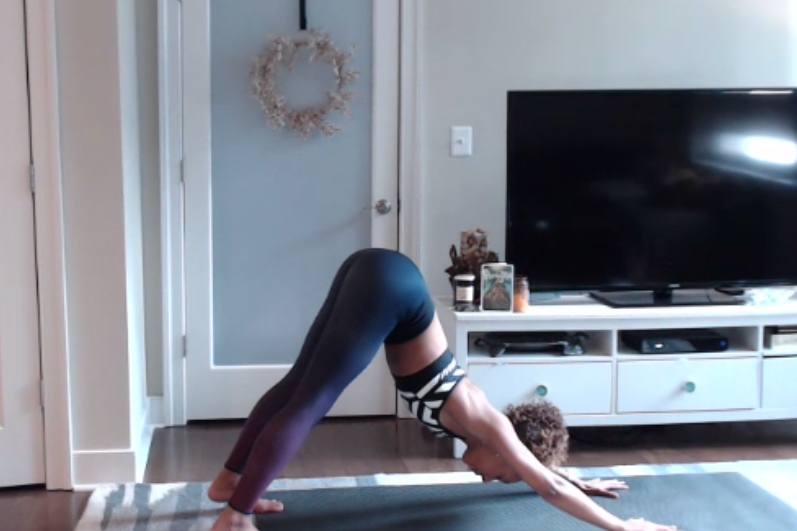 Almost 70 (!) of you showed up, and Jayel guided us through a music-bumping, heart-pumping workout. She led us in with a yoga flow, offered words of wisdom and motivational mantras, and got us moving with a high-intensity interval-based training. We finished it all of with a cool down flow, and a surprise visit from Jayel's puppy — which was definitely a necessary part of the workout.
(In case you're not familiar, BWP Underground is our monthly, super-secret pop-up workout series, all sponsored by Independence Blue Cross. You have to be on our email list to get the event alerts, so sign up here to get in on the action!)
All in all, it was a great workout (with a killer playlist by Jayel) and a chance to come together, move our bodies, and step away from everything else for a few minutes.
Oh, and you want to know the best part? The whole event was free for our amazing medical professionals — and you all showed up in numbers. Thank you for being there, for sweating with us, and for everything you're doing to keep Philly safe and well!
Want in on the next virtual BWP Underground event? Sign up here!
Let's get social! Join Be Well Philly at:
FACEBOOK | INSTAGRAM | NEWSLETTER | TWITTER
---
---