Meet Cherry, This Week's Adoptable Running Dog
Looking for a training buddy? Here she is.
---
It's the perfect day for a run, and who better to pound the pavement with than Cherry, our adoptable (and oh-so-adorable!) running dog of the week? She's currently at ACCT, but the Monster Milers are hoping to get Cherry out of the shelter and into their Adopt a Running Buddy Foster Program — they're just running low on foster homes at the moment. If you'd like to spring this ray of sunshine from ACCT, you can find out how to become a part of the Monster Milers foster program here. But first, learn more about Cherry below.

Name: Cherry
Age: 1 to 2 years
Breed: Pit bull-terrier mix
Size: 40 pounds
Running style: Cherry is guaranteed to bring a smile to your face when she starts leaping like a gazelle during your run. She is so happy to be outside and it comes through with her prancing and a tail that doesn't stop wagging. When a Monster Miler took her for a spin around the shelter grounds, Cherry settled in to an easy pace and then threw in fartleks for some built-in speed work.
Why Cherry is awesome: Cherry is a really happy and social dog. She has the potential to be the perfect motivator for those early morning training runs and then the life of your post-Broad Street Run party. Described as "fun" and "energetic" by shelter volunteers, she's playful but easy to handle and she walks well on her leash. She even knows to sit when a treat magically appears in front of her. Cherry is already spayed and up to date on her shots so she can go home with you today and start running with you tomorrow.
---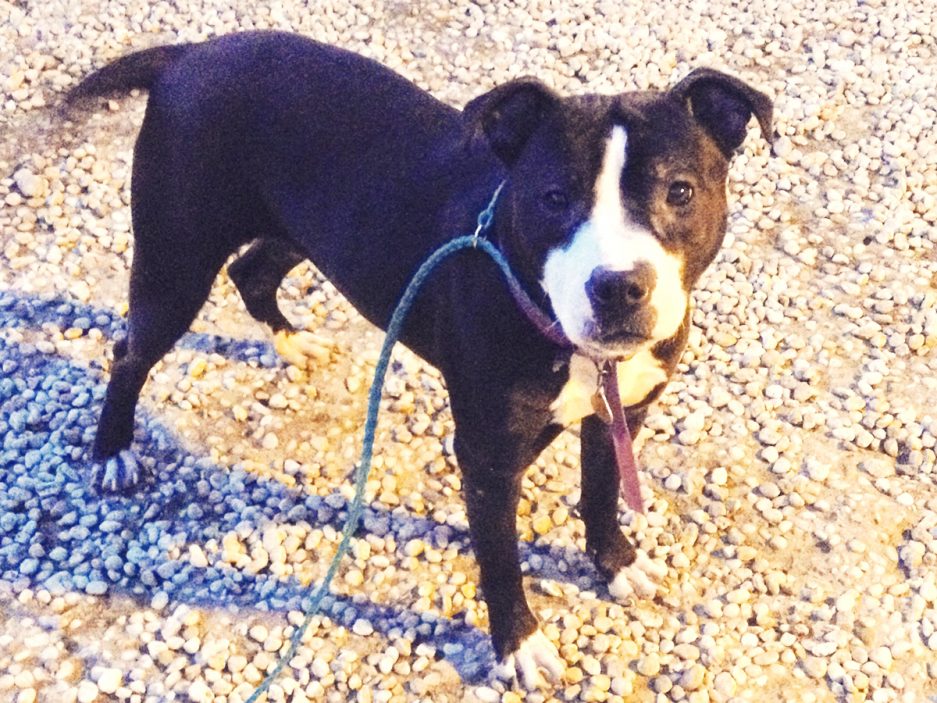 ---
The Monster Milers would like to help Cherry through their Adopt a Running Buddy rescue program; as they do not have a shelter, they count on the generosity and kindness of their foster parents to give dogs like Cherry a chance to shine. If you'd like to foster this lovely lad, you can find more information on how to become a foster parent with the Monster Milers here.
If you're interested in adopting Cherry, stop by the ACCT at 111 West Hunting Park Avenue and ask about adopting. Cherry's record number is A23631225. For more information about the adoption process, visit their website. And for more awww-worthy photos, check out our previous adoptable running dogs here.
……………..
We work with The Monster Milers each and every week to profile local running dogs waiting to be adopted. The Monster Milers are a group of runners who help shelter dogs burn off energy and get much-needed exercise by taking them on runs around the city, and they also just launched their first-of-it's-kind Adopt a Running Buddy foster program. If you're not in the market for a pup right now, but would still love to help out homeless dogs, you can always become a Monster Miler volunteer or foster parent. Find out more about how to get started with those processes here.
Like what you're reading? Stay in touch with Be Well Philly—here's how:
---