House Hunting in Philadelphia: How This Family Found a Roomy Home in the City
Bernard Greene and Rita Johnson-Greene wanted a space big enough for four and closer to their jobs.
---
Who: Bernard Greene, 42, senior director at Comcast; Rita Johnson-Greene, 42, head of commercial operations for a biomedical firm.
Their target: A big colonial closer to where they work.
Their budget: $550,000.
The Contenders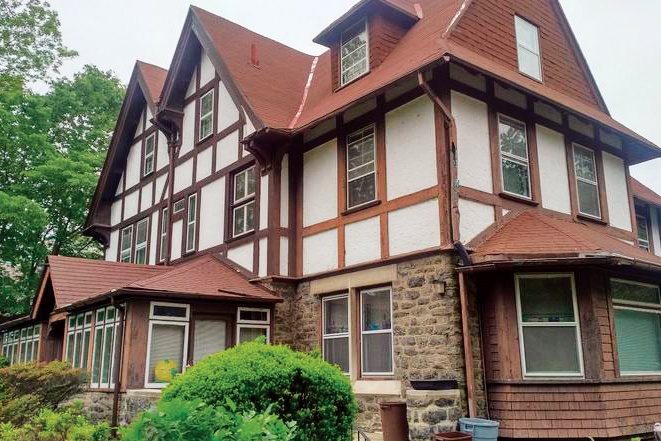 A 4,800-square-foot 7 BR, 4 BA Tudor Revival in Overbrook Farms for $380,000.
A 4,200-square-foot 5 BR, 3.5 BA colonial with projecting front window bay in Overbrook Farms for $522,000.
A 5,300-square-foot 5 BR, 4.5 BA colonial with three-car garage in Wynnefield for $575,000.
The Process
The Greenes had spent 14 years living in Drexel Hill when Rita got a new job with Spark Therapeutics in Center City. Up until then, their house offered a good compromise between Bernard's commute to a job in University City and hers in downtown Wilmington. Rita's move to Center City changed all that. It also opened up an opportunity: "I always wanted to go back to Philly," she says of the city, where she was born and raised.
The Greenes, who have 10- and 12-year-old girls, knew the kind of house they were looking for: a center-hall colonial like the one they had in Drexel Hill, only bigger. "We wanted more space for our daughters," says Bernard. "We love to entertain, so we wanted enough space for that. We wanted a private driveway, and we wanted access to public transportation." They also didn't want to pay the high property taxes they were paying in Drexel Hill while sending their girls to private school in Merion Station.
The winner is … A five-bedroom Wynnefield colonial. The couple actually went under contract on an Overbrook Farms colonial until a home inspection revealed it needed more work than they were willing to pay for. The Wynnefield house — the second one Coldwell Banker Preferred agent Cherise Wynne showed them — is twice the size of their Drexel Hill digs.
Pro Tips If You're Looking For a Large Home In The City
1. Open your wallet.
"If you want a certain amount of space, you'll need to adjust your price expectations accordingly," says Rita. "Others we've spoken to who moved from the suburbs to Center City had to get used to living with less space."
2. Know your 'hoods.
Few city neighborhoods have large, free-standing single houses. The Greenes restricted their search to Overbrook Farms and Wynnefield in order to have the commute they wanted — less than 20 minutes to Center City via train.
3. Don't be a doormat.
"Be flexible on the things you want but not on the things you feel you really have to have," says Rita. Like that private driveway: "It was a must-have for our last house. We let it go at the end, and we regretted it."
Published as "Bernard and Rita" in "Tales of the Hunt" in the March 2019 issue of Philadelphia magazine.
---
---