43 New Townhouses Coming to Northern Liberties
The project shares a name with another development already under way in South Kensington. But it shouldn't be that difficult to distinguish between the two.
---
This landed in the Property inbox a few days ago: an announcement from PRDC Properties that it would soon begin work on a 43-unit townhouse development at the southern edge of Northern Liberties.
Designed by Atrium Design Studio, the project hits all the usual high notes: sleek modern design with brick, steel and glass outside, and roomy (3,100- to 3,800-square-foot) three- and four-bedroom units with such features as 10-foot-high ceilings, quartz countertops in the kitchens, Porcelanosa bathrooms, enchanting roof decks and community green space. And, of course, garage parking for one or two cars per unit: even though PRDC CEO David Perlman said in a news release that "the project was designed with walkability in mind," this is Northern Liberties, after all, and no residential project that would put more resident cars on the street would pass muster with the Northern Liberties Neighbors Association.
The name of the project: Liberty Square.
Which is also the name of a much larger development now under construction a little bit to the north, on the South Kensington side of Girard Avenue.
That Liberty Square is being built by Blackstone Development, whose president, Mike Petrikowsky, is also its designer ("I design our projects from scratch," he said). "It's one of two side-by-side projects," he explained. "One will have 201 apartments and ground floor retail, and the other, across American Street, will have 74 units plus ground floor retail."
This project also has many of the elements of the PRDC one: residential units aimed at the upper end of the middle of the market, with striking modern exteriors and stylish interiors with high-end fixtures and finishes. The 201-unit, two-phase Liberty Square will also have several community amenities (for both residents and neighbors) in addition to the street-level retail and underground garage parking for 153 cars.
"The first building is almost complete," said Petrikowsky. "It should be finished in three to four months." (A neighbor snapped some photos of the work in progress; they appear below.) Ground was just broken on the second phase.
Ground will be broken for the Northern Liberties Liberty Square later this month, with the first units delivered to buyers in the first quarter of 2018 and completion in the fourth quarter of 2019.
Despite the identical names, Perlman says that no one should be confused: "They cater to a different clientele."
The renderings below of both projects should make that abundantly clear.
---
Liberty Square: The Townhomes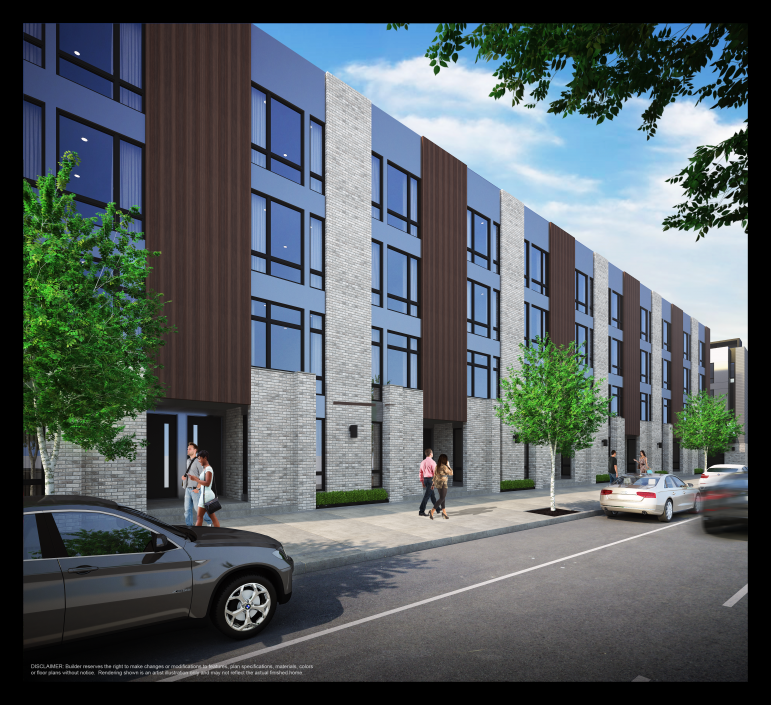 ---
---
Liberty Square: The Apartments


---
Both projects are listed as "Coming Soon" on their respective websites, but as Perlman said that pre-construction sales are getting under way on PRDC's Liberty Square, you should soon be able to request more information if you'd like to buy a Liberty Square home here. If you'd like to rent a Liberty Square apartment, go here.
Follow Sandy Smith on Twitter.
---
---