Meet Philadelphia's First Co-House: K'House
An Indy Hall co-founder teamed up with Postgreen Homes to bring it to South Kensington.
---
With the Greater Philadelphia Area being home to more than 25 co-working spaces as of earlier this year, we should have figured the next cool iteration of the co-trend would be coming to the city soon enough. As it so happens, Philadelphia City Paper's Andrew Zaleski reports it has: K'House.
Situated in South Kensington's Norris Square neighborhood, K'House is a co-housing project by Alex Hillman and the Postgreen Homes team. Zaleski says it will be the city's "first official co-house," as the small number of cooperative living communities that currently exist in Philadelphia are not registered with the Cohousing Association of the United States.
So now what's this whole co-housing thing about? Zeleski explains:
….a shared living community where residents not only live in proximity, but also eat meals together, divide costs of amenities like laundry facilities and hang out together outside of exquisitely pre-planned brunch dates. Being one of three residents in this new Hope Street house might seem like just a bespoke rooming arrangement, but Hillman assures there's more to K'House than sharing the burden of monthly rent.

"It's living in a place with people who have your back, people who are looking out for you — having a common goal beyond just sharing space," he says.
According to Zaleski, Hillman – who is one of the founders of co-working space Indy Hall, we might add – and Postgreen's Chad Ludman have been involved in the K'House project since 2011. Once completed within the next few months, Hillman says he intends on being the first tenant at K'House, which, Zeleski writes, has veered from conventional co-housing standards:
Typical co-housing communities are made up of rings of individually owned condos built closely together, with parking on the outside and a common house at the center to optimize communal experiences.

"We're designing for sharing," says Raines Cohen, a co-housing coach and community organizer who has lived in California's Berkeley Cohousing community for 12 years. "It's an old-fashioned, neighborhood type of living. This is an old-school sharing economy, what we like to speak of as cooperative community — cooperative as an adjective, not just a noun."
"I'm not excited about building houses. I'm excited about building communities," Hillman told City Paper. We highly recommend you read the story in full here.
---
Renderings: K'House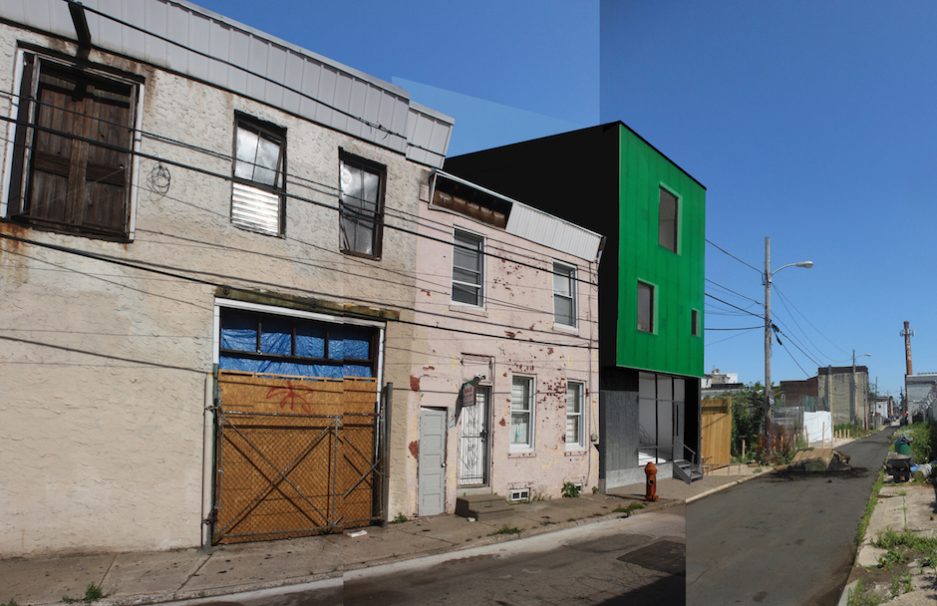 ---
Renderings by DIGSAU, courtesy of Postgreen Homes.
Note: This post has been updated to reflect that the Greater Philadelphia area claims more than 25 co-working spaces.
Get at us:
Send all tips (including fancy Philly area houses like this and this) to property@phillymag.com
Like Property on Facebook!
Follow along on the Twitter machine @PropertyPhilly
Get pin-happy on our fun Pinterest boards Phillyscape and Philly Home
Don't forget to use the hashtag #phillyscape on your cool Instagram and Twitter pictures. We might just pick yours to be Property's next Photo of the Week!
---