News
We Got Married at City Hall. A Year Later, We Did It Again at Water Works
"We carved out space for ourselves and others in a setting traditionally dominated by white, cis het couples."
---
At the end of the day, a wedding is about your love — and getting married in a way that is personal to you and your story. That's why this couple decided to get married at City Hall then have a separate celebration when it felt right. They simply wished to be united, and didn't want to worry about the financial aspects or whether they needed something larger till later down the road. That day came about a year later with their Water Works by Cescaphe wedding, and it was just what they envisioned. Colin Coleman of Moon Honey Photography captured it all below.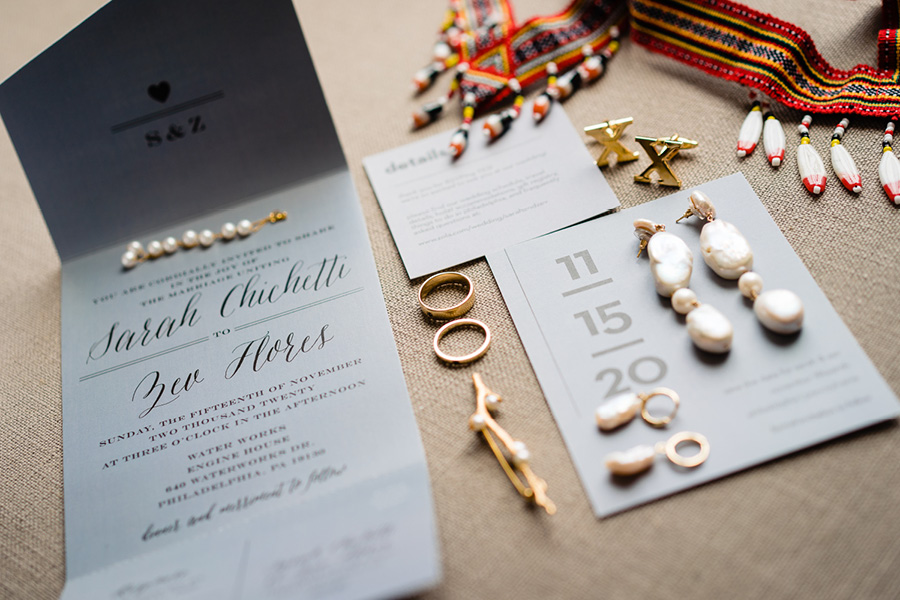 West Philly couple Sarah Chichetti and Zev Flores were both relatively new to the city when they connected on Tinder. Sarah, a social worker originally from New York, had recently moved here after finishing undergrad in Massachusetts. Zev, a chef who hails from the DC region, had come for school and had been living in the area for a few months already. Sarah figured Tinder would be a good way to make some friends, go on some dates. Then came Zev. "We matched, chatted for about a week, and then decided to hang out," says Sarah.
Their first date: Sunday-morning coffee at Vineyards Cafe in North Philly. They discovered they were both Virgos and chatted about life. "I think the main takeaway was that we simply liked being around each other," says Sarah. "It wasn't love at first sight. It wasn't a crazy first date. It was just easy."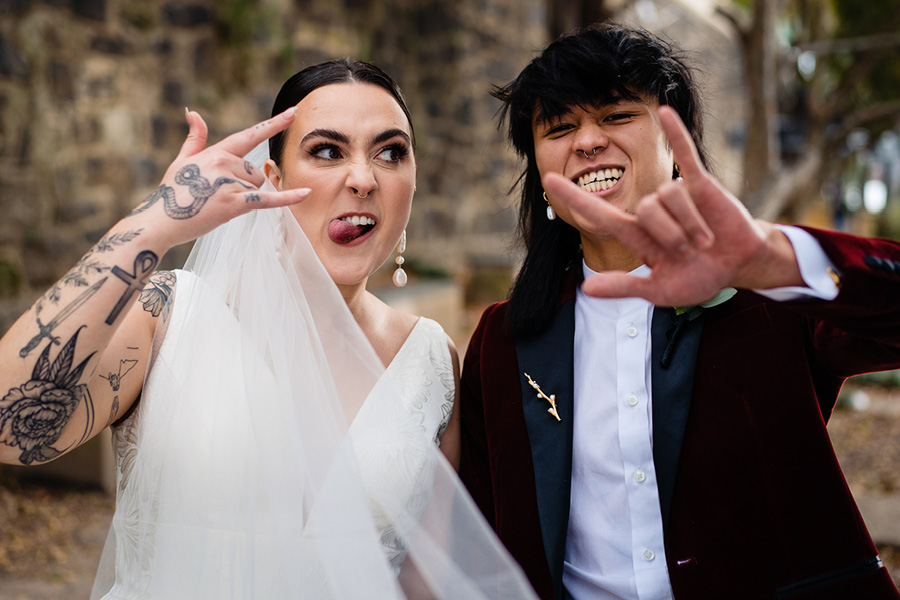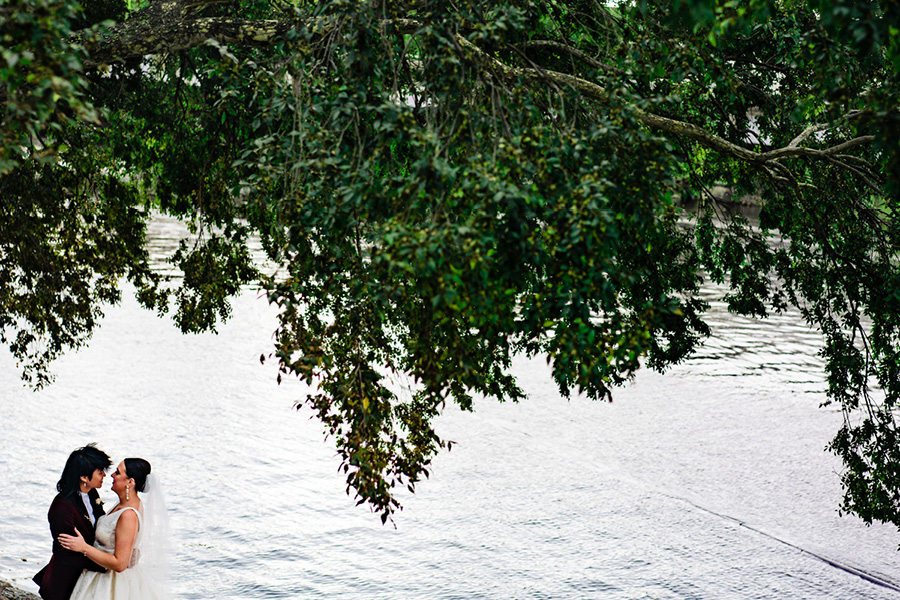 Sarah and Zev were together for six months before getting engaged at El Camino Real in NoLibs. The duo sat outside, under string lights, listening to music, sipping margs. They got into a conversation about politics and social justice. Zev started smiling, cut Sarah off and asked, "Will you marry me?"
It was an organic, natural start to their future. They were engaged 15 months before saying "I do" — the first time, that is. On December, 23rd, 2019, the couple got married at City Hall. They knew they wanted to get married, but they were in a transition period with jobs, school and moving homes. They didn't know yet "if we wanted to have a wedding, how big it would be, and how we'd finance it," says Sarah, who notes that neither partner came from money, and they planned to pay for it themselves. City Hall was a practical choice; they figured they would figure out the "celebration" part of their union when the time felt right.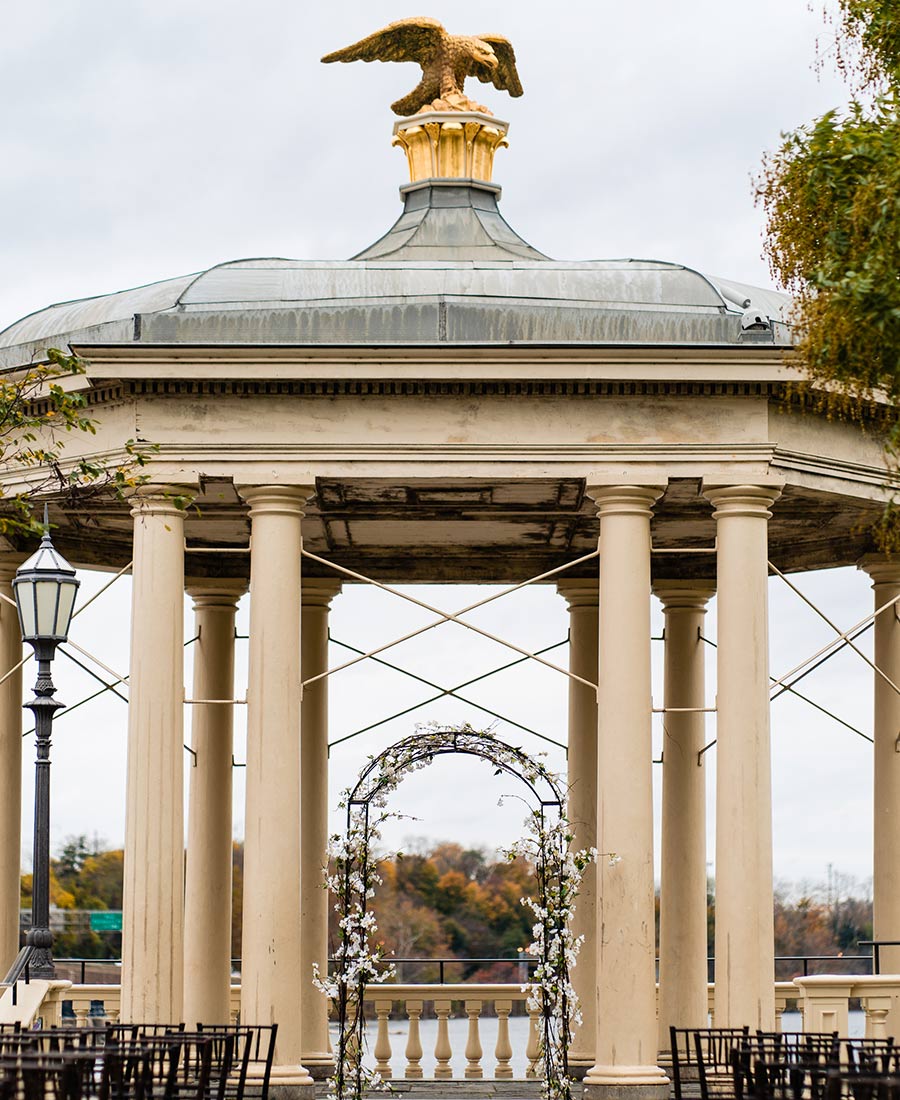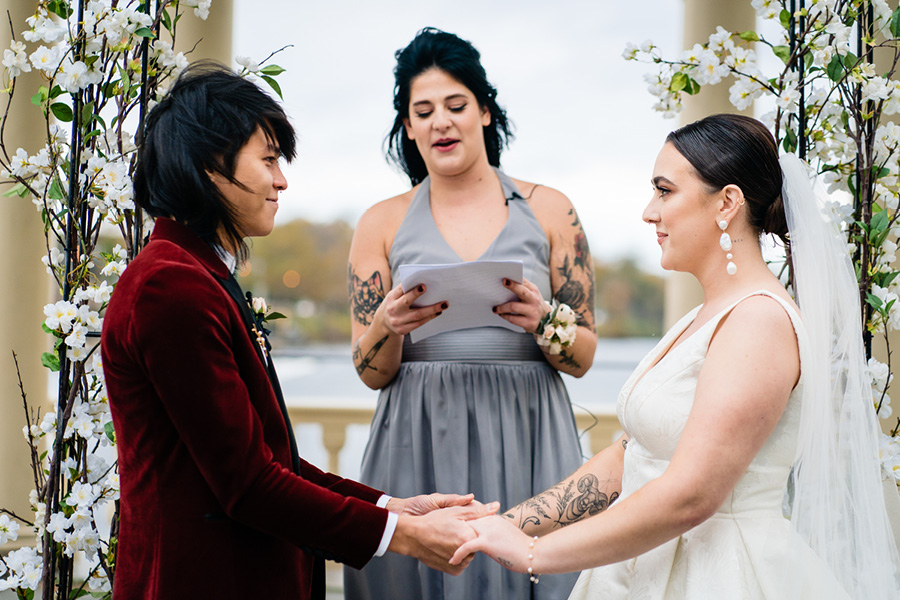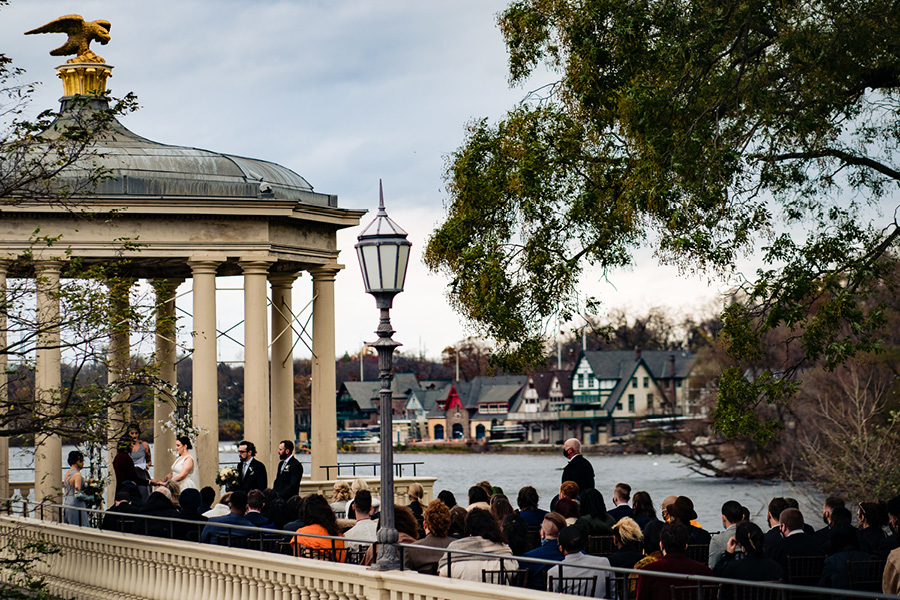 And that came about thanks to Sarah's mom. While walking along the Schuylkill, she suggested the couple get hitched at Water Works. After initially brushing it off, Sarah and Zev took a tour and were sold. The next wedding date? November 15th, 2020. The pair had hoped to celebrate with 140 guests, but due to COVID restrictions, that number ended up being a little under 90. But it was worth it.
Attire played a key part in their Big Day. Sarah initially considered a suit. "My day-to-day style is pretty androgynous, but I also like playing dress up. … So I went the traditional route to find my dress." The ivory fabric has daisy details all over it; the flowers were their late grandfather's favorite. "It felt like a little sign that he was telling me, 'Choose this one!'"
Zev's suit was from Bindle & Keep, chosen because the brand is known for its gender-neutral and trans-inclusive clothing. "I experience so much gender dysphoria in everyday life, a sensation heightened by the clash of being trans and non-binary, and existing in very cis-heteronormative spaces. I really wanted to wear a suit, but I needed it to be reflective of my trans-ness, and to respect the femininity that I, like other trans people, have to tuck away a lot of the time." The final choice: an oxblood velvet jacket and a mandarin-collar shirt to pay homage to old family photos in the Philippines. "You have to see it in person to know how well it fits just me, but all this is to say when I put it on I feel like a movie version of myself — living my damn life and being true to me."
The duo's wedding followed suit. While there was no particular theme, Zev and Sarah kept this idea in mind while planning: "a traditional wedding for a not-so-traditional couple, carving out space for ourselves and others in a setting traditionally dominated by white, cis het couples." The ice sculpture was among the unique elements — it was etched with the word "queer."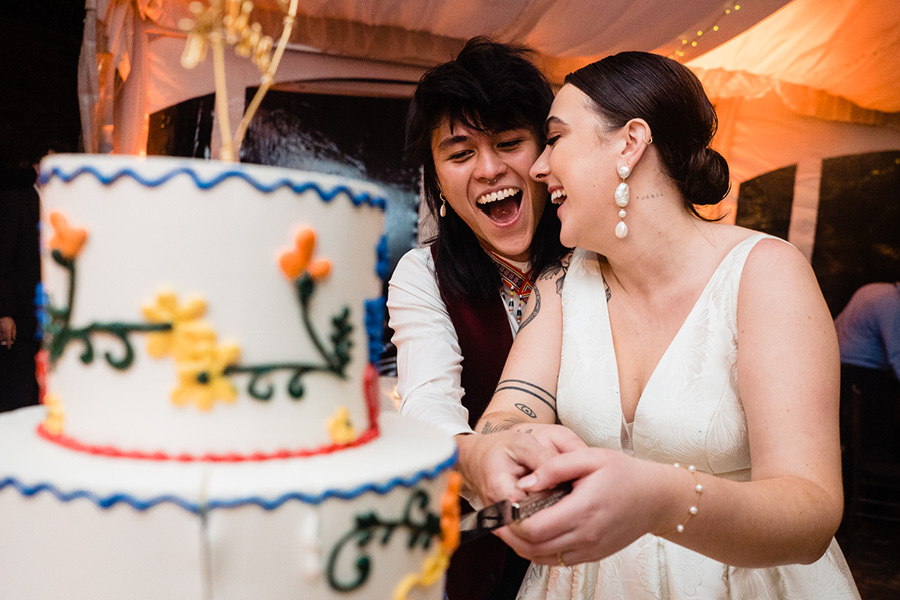 Sarah's favorite wedding detail was their jewelry, including their matching Kalinga beaded necklaces. Zev appreciated how intentional they were with every aspect, but the attire was No. 1. "Needless to say, us two poor kids looking that good has to go down in my history books."
The most sentimental moment was the couple's tearful vow exchange. And the biggest surprise was how beautifully it all came together: "Our unique personalities, styles and relationship shone through the traditional aspects of the wedding," they say. "It simply worked so well and was so much fun. Everyone was raving about the space and event we created, which makes us incredibly happy."
THE DETAILS
Photographer, Photo & GIF Booth: Colin Coleman of Moon Honey Photography | Venue, Catering & Cake: Water Works by Cescaphe | Planning/Design: Holly Mainiero (Cescaphe) | Florals: Beautiful Blooms | Gown: Celaya by Rosa Clará | Bridesmaids' Attire: David's Bridal | Hair & Makeup: Capelli & Trucco | Suit: Custom-made, hand-tailored suit by Bindle & Keep | Entertainment: Cleveland Morris of Blue Root Entertainment | Invitations: Basic Invite | Transportation: Ace Limousine & Airport Service | Officiant: Rachel "Rocky" Policare | Guest Book: Get Foiled | Cake Topper: Le Rustic Chic | Hotel & After-Party: The Windsor Suites | Rings: Mejuri
Get more great content from Philadelphia Wedding:
FACEBOOK | INSTAGRAM | NEWSLETTER | PINTEREST
Getting married? Start and end your wedding planning journey with Philadelphia Weddings' guide to the best wedding vendors in the city.
---
---