News
She Thought It Was a Maternity Shoot at a Sunflower Farm. He Surprised Her by Proposing
Their new baby was born a few months later.
---
As proposal month continues, we've been celebrating all the creative ways people pop the question, from the fella who asked his high-school sweetheart to marry him to the two nurses who celebrated their big moment during a stroll through Philly's iconic holiday lights. Here, this groom-and-father-to-be staged his proposal during the couple's maternity photo shoot at Johnson's Locust Hall Farm. Check out the images by Smirnov Weddings and video by Redd Pen Media to see how he pulled it off.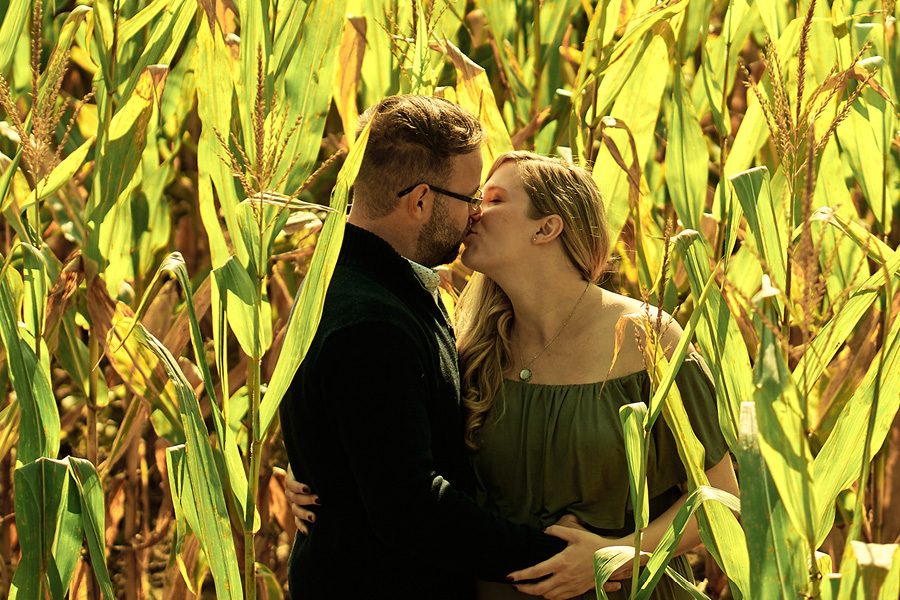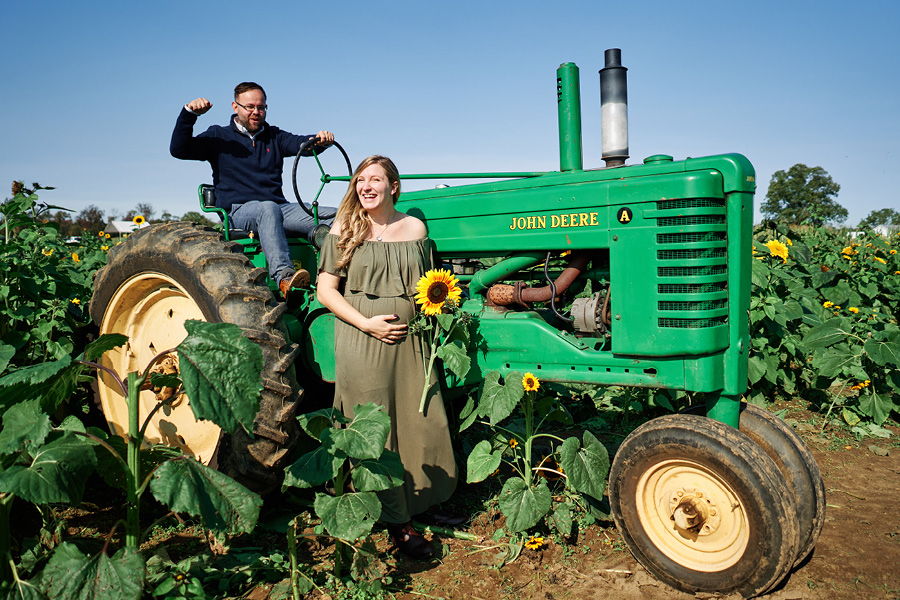 The couple: Amanda Lincoln, 27, and Adam Rodzen, 35, of Hamilton Township
How they got together: The couple met through mutual friends they shared through Amanda's work. (She's a retail manager, and he's a self-employed construction company owner.) The two had ended their prior relationships at about the same stage and were focused on similar aspects of life — careers, personal growth, and spending time with family and friends. It just so happened that their paths crossed, and they dated for about five years before getting engaged.
The proposal: Adam had a difficult time figuring out how to propose in a way that was original and sentimental and could be frozen in time. The two had found out earlier in the year that Amanda was pregnant and due around Christmas and were preoccupied with baby planning and dealing with the challenges of the pandemic, so Adam was at a loss finding a way to pop the question. Then, the light-bulb moment: Amanda mentioned that she wanted to do a maternity shoot at a sunflower farm. Adam thought, "Why not do a maternity shoot and at the very end surprise her by proposing?" It sounded perfect to him, but he needed a plan to make it happen — despite COVID, fall weather, work, and, of course, the difficult task of keeping everything secret.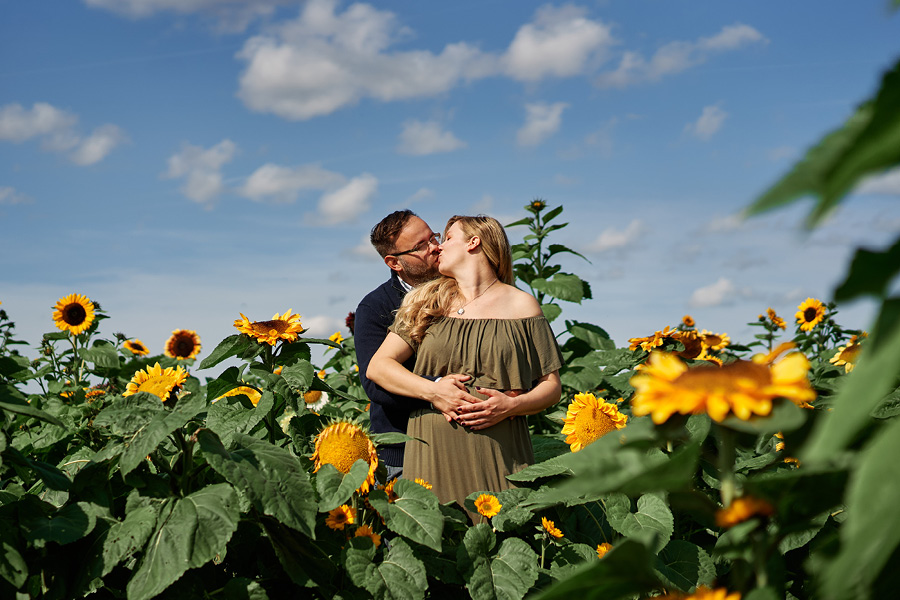 Adam reached out to a longtime friend, Juan Ortiz of Redd Pen Media, to plan the logistics. Ortiz, in turn, recommended Gene Smirnov of Smirnov Weddings. The couple booked Johnson's Locust Hall Farm for Friday, October 16th. But rain got in the way, so they rescheduled for Sunday — Amanda's birthday. This time around, the weather cooperated, and the location was dry and gorgeous despite the storm two days earlier. As the shoot drew to an end — and as Amanda was growing tired — Juan passed the ring to Adam secretly while the mom-to-be was having a few solo shots taken. Adam then gave her a birthday card and turned her around, acting as if the photog would take a picture with him holding her from behind while she read what he'd written inside. The last line said, "I hope all of your wishes come true. Now turn around. Like literally do a 180-degree turn." And there was Adam, down on one knee.
Amanda's reaction: She was overwhelmed. Happy tears were running down her cheeks as she said yes, and she and Adam shared a special moment, as though no one else was around. That tamed all of Amanda's earlier concerns. Leading up to the photo shoot, she had grown nervous; she wasn't sure how to pose for pictures that would capture the moment forever. She says she wanted to capture everything perfectly but naturally, to allow her family and friends to experience the setting as though they were there. She knew it would be a special day, no matter how worried she was. She just didn't realize how special.
Adam's reaction: He was stressed leading up to the shoot, what with all of the complications, but once the picture-taking started, he says, he felt as though all that happened was how it was supposed to happen: "I could not stop cheesing, and I still have the same goofy grin on my face every time I think about it."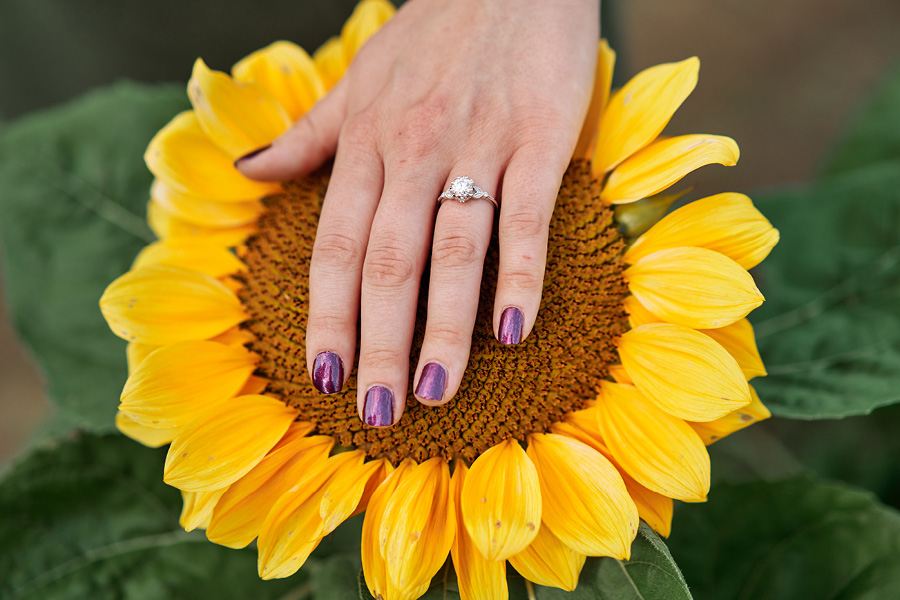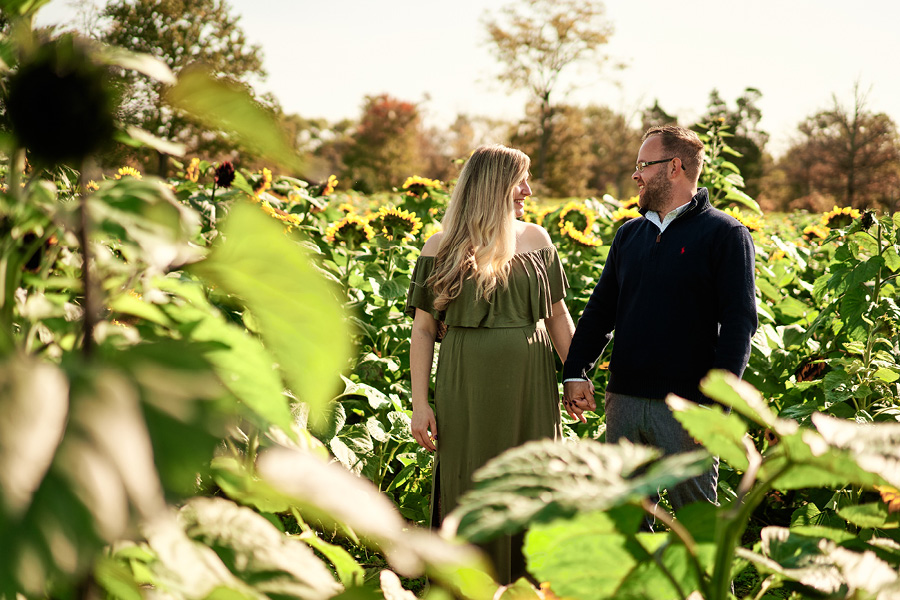 The post-proposal fun: The couple went home to share the moment with their families and to celebrate Amanda's birthday.
The wedding plans: The couple hasn't yet set a wedding date. Before they do, they want to sell their house and purchase a farm or ranch, then celebrate their Big Day at their new "forever" home. They also want to spend time with the new member of their family — Ava Maria, born on New Year's Eve.
Get more great content from Philadelphia Wedding:
FACEBOOK | INSTAGRAM | NEWSLETTER | PINTEREST
Getting married? Start and end your wedding planning journey with Philadelphia Weddings' guide to the best wedding vendors in the city.
---
---